Abstract
This cross-sectional study assessed vitamin D status of healthy infants and young children undergoing routine care in a medical center pediatric clinic in Sacramento, CA, and evaluated associations of status with markers of vitamin D function. Such data have not recently been reported from similar locations with sunny climates that should minimize risk of deficiency. Exposures included diet, supplement use, and sun exposure, and outcomes included plasma 25-hydroxy vitamin D (25[OH]D), parathyroid hormone (PTH), bone-specific alkaline phosphatase, and eight markers of immune activation. The median age of the 173 subjects was 12 months (range, 6–19); 49% were female. The median 25(OH)D was 85 nmol/l (range, 9–198); five subjects (2.9%) had <27.5 nmol/l, indicative of deficiency; 14 (8.1%) had <50 nmol/l, and 49 (28.3%) had <75 nmol/l. Most subjects (154; 89%) received some vitamin-D-fortified cow's milk or formula while 19 (11%) received breast milk as the only milk source. Breastfeeding was associated with risk of vitamin D deficiency (p < 0.001). Subjects with 25(OH)D <27.5 nmol/l had elevated PTH (p = 0.007). Only four of 35 breastfed infants (11%) consuming <500 ml/day vitamin-D-fortified formula or milk received vitamin D supplements. Plasma interleukin (IL)-1β was significantly higher (p = 0.036) in infants in the highest vs. lowest 25(OH)D decile. In conclusion, this study demonstrates that vitamin D deficiency with elevated PTH remains a risk for breastfed subjects not receiving supplemental vitamin D even in a region with a sunny, temperate climate. Strategies to improve supplementation should be sought.
This is a preview of subscription content, log in to check access.
Access options
Buy single article
Instant access to the full article PDF.
US$ 39.95
Price includes VAT for USA
Subscribe to journal
Immediate online access to all issues from 2019. Subscription will auto renew annually.
US$ 199
This is the net price. Taxes to be calculated in checkout.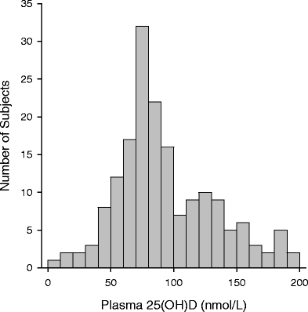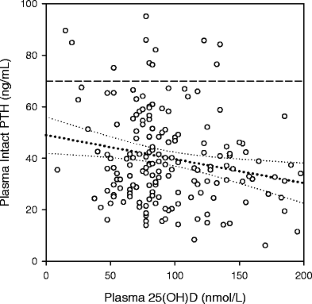 References
1.

American Academy of Pediatrics. Committee on Environmental Health (1999) Ultraviolet light: a hazard to children. Pediatrics 104:328–333

2.

Anonymous (2003) Contract drug list. State of California Department of Health Care Services (http://files.medi-cal.ca.gov)

3.

Bhalla AK, Amento EP, Krane SM (1986) Differential effects of 1, 25-dihydroxyvitamin D3 on human lymphocytes and monocyte/macrophages: inhibition of interleukin-2 and augmentation of interleukin-1 production. Cell Immunol 98:311–322

4.

Bischoff-Ferrari HA, Giovannucci E, Willett WC et al (2006) Estimation of optimal serum concentrations of 25-hydroxyvitamin D for multiple health outcomes. Am J Clin Nutr 84:18–28

5.

Boonstra A, Barrat FJ, Crain C et al (2001) 1Alpha, 25-Dihydroxyvitamin d3 has a direct effect on naive CD4(+) T cells to enhance the development of Th2 cells. J Immunol 167:4974–4980

6.

Cantorna MT, Mahon BD (2004) Mounting evidence for vitamin D as an environmental factor affecting autoimmune disease prevalence. Exp Biol Med (Maywood) 229:1136–1142

7.

Cranney A, Horsley T, O'Donnell S et al (2007) Effectiveness and safety of vitamin D in relation to bone health. Evid Rep Technol Assess (Full Rep):1–235

8.

Gartner LM, Greer FR (2003) Prevention of rickets and vitamin D deficiency: new guidelines for vitamin D intake. Pediatrics 111:908–910

9.

Gessner BD, Plotnik J, Muth PT (2003) 25-Hydroxyvitamin D levels among healthy children in Alaska. J Pediatr 143:434–437

10.

Gordon CM, Feldman HA, Sinclair L et al (2008) Prevalence of vitamin D deficiency among healthy infants and toddlers. Arch Pediatr Adolesc Med 162:505–512

11.

Greer FR (2004) Issues in establishing vitamin D recommendations for infants and children. Am J Clin Nutr 80:1759S–1762S

12.

Heinig MJ (2003) Vitamin D and the breastfed infant: controversies and concerns. J Hum Lact 19:247–249

13.

Holick MF (2007) Vitamin D deficiency. N Engl J Med 357:266–281

14.

Holick MF (2008) The vitamin D deficiency pandemic and consequences for nonskeletal health: mechanisms of action. Mol Aspects Med 29:361–368

15.

Holick MF, Shao Q, Liu WW, Chen TC (1992) The vitamin D content of fortified milk and infant formula. N Engl J Med 326:1178–1181

16.

Hollis BW, Pittard WB 3rd, Reinhardt TA (1986) Relationships among vitamin D, 25-hydroxyvitamin D, and vitamin D-binding protein concentrations in the plasma and milk of human subjects. J Clin Endocrinol Metab 62:41–44

17.

Lazol JP, Cakan N, Kamat D (2008) 10-year case review of nutritional rickets in Children's Hospital of Michigan. Clin Pediatr (Phila) 47:379–384

18.

Lyke KE, Burges R, Cissoko Y et al (2004) Serum levels of the proinflammatory cytokines interleukin-1 beta (IL-1beta), IL-6, IL-8, IL-10, tumor necrosis factor alpha, and IL-12(p70) in Malian children with severe Plasmodium falciparum malaria and matched uncomplicated malaria or healthy controls. Infect Immun 72:5630–5637

19.

Mahajan B, Vijayan VK, Agarwal MK, Bansal SK (2008) Serum interleukin-1beta as a marker for differentiation of asthma and chronic obstructive pulmonary disease. Biomarkers 13:713–727

20.

Mattes J, Foster PS (2003) Regulation of eosinophil migration and Th2 cell function by IL-5 and eotaxin. Curr Drug Targets Inflamm Allergy 2:169–174

21.

Namgung R, Tsang RC, Lee C et al (1998) Low total body bone mineral content and high bone resorption in Korean winter-born versus summer-born newborn infants. J Pediatr 132:421–425

22.

Park MJ, Namgung R, Kim DH, Tsang RC (1998) Bone mineral content is not reduced despite low vitamin D status in breast milk-fed infants versus cow's milk based formula-fed infants. J Pediatr 132:641–645

23.

Pettifor J (2008) Vitamin D &/or calcium deficiency rickets in infants & children: a global perspective. Indian J Med Res 127:245–249

24.

Rotondi M, Lazzeri E, Romagnani P, Serio M (2003) Role for interferon-gamma inducible chemokines in endocrine autoimmunity: an expanding field. J Endocrinol Invest 26:177–180

25.

Schmidt-Weber CB, Akdis M, Akdis CA (2007) TH17 cells in the big picture of immunology. J Allergy Clin Immunol 120:247–254

26.

Shaikh U, Alpert PT (2004) Practices of vitamin D recommendation in Las Vegas, Nevada. J Hum Lact 20:56–61

27.

Spach KM, Nashold FE, Dittel BN, Hayes CE (2006) IL-10 signaling is essential for 1, 25-dihydroxyvitamin D3-mediated inhibition of experimental autoimmune encephalomyelitis. J Immunol 177:6030–6037

28.

Tomoum HY, Badawy NM, Mostafa AA, Harb MY (2007) Plasma interleukin-1beta levels in children with febrile seizures. J Child Neurol 22:689–692

29.

United States (1980) Infant formula act of 1980: an act to amend the federal food, drug and cosmetic act to strengthen the authority under that act to assure the safety and nutrition of infant formulas, and for other purposes. US GPO: Supt. of Docs. US GPO distributor, Washington, DC

30.

Wagner CL, Greer FR (2008) Prevention of rickets and vitamin D deficiency in infants, children, and adolescents. Pediatrics 122:1142–1152

31.

Wagner CL, Hulsey TC, Fanning D et al (2006) High-dose vitamin D3 supplementation in a cohort of breastfeeding mothers and their infants: a 6-month follow-up pilot study. Breastfeed Med 1:59–70

32.

Wang TT, Nestel FP, Bourdeau V et al (2004) Cutting edge: 1, 25-dihydroxyvitamin D3 is a direct inducer of antimicrobial peptide gene expression. J Immunol 173:2909–2912

33.

Ward LM, Gaboury I, Ladhani M, Zlotkin S (2007) Vitamin D-deficiency rickets among children in Canada. CMAJ 177:161–166

34.

Weisberg P, Scanlon KS, Li R, Cogswell ME (2004) Nutritional rickets among children in the United States: review of cases reported between 1986 and 2003. Am J Clin Nutr 80:1697S–1705S

35.

Yang L, Grey V (2006) Pediatric reference intervals for bone markers. Clin Biochem 39:561–568

36.

Ziegler EE, Hollis BW, Nelson SE, Jeter JM (2006) Vitamin D deficiency in breastfed infants in Iowa. Pediatrics 118:603–610

37.

Zipitis CS, Akobeng AK (2008) Vitamin D supplementation in early childhood and risk of type 1 diabetes: a systematic review and meta-analysis. Arch Dis Child 93:512–517
Acknowledgements
The authors thank student volunteers who helped with the study, staff at the University of California, Davis Medical Center Pediatric Clinic for accommodating our study, and the subjects and their caregivers for participating. This work was supported by grant P60MD0222 from the National Institutes of Health and by Project # 5306-51530-006-00D of the Agricultural Research Service, United States Department of Agriculture.
Conflict of interest
The authors have no financial relationships or other corporate conflicts of interest relevant to this article.
About this article
Cite this article
Liang, L., Chantry, C., Styne, D.M. et al. Prevalence and risk factors for vitamin D deficiency among healthy infants and young children in Sacramento, California. Eur J Pediatr 169, 1337–1344 (2010). https://doi.org/10.1007/s00431-010-1226-3
Received:

Accepted:

Published:

Issue Date:
Keywords
Vitamin D

Infant

Plasma 25-hydroxy vitamin D

Infant feeding