Abstract
Aortic dissection occurs in Turner syndrome with substantially higher frequency in comparison to the general population, and its prevention is one of the main aims of cardiologic follow-up. Findings of cystic medial necrosis in the aortic wall and a high prevalence of aortic dilation suggest that a form of aortopathy exists in Turner syndrome. However, little is known about natural development of aortic dilation prior to dissection. We present a 16-year-old girl with Turner syndrome with a bicuspid aortic valve, aortic stenosis, and dilation of ascending aorta, who underwent annual echocardiographic examinations from early childhood. Significant progressions of proximal aortic dilation occurred twice at the age of 10 and 15 years. Thereafter, another rapid progression was observed during 8 months and within 3 weeks preceding dissection. Acute aortic dissection was diagnosed while the girl was waiting for elective surgery. She was successfully operated. Frequent estimations of aortic diameter in Turner patients with abnormal findings may help to anticipate this life-threatening event. Additionally, we learned that rapid progression of aortic dilation should lead to immediate surgery to prevent more risky urgent intervention following the dissection.
This is a preview of subscription content, log in to check access.
Access options
Buy single article
Instant access to the full article PDF.
US$ 39.95
Price includes VAT for USA
Subscribe to journal
Immediate online access to all issues from 2019. Subscription will auto renew annually.
US$ 199
This is the net price. Taxes to be calculated in checkout.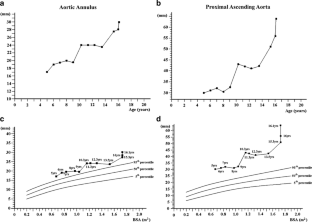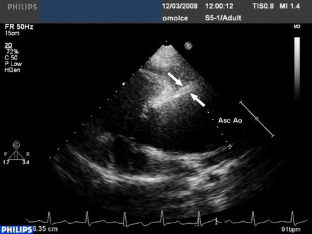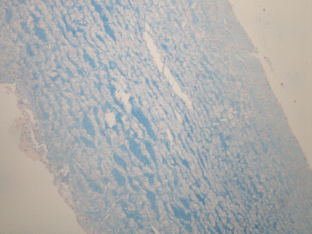 References
1.

Baguet JP, Douchin S, Pierre H et al (2005) Structural and functional abnormalities of large arteries in the Turner syndrome. Heart 91:1442–1446. doi:10.1136/hrt.2004.048371

2.

Bondy CA (2008) Aortic dissection in Turner syndrome. Curr Opin Cardiol 23:519–526. doi:10.1097/HCO.0b013e3283129b89

3.

Carlson M, Silberbach M (2007) Dissection of the aorta in Turner syndrome: two cases and review of 85 cases in the literature. J Med Genet 44:745–749. doi:10.1136/jmg.2007.052019

4.

Chalard F, Solene F, Teinturier C, Kalifa G (2005) Aortic dilation in Turner syndrome: the role of MRI in early recognition. Pediatr Radiol 35:323–326. doi:10.1007/s00247-004-1359-5

5.

Dulac Y, Pienkowski C, Abadir S et al (2008) Cardiovascular abnormalities in Turner's syndrome: what prevention? Arch Cardiovasc Dis 101:485–490. doi:10.1016/j.acvd.2008.05.007

6.

Gravholt CH, Landin-Wilhelmsen K, Stochholm K et al (2006) Clinical and epidemiological description of aortic dissection in Turner's syndrome. Cardiol Young 16:430–436. doi:10.1017/S1047951106000928

7.

Kaldararova M, Balazova E, Tittel P et al (2007) Echocardiographic measurements of the aorta in normal children and young adults. Bratisl Lek Listy 108:437–441

8.

Lanzarini L, Larizza D, Prete G et al (2007) Prospective evaluation of aortic dimensions in Turner syndrome: a 2-dimensional echocardiographic study. J Am Soc Echocardiogr 20:307–313. doi:10.1016/j.echo.2006.08.028

9.

Lin AE, Lippe B, Rosenfeld RG (1998) Further deliniation of aortic dilation, dissection and rupture in patients with Turner syndrome. Pediatrics 102:e12. doi:10.1542/peds.102.1.e12

10.

Lopez L, Arheart KL, Colan SD et al (2008) Turner syndrome is an independent risk factor for aortic dilation in the young. Pediatrics 121:e1622–e1627. doi:10.1542/peds.2007–2807

11.

Matura LA, Ho VB, Rosing DR, Bondy CA (2007) Aortic dilatation and dissection in Turner syndrome. Circulation 116:1663–1670. doi:10.1161/CIRCULATIONAHA.106.685487

12.

Price WH, Clayton JF, Collyer S et al (1986) Mortality ratios, life expectancy and causes of death in patients with Turner's syndrome. J Epidemiol Community Health 40:97–102

13.

Ravelo HR, Stephenson LW, Friedman S et al (1980) Coarctation resection in children with Turner's syndrome. J Thorac Cardiovasc Surg 80:427–430

14.

Roman MJ, Devereux RB, Kramer-Fox R et al (1989) Two-dimensional echocardiograpic aortic root dimensions in normal children and adults. Am J Cardiol 64:507–512

15.

Sinder AR, Enderlein MA, Teitel DF, Juster RP (1984) Two-dimensional Echocardiographic determination of aortic and pulmonary artery sizes from infancy to adulthood in normal subjects. Am J Cardiol 53:218–224
Acknowledgment
This article was written with research project support from the Czech Ministry of Health MZOFNM2005 (VZMZO 64203-6306) and of MSM (0021620814).
Conflict of interest
The authors declare that they have no conflict of interest.
About this article
Cite this article
Pleskacova, J., Rucklova, K., Popelova, J. et al. Aortic dissection and rupture in a 16-year-old girl with Turner syndrome following previous progression of aortic dilation. Eur J Pediatr 169, 1283–1286 (2010). https://doi.org/10.1007/s00431-010-1197-4
Received:

Accepted:

Published:

Issue Date:
Keywords
Turner syndrome

Aortic dissection

Progression of aortic dilation