Abstract
The use of complementary and alternative medicine (CAM) in Switzerland is rather high, and therefore, the occurrence of accidental intakes of CAM remedies by children and associated intoxications is to be expected. In the present study, the inquiries to the Swiss Toxicological Information Centre that took place from 1998 until 2007 and concerned accidental, unintended intakes of CAM remedies by children were analysed. Inquiries for information were performed by concerned care-givers, physicians, pharmacists and others in case of acute accidental intake of CAM remedies. Feedbacks from physicians about paediatric patients with acute intoxication possibly associated with the accidental ingestion of CAM remedies were as well considered. During the study period, 3,158 accidental intakes of CAM remedies (1,015 of herbal and 2,143 of homeopathic remedies) were reported, corresponding to 8.6% of all reported accidental intakes of pharmaceutical products by children. No significant increase of the yearly number of accidental intakes of CAM remedies was detected during the study period. There was no accidental intake of CAM remedies leading to severe signs or symptoms. Concerning the herbal remedies, three intoxications of moderate and 28 of minor severity were reported. Nine children with intoxication from homeopathic remedies were reported, with minor symptoms only. All other accidental intakes of CAM remedies did not lead to intoxications and evolved without manifestations. The data show that accidental, unintended intake of CAM remedies happened in children, but developed mostly harmlessly. Comparing herbal with homeopathic remedies, accidental intakes with homeopathic remedies were more common, but intoxications associated with manifestations were observed more frequently with herbal remedies.
This is a preview of subscription content, log in to check access.
Access options
Buy single article
Instant access to the full article PDF.
US$ 39.95
Price includes VAT for USA
Subscribe to journal
Immediate online access to all issues from 2019. Subscription will auto renew annually.
US$ 199
This is the net price. Taxes to be calculated in checkout.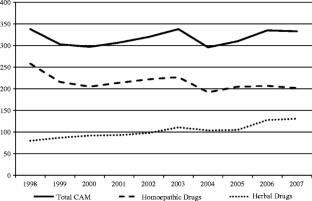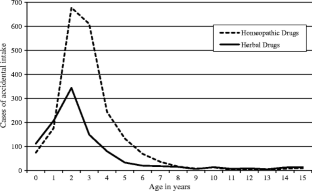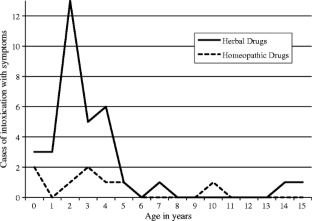 Abbreviations
CAM:

Complementary and alternative medicine

STIC:

Swiss Toxicological Information Centre

TOXI:

In-house computer-based and structured data recording and analysis system
References
1.

Astin JA, Marie A, Pelletier KR et al (1998) A review of the incorporation of complementary and alternative medicine by mainstream physicians. Arch Intern Med 158:2303–2310

2.

Barnes J, Mills SY, Abbot NC et al (1998) Different standards for reporting ADRs to herbal remedies and conventional OTC medicines: face-to-face interviews with 515 users of herbal remedies. Br J Clin Pharmacol 45:496–500

3.

Cohen MH, Kemper KJ (2005) Complementary therapies in pediatrics: a legal perspective. Pediatrics 115:774–780

4.

Dantas F, Rampes H (2000) Do homeopathic medicines provoke adverse effects? A systematic review. Br Homeopath J 89(Suppl 1):S35–S38

5.

Eisenberg DM, Davis RB, Ettner SL et al (1998) Trends in alternative medicine use in the United States, 1990–1997: results of a follow-up national survey. JAMA 280:1569–1575

6.

Elmer GW, Lafferty WE, Tyree PT, Lind BK (2007) Potential interactions between complementary/alternative products and conventional medicines in a Medicare population. Ann Pharmacother 41:1617–1624

7.

Ernst E (1996) Risk-free homeopathy? Swiss Med Wkly 126:1677–1679

8.

Ernst E (1998) Harmless herbs? A review of the recent literature. Am J Med 104:170–178

9.

Ernst E, Thompson Coon J (2001) Heavy metals in traditional Chinese medicines: a systematic review. Clin Pharmacol Ther 70:497–504

10.

Ernst E (2003) Serious adverse effects of unconventional therapies for children and adolescents: a systematic review of recent evidence. Eur J Pediatr 162:72–80

11.

Guirguis M, Gossweiler B, Kupferschmidt H et al (1999) TOXI—a multifunctional system for poisons information and clinical toxicological data evaluation. J Toxicol Clin Toxicol 37:405–405

12.

Karch FE, Lasagna L (1977) Toward the operational identification of adverse drug reactions. Clin Pharmacol Ther 21:247–254

13.

Kupferschmidt H (2008) Intoxication in Switzerland. Annual report, 2007 of Swiss Toxicological Informations Centre. Schweizerische Aerztezeitung 2008:1906–1910

14.

Kupferschmidt H, Reust H, Kupper J et al (2007) Intoxication in Switzerland. Schweiz Ärzteztg 88(48):2040–2044

15.

Laengler A, Spix C, Seifert G et al (2008) Complementary and alternative treatment methods in children with cancer: a population-based retrospective survey on the prevalence of use in Germany. Eur J Cancer 44:2233–2240

16.

Meijerman I, Beijnen JH, Schellens JH (2006) Herb-drug interactions in oncology: focus on mechanisms of induction. The Oncologist 11:742–752

17.

Parson B, Dobbin M, Tibballs J (1997) Eucalyptus oil poisoning among young children: mechanisms of access and the potential for prevention. Aust N Z J Public Health 21:297–302

18.

Persson HE, Sjoberg GK, Haines JA et al (1998) Poisoning severity score. Grading of acute poisoning. J Toxicol Clin Toxicol 36:205–213

19.

Reznik M, Ozuah PO, Franco K et al (2002) Use of complementary therapy by adolescents with asthma. Arch Pediatr Adolesc Med 156:1042–1044

20.

Shaw D, Leon C, Kolev S, Murray V (1997) Traditional remedies and food supplements. A 5-year toxicological study (1991–1995). Drug Saf 17:342–356

21.

Swiss Toxicological Information Centre, Switzerland (1998–2007) Annual Reports. www.toxi.ch/eng/welcome.html

22.

von Mach MA, Habermehl P, Zepp F, Weilemann LS (2006) Drug poisonings in childhood at a regional poisons unit. Klin Padiatr 218:31–33

23.

Zuzak TJ, Zuzak-Siegrist I, Simoes-Wust AP et al (2009) Use of complementary and alternative medicine by patients presenting to a paediatric Emergency Department. Eur J Pediatr 168:431–437
Competing interests
The authors declare that they have no competing interests.
About this article
Cite this article
Zuzak, T.J., Rauber-Lüthy, C. & Simões-Wüst, A.P. Accidental intakes of remedies from complementary and alternative medicine in children—analysis of data from the Swiss Toxicological Information Centre. Eur J Pediatr 169, 681–688 (2010). https://doi.org/10.1007/s00431-009-1087-9
Received:

Accepted:

Published:

Issue Date:
Keywords
Complementary and alternative medicine

Intoxication

Homeopathy

Herbal

Children

Accidental intakes