Abstract
The Allan–Herndon–Dudley syndrome (AHDS; MIM 300523) of X-linked mental retardation and hypotonia is caused by mutations in a thyroid hormone transporter gene—the monocarboxylate transporter 8 (MCT8 also known as SLC16A2) gene. A 23-month-old boy with severe developmental delay, hypotonia, recurrent emesis, and irritability is described. He was diagnosed with hypothyroidism at the age of 4 months. However, T3 level was elevated. Molecular analysis of the MCT8 gene detected a single base duplication in exon 5 c.1614dupC (p.Ile539fs), consistent with a diagnosis of AHDS. While T3 is the best marker for this disorder, elevations in TSH should alert to the diagnosis.
This is a preview of subscription content, log in to check access.
Access options
Buy single article
Instant access to the full article PDF.
US$ 39.95
Price includes VAT for USA
Subscribe to journal
Immediate online access to all issues from 2019. Subscription will auto renew annually.
US$ 199
This is the net price. Taxes to be calculated in checkout.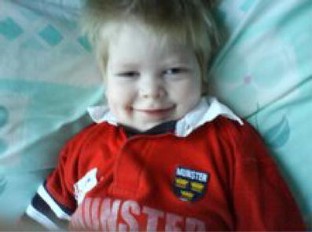 Abbreviations
T3:

Triiodothyronine

T4:

Thyroxine

TSH:

Thyroid stimulating hormone

MCT 8 :

Monocarboxylate transporter 8

AHDS:

Allan–Herndon–Dudley syndrome
References
1.

Allan W, Herndon CN, Dudley FC (1944) Some examples of the inheritance of mental deficiency: apparently sex-linked idiocy and microcephaly. Am J Ment Defic 48:325–334

2.

Dumitrescu AM, Liao XH, Best TB et al (2004) A novel syndrome combining thyroid and neurological abnormalities is associated with mutations in a monocarboxylate transporter gene. Am J Hum Genet 74:168–175

3.

Dumitrescu AM, Liao XH, Weiss RE et al (2006) Tissue specific thyroid hormone deprivation and excess in monocarbosylate transporter (MCT) 8-deficient mice. Endocrinology 147:4036–43

4.

Friesema ECH, Grueters A, Biebermann H et al (2004) Association between mutations in a thyroid hormone transporter and severe X-linked psychomotor retardation. Lancet 364:1435–1437

5.

Herezovich V, Vaiani E, Marino R et al (2007) Unexpected peripheral markers of thyroid function in a patient with a novel mutation of the MCT8 thyroid hormone transporter gene. Horm Res 67:1–6

6.

Schwartz CE, May MM, Carpenter NJ et al (2005) Allan Herndon Dudley Syndrome and the monocarboxylate transporter 8 (MCT8) gene. Am J Hum Genet 77:41–53
Conflict of interest
There is no conflict of interest. No funding was required for this study.
About this article
Cite this article
Crushell, E., Reardon, W. Elevated TSH levels in a mentally retarded boy. Eur J Pediatr 169, 573–575 (2010). https://doi.org/10.1007/s00431-009-1075-0
Received:

Accepted:

Published:

Issue Date:
Keywords
Triiodothyronine

Hypothyroidism

Allan–Herndon–Dudley syndrome

X-linked mental retardation

MCT 8