Abstract
Introduction
In most countries, hereditary tyrosinemia type 1 is not included in routine newborn screening.
Discussion
We present the case of a female newborn with prenatal diagnosis of hereditary tyrosinemia type 1 and clear identification of this disorder by succinylacetone measurement in cord blood and peripheral blood immediately after birth. Succinylacetone was 44 μmol/L (norm <5 μmol/L) and increased within 12 h to 87.5 μmol/L.
Conclusion
With the high toxic potential of downstream metabolites, these data clearly point out the necessity of early nitisinone treatment to prevent symptomatic disease.
This is a preview of subscription content, log in to check access.
Access options
Buy single article
Instant access to the full article PDF.
US$ 39.95
Price includes VAT for USA
Subscribe to journal
Immediate online access to all issues from 2019. Subscription will auto renew annually.
US$ 199
This is the net price. Taxes to be calculated in checkout.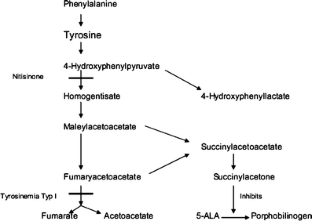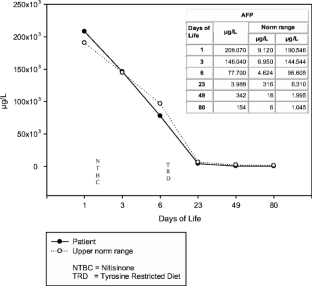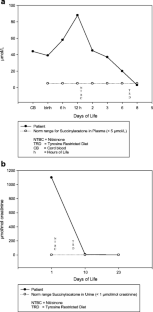 References
1.

Al-Dirbashi OY, Rashed MS, Jacob M et al (2008) Improved method to determine succinylacetone in dried blood spots for diagnosis of tyrosinemia type 1 using UPLC-MS/MS. Biomed Chromatogr 22:1181–1185

2.

Allard P, Grenier A, Korson MS, Zytkovicz TH (2004) Newborn screening for hepatorenal tyrosinemia by tandem mass spectrometry: analysis of succinylacetone extracted from dried blood spots. Clin Biochem 37:1010–1015

3.

Alvarez F et al (2005) Nitisinone (NTBC) treatment of hepatorenal tyrosinemia in Quebec. J Inherit Metab Dis 28(Suppl 1):49

4.

Grompe M (2001) The pathophysiology and treatment of hereditary tyrosinemia type 1. Semin Liver Dis 21:563–571

5.

Holme E, Lindstedt S (1998) Tyrosinaemia type I and NTBC (2-(2-nitro-4- trifluoromethylbenzoyl)-1, 3-cyclohexanedione). J Inherit Metab Dis 21:507–517

6.

Holme E, Lindstedt S (2000) Nontransplant treatment of tyrosinemia. Clin Liver Dis 4:805–814

7.

Hostetter MK, Levy HL, Winter HS, Knight GJ, Haddow JE (1983) Evidence for liver disease preceding amino acid abnormalities in hereditary tyrosinemia. N Engl J Med 308:1265–1267

8.

Koelink CJ, van Hasselt P, van der Ploeg A et al (2006) Tyrosinemia type I treated by NTBC: how does AFP predict liver cancer? Mol Genet Metab 89(4):310–315

9.

la Marca G, Malvagia S, Zammarchi E et al (2008) The inclusion of succinylacetone as marker for tyrosinemia type I in expanded newborn screening programs. Rapid Commun Mass Spectrom 22:812–818

10.

Lindblad B, Lindstedt S, Steen G (1974) On the enzymatic defects in hereditary tyrosinemia. Proc Natl Acad Sci 74:4641–4645

11.

Lindstedt S, Holme E, Lock EA, Hjalmarson O et al (1992) Treatment of hereditary tyrosinaemia type I by inhibition of 4-hydroxyphenylpyruvate dioxygenase. Lancet 340:813–817

12.

Magera MJ, Gunawardena N, Matern D et al (2006) Quantitative determination of succinylacetone in dried blood spots for newborn screening of tyrosinemia type I. Mol Genet Metab 88:16–21

13.

Mitchell G, Grompe M, Lambert M, Tanguay R (2001) Hypertyrosinemia. In: Scriver CR, Beaudet AL, Sly WS, Valle D (eds) The metabolic and molecular bases of inherited disease, 8th edn. McGraw-Hill, New York, pp 1777–1806

14.

Rashed MS, Al-Ahaidib LY, Al-Dirbashi OY et al (2005) Tandem mass spectrometric assay of succinylacetone in urine for the diagnosis of hepatorenal tyrosinemia. Anal Biochem 339:310–317

15.

Russo P, Mitchell G, Tanguay R (2001) Tyrosinemia: a review. Pediatr Dev Pathol 4:212–221

16.

Sander J, Janzen N, Peter M et al (2006) Newborn screening for hepatorenal tyrosinemia: tandem mass spectrometric quantification of succinylacetone. Clin Chem 52:482–487

17.

Santra S, Baumann U (2008) Experience of nitisinone for the pharmacological treatment of hereditary tyrosinaemia type 1. Expert Opin Pharmacother. 9:1229–1236

18.

Schulze A, Frommhold D, Hoffmann GF, Mayatepek E (2001) Spectrophotometric microassay for delta-aminolevulinate dehydratase in dried-blood spots as confirmation for hereditary tyrosinemia type I. Clin Chem 47:1424–1429

19.

Scott CR (2006) The genetic tyrosinemias. Am J Med Genet Part C Semin Med Genet 142C:121–126

20.

Tarini BA (2007) The current revolution in newborn screening: new technology, old controversies. Arch Pediatr Adolesc Med 161:767–772

21.

Turgeon C, Magera MJ, Allard P et al (2008) Combined newborn screening for succinylacetone, amino acids, and acylcarnitines in dried blood spots. Clin Chem 54:657–664

22.

Wästfeld M, Fadeel B, Henter JI (2006) A journey of hope: lessons learned from studies on rare diseases and orphan drugs. J Intern Med 260:1–10

23.

Weigel JF, Janzen N, Pfäffle RW et al (2007) Tandem mass spectrometric determination of succinylacetone in dried blood spots enables presymptomatic detection in a case of hepatorenal tyrosinaemia. J Inherit Metab Dis 30:610

24.

Wilson JM, Jungner G (1968) Principles and practice of screening for disease. WHO, Geneva, p 343
About this article
Cite this article
Schlump, J., Mayatepek, E. & Spiekerkoetter, U. Significant increase of succinylacetone within the first 12 h of life in hereditary tyrosinemia type 1. Eur J Pediatr 169, 569–572 (2010). https://doi.org/10.1007/s00431-009-1074-1
Received:

Accepted:

Published:

Issue Date:
Keywords
HT1

Newborn screening

Nitisinone