Abstract
The haemolytic uraemic syndrome (HUS) includes the triad of haemolytic anaemia, thrombocytopenia, and acute renal failure. The classical form [D(+) HUS] is caused by infectious agents, and it is a common cause of acute renal failure in children. The enterohaemorrhagic Escherichia coli-producing Shiga toxin (Stx) is the most common infectious agent causing HUS. Other infectious agents are Shigella and Streptococcus pneumoniae. Infections by S. pneumoniae can be particularly severe and has a higher acute mortality and a higher long-term morbidity compared to HUS by Stx. Atypical HUS [D(−)Stx(−)HUS] are often used by paediatricians to indicate a presentation of HUS without preceding diarrhoea. Almost all patients with D(−)Stx(−)HUS have a defect in the alternative pathway, for example, mutations in the genes for complement factor H, factor I, and membrane co-factor protein. Mutations in the factor H gene are described more often. The majority of children with D(+) HUS develop some degree of renal insufficiency, and approximately two thirds of children with HUS will require dialysis therapy, while about one third will have milder renal involvement without the need for dialysis therapy. General management of acute renal failure includes appropriate fluid and electrolyte management, antihypertensive therapy, and the initiation of renal replacement therapy when appropriate. Specific management issues in HUS include management of the haematological complications of HUS, monitoring for extra-renal involvement, avoiding antidiarrhoeal drugs, and possibly avoiding of antibiotic therapy. In addition to the obligatory supportive treatment and tight control of hypertension, there is anecdotal evidence that plasma therapy may induce remission and, in some cases, maintain it. Fresh frozen plasma contains factor H at physiological concentrations. A new therapy for D(−)Stx(−)HUS is a humanised monoclonal antibody (Eculizumab) that blocks complement activity by cleavage of the complement protein C5. It prevents the generation of the inflammatory peptide C5a and the cytotoxic membrane–attack complex C5b-9. We have first positive results, but it is still not approved for HUS.
This is a preview of subscription content, log in to check access.
Access options
Buy single article
Instant access to the full article PDF.
US$ 39.95
Price includes VAT for USA
Subscribe to journal
Immediate online access to all issues from 2019. Subscription will auto renew annually.
US$ 199
This is the net price. Taxes to be calculated in checkout.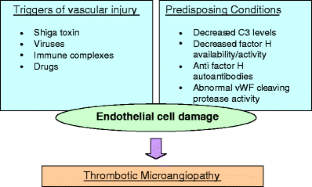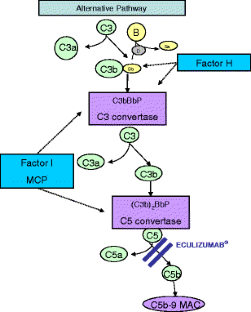 References
1.

Ahn CK, Klein E, Tarr PI (2008) Isolation of patients acutely infected with Escherichia coli O157:H7: low-tech, highly effective prevention of hemolytic uremic syndrome. Clin Infect Dis 46(8):1197–1199

2.

Ariceta G, Besbas N, Johnson S et al (2009) The European Paediatric Study Group for HUS. Guideline for the investigation and initial therapy of diarrhea-negative hemolytic uremic syndrome. Pediatr Nephrol 24(4):687–696

3.

Barilla-LaBarca ML, Liszewski MK, Lambris JD et al (2002) Role of membrane Cofactor protein (CD46) in regulation of C4b and C3b deposits on cells. J Immunol 168(12):6298–6304

4.

Boyce TG, Swerdlow DL, Griffin PM (1995) Escherichia coli O157:H7 and the hemolytic uremic syndrome. N Engl J Med 333:364

5.

Brandt J, Wong C, Mihm S et al (2002) Invasive pneumococcal disease and hemolytic uremic syndrome. Pediatrics 110:371–375

6.

Cabrera GR, Fortenberry JD, Warshaw BL et al (1998) Hemolytic uremic syndrome associated with invasive Streptococcus pneumoniae infection. Pediatrics 101:699–703

7.

Cochran JB, Panzarino VM, Maes LY, Tecklenburg FW (2004) Pneumococcus-induced T-antigen activation in hemolytic uremic syndrome. Pediatr Nephrol 19:317–321

8.

de Cordoba RS, de Goicoechea JE (2008) Translational mini-review series on complement factor H: genetics and disease associations of human complement factor H. Clin Exp Immunol 151:1–13

9.

Dragon-Durey MA, Fremeaux-Bacchi V (2005) Atypical haemolytic uraemic syndrome and mutations in complement regulator genes. Springer Semin Immunopathol 27:359–374

10.

Fremeaux-Bacchi V, Dragon-Durey MA, Blouin J et al (2004) Complement factor I: a susceptibility gene for atypical haemolytic uraemic syndrome. J Med Genet 41:e84

11.

Frémeaux-Bacchi V, Miller EC, Liszewski MK et al (2008) Mutations in complement C3 predispose to development of atypical hemolytic uremic syndrome. Blood 112(13):4948–4952

12.

Gasser C, Gautier E, Steck A et al (1955) Hämolytisch-urämische Syndrome: bilaterale Nierenrindennekrose bei akut erworbenen hämolytischen Anämien. Schweiz Med Wochenschr 85:905–909

13.

Gerber A, Kirchhoff-Modapour AH, Obieglo S et al (2003) Successful (?) therapy of hemolytic uremic syndrome with factor H abnormality. Pediatr Nephrol 18:952–955

14.

Habib R (1992) Pathology of the hemolytic uremic syndrome. In: Kaplan B, Trompeter R, Moake J (eds) Hemolytic uremic syndrome and thrombotic thrombocytopenic purpura. Marcel dekker, New York, pp 315–353

15.

Karmali MA, Petric M, Lim C et al (1985) The association between idiopathic haemolytic uraemic syndrome and infection by Verotoxin producing E. coli. J Infect Dis 151:775–782

16.

Kavanagh D, Goodship THJ, Richars A (2006) Atypical haemolytic uraemic syndrome. Br Med Bull 77–78:5–22

17.

Kavanagh D, Kemp EJ, Mayland E et al (2005) Mutations in complement factor I predispose to development of atypical haemolytic uraemic syndrome. J Am Soc Nephrol 16:2150–2155

18.

Liu J, Hutzler M, Li C, Pechet I (2001) Thrombotic thrombocytopenic purpura (TTP) and hemolytic uremic syndrome (HUS). The new thinking. J Thromb Thrombolysis 3:261–272

19.

Loirat C, Niaudet P (2003) The risk of recurrence after haemolytic uraemic syndrome after renal transplantation in children. Pediatr Nephrol 18:1095–1101

20.

Moghal NE, Ferreira MA, Howie AH et al (1998) The late histologic findings in diarrhoea associated haemolytic uraemic syndrome. J Pediatr 133:220–223

21.

Mukherjee J, Chios K, Fishwild D et al (2002) Human Stx2 specific monoclonal antibodies prevent systemic complications of Escherichia coli O157:H7 infection. Infect Immun 70:612–619

22.

Nathanson S, Deschenes G (2001) Prognosis of Streptococcus pneumoniae induced hemolytic uremic syndrome. Pediatr Nephrol 16:362–365

23.

Noris M, Remuzzi G (2005) Haemolytic uraemic syndrome. J Am Soc Nephrol 16:1035–1050

24.

Noris M, Remuzzi G (2008) Translational mini-review series on complement factor H: therapies of renal diseases associated with complement factor H abnormalities: atypical haemolytic uraemic syndrome and membranoproliferative glomerulonephritis. Clin Exp Immunol 151(2):199–209 (review)

25.

Nuernberger J, Witzke O, Saez AO et al (2009) Eculizumab for atypical hemolytic uremic syndrome. N Engl J Med 360(5):542–544

26.

Orth D, Grif K, Zimmerhackl LB, Würzner R (2008) Prevention and treatment of enterohemorrhagic Escherichia coli infections in humans. Expert Rev Anti Infect Ther 6(1):101–108, Review

27.

Proulz F, Liet JM, Michele D et al (2000) Hemolytic uremic syndrome associated with invasive Streptococcus infection. Pediatrics 105:462–463

28.

Prüfer F, Scheiring J, Sautter S et al (2006) Terminal complement complex (C5b-9) in children with recurrent haemolytic uraemic syndrome. Semin Thromb Hemost 32(2):121–127

29.

Richards A, Kemp EJ, Liszewski MK et al (2003) Mutations in human complement regulator, membrane cofactor protein (CD46), predispose to development of familial hemolytic uremic syndrome. Proc Natl Acad Sci USA 100(22):12966–12971

30.

Ruggenenti P, Noris M, Remuzzi G (2001) Thrombotic microangiopathy, hemolytic uremic syndrome and thrombocytopenic purpura. Kidney Int 60(2001):831–846

31.

Ruggenenti P, Remuzzi G (1998) Pathophysiology and management of thrombotic microangiopathies. J Nephrol 11(6):300–310

32.

Scheiring J, Andreoli SP, Zimmerhackl LB (2008) Treatment and outcome of Shiga-toxin-associated hemolytic uremic syndrome. Pediatr Nephrol 23:1749–1760

33.

Sheoran AS, Chapman-Bonofiglio S, Harvey BR et al (2005) Human antibody against Shiga toxin 2 administered to piglets after the onset of diarrhea due to Escherichia coli O157:H7 prevents fatal systemic complications. Infect Immun 73:4607–4613

34.

Slavicek J, Puretic Z, Novak M, Sarnavka V (1995) The role of plasma exchange in the treatment of severe forms of hemolytic uremic syndrome in childhood. Artif Organs 19:506

35.

Tarr PI, Gordon CA, Chandler WL (2005) Shiga-toxin-producing Escherichia coli and haemolytic uraemic syndrome. Lancet 365(9464):1073–1086

36.

Van Dyck M, Proesmans W (2004) Renoprotection by ACE inhibitors after severe hemolytic uremic syndrome. Pediatr Nephrol 19(6):688–690

37.

Verweyen HM, Karch H, Allerberger F, Zimmerhackl LB (1999) Enterohemorrhagic Escherichia coli (EHEC) in pediatric hemolytic uremic syndrome: a prospective study in Germany and Austria. Infection 27(6):341–347

38.

Verweyen HM, Karch H, Brandis M, Zimmerhackl LB (2000) Enterohemorrhagic Escherichia coli infection: following transmission routes. Pediatr Nephrol 14:73–83

39.

Zimmerhackl LB (2000) E. coli, antibiotics and the hemolytic uremic syndrome. N Engl J Med 342(26):1930–1936

40.

Zimmerhackl LB, Besbas N, Jungraithmayr T et al (2006) European Study Group for haemolytic uraemic syndromes and related disorders: epidemiology, clinical presentation, and pathophysiology of atypical and recurrent hemolytic uremic syndrome. Semin Thromb Hemost 32(2):113–120

41.

Zimmerhackl LB, Scheiring J, Pruefer F et al (2007) Renal transplantation in HUS patients with disorders of complement regulation. Pediatr Nephrol 22(1):10–16

42.

Zimmerhackl LB, Verweyen HM, Gerber A, et al. (2002) Das hämolytisch urämische Syndrom. Deutsches Ärzteblatt, Ausgabe 4 vom 25.01.2002, Seite A-196/B-157/C-153

43.

Zipfel P (2001) Haemolytic uraemic syndrome: how do factor H mutants mediate endothelial damage? Trends Immunol 22:345–348

44.

Zipfel PF, Heinen S, Jozsi M, Skerka C (2006) Complement and diseases: defective alternative pathway control results in kidney and eye diseases. Mol Immunol 43:97–106
About this article
Cite this article
Scheiring, J., Rosales, A. & Zimmerhackl, L.B. Clinical practice. Eur J Pediatr 169, 7–13 (2010). https://doi.org/10.1007/s00431-009-1039-4
Received:

Accepted:

Published:

Issue Date:
Keywords
Acute renal failure

Complement

Factor H

Transplantation

Dialysis

Streptococci

EHEC