Abstract
Clitoromegaly (macroclitoris) can either be congenital or acquired. Intradermal nevus presenting as clitoromegaly in a child is extremely rare. Extensive Medline search has failed to reveal any published article on this. To the best of our knowledge, we report the first patient with this presentation in a 6-year-old child.
This is a preview of subscription content, log in to check access.
Access options
Buy single article
Instant access to the full article PDF.
US$ 39.95
Price includes VAT for USA
Subscribe to journal
Immediate online access to all issues from 2019. Subscription will auto renew annually.
US$ 199
This is the net price. Taxes to be calculated in checkout.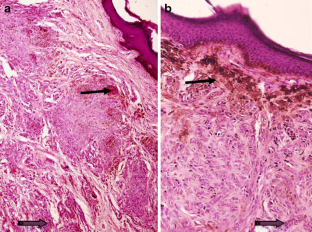 References
1.

Bellinger MF (1999) Feminizing genitoplasty and vaginoplasty. In: Ehrlich RM, Alter GJ (eds) Reconstructive and plastic surgery of the external genitalia 1. WB Saunders, Philadelphia, p 263

2.

Chattopadhyay A, Kher AS, Udwadia AD et al (1993) Fraser syndrome. J Postgrad Med 39:228–230

3.

Copcu E, Aktas A, Sivrioglu N (2004) Idiopathic isolated clitoromegaly: a report of two cases. Reproductive Health 1:4. doi:10.1186/1742-4755-1-4

4.

Guelinckx PJ, Sinsel NK (2002) An unusual case of clitoral enlargement: its differential diagnosis and surgical management. Acta Chir Belg 102:192–195

5.

Haddad NG, Vance GH, Eugster EA et al (2003) Turner syndrome (45×) with clitoromegaly. J Urol 170:1355–1356

6.

Hattori R, Kubo T, Yano K (2003) Nevus lipomatosus cutaneous superficialis of the clitoris. Dermatol Surg 29:1071–1072

7.

Horejsi J (1997) Acquired clitoral enlargement. Diagnosis and treatment. Ann N Y Acad Sci 816:369–372

8.

Mark GJ, Mihm MC, Liteplo MG et al (1973) Congenital melanocytic nevi of the small and garment type. Hum Pathol 4:395

9.

Wilson JD (2003) Formation of sexual phenotypes. Endocrinologist 13:205–207
Conflict of interest
The authors do not have a financial relationship with the organization sponsoring the research.
About this article
Cite this article
Mandal, S., Dhingra, K., Gupta, P. et al. Acquired (idiopathic) intradermal nevus with junctional activity presenting as clitoromegaly in a child: report of a case. Eur J Pediatr 168, 1405 (2009). https://doi.org/10.1007/s00431-009-0938-8
Received:

Accepted:

Published:
Keywords
Acquired nevus

Intradermal nevus

Clitoromegaly

Child