Abstract
We report a case of Pott's puffy tumor (PPT) with Pseudomonas infection occurring after acupuncture therapy in a ventilator-dependent child. Acupuncture use has been growing during the past decade in the whole world. Infectious complications range from benign to lethal. PPT is a subperiosteal abscess of the frontal bone associated with underlying osteomyelitis. It presents as a localised swelling of the forehead. This paper describes a 12-year-old girl with PPT. To our knowledge, this is the first case report of PTT caused by acupuncture therapy.
This is a preview of subscription content, log in to check access.
Access options
Buy single article
Instant access to the full article PDF.
US$ 39.95
Price includes VAT for USA
Subscribe to journal
Immediate online access to all issues from 2019. Subscription will auto renew annually.
US$ 199
This is the net price. Taxes to be calculated in checkout.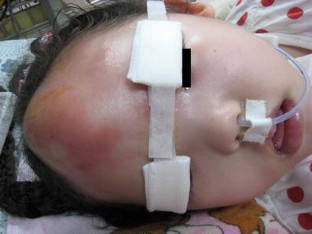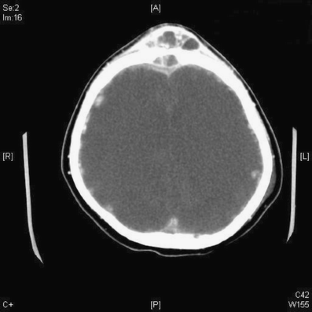 References
1.

Babu RP, Todor R, Kasoff SS (1996) Pott's puffy tumor: the forgotten entity. Case report. J Neurosurg 84:110–112

2.

Canbaz B, Tanriverdi T, Himi KA et al (2003) Pott's puffy tumor: a rare clinical entity. Lancet Infect Dis 3:721 doi:10.1016/S1473-3099(03)00805-3

3.

Flamm ES (1992) Percivall Pott: an 18th century neurosurgeon. J Neurosurg 76:319–326

4.

Ibarra S, Aguirrebengoa K, Pomposo I et al (1999) Osteomyelitis of the frontal bone (Pott's puffy tumor). A report of 5 patients. Enferm Infecc Microbiol Clin 17:488–492

5.

Martinez-Diaz GJ, Hsia R (2008) Pott's Puffy tumor after minor head trauma. Am J Emerg Med 26:739 e1-3

6.

Melchart D, Weidenhammer W, Streng A et al (2004) Prospective investigation of adverse effects of acupuncture in 97733 patients. Arch Intern Med 164:104–105 doi:10.1001/archinte.164.1.104

7.

Seeley EJ, Chambers HF (2006) Diabetic ketoacidosis precipitated by Staphylococcus aureus abscess and bacteremia due to acupuncture: case report and review of the literature. Clin Infect Dis 43:e6–e8 doi:10.1086/504945

8.

Shah P, Mishriki YY (1999) The puffy periorbital protrusion. Pott's puffy tumor. Postgrad Med 105:45–46

9.

Tattersall R (2002) Pott's puffy tumor. Lancet 359:1060–1063 doi:10.1016/S0140-6736(02)08098-4
About this article
Cite this article
Wu, C., Huang, J., Hsia, S. et al. Pott's puffy tumor after acupuncture therapy. Eur J Pediatr 168, 1147 (2009). https://doi.org/10.1007/s00431-008-0892-x
Received:

Accepted:

Published:
Keywords
Pott's puffy tumor

Acupuncture