Abstract
Biliary atresia (BA) is the most frequent indication for paediatric liver transplantation. We tested the hypothesis of a viral aetiology of this disease by screening liver samples of a large number of BA patients for the common human hepatotropic viruses. Moreover, we correlated our findings to the expression of Mx protein, which has been shown to be significantly up-regulated during viral infections. Seventy-four liver biopsies (taken during Kasai portoenterostomy) were tested by polymerase chain reaction (PCR) for DNA viruses (herpes simplex virus [HSV], Epstein-Barr virus [EBV], varicella zoster virus [VZV], cytomegalovirus [CMV], adenovirus, parvovirus B19 and polyoma BK) and RNA viruses (enteroviruses, rotavirus and reovirus 3). Mx protein expression was assessed by immunohistochemistry. Virus DNA/RNA was found in less than half of the biopsies (8/74 CMV, 1/74 adenovirus; 21/64 reovirus, 1/64 enterovirus). A limited number presented with double infection. Patients that had detectable viral RNA/DNA in their liver biopsies were significantly older than virus-free patients (P = 0.037). The majority (54/59) of the liver biopsies showed expression of Mx proteins in hepatocytes, bile ducts and epithelium. Our data suggest that the known hepatotropic viruses do not play a major role in the aetiology and progression of BA. Their incidence appears to be, rather, a secondary phenomenon. Nonetheless, the inflammatory response in the livers of BA patients mimics that observed during viral infections.
This is a preview of subscription content, log in to check access.
Access options
Buy single article
Instant access to the full article PDF.
US$ 39.95
Price includes VAT for USA
Subscribe to journal
Immediate online access to all issues from 2019. Subscription will auto renew annually.
US$ 199
This is the net price. Taxes to be calculated in checkout.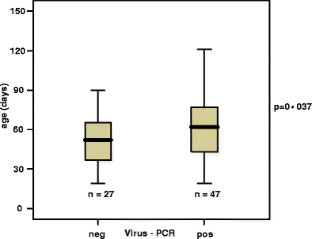 References
1.

A-Kader HH, Nowicki MJ, Kuramoto KI, Baroudy B, Zeldis JB, Balistreri WF (1994) Evaluation of the role of hepatitis C virus in biliary atresia. Pediatr Infect Dis J 13:657–659

2.

Al-Masri AN, Werfel T, Jakschies D, von Wussow P (1997) Intracellular staining of Mx proteins in cells from peripheral blood, bone marrow and skin. Mol Pathol 50:9–14

3.

Al-Masri AN, Flemming P, Rodeck B, Melter M, Leonhardt J, Petersen C (2006) Expression of the interferon-induced Mx proteins in biliary atresia. J Pediatr Surg 41:1139–1143

4.

Balistreri WF (2000) Pediatric hepatology. A half-century of progress. Clin Liver Dis 4:191–210

5.

Batusic DS, Armbrust T, Saile B, Ramadori G (2004) Induction of Mx-2 in rat liver by toxic injury. J Hepatol 40:446–453

6.

Bezerra JA, Tiao G, Ryckman FC, Alonso M, Sabla GE, Shneider B, Sokol RJ, Aronow BJ (2002) Genetic induction of proinflammatory immunity in children with biliary atresia. Lancet 360:1563–1659

7.

Bobo L, Ojeh C, Chiu D, Machado A, Colombani P, Schwarz K (1997) Lack of evidence for rotavirus by polymerase chain reaction/enzyme immunoassay of hepatobiliary samples from children with biliary atresia. Pediatr Res 41:229–234

8.

Brown WR, Sokol RJ, Levin MJ, Silverman A, Tamaru T, Lilly JR, Hall RJ, Cheney M (1988) Lack of correlation between infection with reovirus 3 and extrahepatic biliary atresia or neonatal hepatitis. J Pediatr 113:670–676

9.

Chang MH, Huang HH, Huang ES, Kao CL, Hsu HY, Lee CY (1992) Polymerase chain reaction to detect human cytomegalovirus in livers of infants with neonatal hepatitis. Gastroenterology 103:1022–1025

10.

Chieux V, Hober D, Harvey J, Lion G, Lucidarme D, Forzy G, Duhamel M, Cousin J, Ducoulombier H, Wattré P (1998) The MxA protein levels in whole blood lysates of patients with various viral infections. J Virol Methods 70(2):183–191

11.

Davenport M, Gonde C, Redkar R, Koukoulis G, Tredger M, Mieli-Vergani G, Portmann B, Howard ER (2001) Immunohistochemistry of the liver and biliary tree in extrahepatic biliary atresia. J Pediatr Surg 36:1017–1025

12.

De Tommaso AM, Andrade PD, Costa SC, Escanhoela CA, Hessel G (2005) High frequency of human cytomegalovirus DNA in the liver of infants with extrahepatic neonatal cholestasis. BMC Infect Dis 5:108

13.

Domiati-Saad R, Dawson DB, Margraf LR, Finegold MJ, Weinberg AG, Rogers BB (2000) Cytomegalovirus and human herpesvirus 6, but not human papillomavirus, are present in neonatal giant cell hepatitis and extrahepatic biliary atresia. Pediatric Dev Pathol 3:367–373

14.

Drut R, Drut RM, Gómez MA, Cueto Rúa E, Lojo MM (1998) Presence of human papillomavirus in extrahepatic biliary atresia. J Pediatr Gastroenterol Nutr 27:530–535

15.

Fischler B, Ehrnst A, Forsgren M, Örvell C, Nemeth A (1998) The viral association of neonatal cholestasis in Sweden: a possible link between cytomegalovirus infection and extrahepatic biliary atresia. J Pediatr Gastroenterol Nutr 27:57–64

16.

Fjær RB, Bruu A-L, Nordbø SA (2005) Extrahepatic bile duct atresia and viral involvement. Pediatr Transplant 9:68–73

17.

Floege J, Burg M, Al Masri AN, Gröne HJ, von Wussow P (1999) Expression of interferon-inducible Mx-proteins in patients with IgA nephropathy or Henoch-Schönlein purpura. Am J Kidney Dis 33:434–440

18.

Frese M, Kochs G, Feldmann H, Hertkorn C, Haller O (1996) Inhibition of bunyaviruses, phleboviruses, and hantaviruses by human MxA protein. J Virol 70(2):915–923

19.

Heim A, Ebnet C, Harste G, Pring-Akerblom P (2003) Rapid and quantitative detection of human adenovirus DNA by real-time PCR. J Med Virol 70:228–239

20.

Huang YH, Chou MH, Du YY, Huang CC, Wu CL, Chen CL, Chuang JH (2007) Expression of toll-like receptors and type 1 interferon specific protein MxA in biliary atresia. Lab Invest 87(1):66–74

21.

Jevon GP, Dimmik JE (1999) Biliary atresia and cytomegalovirus infection: a DNA study. Pediatr Dev Pathol 2:11–14

22.

Landing BH (1974) Considerations of the pathogenesis of neonatal hepatitis, biliary atresia and choledochal cyst—the concept of infantile obstructive cholangiopathy. Prog Pediatr Surg 6:113–139

23.

Leonhardt J, Stanulla M, von Wasielewski R, Skokowa J, Kübler J, Ure BM, Petersen C (2006) Gene expression profile of the infective murine model for biliary atresia. Pediatr Surg Int 22(1):84–89

24.

Morecki R, Glaser JH, Cho S, Balistreri WF, Horwitz MS (1982) Biliary atresia and reovirus type 3 infection. N Engl J Med 307:481–484

25.

Pavlovic J, Zürcher T, Haller O, Staeheli P (1990) Resistance to influenza virus and vesicular stomatitis virus conferred by expression of human MxA protein. J Virol 64(7):3370−3375

26.

Petersen C (2006) Pathogenesis and treatment opportunities for biliary atresia. Clin Liver Dis 10:73−88

27.

Riepenhoff-Talty M, Schaekel K, Clark HF, Mueller W, Uhnoo I, Rossi T, Fisher J, Ogra PL (1993) Group A rotaviruses produce extrahepatic biliary obstruction in orally inoculated newborn mice. Pediatr Res 33:394–399

28.

Riepenhoff-Talty M, Gouvea V, Evans MJ, Svensson L, Hoffenberg E, Sokol RJ, Uhnoo I, Greenberg SJ, Schäkel K, Zhaori G, Fitzgerald J, Chong S, el-Yousef M, Nemeth A, Brown M, Piccoli D, Hyams J, Ruffin D, Rossi T (1996) Detection of group C rotavirus in infants with extrahepatic biliary atresia. J Infect Dis 174:8–15

29.

Saito T, Shinozaki K, Matsunaga T, Ogawa T, Etoh T, Muramatsu T, Kawamura K, Yoshida H, Ohnuma N, Shirasawa H (2004) Lack of evidence for reovirus infection in tissues from patients with biliary atresia and congenital dilatation of the bile duct. J Hepatol 40:203–211

30.

Samuel CE (2001) Antiviral actions of interferons. Clin Microbiol Rev 14:778–809

31.

Schreiber RA, Kleinman RE (1993) Genetics, immunology, and biliary atresia: an opening or a diversion? J Pediatr Gastroenterol Nutr 16:111–113

32.

Sokol RJ, Mack C (2001) Etiopathogenesis of biliary atresia. Semin Liver Dis 21:517–524

33.

Sokol RJ, Mack C, Narkewicz MR, Karrer FM (2003) Pathogenesis and outcome of biliary atresia: current concepts. J Pediatr Gastroenterol Nutr 37:4–21

34.

Steel MI, Marshall CM, Lloyd RE, Randolph VE (1995) Reovirus 3 not detected by reverse transcriptase-mediated polymerase chain reaction analysis of preserved tissue from infants with cholestatic liver disease. Hepatology 21:697–702

35.

Tyler KL, Sokol RJ, Oberhaus SM, Le M, Karrer FM, Narkewicz MR, Tyson RW, Murphy JR, Low R, Brown WR (1998) Detection of reovirus RNA in hepatobiliary tissues from patients with extrahepatic biliary atresia and choledochal cysts. Hepatology 27:1475–1482
Acknowledgement
This study was supported by grant Pe 622/2–3 (to Claus Petersen) from the Deutsche Forschungsgemeinschaft and the graduate research programme HILF1 (Hochschulinternes Leistungs Förderungs Programm) (to Johannes Leonhardt) of the Hannover Medical School.
Conflict of interest
None declared.
About this article
Cite this article
Rauschenfels, S., Krassmann, M., Al-Masri, A.N. et al. Incidence of hepatotropic viruses in biliary atresia. Eur J Pediatr 168, 469–476 (2009). https://doi.org/10.1007/s00431-008-0774-2
Received:

Accepted:

Published:

Issue Date:
Keywords
Biliary atresia

Herpes viridae

Adenovirus

Enterovirus

Reovirus 3

RNA

DNA

Mx protein