Abstract
The aim of the study was to compare vertical jumping performances in boys and girls during growth. The maximum heights attained in a countermovement jump (CMJ) and squat jump (SJ) were measured using an Ergojump Bosco System. Average power output (PO) was recorded, and percentage of fast-twitch (%FT) muscle fiber distribution was estimated during the rebound jump. Differences in the maximum CMJ and SJ (CMJ–SJ) heights were calculated. Regressions between PO and age, lean body mass (LBM), and leg muscle volume (LMV), respectively, were computed for 240 boys and 239 girls (aged 11–16 years). Height, LMV, and body mass values were larger in boys than girls aged 14 years. Both groups had a similar body mass index independently of age. The CMJ, SJ, PO, and %FT were larger in boys than in girls between 12 and 16 years of age. Strong correlations were found between PO and age in the population as a whole, and between PO and LBM, PO and LMV in each group. The CMJ–SJ decreased with increasing age in both groups without significant differences. Conclusion Jumping performance increases during growth, with gender differences manifesting from 14 years onwards due to the much greater increase in leg length and LMV in boys than in girls.
This is a preview of subscription content, log in to check access.
Access options
Buy single article
Instant access to the full article PDF.
US$ 39.95
Price includes VAT for USA
Subscribe to journal
Immediate online access to all issues from 2019. Subscription will auto renew annually.
US$ 199
This is the net price. Taxes to be calculated in checkout.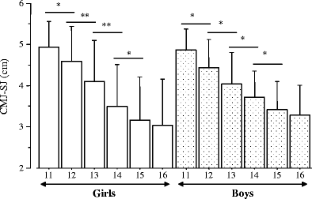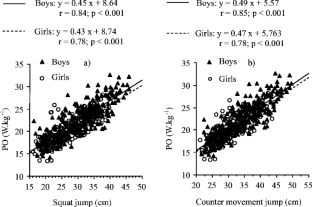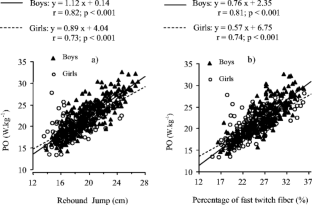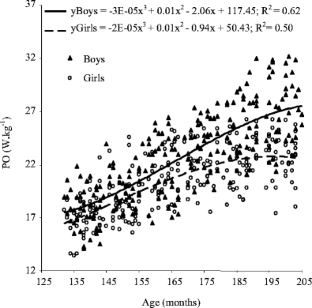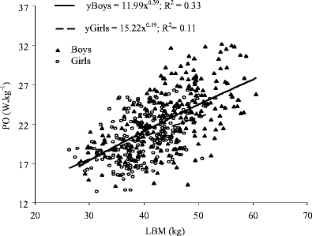 References
1.

Albertsson WK, Luo ZC, Niklasson A, Karlberg J (2002) Swedish population-based longitudinal reference values from birth to 18 years of age for height weight and head circumference. Acta Paediatr 91:739–754

2.

Beenakker EAC, Van der Hoeven JH, Fock JM, Maurits NM (2001) References values of maximum isometric muscle force obtaind in 270 children aged 4–16 year hand-held dynamometry. Neuromuscul Disord 11:441–446

3.

Bobbert MF, Casius LJR (2005) Is the effect of a counter-movement on jump height due to active state development? Med Sci Sports Exerc 37:440–446

4.

Bobbert MF, Gerritsen KG, Litjens MC, Van Soest AJ (1996) Why is counter-movement jump height greater than squat jump height? Med Sci Sports Exerc 28:1402–1412

5.

Bosco C (1980) Sei un grande atleta vediamo cosa dice l'Ergojump. Pallavolo 5:34–36

6.

Bosco C, Komi PV, Tihanyi J, Fekete G, Apor P (1983) Mechanical power composition of human leg extensor muscles. Eur J Appl Physiol 51:129–135

7.

Bosco C, Luhtanen P, Komi PV (1983) A simple method for measurement of mechanical power in jumping. Eur J Appl Physiol 50:273–282

8.

Boye KR (2002) Anthropometric assessment of muscularity during growth: estimating fat-free mass with 2 skinfold-thickness measurements is superior to measuring midupper arm muscle area in healthy prepubertal children1-3. Am J Clin Nutr 76:628–632

9.

Davies CT, Young K (1985) Mechanical power output in children aged 11 and 14 years. Acta Paediatr Scand 74:760–764

10.

Deheeger M, Rolland-Cachera MF (2004) Longitudinal study of anthropometric measurements in Parisian children aged ten months to 18 years. Arch Pediatr 11:1139–1144

11.

Doré E, Martin R, Ratel S, Duché P, Bedu M, Van Praagh E (2005) Gender differences in peak muscle performance during growth. Int J Sports Med 26:274–280

12.

Durnin JVGA, Rahaman MM (1967) The assessment of the amount of fat in the human body from measurements of skinfold thickness. Br J Nutr 21:681–689

13.

Fagard J (1996) Skill acquisition in children: a historical perspective. In: Bar-Or O (ed) The child and adolescent athlete. Blackwell Science, Oxford, pp 74–91

14.

Falk B, Bar-Or O (1993) Longitudinal changes in peak aerobic and anaerobic mechanical power of circompubertal boys. Pediatr Exerc Sci 5:318–331

15.

Forretti G, Narici MV, Binzoni T, Gario DL, Le Bas JF, Reutenauer H, Cerretelli P (1994) Determinant of peak muscle power: effects of power and physical conditioning. Eur J Appl Physiol 68:111–115

16.

Fredriks AM, Van Buuren S, Jeurissen SER, Dekker FW, Verloove-Vanhorick SP, Wit JM (2004) Height, weight, body mass index and pubertal development references for children of Moroccan origin in The Netherlands. Acta Paediatr 93:817–824

17.

Frisancho AR (1981) New- norms of upper limb fat and muscle areas for assessment of nutritional status. Am J Clin Nutr 34:2540–2545

18.

Garcia-Lopez J, Peleteiro J, Rodgriguez-Marroyo JA, Morante JC, Herrero JA, Villa JG (2005) The validation of a new method that measures contact and flight times during vertical jump. Int J Sports Med 26:294–302

19.

Glenmark B, Hedberg G, Kauser L, Jansson E (1994) Muscle strength from adolescence to adulthood-relationship to muscle fibre types. Eur J Appl Physiol 68:9–19

20.

Harrison AJ, Gaffney S (2001) Motor development and gender effects on stretch-shortening cycle performance. J Sci Med Sport 4:406–415

21.

Hautier CA, Linossier MT, Belli A, Lacour JR, Arsac LM (1996) Optimal velocity for maximal power production in nonisokinetic cycling is related to muscle fibre type composition. Eur J Appl Physiol 74:114–118

22.

Johnston JL, Leong MS, Checkland EG, Zuberbuhler PC, Conger PR, Quinney HA (1988) Body fat assessed from body density and estimated from skinfold thickness in normal children and children with cystic fibrosis. Am J Clin Nutr 48:1362–1366

23.

Jones PRM, Pearson J (1969) Anthropometric determination of leg fat and muscle plus bone volume in young male and female adults. J Physiol 204:63–66

24.

Klausen K, Schibye B, Ramusen A (1989) A longitudinal study of changes in physical performance of 10-to-15 year old girls and boys. In: Oseid SS, Carlsen K-H (eds) Children and exercise XIII. Human Kinetics, Champaign, pp 112–123

25.

Krotkiewski MJ, Kral G, Karlsson J (1980) Effects of castration and testosterone substitution on body composition and muscle metabolism in rats. Acta Physiol Scand 109:233–237

26.

Malina RM, Bouchard C (1991) Growth, maturation, and physical activity. Human Kinetics, Champaign

27.

Markovic G, Dizdar D, Jukic I, Cardinale M (2004) Reliability and factorial validity of squat and counter-movement jump tests. J Strength Cond Res 18:551–555

28.

Martin RJF, Dore E, Hautier CA, Van Praagh E, Bedu M (2003) Short-term peak power changes in adolescents of similar anthropometric characteristics. Med Sci Sports Exerc 35:1436–1440

29.

Martin RJF, Dore E, Twisk J, Van Praagh E, Hautier CA, Bedu M (2004) Longitudinal changes of maximal short-term peak power in girls and boys during growth. Med Sci Sports Exerc 36:498–503

30.

Van Praagh E, Dore E (2002) Short-term muscle power during growth and maturation. Sports Med 32:701–728

31.

Viitasalo JT, Osterback L, Alen M, Rahkila P, Havas E (1987) Mechanical jumping power in young athletes. Acta Physiol Scand 131:139–145

32.

Weiner JS, Lourie JA (1981) Practical human biology. Academic, London, pp 27–52
Acknowledgements
We want to thank the boys and the girls who took part in this study as well as their parents and the schools' directors who gave their permission for performing all of the tests.
About this article
Cite this article
Temfemo, A., Hugues, J., Chardon, K. et al. Relationship between vertical jumping performance and anthropometric characteristics during growth in boys and girls. Eur J Pediatr 168, 457 (2009). https://doi.org/10.1007/s00431-008-0771-5
Received:

Accepted:

Published:
Keywords
Child

Growth

Performance

Vertical jumping