Abstract
A 6-week-old child presented with hypotonia, myopathy, and a rapidly worsening dilated cardiomyopathy with severe atrial and ventricular arrhythmias and pulmonary hypertension, which proved fatal at age 3 months. Biochemical analysis showed a combined deficiency of the enzymatic activities of complexes I and IV and molecular studies identified a T14709C mutation in the mitochondrial tRNA glutamic acid gene. A review of symptomatology in patients with this mutation shows that it mainly presents in childhood or young adults with mild myopathy and diabetes mellitus. Infants with a high, nearly homoplasmic mutant load can present with more severe symptoms including cardiomyopathy. Families with this mitochondrial DNA mutation should be aware that increased mutant load in a subsequent generation may result in severe and often fatal cardiac symptoms.
This is a preview of subscription content, log in to check access.
Access options
Buy single article
Instant access to the full article PDF.
US$ 39.95
Price includes VAT for USA
Subscribe to journal
Immediate online access to all issues from 2019. Subscription will auto renew annually.
US$ 199
This is the net price. Taxes to be calculated in checkout.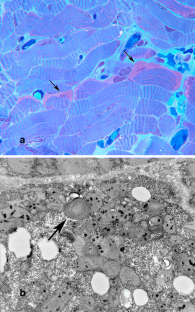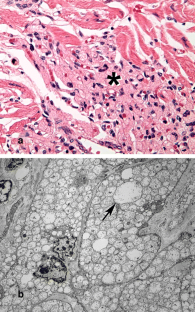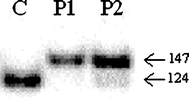 Abbreviations
mtDNA:

mitochondrial DNA

tRNA:

transfer RNA

COX:

cytochrome c oxidase

ATP:

adenosine triphosphate

ADP:

adenosine diphosphate

RFLP:

restriction fragment length polymorphism

PCR:

polymerase chain reaction

PAGE:

polyacrylamide gel electrophoresis
References
1.

Antonicka H, Ogilvie I, Taivassalo T, Anitori RP, Halter RG, Vissing J, Kennaway NG, Shoubridge EA (2003) Identification and characterization of a common set of complex I assembly intermediates in mitochondria from patients with complex I deficiency. J Biol Chem 278:43081–43088

2.

Barclay AR, Shollier G, Christodoulou J, Shun A, Arbuckle S, Dorney S, Stormon MO (2005) Pulmonary hypertension: a new manifestation of mitochondrial disease. J Inher Metab Dis 28:1081–1089

3.

Choo-Kang ATW, Lynn S, Taylor GA, Daly ME, Sihota SS, Wardell TM, Chinnery PF, Turnbull DM, Walker M (2002) Defining the importance of mitochondrial gene defects in maternally inherited diabetes by sequencing the entire mitochondrial genome. Diabetes 51:2317–2320

4.

Damore ME, Speiser PW, Slonim AE, Newe MI, Shanske S, Xia W, Santorelli FM, DiMauro S (1999) Early onset diabetes mellitus associated with the mitochondrial DNA T14709C point mutation: patient report and literature review. J Pediatr Endocrin Metab 12:207–213

5.

Hanna MG, Nelson I, Sweeney MG, Cooper JM, Watkins PJ, Morgan-Hughes JA, Harding AE (1995) Congenital encephalomyopathy and adult-onset myopathy and diabetes mellitus: different phenotypic associations of a new heteroplasmic mtDNA tRNA glutamic acid mutation. Am J Hum Genet 56:1026–1033

6.

Hao H, Bonilla E, Manfredi G, DiMauro S, Moraes CT (1995) Segregation patterns of a novel mutation in the mitochondrial tRNA glutamic acid gene associated with myopathy and diabetes mellitus. Am J Hum Genet 56:1017–1025

7.

Holmgren D, Wåhlander H, Eriksson BO, Oldfors A, Holme E, Tulinius M (2003) Cardiomyopathy in children with mitochondrial disease. Eur Heart J 24:280–288

8.

King T, Howard R (1967) Preparation of succinate dehydrogenase and reconstitution of succinate oxidase. In: Estabrook R, Pullman M (eds) Methods in enzymology: oxidation and phosphorylation, vol 10. Academic Press, New York, pp 322–328

9.

King T, Howard RL (1967) Preparation and properties of NADH dehydrogenase from cardiac muscle. In: Estabrook R, Pullman M (eds) Methods in enzymology: oxidation and phosphorylation, vol 10. Academic Press, New York, pp 275–294

10.

Mancuso M, Ferraris S, Nishigaki Y, Azan G, Mauro A, Sammarco P, Krishna S, Tay SKH, Bonilla E, Romansky SG, Hirano M, DiMauro S (2005) Congenital or late-onset myopathy in patients with the T14709C mtDNA mutation. J Neurol Sci 228:93–97

11.

McFarland R, Schaefer AM, Gardner JL, Lynn S, Hayes CM, Barron MJ, Walker M, Chinnery PF, Taylor RW, Turnbull DM (2004) Familial myopathy: new insights into the T14709C mitochondrial tRNA mutation. Ann Neurol 55:478–484

12.

Meulemans A, Seneca S, Smet J, De Paepe B, Lissens W, Van Coster R, Debeer A, De Meirleir L, Jaeken J (2007) A new family with the mitochondrial tRNAGLU gene mutation m.14709T>C presenting as hydrops fetalis. Eur J Pediatr Neurol 11:17–20

13.

Narbonne H, Paquis-Fluckinger V, Valero R, Heyries L, Pellisier JF, Vialettes B (2004) Gastrointestinal tract symptoms in maternally inherited diabetes and deafness (MIDD). Diabetes Metab 30:61–66

14.

Rigoli L, Prisco F, Caruso RA, Iafusco D, Ursomanno G, Zucarello D, Ingenito N, Rigoli M, Barberi I (2001) Association of the T14709C mutation of mitochondrial DNA with maternally inherited diabetes mellitus and/or deafness in an Italian family. Diabetic Med 18:334–336

15.

Schagger H, von Jagow G (1991) Blue native electrophoresis for isolation of membrane protein complexes in enzymatically active form. Anal Biochem 199:223–231

16.

Schon EA (2006) Appendix. In: DiMauro S, Hirano M, Schon EA (eds.) Mitochondrial medicine. Taylor & Francis, London, pp 329–335

17.

Shanske S, Pancrudo J, Kaufmann P, Engelstad K, Jhung S, Lu J, Naini A, DiMauro S, De Vivo DC (2004) Varying loads of the mitochondrial DNA A3243G mutation in different tissues: implications for diagnosis. Am J Med Genet A 130:134–137

18.

Srere P (1969) Citrate synthase. In: Lowenstein J (ed) Methods in enzymology, vol 13. Academic Press, New York, pp 3–11

19.

Vialettes BH, Paquis-Flucklinger V, Pellisier JF, Bendaham D, Narbonne H, Silverstre-Aillaud P, Montfort MF, Righini-Chossegros M, Pouget J, Cozzone PJ, Desnuelle C (1997) Phenotypic expression of diabetes secondary to a T14709C mutation of mitochondrial DNA: comparison with MIDD syndrome (A3243G mutation): a case report. Diabetes Care 20:1731–1737

20.

Wharton DC, Tzagoloff A (1967) Cytochrome c oxidase from beef heart mitochondria. In: Estabrook R, Pullman M (eds) Methods in enzymology, vol 10. Academic Press, New York, pp 245–250
Acknowledgments
The authors would like to thank Dr. Eric Shoubridge, Montreal Neurological Institute, Montreal, Canada, for performing the blue native polyacrylamide gel electrophoresis experiments.
About this article
Cite this article
Van Hove, J.L.K., Freehauf, C., Miyamoto, S. et al. Infantile cardiomyopathy caused by the T14709C mutation in the mitochondrial tRNA glutamic acid gene. Eur J Pediatr 167, 771–776 (2008). https://doi.org/10.1007/s00431-007-0587-8
Received:

Accepted:

Published:

Issue Date:
Keywords
Mitochondrial respiratory chain

tRNA glutamic acid

Cardiomyopathy

Arrhythmias

Heteroplasmy