Abstract
A 15-year-old girl was referred to our hospital due to fever, headache, and vomiting of 7 days duration and focal motor convulsion at the day of referral. Her clinical signs and cerebral imaging findings were found to be compatible with herpes simplex encephalitis. In spite of prompt acyclovir administration, her consciousness deteriorated gradually. Emergent cranial magnetic resonance imaging demonstrated a shift of midline intracranial structures. Decompressive surgery resulted in partial improvement in the shift of midline intracranial structures and potentially saved the patient's life. This case report stresses the importance of proper management of increased intracranial pressure in patients with herpes simplex encephalitis.
This is a preview of subscription content, log in to check access.
Access options
Buy single article
Instant access to the full article PDF.
US$ 39.95
Price includes VAT for USA
Subscribe to journal
Immediate online access to all issues from 2019. Subscription will auto renew annually.
US$ 199
This is the net price. Taxes to be calculated in checkout.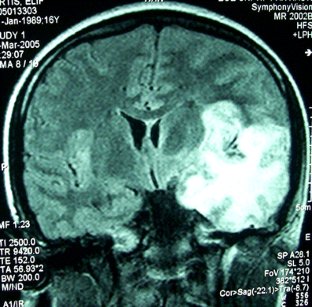 References
1.

Barnett GH, Ropper AH, Romeo J (1988) Intracranial pressure and outcome in adult encephalitis. J Neurosurg 68:585–588

2.

Baringer JR (2000) Herpes simplex virus encephalitis. In: Davis LE, Kennedy PGE (eds) Infectious diseases of the nervous system. Butterworth-Heinemann, Oxford, pp 139–164

3.

Kennedy PG, Chaudhuri A (2002) Herpes simplex encephalitis. J Neurol Neurosurg Psychiatry 73(3):237–238

4.

Tyler KL (2004) Herpes simplex virus infections of the central nervous system: encephalitis and meningitis, including Mollaret's. Herpes 11(Suppl 2):57–64

5.

Whitley RJ (1990) Viral encephalitis. N Engl J Med 323:242–250

6.

Yan HJ (2002) Herpes simplex encephalitis: the role of surgical decompression. Surg Neurol 57:20–24
About this article
Cite this article
Bayram, N., Ciftdogan, D.Y., Karapinar, B. et al. A case of herpes simplex encephalitis revealed by decompressive craniectomy. Eur J Pediatr 167, 821–822 (2008). https://doi.org/10.1007/s00431-007-0566-0
Received:

Accepted:

Published:

Issue Date:
Keywords
Herpes simplex encephalitis

Increased intracranial pressure

Decompression