Abstract
Vaginal fibroepithelial polyp is a rare lesion, and although benign, it can be confused with malignant connective tissue lesions. Treatment is simple excision, and recurrence is extremely uncommon. We report a case of a newborn with vaginal fibroepithelial polyp. The authors suggest that vaginal polyp must be considered in the evaluation of interlabial masses in prepubertal girls.
This is a preview of subscription content, log in to check access.
Access options
Buy single article
Instant access to the full article PDF.
US$ 39.95
Price includes VAT for USA
Subscribe to journal
Immediate online access to all issues from 2019. Subscription will auto renew annually.
US$ 199
This is the net price. Taxes to be calculated in checkout.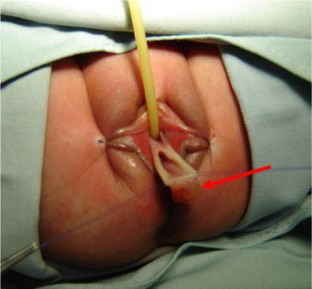 References
1.

Burt RL, Prichard RW, Kim BS (1976) Fibro epithelial polyp of the vagina. A report of five cases. Obstet Gynecol 47(1):52S–54S

2.

Halvorsen TB, Johanson E (1992) Fibro epithelial polyps of the vagina: are they old granulation tissue polyps. J Clin Pathol 45(3):235–240

3.

Nussbaum AR, Lebowitz RL (1983) Interlabial masses in little girls: review and imaging recommendations. Am J Roentgenol 181(1):65–71

4.

Pul M, Yilmaz N, Gurses N, Ozoran Y (1990) Vaginal polyp in a newborn-a case report and review of the literature. Clin Pediatr 29(6):346

5.

Sharma S, Albertazzi P, Richmond I (2006) Vaginal polyps and hormones – is there a link. Maturitas 53(3):351–355
About this article
Cite this article
Jallouli, M., Trigui, L., Gargouri, A. et al. Vaginal polyp in a newborn. Eur J Pediatr 167, 599–600 (2008). https://doi.org/10.1007/s00431-007-0524-x
Received:

Accepted:

Published:

Issue Date:
Keywords
Fibroepithelial polyp

Interlabial mass

Neonate