Abstract
Tinea of the nails is not an exclusively adult pathology. The pediatrician should include this entity in the differential diagnosis.
This is a preview of subscription content, log in to check access.
Access options
Buy single article
Instant access to the full article PDF.
US$ 39.95
Price includes VAT for USA
Subscribe to journal
Immediate online access to all issues from 2019. Subscription will auto renew annually.
US$ 199
This is the net price. Taxes to be calculated in checkout.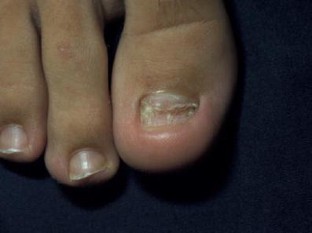 References
1.

Gill D, Marks R (1999) A review of the epidemiology of tinea unguium in the community. Australas J Dermatol 40:6–13

2.

Inanir I, Sahin MT, Gündüz K, Dinç G, Türel A, Arisoy A, Öztürkcan S (2002) Case report. Tinea pedis and onychomycosis in primary school children in Turkey. Mycoses 45:198–201

3.

Lange M, Roszkiewicz J, Szcerkowska-Dobosz A, Jasiel-Walikowska E, Bykowska B (2006) Onychomycosis is no longer a rare finding in children. Mycoses 49:55–59

4.

Lateur N, Mortaki A, André J (2003) Two hundred ninety-six cases of onychomycosis in children and teenagers: a 10-year laboratory survey. Pediatr Dermatol 20:385–388

5.

Martínez A, Torres JM (1986) Dermatophytosis in children and adolescents: epidemiological study in the city of Barcelona, Spain. Mykosen 29:311–315

6.

Scher RK (1999) Onychomycosis: therapeutic update. J Am Acad Dermatol 40:S21–S26
About this article
Cite this article
Martinez Roig, A., Torres Rodriguez, J.M. Twelve cases of tinea unguium in a pediatric clinic in 9 years. Eur J Pediatr 166, 975–977 (2007). https://doi.org/10.1007/s00431-006-0332-8
Received:

Accepted:

Published:

Issue Date:
Keywords
Tinea unguium

Tinea pedis

Onychomycosis