Abstract
A contiguous deletion encompassing the genes for dystrophin, cytochrome b(−245) β-subunit (CYBB), retinitis pigmentosa GTPase regulator (RPGR), and OTC was detected in a female patient only suffering from OTC deficiency while symptoms of the other conditions were not present.
This is a preview of subscription content, log in to check access.
Access options
Buy single article
Instant access to the full article PDF.
US$ 39.95
Price includes VAT for USA
Subscribe to journal
Immediate online access to all issues from 2019. Subscription will auto renew annually.
US$ 199
This is the net price. Taxes to be calculated in checkout.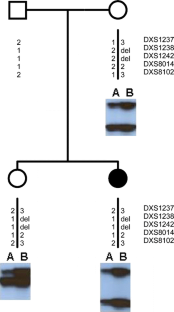 References
1.

Allen RC, Zoghbi HY, Mosely AB, Rosenblatt HM, Belmont JW (1992) Methylation of the HpaII and HhaI sites near the polymorphic CAG repeat in the human androgen receptor gene correlates with X chromosome inactivation. Am J Hum Genet 51:1229–1239

2.

Climent C, Garcia-Perez MA, Sanjurjo P, Riuz-Sanz JI, Vilaseca MA, Pineda M, Campistol J, Rubio V (1999) Identification of a cytogenetic deletion and of four novel mutations (Q69X, I172F, G188V, G197R) affecting the gene for ornithine transcarbamylase (OTC) in Spanish patients with OTC deficiency. Hum Mutat 14:352–353

3.

Tuchman M, Morizono H, Plante RJ, Allewell NM (1998) The biochemical and molecular spectrum of ornithine transcarbamylase deficiency. J Inher Metab Dis 21(Suppl 1):40–58

4.

Yorifuji T, Muroi J, Uematsu A, Tanaka K, Kiwaki K, Endo F, Matsuda I, Nagasaka H, Furusho K (1998) X-inactivation pattern in the liver of a manifesting female with ornithine transcarbamylase (OTC) deficiency. Clin Genet 54:349–353
About this article
Cite this article
Jakubiczka, S., Bettecken, T., Mohnike, K. et al. Symptoms of OTC deficiency but not DMD in a female carrier of an Xp21.1 deletion including the genes for dystrophin and OTC . Eur J Pediatr 166, 743–745 (2007). https://doi.org/10.1007/s00431-006-0303-0
Received:

Accepted:

Published:

Issue Date:
Keywords
OTC deficiency

Deletion

Dystrophin gene