Abstract
A single, 2 g/kg dose of immune globulin (IG), denoted 2 g-intravenous (IV)IG, has become a standard regimen for treating Kawasaki disease (KD) because of its highly preventive effect on coronary arterial lesions (CAL). However, IG is obtained from blood specimens, a drawback to many patients, and is also very expensive. This randomized prospective study reported here was carried out with the aim of developing a treatment regimen that would reduce the total dose of IG. The study tested two protocols (A: 2 g-IVIG; B: 1 g-IVIG) that included the strategy of administering additional IVIG to IVIG-resistant patients based on the criteria we described previously. In protocol A, an additional 2 g-IVIG was administered only once; in protocol B, the first additional IVIG was 1 g-IVIG and the second was 2 g-IVIG. One hundred and nine patients who were admitted before the seventh day of illness and had no CAL at the time of admission were enrolled in the study (protocol A: 54 patients; B: 55 patients). In the protocol A group, 7.4% (4/54) of the patients received 4 g/kg IG. In protocol B, 41.8% (23/55) were treated only with 1 g/kg IG, and 10.9% (6/55) received 4 g/kg IG. No significant differences were observed between the patients of the two subgroups receiving 4 g/kg IG in each protocol group. Discriminate analysis also suggested that 52.4% of the patients in the protocol A group could be treated only with 1 g/kg IG. On the other hand, no significant difference was observed in the incidence of aneurysms between patients in the protocol A group (1/54) and those in the protocol B group (4/55). Our protocol based on 1 g-IVIG, including additional IVIG, was assessed to be an effective treatment and to provide a considerably useful means to reduce the total dose of IG.
This is a preview of subscription content, log in to check access.
Access options
Buy single article
Instant access to the full article PDF.
US$ 39.95
Price includes VAT for USA
Subscribe to journal
Immediate online access to all issues from 2019. Subscription will auto renew annually.
US$ 199
This is the net price. Taxes to be calculated in checkout.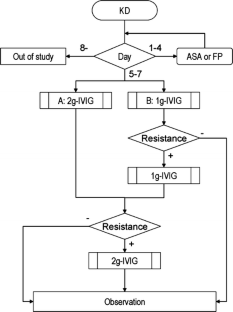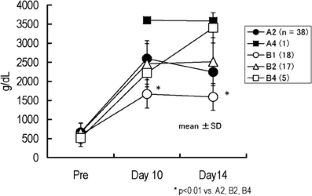 Abbreviations
CAL:

Coronary arterial lesions

IG:

Immune globulin

IVIG:

Intravenous immune globulin

KD:

Kawasaki disease

LCA:

left coronary artery

RCA:

right coronary artery

t-Dil:

Transient dilatation
References
1.

Fasano MB (1995) Risks and benefits of intravenous immunoglobulin treatment in children. Curr Opin Pediatr 7:688–694

2.

Hashino K, Ishii M, Iemura M, Akagi T, Kato H (2001) Re-treatment for immune globulin-resistant Kawasaki disease: a comparative study of additional immune globulin and steroid pulse therapy. Pediatr Int 43:211–217

3.

Jibiki T, Terai M, Kurosaki T, Nakajima H, Suzuki K, Inomata H, Terashima I, Honda T, Yasukawa K, Hamada H, Kohno Y (2004) Efficacy of intravenous immune globulin therapy combined with dexamethasone for the initial treatment of acute Kawasaki disease. Eur J Pediatr 163:229–233

4.

Lang B, Duffy CM (2002) Controversies in the management of Kawasaki disease. Best Pract Res Clin Rheumatol 16:427–442

5.

Lee MS, An SY, Jang GC and Kim DS (2002) A case of intravenous immunoglobulin-resistant Kawasaki disease treated with methotrexate. Yonsei Med J 43:527–532

6.

Miura M, Ohki H, Tsuchihashi T, Yamagishi H, Katada Y, Yamada K, Yamashita Y, Sugaya A, Komiyama O, Shiro H (2004) Coronary risk factors in Kawasaki disease treated with additional gammaglobulin. Arch Dis Child 89:776–780

7.

Mori M, Tomono N, Yokota S (1995) Coronary arteritis of Kawasaki disease unresponsive to high-dose intravenous gammaglobulin successfully treated with plasmapheresis. Nihon Rinsho Meneki Gakkai Kaishi 18:282–288

8.

Newburger JW, Takahashi M, Beiser AS, Burns JC, Bastian J, Chung KJ, Colan SD, Duffy CE, Fulton DR, Glode MP (1991) A single intravenous infusion of gamma globulin as compared with four infusions in the treatment of acute Kawasaki syndrome. N Engl J Med 324:1633–1639

9.

Oates-Whitehead RM, Baumer JH, Haines L, Love S, Maconochie IK, Gupta A, Roman K, Dua JS and Flynn I (2003) Intravenous immunoglobulin for the treatment of Kawasaki disease in children (Cochrane Review). Cochrane Database Syst Rev 4: CD004000 (DOI 10.1002/14651858.CD004000)

10.

Onouchi Z, Kawasaki T (1999) Overview of pharmacological treatment of Kawasaki disease. Drugs 58:813–822

11.

Redwan EL (2002) Biochemical and immunological properties of four intravenous Immunoglobulin G preparations. Hum Antibodies 11:79–84

12.

Sato N, Sugimura T, Akagi T, Yamakawa R, Hashino K, Eto G, Iemura M, Ishii M, Kato H (1999) Selective high dose gamma-globulin treatment in Kawasaki disease: assessment of clinical aspects and cost effectiveness. Pediatr Int 41:1–7

13.

Shulman ST, Rowley AH (2004) Advances in Kawasaki disease. Eur J Pediatr 163:285–291

14.

Suto F, Sakata K, Kamiya Y, Hamaoka K, Onouchi Z, Tanaka T, Nukina S (1998) Additional gamma-globulin therapy (IVGG) for the patients of Kawasaki disease who are resistant to first IVGG. Prog Med 18:1649–1651

15.

Suto F, Sato H, Yoiyama K, Ozawa S, Teramachi S, Nakagawa Y, Kido S, Sakata K, Kamiya Y, Itoi T, Hamaoka K, Onouchi Z (1997) Predictors of coronary artery lesions after intravenous gamma-globulin therapy in Kawasaki disease. Prog Med 17:1820-1827
About this article
Cite this article
Sakata, K., Hamaoka, K., Ozawa, S. et al. A randomized prospective study on the use of 2 g-IVIG or 1 g-IVIG as therapy for Kawasaki disease. Eur J Pediatr 166, 565–571 (2007). https://doi.org/10.1007/s00431-006-0280-3
Keywords
Cost

Discriminate analysis

Kawasaki disease

Immune globulin

Resistance