Abstract
One of us recently described chronic pancreatic hyperenzymemia in the absence of pancreatic or other disease in adult subjects. The aim of the present study was to describe this form of pancreatic hyperenzymemia in children. The study involved 15 children with this condition seen from September 1996 to December 2004. After initial evaluation, each child was seen by us once annually until the end of the study. Each check-up included serum amylase (normal values 20–220 IU/L), pancreatic isoamylase (17–115 IU/L) and lipase (24–270 IU/L) determinations as well as abdominal ultrasound. In six children, fecal elastase was also determined. At the initial assessment, 13 of the 15 children had abnormal serum increases in all three enzymes, one showed an increase only in lipase, and in the remaining child all three enzymes were present in normal concentrations. These latter two children had had abnormally elevated levels of all enzymes at the examination performed before this study began. During follow-up, enzyme concentrations remained abnormally elevated, although with wide fluctuations and transient normalizations. Considering the highest values of enzymes found in the various examinations performed during this study, the increase over the upper normal limit was in the range of 1.5- to 5.2-fold for amylase, 2.2-to 8.0-fold for pancreatic isoamylase, and 2.0- to 15.4-fold for lipase. Fecal elastase was normal in the six children in whom it was measured. No child had evidence of pancreatic or other disease, either at initial evaluation or during follow-up. The results of this study describe benign pancreatic hyperenzymemia in children. Although it is a benign condition, awareness of it is important to avoid unnecessary concern and multiple diagnostic procedures.
This is a preview of subscription content, log in to check access.
Access options
Buy single article
Instant access to the full article PDF.
US$ 39.95
Price includes VAT for USA
Subscribe to journal
Immediate online access to all issues from 2019. Subscription will auto renew annually.
US$ 199
This is the net price. Taxes to be calculated in checkout.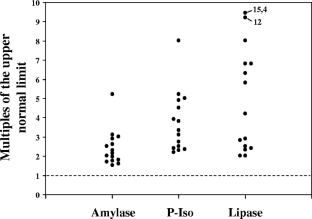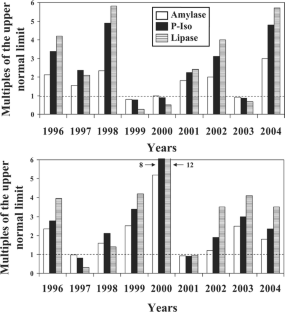 References
1.

Benifla M, Weizman Z (2003) Acute pancreatitis in childhood. J Clin Gastroenterol 37:169–172

2.

Colon AR, Felder RA, Ryan TM (1980) Macroamylasemia. J Ped 96:64–66

3.

Cuckow PM, Foo AY, Jamal A, Stringer MD (1997) Familial hyperamylasaemia. Gut 40:689–690

4.

D'Avanzo M, Cobbaert C, Tolone C, Toraldo R, Canino G, Vetrano F, Santinelli R, Iafusco F (1992) Macroamylasemia in a 5-year-old girl. J Ped Gastroenterol Nutr 14:104–106

5.

DeBanto JR, Goday PS, Pedroso MR (2002) Acute pancreatitis in children. Am J Gastroenterol 97:1726–1731

6.

Gullo L (1996) Chronic nonpathological hyperamylasemia of pancreatic origin. Gastroenterology 110:1905–1908

7.

Gullo L (2000) Familial pancreatic hyperenzymemia. Pancreas 20:158–160

8.

Gullo L, Mantovani V, Manca M, Migliori M, Bastagli L, Pezzilli R (2005) Mutations of the CFTR gene in idiopathic pancreatic hyperenzymemia. Pancreas 31:350–352

9.

Gullo L, Ventrucci M, Barakat B, Migliori M, Tomassetti P, Pezzilli R (2003) Effect of secretin on serum pancreatic enzymes and on the Wirsung duct in chronic nonpathological pancreatic hyperenzymemia. Pancreatology 3:191–194

10.

Gullo L, Ventrucci M, Tomassetti P, Migliori M, Pezzilli R (1999) Fecal elastase 1 determination in chronic pancreatitis. Dig Dis Sci 44:210–213

11.

Haddad NG, Croffie JM, Eugster EA (2004) Pancreatic enzyme elevations in children with diabetic ketoacidosis. J Pediatr 145:122–124

12.

Koda YKL, Vidolin E (2002) Familial hyperamylasemia. Rev Hosp Clin Fac Med S Paulo 57:77–82

13.

Lopez MJ (2002) The changing incidence of acute pancreatitis in children: a single institution perspective. J Pediatr 140:622–624

14.

Lowe ME (2004) Pancreatitis in childhood. Curr Gastroenterol Rep 6:240–246

15.

Malvano R, Marchisio M, Massaglia A, Giacosa PA, Zannino M, Andriulli A, Burlina A (1980) Radioimmunoassay of trypsin-like substance in human serum. Scand J Gastroenterol 62 (Suppl 15):3–10

16.

Stringer MD, Davison SM, McClean P, Raiwal S, Puntis JWL. Ramsden W, Woodley H (2005) Multidisciplinary management of surgical disorders of the pancreas in childhood. J Ped Gastroenterol Nutr 40:363–367

17.

Werlin SL, Kugathasan S, Frautschy BC (2003) Pancreatitis in children. J Pediatr Gastroenterol Nutr 37:591–595
Acknowledgements
We would like to thank Miss Janice Capan for her support in translation of the manuscript, Mrs. Silvana Borghini and Miss Eleonora Capelli for technical support, and Miss Simonetta Righi for bibliographical assistance.
About this article
Cite this article
Gullo, L., Migliori, M. Benign pancreatic hyperenzymemia in children. Eur J Pediatr 166, 125–129 (2007). https://doi.org/10.1007/s00431-006-0264-3
Received:

Accepted:

Published:

Issue Date:
Keywords
Amylase

Lipase

Pancreatic hyperenzymemia

Children

Benign pancreatic hyperenzymemia