Abstract
Cochlear dysplasia is a rare congenital anomaly. However, early detection of this anomaly can prevent serious consequences. We describe three cases of cochlear dysplasia that presented with recurrent meningitis and cerebro-spinal fluid (CSF) leak in children in which early diagnosis prevented further complications.
This is a preview of subscription content, log in to check access.
Access options
Buy single article
Instant access to the full article PDF.
US$ 39.95
Price includes VAT for USA
Subscribe to journal
Immediate online access to all issues from 2019. Subscription will auto renew annually.
US$ 199
This is the net price. Taxes to be calculated in checkout.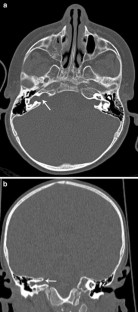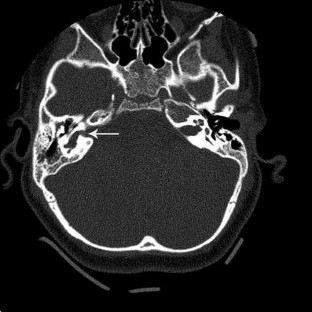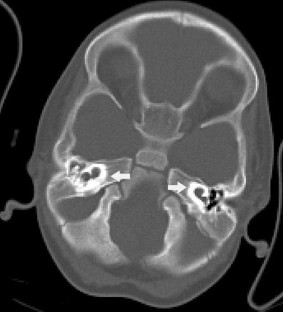 References
1.

Arellano B, Ramirez Camacho R, Garcia Berrocal JR, Villamar M, del Castillo I, Moreno F (2000) Sensorineural hearing loss and Mondini dysplasia caused by a deletion at locus DFN3. Arch Otolaryngol Head Neck Surg 126:1065–1069

2.

Bergstrom L, Thompson P, Wood RP 2nd (1979) New patterns in genetic and congenital otonephropathies. Laryngoscope 89:177–194

3.

Dodge PR, Davis H, Feigin RD, Holmes SJ, Kaplan SL, Jubelirer DP, Stechenberg BW, Hirsh SK (1984) Prospective evaluation of hearing impairment as a sequela of acute bacterial meningitis. N Engl J Med 311:869–874

4.

Eisenberg LS, Luxford WM, Becker TS, House WF (1984) Electrical stimulation of the auditory system in children deafened by meningitis. Otolaryngol Head Neck Surg 92:700–705

5.

Graham JM, Phelps PD, Michaels L (2000) Congenital malformations of the ear and cochlear implantation in children: review and temporal bone report of common cavity. J Laryngol Otol Suppl 25:1–14

6.

Jackler RK, Luxford WM, House WF (1987) Congenital malformations of the inner ear: a classification based on embryogenesis. Laryngoscope 97:2–14

7.

Melnick M, Bixler D, Nance WE, Silk K, Yune H (1976) Familial branchio-oto-renal dysplasia: a new addition to the branchial arch syndromes. Clin Genet 9:25–34

8.

Mondini C (1791) Anatomica surdi nati sectio. Bonosiensi scientarium et atrium instituto atqu academia commentarii Bononiae 7:419–428

9.

Ohtani I, Kano M, Sagawa Y, Ogawa H, Suzuki C (2001) Temporal bone histopathology in trisomy 22. Int J Pediatr Otorhinolaryngol 59:137–141

10.

Paparella MM (1980) Mondini's deafness. A review of histopathology. Ann Otol Rhinol Laryngol Suppl 89:1–10

11.

Phelps PD (1986) Congenital cerebrospinal fluid fistulae of the petrous temporal bone. Clin Otolaryngol Allied Sci 11:79–92

12.

Phelps PD, King A, Michaels L (1994) Cochlear dysplasia and meningitis. Am J Otol 15:551–557

13.

Propst EJ, Blaser S, Gordon KA, Harrison RV, Papsin BC (2005) Temporal bone findings on computed tomography imaging in branchio-oto-renal syndrome. Laryngoscope 115:1855–1862

14.

Saito R, Takata N, Matsumoto N, Koide I, Fujita A, Ogura Y, Murakami M, Yanagida KK, Omazawa M (1982) Anomalies of the auditory organ in Potter's syndrome. Histopathological findings in the temporal bone. Arch Otolaryngol 108:484–488

15.

Usami S, Abe S, Weston MD, Shinkawa H, Van Camp GK, Imberling WJ (1999) Non-syndromic hearing loss associated with enlarged vestibular aqueduct is caused by PDS mutations. Hum Genet 104:188–192
About this article
Cite this article
Ben-Shoshan, M., DeRowe, A., Grisaru-Soen, G. et al. Recurrent meningitis and cerebrospinal fluid leak–two sides of the same vestibulocochlear defect: report of three cases. Eur J Pediatr 166, 269–272 (2007). https://doi.org/10.1007/s00431-006-0236-7
Received:

Accepted:

Published:

Issue Date:
Keywords
Cochlear dysplasia

Mondini malformation

Meningitis

CSF leak