Abstract
Idiopathic infantile arterial calcification (IIAC) is a rare disease characterised by extensive depositions of hydroxyapatite in the internal elastic lamina of medium-sized and large arteries, frequently accompanied by periarticular calcifications. We report on three patients with various presenting signs and symptoms. Diagnostic imaging techniques and therapy with bisphosphonates will be discussed. For the first time long-term follow-up of up to 25 years will be reported.
This is a preview of subscription content, log in to check access.
Access options
Buy single article
Instant access to the full article PDF.
US$ 39.95
Price includes VAT for USA
Subscribe to journal
Immediate online access to all issues from 2019. Subscription will auto renew annually.
US$ 199
This is the net price. Taxes to be calculated in checkout.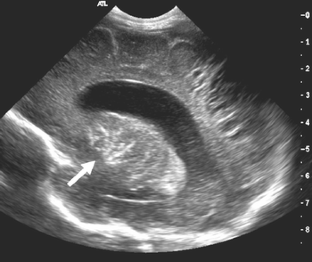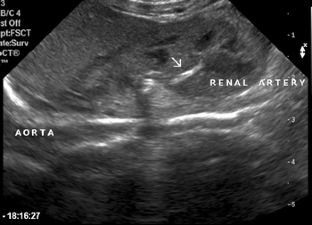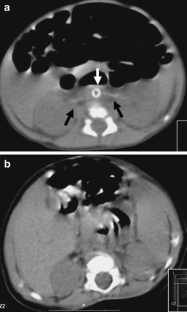 References
1.

Eronen M, Pohjavuori M, Heikkila P (2001) Fatal outcome of two siblings with idiopathic arterial calcification of infancy diagnosed in utero. Pediatr Cardiol 22:167–169

2.

Levine JC, Campbell J, Nadel A (2001) Prenatal diagnosis of idiopathic infantile arterial calcification. Circulation 103:325–326

3.

Maayan C, Peleg O, Eyal F, Mogle P, Rosenmann E, Bar Ziv J (1984) Idiopathic infantile arterial calcification: a case report and review of the literature. Eur J Pediatr 142:211–215

4.

Mahboubi S, Glaser DL, Shore EM, Kaplan FS (2001) Fibrodysplasia ossificans progressiva. Pediatr Radiol 31:307–314

5.

Marrott PK, Newcombe KD, Becroft DM, Friedlander DH (1984) Idiopathic infantile arterial calcification with survival to adult life. Pediatr Cardiol 5:119–122

6.

Meradji M, de Villeneuve VH, Huber J, de Bruijn WC, Pearse RG (1978) Idiopathic infantile arterial calcification in siblings: radiologic diagnosis and successful treatment. J Pediatr 92:401–405

7.

Rutsch F, Ruf N, Vaingankar S, Toliat MR, Suk A, Hohne W, Schauer G, Lehmann M, Roscioli T, Schnabel D, Epplen JT, Knisely A, Superti-Furga A, McGill J, Filippone M, Sinaiko AR, Vallance H, Hinrichs B, Smith W, Ferre M, Terkeltaub R, Nurnberg P (2003) Mutations in ENPP1 are associated with 'idiopathic' infantile arterial calcification. Nat Genet 34:379–381

8.

Rutsch F, Vaingankar S, Johnson K, Goldfine I, Maddux B, Schauerte P, Kalhoff H, Sano K, Boisvert WA, Superti-Furga A, Terkeltaub R (2001) PC-1 nucleoside triphosphate pyrophosphohydrolase deficiency in idiopathic infantile arterial calcification. Am J Pathol 158:543–554

9.

Srivastava T, Alon US (2003) The role of bisphosphonates in diseases of childhood. Eur J Pediatr 162:735–751

10.

Stuart G, Wren C, Bain H (1990) Idiopathic infantile arterial calcification in two siblings: failure of treatment with diphosphonate. Br Heart J 64:156–159

11.

Thiaville A, Smets A, Clercx A, Perlmutter N (1994) Idiopathic infantile arterial calcification: a surviving patient with renal artery stenosis. Pediatr Radiol 24:506–508

12.

Thomas P, Chandra M, Kahn E, McVicar M, Naidich J, LaCorte M (1990) Idiopathic arterial calcification of infancy: a case with prolonged survival. Pediatr Nephrol 4:233–235

13.

Van Dyck M, Proesmans W, Van Hollebeke E, Marchal G, Moerman P (1989) Idiopathic infantile arterial calcification with cardiac, renal and central nervous system involvement. Eur J Pediatr 148:374–377

14.

Vera J, Lucaya J, Garcia Conesa JA, Aso C, Balaguer A (1990) Idiopathic infantile arterial calcification: unusual features. Pediatr Radiol 20:585–587

15.

Whitehall J, Smith M, Altamirano L (2003) Idiopathic infantile arterial calcification: sonographic findings. J Clin Ultrasound 31:497–501
About this article
Cite this article
van der Sluis, I.M., Boot, A.M., Vernooij, M. et al. Idiopathic infantile arterial calcification: clinical presentation, therapy and long-term follow-up. Eur J Pediatr 165, 590–593 (2006). https://doi.org/10.1007/s00431-006-0146-8
Received:

Accepted:

Published:

Issue Date:
Keywords
Idiopathic infantile arterial calcification

Bisphosphonates

Therapy

Diagnostics

Long-term follow-up