Abstract
Human metapneumovirus (hMPV) is a recently discovered pathogen in respiratory tract infection. The published literature suggests milder illness severity in hMPV compared with respiratory syncytial virus (RSV) infection. In two consecutive seasons, 637 nasopharyngeal aspirates from pediatric patients were tested by hMPV polymerase chain reaction, and risk factors and clinical and laboratory items were analyzed. The hMPV patients were compared with hMPV-negative but RSV-positive patients by matched pair analysis. HMPV was detected in 17.9% of all samples. In total, 88 hMPV-infected patients with complete datasets were considered. More than half of all hMPV patients were older than 12 months, 45.5% had at least one risk factor for a severe course of viral respiratory tract infection, and 27.3% were born prematurely, 15.9% with a birth weight <1,500 g. At least one other virus was also detected in 39 patients (44.3%; RSV in 29.5%). Coinfection did not result in greater severity of illness. On matched pair analysis (hMPV-positive/RSV-negative vs. hMPV-negative/RSV-positive), the epidemiological and clinical features of hMPV infection were similar to those of RSV infection, as in the hMPV group higher proportions of patients with hypoxemia on admission (33% vs. 21%) and of intensive care treatment (20.8% vs. 10.4%) were observed. More hMPV patients showed lobar infiltrates in radiological chest examination. In 60% of all hMPV infections, the attending physicians prescribed antimicrobial chemotherapy. We conclude that in hospitalized children, hMPV infection is as serious as RSV infection and therefore deserves the same attention. Virologic diagnosis from respiratory secretions is mandatory because clinical, laboratory, and radiological signs cannot sufficiently discriminate between viral and bacterial respiratory tract infection in infants and children.
This is a preview of subscription content, log in to check access.
Access options
Buy single article
Instant access to the full article PDF.
US$ 39.95
Price includes VAT for USA
Subscribe to journal
Immediate online access to all issues from 2019. Subscription will auto renew annually.
US$ 199
This is the net price. Taxes to be calculated in checkout.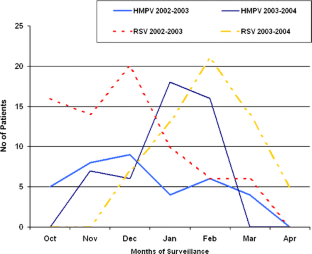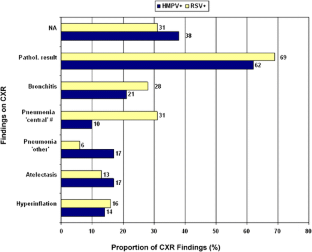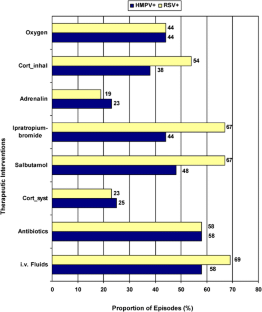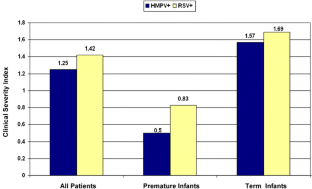 References
1.

Black CP (2003) Systematic review of the biology and medical management of respiratory syncytial virus infection. Respir Care 48:209–231; discussion 231–203

2.

Boivin G, De Serres G, Cote S, Gilca R, Abed Y, Rochette L, Bergeron MG, Dery P (2003) Human metapneumovirus infections in hospitalized children. Emerg Infect Dis 9:634–640

3.

Bosis S, Esposito S, Niesters HG, Crovari P, Osterhaus AD, Principi N (2005) Impact of human metapneumovirus in childhood: comparison with respiratory syncytial virus and influenza viruses. J Med Virol 75:101–104

4.

Crowe JE Jr (2004) Human metapneumovirus as a major cause of human respiratory tract disease. Pediatr Infect Dis J 23:S215–S221

5.

Dollner H, Risnes K, Radtke A, Nordbo SA (2004) Outbreak of human metapneumovirus infection in Norwegian children. Pediatr Infect Dis J 23:436–440

6.

Donnelly LF (2001) Practical issues concerning imaging of pulmonary infection in children. J Thorac Imaging 16:238–250

7.

Ebihara T, Endo R, Kikuta H, Ishiguro N, Ishiko H, Hara M, Takahashi Y, Kobayashi K (2004) Human metapneumovirus infection in Japanese children. J Clin Microbiol 42:126–132

8.

Ebihara T, Endo R, Kikuta H, Ishiguro N, Ishiko H, Kobayashi K (2004) Comparison of the seroprevalence of human metapneumovirus and human respiratory syncytial virus. J Med Virol 72:304–306

9.

Esper F, Martinello RA, Boucher D, Weibel C, Ferguson D, Landry ML, Kahn JS (2004) A 1-year experience with human metapneumovirus in children aged <5 years. J Infect Dis 189:1388–1396

10.

Fitzgerald DA, Kilham HA (2004) Bronchiolitis: assessment and evidence-based management. Med J Aust 180:399–404

11.

Gern JE (2004) Viral respiratory infection and the link to asthma. Pediatr Infect Dis J 23:S78–S86

12.

Goldstein B, Giroir B, Randolph A (2005) International pediatric sepsis consensus conference: definitions for sepsis and organ dysfunction in pediatrics. Pediatr Crit Care Med 6:2–8

13.

Greensill J, McNamara PS, Dove W, Flanagan B, Smyth RL, Hart CA (2003) Human metapneumovirus in severe respiratory syncytial virus bronchiolitis. Emerg Infect Dis 9:372–375

14.

Ison MG, Hayden FG (2002) Viral infections in immunocompromised patients: what's new with respiratory viruses? Curr Opin Infect Dis 15:355–367

15.

Jartti T, van den Hoogen B, Garofalo RP, Osterhaus AD, Ruuskanen O (2002) Metapneumovirus and acute wheezing in children. Lancet 360:1393–1394

16.

Konig B, Konig W, Arnold R, Werchau H, Ihorst G, Forster J (2004) Prospective study of human metapneumovirus infection in children less than 3 years of age. J Clin Microbiol 42:4632–4635

17.

Kuiken T, van den Hoogen BG, van Riel DA, Laman JD, van Amerongen G, Sprong L, Fouchier RA, Osterhaus AD (2004) Experimental human metapneumovirus infection of cynomolgus macaques (Macaca fascicularis) results in virus replication in ciliated epithelial cells and pneumocytes with associated lesions throughout the respiratory tract. Am J Pathol 164:1893–1900

18.

Leung J, Esper F, Weibel C, Kahn JS (2005) Seroepidemiology of human metapneumovirus (hMPV) on the basis of a novel enzyme-linked immunosorbent assay utilizing hMPV fusion protein expressed in recombinant vesicular stomatitis virus. J Clin Microbiol 43:1213–1219

19.

Low DE, Pichichero ME, Schaad UB (2004) Optimizing antibacterial therapy for community-acquired respiratory tract infections in children in an era of bacterial resistance. Clin Pediatr (Phila) 43:135–151

20.

Maggi F, Pifferi M, Vatteroni M, Fornai C, Tempestini E, Anzilotti S, Lanini L, Andreoli E, Ragazzo V, Pistello M, Specter S, Bendinelli M (2003) Human metapneumovirus associated with respiratory tract infections in a 3-year study of nasal swabs from infants in Italy. J Clin Microbiol 41:2987–2991

21.

McIntosh ED, De Silva LM, Oates RK (1993) Clinical severity of respiratory syncytial virus group A and B infection in Sydney, Australia. Pediatr Infect Dis J 12:815–819

22.

McIntosh K (2002) Community-acquired pneumonia in children. N Engl J Med 346:429–437

23.

McIntosh K, McAdam AJ (2004) Human metapneumovirus-an important new respiratory virus. N Engl J Med 350:431–433

24.

Meissner HC (2003) Selected populations at increased risk from respiratory syncytial virus infection. Pediatr Infect Dis J 22:S40–S44; discussion S44–S45

25.

Mullins JA, Erdman DD, Weinberg GA, Edwards K, Hall CB, Walker FJ, Iwane M, Anderson LJ (2004) Human metapneumovirus infection among children hospitalized with acute respiratory illness. Emerg Infect Dis 10:700–705

26.

Ogra PL (2004) Respiratory syncytial virus: the virus, the disease and the immune response. Paediatr Respir Rev 5(Suppl A):S119–S126

27.

Peiris JS, Tang WH, Chan KH, Khong PL, Guan Y, Lau YL, Chiu SS (2003) Children with respiratory disease associated with metapneumovirus in Hong Kong. Emerg Infect Dis 9:628–633

28.

Pelletier G, Dery P, Abed Y, Boivin G (2002) Respiratory tract reinfections by the new human metapneumovirus in an immunocompromised child. Emerg Infect Dis 8:976–978

29.

Rawlinson WD, Waliuzzaman Z, Carter IW, Belessis YC, Gilbert KM, Morton JR (2003) Asthma exacerbations in children associated with rhinovirus but not human metapneumovirus infection. J Infect Dis 187:1314–1318

30.

Reina J, Gonzalez Gardenas M, Ruiz de Gopegui E, Padilla E, Ballesteros F, Mari M, Munar M (2004) Prospective evaluation of a dot-blot enzyme immunoassay (Directigen RSV) for the antigenic detection of respiratory syncytial virus from nasopharyngeal aspirates of paediatric patients. Clin Microbiol Infect 10:967–971

31.

Schildgen O, Geikowski T, Glatzel T, Simon A, Wilkesmann A, Roggendorf M, Viazov S, Matz B (2004) New variant of the human metapneumovirus (HMPV) associated with an acute and severe exacerbation of asthma bronchiale. J Clin Virol 31:283–288

32.

Schildgen O, Glatzel T, Geikowski T, Scheibner B, Matz B, Bindl L, Born M, Viazov S, Wilkesmann A, Knöpfle G, Roggendorf M, Simon A (2005) Human metapneumovirus RNA in encephalitis patient. Emerg Infect Dis 11:467–470

33.

Semple MG, Cowell A, Dove W, Greensill J, McNamara PS, Halfhide C, Shears P, Smyth RL, Hart CA (2005) Dual infection of infants by human metapneumovirus and human respiratory syncytial virus is strongly associated with severe bronchiolitis. J Infect Dis 191:382–386

34.

Toikka P, Irjala K, Juven T, Virkki R, Mertsola J, Leinonen M, Ruuskanen O (2000) Serum procalcitonin, C-reactive protein and interleukin-6 for distinguishing bacterial and viral pneumonia in children. Pediatr Infect Dis J 19:598–602

35.

Ulloa-Gutierrez R, Skippen P, Synnes A, Seear M, Bastien N, Li Y, Forbes JC (2004) Life-threatening human metapneumovirus pneumonia requiring extracorporeal membrane oxygenation in a preterm infant. Pediatrics 114:e517–e519

36.

van den Hoogen BG, de Jong JC, Groen J, Kuiken T, de Groot R, Fouchier RA, Osterhaus AD (2001) A newly discovered human pneumovirus isolated from young children with respiratory tract disease. Nat Med 7:719–724

37.

van den Hoogen BG, Osterhaus DM, Fouchier RA (2004) Clinical impact and diagnosis of human metapneumovirus infection. Pediatr Infect Dis J 23:S25–S32

38.

Viazov S, Ratjen F, Scheidhauer R, Fiedler M, Roggendorf M (2003) High prevalence of human metapneumovirus infection in young children and genetic heterogeneity of the viral isolates. J Clin Microbiol 41:3043–3045

39.

Williams JV, Harris PA, Tollefson SJ, Halburnt-Rush LL, Pingsterhaus JM, Edwards KM, Wright PF, Crowe JE, Jr. (2004) Human metapneumovirus and lower respiratory tract disease in otherwise healthy infants and children. N Engl J Med 350:443–450

40.

Wyde PR, Chetty SN, Jewell AM, Boivin G, Piedra PA (2003) Comparison of the inhibition of human metapneumovirus and respiratory syncytial virus by ribavirin and immune serum globulin in vitro. Antiviral Res 60:51–59
Acknowledgements
The authors are grateful to Carola Maiworm and Sergei Viazov for critical comments on the manuscript and to Max Konstantin von Renesse for support with statistical analysis. This work was supported by a grant from the Else-Kröner-Fresenius-Stiftung (Bad Homburg, Germany; grant number A01/05//F00).
Conflict of interest statement
None of the investigators has any potential conflict of interest. All procedures were in accordance with the ethical standards of the responsible committee on human experimentation (institutional and regional) and with the Helsinki Declaration of 1975, as revised in 2000. The DSM RSV Paed study is sponsored by a grant from Abbott, Wiesbaden, Germany.
Additional information
The first two authors contributed equally to this work.
About this article
Cite this article
Wilkesmann, A., Schildgen, O., Eis-Hübinger, A.M. et al. Human metapneumovirus infections cause similar symptoms and clinical severity as respiratory syncytial virus infections. Eur J Pediatr 165, 467–475 (2006). https://doi.org/10.1007/s00431-006-0105-4
Received:

Revised:

Accepted:

Published:

Issue Date:
Keywords
Human metapneumovirus

Respiratory syncytial virus

Viral respiratory tract infection