This is a preview of subscription content, log in to check access.
Access options
Buy single article
Instant access to the full article PDF.
US$ 39.95
Price includes VAT for USA
Subscribe to journal
Immediate online access to all issues from 2019. Subscription will auto renew annually.
US$ 199
This is the net price. Taxes to be calculated in checkout.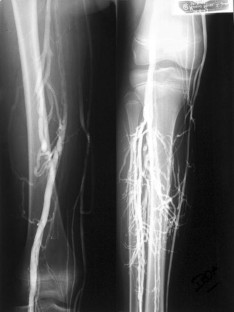 References
1.

Carter C, Gent M (1992) The epidemiology of venous thrombosis. In: Colman R, Hirsh J, Marder V, Salzman E (eds) Hemostasis and thrombosis. Basic principles and clinical practice. Lippincott Co., Philadelphia,, pp 805–819

2.

Endler G, Exner M, Mannhalter C, Meier S, Ruzicka K, Handler S, Wagner O, Quehenberger P (2001) A common C→T polymorphism at nt 46 in the promoter region of coagulation factor XII associated with decreased factor XII activity. Thromb Res 101: 255–260

3.

Girolami A, Sartori MT, Lombardi AM, Pellati D (2004) Rebuttal: factor XII levels, factor XII 46 C>T polymorphism and venous thrombosis: a word of caution is needed. Thromb Haemost 92: 892–893

4.

Goodnough LT, Saito H, Ratnoff OD (1983) Thrombosis or myocardial infarction in congenital clotting factor abnormalities and chronic thrombocytopenias: a report of 21 patients and review of 50 previously reported cases. Medicine 62: 248–255

5.

Nowak-Göttl U, Kosch A, Schlegel N, Salem M, Manco-Johnson M (2002) Curr Opin Hematol 9: 448–453

6.

Ratnoff OD, Colopy JH (1955) A familial hemorrhagic trait associated with deficiency of clot promoting fraction of plasma. J Clin Invest 34: 602–613

7.

Soria JM, Almasy L, Souto JC, Bacq D, Buil A, Faure A, Martinez-Marchan E, Mateo J, Borrell M, Stone W, Lathrop M, Fontcuberta J, Blangero J (2002) A quantitative-trait locus in the human factor XII gene influences both plasma factor XII levels and susceptibility to thrombotic disease. Am J Hum Genet 70: 567–574
Acknowledgement
We thank Dr J. Fontcuberta for the Factor XII polymorphism studies.
About this article
Cite this article
Pérez-Montes, R., Sedano, C., Yáñez, L. et al. Deep venous thrombosis, protein S deficiency and homozygous Factor XII 46T mutation. Eur J Pediatr 164, 591–593 (2005). https://doi.org/10.1007/s00431-005-1690-3
Received:

Accepted:

Published:

Issue Date:
Keywords
Enoxaparin

Deep Venous Thrombosis

Thrombophilia

Venous Thromboembolic Event

Acquire Risk Factor