Abstract
We report an infant suffering from Pierre Robin sequence complicated by gastro-oesophageal reflux and failure to thrive, which were resistant to conservative therapy and a hemifundoplication. Gastro-oesophageal reflux was accompanied by supraventricular tachycardia, treated with propafenone. Tachycardia may be present in Pierre Robin sequence as a consequence of cardiac parasympathetic imbalance. The patient recovered completely from the gastro-oesophageal reflux and tachycardia after redo-fundoplication (Nissen) and a hiatoplasty were performed. Conclusion:This case shows that a thorough search for gastro-oesophageal reflux is indicated in each case of Pierre Robin sequence with failure to thrive.
This is a preview of subscription content, log in to check access.
Access options
Buy single article
Instant access to the full article PDF.
US$ 39.95
Price includes VAT for USA
Subscribe to journal
Immediate online access to all issues from 2019. Subscription will auto renew annually.
US$ 199
This is the net price. Taxes to be calculated in checkout.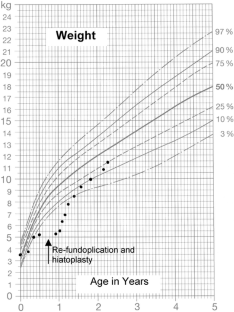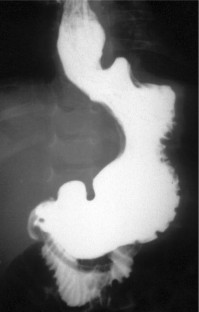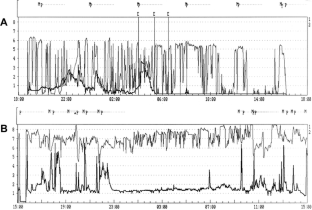 Abbreviations
FTT :

failure to thrive

GER :

gastro-oesophageal reflux

GERD :

gastro-oesophageal reflux disease

PRS :

Pierre Robin sequence
References
1.

Abadie V, Morisseau-Durand M-P, Beyler C, Manach Y, Couly G (2002) Brainstem dysfunction: a possible neuroembryological pathogenesis of isolated Pierre Robin sequence. Eur J Pediatr 161: 275–280

2.

Axelrod FB, Maayan C, Hazzi C, Bougaru BS, Shannon DC (1987) Bradycardia associated with hiatal hernia and gastroesophageal reflux relieved by surgery. Am J Gastroenterol 82: 159–161

3.

Baudon J-J, Renault F, Goutet JM, Flores-Guevara R, Soupre V, Gold F, Vazquez MP (2002) Motor dysfunction of the upper digestive tract in Pierre Robin sequence as assessed by sucking-swallowing electromyography and esophageal manometry. J Pediatr 140: 719–723

4.

Chiaretti M, Fracassi RM, Ferrante P, Scalercio F, Principessa L, Caropreso E, Celli M, Finocchiaro R (1998) Jejunal enteral feeding in a severe case of reflux esophagitis in an infant with Pierre-Robin Syndrome. Minerva Pediatr 50: 175–178

5.

Dudkiewicz Z, Sekula E, Jalosinska AN (2000) Gastroesophageal reflux in Pierre-Robin Sequence—early surgical treatment. Cleft Palate Craniofac J 37: 205–208

6.

Inge TH, Carmeci C, Ohara LJ, Berquist WB, Cahill JC (1998) Outcome of Nissen fundoplication using intraoperative manometry in children. J Pediatr Surg 33: 1614–1617

7.

Laparoscopic antireflux surgery for gastroesophageal reflux (GERD) (1997) Results of a Consensus Development Conference. Surg Endosc 11: 413–426

8.

Marcus CL, Hamer A (1997) Significance of isolated bradycardia detected by home monitoring. J Pediatr 135: 321–326

9.

Pandya AN, Boorman JG (2001) Failure to thrive in babies with cleft lip and palate. Br J Plast Surg 54: 471–475

10.

Patterson EJ, Herron DM, Hansen PD (2000) Effect of an esophageal bougie on the incidence of dysphagia following Nissen fundoplication: a prospective, blinded, randomized controlled trial. Arch Surg 135: 1055–1062

11.

Samuk I, Afriat R, Horne T, Bistritzer T, Barr J, Vinograd I (1996) Dumping syndrome following Nissen fundoplication, diagnosis and treatment. J Pediatr Gastroenterol Nutr 23: 235–240

12.

Stoll C, Kiney JR, Dott B, Alembik Y, Finck S (1992) Ventricular extrasystoles with syncopal episodes, perodactyly, and Robin in sequence in three generations: a new inherited MCA syndrome? Am J Med Genet 42: 480–486

13.

Vandenplas Y, Sacré-Smiths L (1987) Continuous 24-hour esophageal pH monitoring in 285 asymptomatic infants 0–15 months old. J Pediatr Gastroenterol Nutr 6: 220–224
About this article
Cite this article
Reinshagen, K., Schellscheidt, J. & Zimmer, K. A case of severe Pierre Robin sequence with failure to thrive and tachycardia resolved after redo-fundoplication and hiatoplasty. Eur J Pediatr 164, 573–576 (2005). https://doi.org/10.1007/s00431-005-1682-3
Received:

Revised:

Accepted:

Published:

Issue Date:
Keywords
Gastro-oesophageal reflux

Pierre Robin sequence

Tachycardia