Abstract
The aim of this study was to document the pharmacodynamics of chloral hydrate in former preterm infants at term post-conception age. The degree of sedation (COMFORT), feeding behaviour and cardiorespiratory events (bradycardic events, apnoeas) before and after administration of chloral hydrate (oral, 30 mg/kg) were prospectively evaluated in former preterm infants during procedural sedation. Characteristics at birth, during neonatal stay and at inclusion were collected. Paired Wilcoxon and McNemar tests were used to study the impact of chloral hydrate. Characteristics of infants who displayed severe bradycardic events were compared to infants in whom no bradycardic events were recorded (Mann Whitney U, Fischer's exact). A significant increase in sedation (decrease COMFORT scale) was observed up to 12 h after administration. There was a minor but significant decrease in oral intake (161 to 156 ml/kg/day, P <0.01). A significant increase in the number of bradycardic events (<80/min: 38 to 82 events, of which <70/min: 30 to 79 of which <60/min: 15 to 45; at least P <0.01) and in the duration of the most severe bradycardic event (8–12.5 s) was observed. Therefore, further inclusion was stopped when 26 neonates were included. Infants who displayed severe bradycardic (<60/min) events ( n =13) after administration of chloral hydrate had a lower gestational age at birth without difference in post-conception age at inclusion. Conclusion:Chloral hydrate was associated with an increase in unintended side-effects in former preterm infants, likely reflecting population specific pharmacodynamics and kinetics of chloral hydrate.
This is a preview of subscription content, log in to check access.
Access options
Buy single article
Instant access to the full article PDF.
US$ 39.95
Price includes VAT for USA
Subscribe to journal
Immediate online access to all issues from 2019. Subscription will auto renew annually.
US$ 199
This is the net price. Taxes to be calculated in checkout.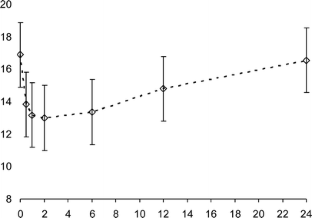 Abbreviations
BERA :

brain stem auditory evoked potentials
References
1.

Biban P, Baraldi E, Pettennazzo A, Filippone M, Zacchello F (1993) Adverse effect of chloral hydrate in two young children with obstructive sleep apnea. Pediatrics 92: 461–463

2.

Committee on Drugs (2002) American Academy of Pediatrics: guidelines for monitoring and management of pediatric patients during and after sedation for diagnostic and therapeutic procedures: addendum. Pediatrics 110: 836–838

3.

Coté CJ (2004) Discharge criteria for children sedated by non-anesthesiologists: is "safe" really safe enough? Anesthesiology 100: 207–209

4.

Courtman SP, Wardurgh A, Petros AJ (2003) Comparison of the bispectral index monitor with the comfort score in assessing level of sedation of critically ill children. Intensive Care Med 29: 2239–2246

5.

Daniels H, Naulaers G, Deroost F, Devlieger H (1999) Polysomnography and home documented monitoring of cardiorespiratory pattern. Arch Dis Child 81: 434–436

6.

Hershenson M, Brouillette RT, Olsen E, Hunt CE (1984) The effect of chloral hydrate on genioglossus and diaphragmatic activity. Pediatr Res 18: 516–519

7.

Jacqz-Aigrain E, Burtin P (1996) Clinical pharmacokinetics of sedatives in neonates. Clin Pharmacokinet 31: 423–443

8.

Mayers DJ, Hindmarsh KW, Sankaran K, Gorecki DK, Kasian GF (1991) Chloral hydrate disposition following single-dose administration to critically ill neonates and children. Dev Pharmacol Ther 16: 71–77

9.

Mayers DJ, Hindmarsh KW, Gorecki DK, Sankaran K (1992) Sedative/hypnotic effects of chloral hydrate in the neonate: trichloroethanol or parent drug? Dev Pharmacol Ther 19: 141–146

10.

Naulaers G, Daniels H, Allegaert K, Rayyan M, Debeer A, Devlieger H (2004) Timing of bradycardias and apneas at documented cardiorespiratory homemonitoring in prematurely born infants. 22nd Annual Conference of Sleep Disorders in Infancy and Childhood, San Francisco

11.

Ramanathan R, Corwin MJ, Hunt CE, Lister G, Tinsley LR, Baird T, Silvestri JM, Crowell DH, Hufford D, Martin RJ, Neuman MR, Weese-Mayer DE, Cupples LA, Peucker M, Willinger M, Keens TG, Collaborative Home Infant Monitoring Evaluation (CHIME) Study Group (2001) Cardiorespiratory events recorded on home monitors: comparison of healthy infants with those at increased risk for SIDS. JAMA 285: 2199–2207

12.

Reimche LD, Sankaran K, Hindmarsh KW, Kasian GF, Gorecki DK, Tan L (1989) Chloral hydrate sedation in neonates and infants—clinical and pharmacologic considerations. Dev Pharmacol Ther 12: 57–64

13.

Steinberg AD (1993) Should chloral hydrate be banned? Pediatrics 92: 442–446

14.

Van Dijk M, de Boer JB, Koot HM, Tibboel D, Passchier J, Duivenvoorden HJ (2000) The reliability and validity of the COMFORT scale as a postoperative pain instrument in 0 to 3 year-old infants. Pain 84: 367–377

15.

Welborn LG, Greenspun JC (1994) Anesthesia and apnea. Perioperative considerations in the former preterm infant. Pediatr Clin North Am 41: 181–198

16.

Yu XQ, Suguihara C, Navarro H, Hehre D, Huang J, Bancalari E (1996) Effect of chloral hydrate on the cardiorespiratory response to hypoxia in newborn piglets. Biol Neonate 69: 146–152
Acknowledgements
K. Allegaert is supported by the Fund for Scientific Research, Flanders (Belgium) (F.W.O. Vlaanderen) by a Clinical Doctoral Grant (A 6/5-KV-G 1)
About this article
Cite this article
Allegaert, K., Daniels, H., Naulaers, G. et al. Pharmacodynamics of chloral hydrate in former preterm infants. Eur J Pediatr 164, 403–407 (2005). https://doi.org/10.1007/s00431-005-1648-5
Received:

Revised:

Accepted:

Published:

Issue Date:
Keywords
Cardiorespiratory events

Chloral hydrate

COMFORT score

Neonates

Pharmacodynamics

Sedation