Abstract
We present a 7-week-old male infant with pseudoscleroderma as a primary manifestation of the Hutchinson-Gilford syndrome of premature aging. He had suffered intra-uterine growth retardation; micrognathism and a cleft palate were evident at birth. He presented with feeding difficulties and severe, diffuse scleroderma-like lesions, a faint peri-oral cyanosis and prominent scalp veins. With time, special facial features became more and more apparent: frontal bossing, prominent eyes, thin and fine nose and lips, microstomia, low-set ears and occipito-parietal alopecia. Histopathology of the skin showed an increased density and thickness of collagen in the dermis and hypodermis. Within the 1st year of life, typical skeletal characteristics were observed. The diagnosis of Hutchinson-Gilford syndrome was confirmed by analysis of the lamin A gene, revealing a heterozygous c.1824C>T (G608G) mutation. Conclusion:Hutchinson-Gilford syndrome is an extremely rare disorder of which the full clinical spectrum becomes evident with time. Sclerodermatous changes in the infant can be the first manifestation.
This is a preview of subscription content, log in to check access.
Access options
Buy single article
Instant access to the full article PDF.
US$ 39.95
Price includes VAT for USA
Subscribe to journal
Immediate online access to all issues from 2019. Subscription will auto renew annually.
US$ 199
This is the net price. Taxes to be calculated in checkout.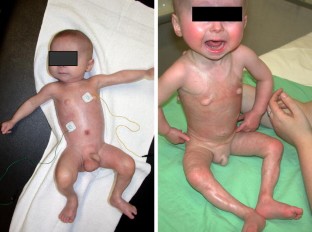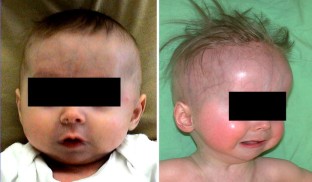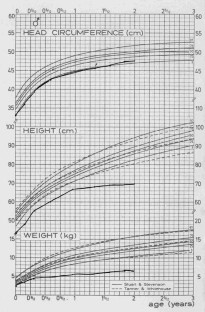 Abbreviations
HGPS :

Hutchinson-Gilford progeria syndrome

LMNA :

lamin A gene
References
1.

Badame AJ (1989) Progeria. Arch Dermatol 125: 540–544

2.

Batstone MD, Macleod AWG (2002) Oral and maxillofacial surgical considerations for a case of Hutchinson-Gilford progeria. Int J Pediatr Dent 12: 429–432

3.

Beauregard S, Gilchrest BA (1987) Syndromes of premature aging. Dermatol Clin 5: 109–121

4.

Bridger JM, Kill IR, O'Farrell M, Hutchison CJ (1993) Internal lamin structures within G1 nuclei of human dermal fibroblasts. J Cell Sci 104: 297–306

5.

De Busk FL (1972) The Hutchinson-Gilford progeria syndrome. J Pediatr 80: 697–724

6.

De Paula Rodrigues GH, das Eiras Tamega I, DuqueG, Spinola Dias Neto V (2002) Severe bone changes in a case of Hutchinson-Gilford syndrome. Ann Genet 45: 151–155

7.

De Sandre-Giovannoli A, Bernard R, Cau P, Navarro C, Amiel J, Boccaccio I, Lyonnet S, Stewart CL, Munnich A, Le Merrer M, Levy N (2003) Lamin a truncation in Hutchinson-Gilford progeria. Science 330: 2055

8.

Dyck JD, Tirone ED, Burke B, Webb GD, Henderson MA, Rodney SF (1987) Management of coronary artery disease in Hutchinson-Gilford syndrome. J Pediatr 111: 407–410

9.

Erdem N, Günes AT, Avci O, Osma E (1994) A case of Hutchinson-Gilford progeria syndrome mimicking scleredema in early infancy. Dermatology 188: 318–321

10.

Eriksson M, Brown WT, Gordon LB, Glynn MW, Singer J, Scott L, Erdos MR, Robbins CM, Moses TY, Berglund P, Dutra A, Pak E, Durkin S, Csoka AB, Boehnke M, Glover TW, Collins FS (2003) Recurrent de novo point mutations in lamin A cause Hutchinson-Gilford progeria syndrome. Nature 423: 293–298

11.

Feingold M, Kidd R (1971) Progeria and scleroderma in infancy. Am J Dis Child 122: 61–62

12.

Fukuchi K, Katsuya, Sugimoto K, Kuremura M, Kim HD, Li L, Ogihara T (2004) LMNA mutation in a 45-year-old Japanese subject with Hutchinson-Gilford progeria syndrome. J Med Genet 41: 67–72

13.

Gillar PJ, Kaye CI, McCourt JW (1991) Progressive early dermatologic changes in Hutchinson-Gilford progeria syndrome. Pediatr Dermatol 8: 199–206

14.

Goldman RD, Shumaker DK, Erdos MR, Eriksson M, Goldman AE, Gordon LB, Gruenbaum Y, Khuon S, Mendez M, Varga R, Collins FS (2004) Accumulation of mutant lamin A causes progressive changes in nuclear architecture in Hutchinson-Gilford progeria syndrome. Proc Natl Acad Sci U S A 24: 8963–8968

15.

Hutchison CJ, Worman HJ (2004) A-type lamins: guardians of the soma? Nat Cell Biol 11: 1062–1067

16.

Jansen T, Romiti R (2000) Progeria infantum (Hutchinson-Gilford syndrome) associated with scleroderma-like lesions and acro-osteolysis: a case report and brief review of the literature. Pediatr Dermatol 17: 282–285

17.

Labeille B, Dupuy P, Frey-Follezou I, Larreque M, Maquart FX., Borel JP, Gallet M, Risbourg B, Denoeux JP (1987) Progeria de Hutchinson-Gilford néonatale avec atteinte cutanée sclérodermiforme. Ann Dermatol Venereol 114: 233–242

18.

Mallory SB, Krafchik BR (1990) Hutchinson-Gilford syndrome. Pediatr. Dermatol 7: 317–319

19.

Navarro CL, De Sandre-Giovannoli A, Bernard R, Boccaccio I, Boyer A, Genevieve D, Hadj-Rabia S, Gaudy-Marqueste C, Smitt HS, Vabres P, Faivre L, Verloes A, Van Essen T, Flori E, Hennekam R, Beemer FA, Laurent N, Le Merrer M, Cau P, Levy N (2004) Lamin A and ZMPSTE24 (FACE-1) defects cause nuclear disorganization and identify restrictive dermopathy as a lethal neonatal laminopathy. Hum Mol Genet 20: 2493–2503

20.

Rosman NP, Anselm I, Bhadelia RA (2001) Progressive intracranial vascular disease with strokes and seizures in a boy with progeria. J Child Neurol 16: 212–215

21.

Sarkar PK, Shinton RA (2000) Hutchinson-Guilford progeria syndrome. Postgrad Med J 77: 312–317
About this article
Cite this article
Sevenants, L., Wouters, C., De Sandre-Giovannoli, A. et al. Tight skin and limited joint movements as early presentation of Hutchinson-Gilford progeria in a 7-week-old infant. Eur J Pediatr 164, 283–286 (2005). https://doi.org/10.1007/s00431-005-1635-x
Received:

Revised:

Accepted:

Published:

Issue Date:
Keywords
Hutchinson-Gilford progeria syndrome

Lamin A

Pseudoscleroderma