Abstract
Congenital syphilis is now rare in Australia, particularly in suburban areas. The disease is both preventable and treatable, however, missed or late diagnosis can lead to catastrophic effects. We report an infant who developed congenital syphilis after multiple opportunities for preventing this condition were missed.
This is a preview of subscription content, log in to check access.
Access options
Buy single article
Instant access to the full article PDF.
US$ 39.95
Price includes VAT for USA
Subscribe to journal
Immediate online access to all issues from 2019. Subscription will auto renew annually.
US$ 199
This is the net price. Taxes to be calculated in checkout.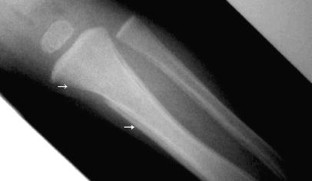 Abbreviations
EIA:

Enzyme immunoassay

RPR:

Rapid plasma reagin

TPHA:

Treponema pallidum haemagglutination
References
1.

Desenclos JC, Scaggs M, Wroten JE (1992) Characteristics of mothers of live infants with congenital syphilis in Florida, 1987–1989. Am J Epidemiol 136:657–661

2.

McFarlin BL, Bottoms SF (1996) Maternal syphilis: the next pregnancy. Am J Perinatol 13:513–518

3.

World Health Organization (2000) Global prevalence and incidence of selected curable sexually transmitted infections: syphilis estimates 1999. http://www.who.int/docstore/hiv/GRSTI/005.htm

4.

World Health Organization (2003) Guidelines for the management of sexually transmitted infections. http://whqlibdoc.who.int/publications/2003/9241546263.pdf

5.

Yohannes K, Roche P, Blumer C, Spencer J, Milton A, Bunn C, Gidding H, Kirk M, la–Porta T (2004) Australia's notifiable diseases status, 2002: annual report of the National Notifiable Diseases Surveillance System. Commun Dis Intell 28:6–68
Acknowledgement
We would like to thank Dr. Simone Mandelstam for providing her expert opinion and interpretation of the radiological findings.
About this article
Cite this article
Hargrove, A., Curtis, N. Syphilis returns to the suburbs. Eur J Pediatr 165, 290–292 (2006). https://doi.org/10.1007/s00431-005-0050-7
Received:

Accepted:

Published:

Issue Date:
Keywords