Abstract
Ataxia telangiectasia (AT) is an autosomal recessive multisystem disorder with increased radiosensitivity and cancer susceptibility. The responsible gene (ATM) consists of 66 exons and a coding region of 9171 bp which precludes direct sequencing as a screening assay for confirmation or exclusion of the clinical suspicion of AT. Peripheral blood mononuclear cells of 330 patients referred for the exclusion of AT were exposed to ionizing radiation (IR) and incubated for 72 h in the presence of phytohemagglutinin. Using bivariate BrdU-Hoechst/ethidium bromide flowcytometry, the following cell cycle parameters were ascertained: (1) proportion of non-proliferating (G0,G1) cells as a measure of mitogen response, (2) proportion of first-cycle G2-phase cells relative to the growth fraction (G2/GF) as a measure of radiosensitivity. Of the cases tested, 94.2% could be unequivocally assigned either to the AT-negative or the AT-positive group of patients. Of the AT-positive cases, 11 were confirmed by ATM mutation analysis. Nineteen cases presented with non-conclusive results, mostly due to poor mitogen response; however, a combination of cell-cycle data with serum AFP concentrations led to the exclusion of AT in all but two of the uncertain cases. Substitution of ionizing radiation by the radiomimetic bleomycin was additionally tested in a small series of patients. We conclude that cell-cycle testing complemented by serum AFP measurements fulfills the criteria as a rapid and economical screening procedure for the differential diagnosis of juvenile ataxias.
This is a preview of subscription content, log in to check access.
Access options
Buy single article
Instant access to the full article PDF.
US$ 39.95
Price includes VAT for USA
Subscribe to journal
Immediate online access to all issues from 2019. Subscription will auto renew annually.
US$ 199
This is the net price. Taxes to be calculated in checkout.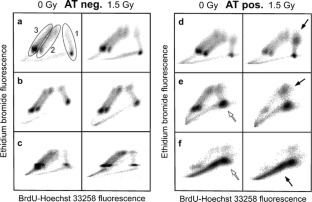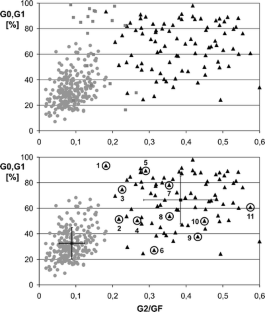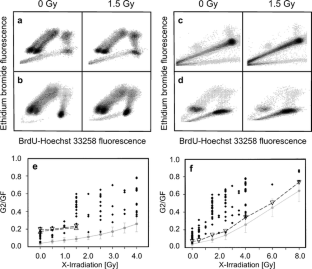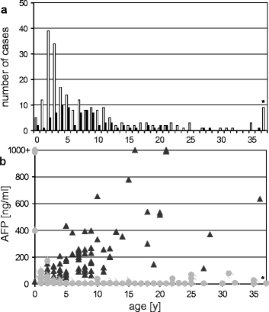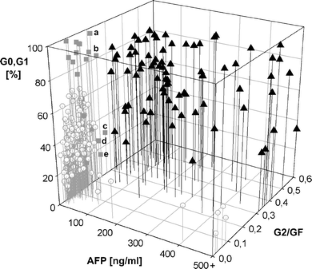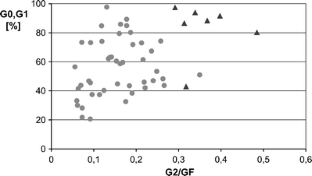 Abbreviations
AFP:

Alpha-fetoprotein

AT:

Ataxia-telangiectasia

ATM:

ataxia telangiectasia mutated

G2:

G2 phase of cell cycle

G0,G1:

G0, G1 phase of cell cycle

GF:

Growth fraction (proliferating cells minus G0,G1 cells)

IR:

Ionizing radiation

NBS:

Nijmegen breakage syndrome

PBL:

Peripheral blood lymphocytes

PHA:

Phytohemagglutinin
References
1.

Adema AD, Cloos J, Verheijen RH, Braakhuis BJ, Bryant PE (2003) Comparison of bleomycin and radiation in the G2 assay of chromatid breaks. Int J Radiat Biol 79:655–661

2.

Ahsgren I, Baldwin I, Goetzinger-Falk C, Erikson A, Flodmark O, Gillberg C (2005) Ataxia, autism, and the cerebellum: a clinical study of 32 individuals with congenital ataxia. Dev Med Child Neurol 47:193–198

3.

Becker-Catania SG, Chen G, Hwang MJ, Wang Z, Sun X, Sanal O, Bernatowska-Matuszkiewicz E, Chessa L, Lee EY, Gatti RA (2000) ATM protein expression, mutations, and radiosensitivity. Mol Genet Metab 70:122–133

4.

Blohm ME, Vesterling-Hoerner D, Calaminus G, Goebel U (1998) Alpha 1-fetoprotein (AFP) reference values in infants up to 2 years of age. Pediatr Hematol Oncol 15:135–142

5.

Butch AW, Chun HH, Nahas SA, Gatti RA (2004) Immunoassay to measure Ataxia telangiectasia mutated protein in cellular lysates. Clin Chem 50:2302–2308

6.

Chun HH, Sun X, Nahas SA, Teraoka S, Lai CH, Concannon P, Gatti RA (2003) Improved diagnostic testing for ataxia-telangiectasia by immunoblotting of nuclear lysates for ATM protein expression. Mol Genet Metabol 80:437–443

7.

Chun HH, Gatti RA (2004) Ataxia-telangiectasia, an evolving phenotype. DNA Repair 3:1187–1196

8.

Delia D, Piane M, Buscemi G, Savio C, Palmeri S, Lulli P, Carlessi L, Fontanella E, Chessa L (2004) MRE11 mutations and impaired ATM-dependent responses in an Italian family with ataxia-teleangiectasia-like disorder. Hum Mol Genet 13:2155–2163

9.

Digweed M, Sperling K (2004) Nijmegen breakage snydrome: clinical manifestation of defective response to DNA double-strand breaks. DNA Repair 3:1207–1217

10.

Dörk T, Bendix-Waltes R, Wegner RD, Stumm M (2004) Slow progression of Ataxia telangiectasia with double missense and in frame splice mutations. Am J Med Genet 126A:272–277

11.

Falck J, Coates J, Jackson SP (2005) Conserved modes of recruitment of ATM, ATR and DNA-PKcs to sites of DNA damage. Nature 434:605–611

12.

Friedman JH, Weitberg A (1993) Ataxia without telangiectasia. Mov Disord 8:223–226

13.

Gatti RA (2002) Ataxia-telangiectasia. In: Vogelstein B, Kinzler KW (eds) The genetic basis of human cancer. McGraw-Hill, New York, pp 239–266

14.

Gilad S, Chessa L, Khosravi R, Russel P, Galanty Y, Piane M, Gatti RA, Jorgensen TJ, Shiloh Y, Ba-–Shira A (1998) Genotype-phenotype relationships in ataxia-telangiectasia and variants. Am J Hum Genet 62:551–561

15.

Gosalakkal JA (2001) Ataxias of childhood. Neurologist 7:300–306

16.

Huo YK, Wang Z, Hong JH, Chessa L, McBride WH, Perlman SL, Gatti RA (1994) Radiosensitivity of ataxia-telangiectasia, X-linked agammaglobulin-emia and related syndromes using a modified colony survival assay. Cancer Res 54:2544–2547

17.

Izatt L, Nemeth AH, Meesaq A, Mills KR, Taylor AM, Shaw CE (2004) Autosomal recessive spinocerebellar ataxia and peripheral neuropathy with raised alpha-fetoprotein. J Neurol 251:805–812

18.

Karaman MW, Groshen S, Lee CC, Pike BL, Hacia JG (2005) Comparisons of substitution, insertion and deletion probes for resequencing and mutational analysis using oligonucleotide microarrays. Nucleic Acids Res 33:1–9

19.

Koenig M (2003) Rare forms of autosomal recessive neurodegenerative ataxia. Semin Pediatr Neurol 10:183–192

20.

Kojis TL, Gatti RA, Sparkes RS (1991) The cytogenetics of ataxia telangiectasia. Cancer Genet Cytogenet 56:143–156

21.

Lai CH, Chun HH, Nahas SA, Mitui M, Gamo KM, Du L, Gatti RA (2004) Correction of ATM gene function by aminoglycoside-induced read-through of premature termination codons. Proc Natl Acad Sci USA 101:15676–15681

22.

Lavin MF, Scott S, Gueven N, Kozlov S, Peng C, Chen P (2004) Functional consequences of sequence alterations in the ATM gene. DNA Repair 3:1197–1205

23.

Lavin MF, Birrell G, Chen P, Kozlov S, Scott S, Gueven N (2005) ATM signaling and genomic stability in response to DNA damage. Mutat Res 569:123–132

24.

Mitui M, Campbell C, Coutinho G, Sun X, Lai CH, Thorstenson Y, Castellvi-Bel S, Fernandez L, Monros E, Carvalho BT, Porras O, Fontan G, Gatti RA (2003) Independent mutational events are rare in the ATM gene: haplotype prescreening enhances mutation detection rate. Hum Mutat 22:43–50

25.

Moshous D, Callebaut I, de Chasseval R, Corneo B, Cavazzana-Calvo M, Le Deist F, Tezcan I, Sanal O, Bertrand Y, Philippe N, Fischer A, de Villartay JP (2001) Artemis, a novel DNA double-strand break repair/V(D)J recombination protein, is mutated in severe combined immune deficiency. Cell 105:177–186

26.

Neitzel H (1986) A routine method for the establishment of permanent growing lymphoblastoid cell lines. Hum Genet 73:320–326

27.

Nowak-Wegrzyn A, Crawford TO, Winkelstein JA, Carson KA, Lederman HM (2004) Immunodeficiency and infections in ataxia-telangiectasia. J Pediatr 144:505–511

28.

O`Driscoll M, Gennery AR, Seidel J, Concannon P, Jeggo PA (2004) An overview of three new disorders associated with genetic instability: LIG4 syndrome, RS-SCID and ATR-Seckel syndrome. DNA Repair 3:1227–1235

29.

Perlman S, Becker-Catania S, Gatti RA (2003) Ataxia-telangiecasia: diagnosis and treatment. Semin Pediatr Neurol 10:173–182

30.

Reina-San-Martin B, Chen HT, Nussenzweig A, Nussenzweig MC (2004) ATM is required for efficient recombination between immunoglobulin switch regions. J Exp Med 200:1103–1110

31.

Sanal O, Ozbas-Gerceker F, Yel L, Ersoy F, Tezcan I, Berkel AI, Metin A, Gatti RA (2004) Defective anti-polysaccharide antibody response in patients with ataxia-telangiectasia. Turk J Pediatr 46:208–213

32.

Sandoval N, Platzer M, Rosenthal A, Dork T, Bendix R, Skawran B, Stuhrmann M, Weger RD, Sperling K, Banin S, Shiloh Y, Baumer A Bernthaler U, Sennefelder H, Brohm M, Weber BH, Schindler D (1999) Characterization of ATM gene mutations in 66 ataxia telangiectasia families. Hum Mol Genet 8:69–79

33.

Schindler D, Hoehn H (1999) Flow cytometric testing for syndromes with chromosomal instability. In: Wegner RD (ed) Diagnostic cytogenetics. Springer, Berlin Heidelberg New York, pp 269–281

34.

Schroeder SA, Swift M, Sandoval C, Langston C (2005) Interstitial lung disease in patients with ataxia-telangiectasia. Pediatr Pulmonol 39:537–543

35.

Schubert R, Erker L, Barlow C, Yakushiji H, Larson D, Russo A, Mitchell JB, Wynshaw-Boris A (2004) Cancer chemoprevention by the antioxidant tempol in Atm-deficient mice. Hum Mol Genet 13:1793–1802

36.

Seyschab H, Schindler D, Friedl R, Barbi G, Boltshauser E, Fryns JP, Hanefeld F, Korinthenberg R, Kraegeloh-Mann I, Scheres JM, Schinzel A, Seemanova E, Tommerup N, Hoehn H (1992) Simultaneous measurement, using flow cytometry, of radiosensitivity and defective mitogen response in ataxia telangiectasia and related syndromes. Eur J Pediatr 151:756–760

37.

Seyschab H, Sun Y, Friedl R, Schindler D, Hoehn H (1993) G2 phase cell cycle disturbance as a manifestation of genetic cell damage. Hum Genet 92:61–68

38.

Shiloh Y (2003) ATM and related protein kinases: safeguarding genome integrity. Nat Rev Cancer 3:155–168

39.

Sutton IJ, Last JI, Ritchie SJ, Harrington HJ, Byrd PJ, Taylor AM (2004) Adult-onset ataxia telangiectasia due to ATM 5762ins137 mutation homozygosity. Ann Neurol 55:891–895

40.

Stray-Pedersen A, Jonsson T, Heiberg A, Lindman CR, Widing E, Aaberge IS, Borresen–-ale AL, Abrahamsen TG (2004) The impact of an early truncating founder ATM mutation on immunoglobulins, specific antibodies and lymphocyte populations in ataxia-telangiectasia patients and their parents. Clin Exp Immunol 137:179–186

41.

Sun X, Becker-Catania SG, Chun HH, Hwang MJ, Huo Y, Wang Z, Mitui M, Sanal O, Chessa L, Crandall B, Gatti RA (2002) Early diagnosis of ataxia telangiectasia using radiosensitivity testing. J Pediatr 140:724–731

42.

Tavani F, Zimmerman RA, Berry GT, Sullivan K, Gatti RA, Bingham P (2003) Ataxia-telangiectasia: the pattern of cerebellar atrophy on MRI. Neuroradiology 45:315–319

43.

Taylor AM, Groom A, Byrd PJ (2004) Ataxia-telangiectasia-like disorder (ATLD) – its clinical presentation and molecular basis. DNA Repair 3:1219–1225

44.

Trimis GG, Athanassaki CK, Kanariou MM, Giannoulia-Karantana AA (2004) Unusual absence of neurologic symptoms in a six-year old girl with ataxia-telangiectasia. J Postgrad Med 50:270–271

45.

Tuimala J, Szekely G, Gundy S, Hirvonen A, Norppa H (2002) Genetic polymorphisms of DNA repair and xenobiotic-metabolizing enzymes: role in mutagen sensitivity. Carcinogenesis 23:1003–1008

46.

Willems PJ, Van Roy BC, Kleijer WJ, Van der Kraan M, Martin JJ (1993) Atypical clinical presentation of ataxia telangiectasia. Am J Med Genet 45:777–782

47.

Yang Y, Herrup K (2005) Loss of neuronal cell cycle control in ataxia-telangiectasia: a unified disease mechanism. J Neurosci 25:2522–2529
Acknowledgements
The authors would like to thank Professor Michael Flentje, Department of Radiation Therapy, University of Wurzburg School of Medicine, for providing access to and help with the X‐irradiation of patient lymphocyte samples.
About this article
Cite this article
Heinrich, T., Prowald, C., Friedl, R. et al. Exclusion/confirmation of Ataxia-telangiectasia via cell-cycle testing. Eur J Pediatr 165, 250–257 (2006). https://doi.org/10.1007/s00431-005-0037-4
Received:

Revised:

Accepted:

Published:

Issue Date:
Keywords
Childhood ataxia

Ataxia telangiectasia

Cell cycle

Flowcytometry

Radiosensitivity

Alpha-fetoprotein