Abstract
Huntington disease (HD) is an autosomal dominant, lethal neurodegenerative disorder of the central nervous system, caused by an uncontrolled expansion of a CAG dynamic mutation in the coding region of the IT15gene. Although a majority of patients have a midlife onset of the disease, in a small number of patients the disease manifests before 20 years of age. In adults, HD is mainly characterised by involuntary movements, personality changes and dementia. By contrast, in children a dominant picture of bradykinesia, rigidity, dystonia and epileptic seizures is noticed. The earlier onset is often associated with a paternal transmission of the disease allele to the offspring. We report here a rather unusual infantile onset of the disease in a little girl who presented with a history of seizures and psychomotor regression starting at the age of 3 years. A progressive cortical-subcortical atrophy, progressive cerebellar atrophy and lesions in the basal ganglia were found on MRI. An important expansion, of 214 triplet numbers, of the CAG repeat size associated with HD, was observed. Conclusion:Juvenile Huntingdon disease should be considered in children suffering from a progressive neurodegenerative disease.
This is a preview of subscription content, log in to check access.
Access options
Buy single article
Instant access to the full article PDF.
US$ 39.95
Price includes VAT for USA
Subscribe to journal
Immediate online access to all issues from 2019. Subscription will auto renew annually.
US$ 199
This is the net price. Taxes to be calculated in checkout.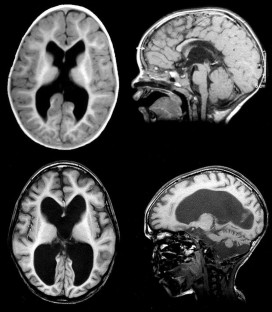 Abbreviations
HD :

Huntington disease

JHD :

Juvenile Huntington disease

TPPCR :

triplet repeat polymerase chain reaction
References
1.

Andrew SE, Goldberg YP, Kremer B, Telenius H, Theilmann J, Adam S, Starr E, Squitieri F, Lin B, Kalchman MA, Graham RK, Hayden MR (1993) The relationship between trinucleotide (CAG) repeat length and clinical features of Huntington's disease. Nat Genet 4: 398–403

2.

Brandt J, Bylsma FW, Gross R, Stine OC, Ranen NG, Ross CA (1996) Trinucleotide repeat length and clinical progression in Huntington's disease. Neurology 46: 527–531

3.

Cannella M, Gellera C, Maglione V, Giallonardo P, Cislaghi G, Muglia M, Quattrone A, Pierelli F, Di Donata S, Squitieri F (2004) The gender effect in juvenile Huntington disease patients of Italian origin. Am J Med Genet 125B: 92–98

4.

Djousse L, Knowlton B, Hayden MR, Almqvist EW, Brinkman RR, Ross CA, Margolis RL, Rosenblatt A, Durr A, Dode C, Morrison PJ, Novelletto A, Frontali M, Trent RJ, McCusker E, Gomez-Tortosa E, Mayo Cabrero D, Jones R, Zanko A, Nance M, Abramson RK, Suchowersky O, Paulsen JS, Harrison MB, Yang Q, Cupples LA, Mysore J, Gusella JF, MacDonald ME, Myers RH (2004) Evidence for a modifier of onset age in Huntington disease linked to the HD gene in 4p16. Neurogenetics 5: 109–114

5.

Duyao M, Ambrose C, Myers R, Novelletto A, Persichetti F, Frontali M, Folstein S, Ross C, Franz M, Abbott M, Gray J, Conneally P, Young A, Penney J, Hollingsworth Z, Shoulson I, Lazzarini A, Falek A, Koroshetz W, Sax D, Bird E, Vonsattel J, Bonilla E, Alvir J, Bickham Conde J, Cha JH, Dure L, Gomez F, Ramos M, Sanchez-Ramos J, Snodgrass S, de Young M, Wexler N, Moscowitz C, Penchaszadeh G, MacFarlane H, Anderson M, Jenkins B, Srinidhi J, Barnes G, Gusella J, MacDonald M (1993) Trinucleotide repeat length instability and age of onset in Huntington's disease. Nat Genet 4: 387–392

6.

Gambardella A, Muglia M, Labate A Muglia M, Labate A, Magariello A, Gabriele AL, Mazzei R, Pirritano D, Conforti FL, Patitucci A, Valentino P, Zappia M, Quattrone A (2001) Juvenile Huntington's disease presenting as progressive myoclonic epilepsy. Neurology 57: 708–711

7.

Goldberg YP, Andrew SE, Theilmann J, Kremer B, Squitieri F, Telenius H, Brown JD, Hayden MR (1993) Familial predisposition to recurrent mutations causing Huntington's disease: genetic risk to sibs of sporadic cases. J Med Genet 30: 987–990

8.

Huntington's Disease Collaborative Research Group (1993) A novel gene containing a trinucleotide repeat that is expanded and unstable on Huntington's disease chromosomes. Cell 72: 971–983

9.

Kremer B, Almqvist E, Theilmann J, Spence N, Telenius H, Goldberg YP, Hayden MR (1995) Sex-dependent mechanisms for expansions and contractions of the CAG repeat on affected Huntington disease chromosomes. Am J Hum Genet 57: 343–350

10.

Landau ME, Cannard KR (2003) EEG characteristics in juvenile Huntington's disease: A case report and review of literature. Epileptic Disord 5: 1–4

11.

Langbehn DR, Brinkman RR, Falush D, Paulsen JS, Hayden MR on behalf of an international Huntington's Disease Collaborative Group (2004) A new model for prediction of the age of onset and penetrance for Huntington's disease based on CAG length. Clin Genet 65: 267–277

12.

Leavitt BR, Wellington CL, Hayden MR (1999) Recent insights into the molecular pathogenesis of Huntington disease. Sem Neurol 19: 385–395

13.

Martin JB, Gusella JF (1986) Huntington's disease: pathogenesis and management. N Engl J Med 315: 1267–1276

14.

McNeil SM, Novelletto A, Srinidhi J, Barnes G, Kornbluth I, Altherr MR, Wasmuth JJ, Gusella JF, MacDonald ME, Myers RH (1997) Reduced penetrance of the Huntington's disease mutation. Hum Mol Genet 6: 775–779

15.

Merrit AD, Conneally PM, Rahman NF, Drew AL (1969) Juvenile Huntington's chorea. In: Barbeau A, Brunette JR (eds) Progress in neurogenetics. Excepta Medica, Amsterdam, pp 645–650

16.

Milunsky JM, Maher TA, Loose BA, Darras BT, Ito M (2003) XL PCR for the detection of large trinucleotide expansions in juvenile Huntington's disease. Clin Genet 64: 70–73

17.

Nance MA (1997) Genetic testing of children at risk for Huntington's disease. Neurology 49: 1048–1053

18.

Nance MA, Myers RH (2001) Juvenile onset Huntington's disease-clinical and research perspectives. Ment Retard Dev Disabil Res Rev 7: 153–157

19.

Nance MA, Mathias-Hagen V, Breningstall G, Wick MJ, McGlennen RC (1999) Analysis of a very large trinucleotide repeat in a patient with juvenile Huntington's disease. Neurology 52: 392–394

20.

Rasmussen A, Marcias R, Yescas P, Ochoa A, Davila G, Alonso E (2000) Huntington disease in children. Genotype-phenotype correlation. Neuropediatrics 31: 190–194

21.

Riess O, Norremoelle A, Soerensen SA, Epplen JT (1993) Improved PCR conditions for the stretch of (CAG)n repeats causing Huntington's disease. Hum Mol Genet 2: 637–638

22.

Rubinsztein DC, Leggo J, Coles R, Almqvist E, Biancalana V, Cassiman JJ, Chotai K, Connarty M, Craufurd V, Curtis A, Curtis D, Davidson MJ, Differ A-M, Dode C, Dodge A, Frontali M, Ranen NG, Stine OC, Sherr M, Abott MH, Franz ML, Graham CA, Harper PS, Hedreen JC, Jackson A, Kaplan J-C, Losekoot M, MacMillan JC, Morrison P, Trottier Y, Novelletto A, Simpson SA, Theilmann J, Whittaker JL, Folstein SE, Ross CA, Hayden MR (1996) Phenotypic characterisation of individuals with 30–40 CAG repeats in the Huntington disease (HD) gene reveals HD cases with 36 repeats and apparently normal elderly individuals with 36–39 repeats. Am J Hum Genet 59: 16–22

23.

Telenius H, Kremer HPH; Theilmann J, Andrew SE, Almqvist E, Anvret M, Greenberg C, Greenberg J, Lucotte G, Squitieri F (1993) Molecular analysis of juvenile Huntington's disease: the major influence on (CAG)n repeat length is the sex of the affected parent. Hum Mol Genet 2: 1535–1540

24.

Vonsattel JP, DiFiglia M (1998) Huntington disease J Neuropathol Exp Neurol 57: 369–384

25.

Warner JP, Barron LH, Brock DJH (1993) A new polymerase chain reaction (PCR) assay for the trinucleotide repeat is unstable and expanded on Huntington's disease chromosomes. Moll Cell Probes 7: 235–239

26.

Warner JP, Barron LH, Goudie D, Kelly K, Dow D, Fitzpatrick DR, Brock DJH (1996) A general method for the detection of large CAG repeat expansions by fluorescent PCR. J Med Genet 33: 1022–1026

27.

Wexler NS, Lorimer J, Porter J, Gomez F, Moskowitz C et al (2004) Venezuelan kindreds reveal that genetic and environmental factors modulate Huntingdon's disease age of onset. Proc Acad Natl Sci USA 101: 3498–3503

28.

Yoon SR, Dubeau L, de Young M, Wexler NS, Arnheim N (2003) Huntington disease expression mutations in humans can occur before meiosis is completed. Proc Natl Acad Sci 100: 8834–8838
About this article
Cite this article
Seneca, S., Fagnart, D., Keymolen, K. et al. Early onset Huntington disease: a neuronal degeneration syndrome. Eur J Pediatr 163, 717–721 (2004). https://doi.org/10.1007/s00431-004-1537-3
Received:

Accepted:

Published:

Issue Date:
Keywords
Ceroid lipofuscinosis

Dynamic mutations

Juvenile Huntington disease

Trinucleotide repeats