Abstract
The aim of this study was to profile the changes in intracellular and plasma cytokines during the neonatal period and evaluate the impact of breast feeding on these parameters. For this purpose, we measured the interleukin (IL)-2 and IL-4 producing CD3+/CD69+ T-cells using flow cytometry and plasma concentrations of interferon (IFN)-gamma and IL-4 using ELISA, in 122 healthy term neonates, aged 6–12 h, born to non-atopic parents, and 25 healthy children aged 1–12 years. A total of 42/122 neonates exclusively breast-fed (BF) and 39/122 formula fed (FF) were studied again on the 30th day of life for the above parameters. Finally, a clinical evaluation for the presence of atopic disease was conducted at 2 years of age. We found that at birth, the percentage of CD3+/CD69+/IL-4+ T-cells (median = 15.8%, range = 4.4%–49%) and plasma concentrations of IL-4 (median = 0.22 pg/ml, range = 0.18–0.25 pg/ml) were significantly higher (P<0.0001) compared to those of children (median = 1.6%, range = 0.16%–2.7% for CD3+/CD69+/IL-4+ and median = 0.17 pg/ml, range = 0.13–0.26 pg/ml for IL-4), whereas plasma concentrations of IFN-gamma were significantly lower in neonates (median = 0.42 pg/ml, range = 0.3–1.5 pg/ml) than in children (median = 1.2 pg/ml, range = 0.3–2.6 pg/ml, P<0.0001). During the neonatal period, only the CD3+/CD69+/IL-4+ T-cells increased significantly in both BF and FF groups. Comparison between BF and FF groups revealed no significant difference in any of the parameters measured. Moreover, no difference in the development of atopy during the first 2 years of life was found between BF and FF infants. Conclusion: our findings demonstrate that during the entire neonatal period type 2 immunity dominates, regardless of the mode of feeding, whereas type 1 immunity dominates during childhood. Moreover, in the absence of family history of atopy, the mode of feeding per se does not play a crucial role in the development of atopy within the first 2 years of life.
This is a preview of subscription content, log in to check access.
Access options
Buy single article
Instant access to the full article PDF.
US$ 39.95
Price includes VAT for USA
Subscribe to journal
Immediate online access to all issues from 2019. Subscription will auto renew annually.
US$ 199
This is the net price. Taxes to be calculated in checkout.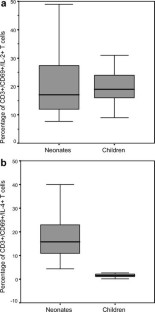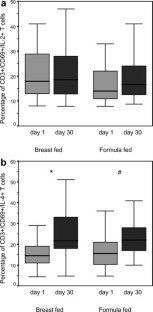 Abbreviations
BF :

breast-fed

BFA :

brefeldin A

FITC :

fluorescein isothiocyanate

FF :

Formula-fed

IFN :

interferon

IL :

interleukin

MoAbs :

monoclonal antibodies

PBS-BSA :

phosphate buffered saline bovine serum albumin

PE-Cy 5 :

phycoerythrin-cyanin 5

PMA :

phorbol 12-myristate 13-acetate

Tc :

T-cytotoxic

Th :

T-helper
References
1.

Bjorksten B (1999) The intrauterine and postnatal environments. J Allergy Clin Immunol 104: 119–127

2.

Bottcher MF, Jenmalm MC, Bjorksten B, Garofalo RP (2000) Chemoattractant factors in breast milk from allergic and non-allergic mothers. Pediatr Res 47: 592–597

3.

Bottcher MF, Jenmalm MC, Garofalo RP, Bjorksten B (2000) Cytokines in breast milk from allergic and non-allergic mothers. Pediatr Res 47: 157–162

4.

Braback L, Breborowicz A, Julge K, Knutsson A, Riikjarv MA, Vasar M, Bjorkstein B (1995) Risk factors for respiratory symptoms and atopic sensitization in the Baltic area. Arch Dis Child 72: 487–493

5.

Castro-Rodriguez JA, Holberg CJ, Wright AL, Martinez FD (2000) A clinical index to define risk of asthma in young children with recurrent wheezing. Am J Respir Crit Care Med 162: 1403–1406

6.

Chalmers IM, Janossy G, Contreras M, Navarette C (1998) Intracellular cytokine profile of cord and adult blood lymphocytes. Blood 92: 11–18

7.

Chipeta J, Komada Y, Zhang XL, Deguchi T, Sugiyama K, Azuma E, Sakurai K (1998) CD4+ and CD8+ cell cytokine profiles in neonates, older children, and adults: increasing T helper type 1 and T cytotoxic type 1 cell populations with age. Cell Immunol 183: 149–156

8.

Chipeta J, Komada Y, Zhang XL, Azuma E, Yamamoto H, Sakurai M (2000) Neonatal (cord blood) T cells can competently raise type 1 and 2 immune responses upon polyclonal activation. Cell Immunol 205: 110–119

9.

Delespesse G, Yang LP, Ohshima Y, Demeure C, Shu U, Byun DG, Sarfati M (1998) Maturation of human neonatal CD4+ and CD8+ T lymphocytes into Th1/Th2 effectors. Vaccine 16: 1415–1419

10.

Eglinton BA, Roberton DM, Cummins AG (1994) Phenotype of T cells, their soluble receptor levels, and cytokine profile of human breast milk. Immunol Cell Biol 72: 306–313

11.

Garofalo RP, Goldman AS (1998) Cytokines, chemokines, and colony-stimulating factors in human milk: the 1997 update. Biol Neonate 74: 134–142

12.

Hagendorens MM, Van Bever HP, Schuerwegh AJ, De Clerck LS, Bridts CH, Stevens WJ (2000) Determination of T-cell subpopulations and intracellular cytokine production (interleukin-2, interleukin-4, and interferon-γ) by cord blood T-lymphocytes of neonates from atopic and non-atopic parents. Pediatr Allergy Immunol 11: 12–19

13.

Hamosh M (2001) Bioactive factors in human milk. Pediatr Clin N Am 48: 69–86

14.

Hasselbalch H, Engelmann MDM, Ersboll AK, Jeppesen DL, Fleischer-Michaelsen K (1999) Breast-feeding influences thymic size in late infancy. Eur J Pediatr 158: 964–967

15.

Holt PG, McMenamin C, Nelson D (1990) Primary sensitization to inhalant allergens during infancy. Pediatr Allergy Immunol 1: 3–13

16.

Jain L, Vidyasagar D, Xanthou M, Ghai V, Shimada S, Blend M (1989) In vivo distribution of human milk leukocytes after ingestion by newborn baboons. Arch Dis Child 64: 930–933

17.

Jung T, Schauer U, Heusser C, Neumann C, Rieger C (1993) Detection of intracellular cytokines by flow cytometry. J Immunol Methods 159: 197–207

18.

Lin H, Mosmann TR, Guilbert L, Tuntipopipat S, Wegmann TG (1993) Synthesis of T helper 2-type cytokines at the maternal-fetal interface. J Immunol 151: 4562–4573

19.

Miyawaki T, Uehara T, Nibu R, Tsuji T, Yache A, Yonehara S, Taniguchi N (1992) Differential expression of apoptosis-related Fas antigen on lymphocyte subpopulations in human peripheral blood. J Immunol 149: 3753–3758

20.

Mosmann TR, Sad S (1996) The expanding universe of T-cell subsets: Th1, Th2 and more. Immunol Today 17: 138–146

21.

Oddy WH, Peat JK, de Klerk NH (2002) Maternal asthma, infant feeding, and the risk of asthma in childhood. J Allergy Clin Immunol 110: 65–67

22.

Pabst HF, Spady DW, Pilarski LM, Carson MM, Beeler JA, Krezolek MP (1997) Differential modulation of the immune response by breast or formula feeding of infants. Acta Paediatr 86: 1291–1297

23.

Prescott SL, Macabaus C, Holt BJ, Smallacombe TB, Loh R, Sly PD, Holt PG (1998) Transplacental priming of the human immune system to environmental allergens: universal skewing of initial T cell responses toward the Th2 cytokine profile. J Immunol 160: 4730–4737

24.

Prescott SL, Macaubas C, Smallacombe T, Holt BJ, Sly PD, Holr PG (1999) Development of allergen-specific T-cell memory in atopic and normal children. Lancet 353: 196–200

25.

Risso A, Smilovich D, Capra M, Baldossarro I, Yan G, Bargellesi A, Coshulich M (1991) CD69 in resting and activated T lymphocytes. It's association with a GTP binding protein and biochemical requirements for its expression. J Immunol 146: 4105–4114

26.

Schade RP, Van Leperen-Van Dijk AG, Van Reijsen FC, Versluis C, Kimpen JLL, Knol EF, Van Hoffen E (2000) Differences in antigen-specific T-cell responses between infants with atopic dermatitis with and without cow's milk allergy: relevance of TH2 cytokines. J Allergy Clin Immunol 106: 1155–1162

27.

Sciaky N, Presley J, Smith C, Zaal KJM, Cole N, Moreira JE, Terasaki M, Siggia E, Lippincott-Schwartz J (1997) Golgi tubule traffic and the effects of brefeldin A visualized in living cells. J Cell Biol 139: 1137–1155

28.

Sears MR, Greene JM, Willan AR, Taylor DR, Flannery EM, Cowan JO, Herbison GP, Poulton R (2002) Long-term relation between breastfeeding and development of atopy and asthma in children and young adults: a longitudinal study. Lancet 360: 901–907

29.

Sepp E, Naaber P, Sepp E, Mikelsaar M (1997) The intestinal microflora in Estonian and Swedish infants. Acta Paediatr 86: 956–961

30.

Stephens S, Brenner MK, Duffy SW, Lakhani PK, Kennedy CR, Farrant J (1986) The effect of breast-feeding on proliferation by infant lymphocytes in vitro. Pediatr Res 20: 227–231

31.

Testi R, Phillips JH, Lanier LL (1989) T-cell activation via Leu-23. J Immunol 143: 1123–1128

32.

Vigano A, Esposito S, Arienti D, Zagliani A, Massironi E, Principi N, Clerici M (1999) Differential development of type 1 and type 2 cytokines and beta-chemokines in the ontogeny of healthy newborns. Biol Neonate 75: 1–8

33.

Wilson AC, Stewart Forsyth J, Greene SA, Irvine L, Hau C, Howie PW (1998) Relation of infant diet to childhood health: seven year follow up of cohort of children in Dundee infant feeding study. BMJ 316: 21–25

34.

Wold AE, Alderberth I (1998) Does breast feeding affect the infant immune responsiveness? Acta Paediatr 87: 19–22
About this article
Cite this article
Kanakoudi-Tsakalidou, F., Drossou-Agakidou, V., Noutsia, C. et al. Intracellular and plasma cytokine profile in neonates born to non-atopic parents: the impact of breast feeding. Eur J Pediatr 163, 395–401 (2004). https://doi.org/10.1007/s00431-004-1463-4
Received:

Accepted:

Published:

Issue Date:
Keywords
Flow cytometry

Interferon-gamma

Interleukin-2

Interleukin-4

T-cells