Abstract
Smith-Magenis syndrome (SMS) is a multiple congenital anomaly/mental retardation syndrome including physical and neurobehavioural features. The disease is commonly associated with a ca. 3.7 Mb interstitial deletion of chromosome 17p11.2, while a 1.1 Mb critical region has been identified, containing about 20 genes expressed in multiple tissues. Haploinsufficiency of one of them, RAI1, seems to be responsible for the neurobehavioural, craniofacial and otolaryngological features of the syndrome, but not for short stature, commonly seen in SMS patients with chromosome deletion, implying the role of other genes in the 17p11.2 region. Growth failure is a final result of several different mechanisms involving decreased growth hormone (GH) production, reduced tissue response to GH, or impaired activity of epistatic factors. To our knowledge, the association of GH deficiency with SMS has never been reported and rarely investigated, despite the very short stature of SMS patients. We describe a girl with a full SMS phenotype and a typical 3.7 Mb deletion of 17p11.2 who also has GH deficiency. After starting replacement therapy, growth has significantly improved, her stature being now above both the 10th percentile and her genetic target. Conclusion:we suggest that an investigation of both growth hormone secretion and function is carried out in patients with Smith-Magenis syndrome and 17p11.2 deletion.
This is a preview of subscription content, log in to check access.
Access options
Buy single article
Instant access to the full article PDF.
US$ 39.95
Price includes VAT for USA
Subscribe to journal
Immediate online access to all issues from 2019. Subscription will auto renew annually.
US$ 199
This is the net price. Taxes to be calculated in checkout.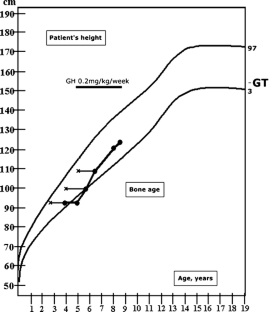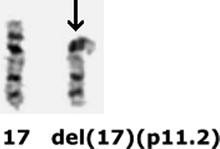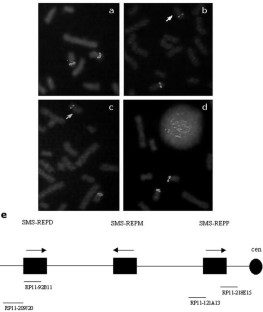 Abbreviations
FISH :

fluorescent in situ hybridisation

GH :

growth hormone

SMS :

Smith-Magenis syndrome
References
1.

Allanson JE, Greenberg F, Smith AC (1999) The face of Smith-Magenis syndrome: a subjective and objective study. J Med Genet 36: 394–397

2.

Allen AJ, Dykens E, Elsea SH, Finucane BM, Lupski JR, Magenis E, Potocki L, Solomon B (2002) Smith-Magenis Syndrome. In: GeneReviews at GeneTests: Medical Genetics Information Resource (database online 1997–2003). University of Washington, Seattle. Available athttp://www.genetests.org

3.

Bi W, Yan J, Stankiewicz P, Park SS, Walz K, Boerkoel CF, Potocki L, Shaffer LG, Devriendt K, Nowaczyk MJ, Inoue K, Lupski JR (2002) Genes in a refined Smith-Magenis syndrome critical deletion interval on chromosome 17p11.2 and the syntenic region of the mouse. Genome Res 12: 713–728

4.

Cody JD, Hale DE, Brkanac Z, Kaye CI, Leach RJ (1997) Growth hormone insufficiency associated with haploinsufficiency at 18q23. Am J Med Genet 71: 420–425

5.

Cogan JD, Phillips JA 3rd (2001) Inherited defects in growth hormone synthesis and action. In: Scriver CR, Beaudet AL, Valle D, Sly WS (eds) The metabolic and molecular bases of inherited disease, vol 3, 8th edn. McGraw-Hill, New York, pp 4159–4180

6.

De Leersnyder H, Bresson JL, de Blois MC, Souberbielle JC, Mogenet A, Delhotal-Landes B, Salefranque F, Munnich A (2003) Beta 1-adrenergic antagonists and melatonin reset the clock and restore sleep in a circadian disorder, Smith-Magenis syndrome. J Med Genet 40: 74–78

7.

Galasso C, Scire G, Boscherini B (1995) Growth hormone and dysmorphic syndromes. Horm Res 44[Suppl 3]: 42–48

8.

Greenberg F, Lewis RA, Potocki L, Glaze D, Parke J, Killian J, Murphy MA, Williamson D, Brown F, Dutton R, McCluggage C, Friedman E, Sulek M, Lupski JR (1996) Multi-disciplinary clinical study of Smith-Magenis syndrome (deletion 17p11.2). Am J Med Genet 62: 247–254

9.

Haqq AM, Stadler DD, Jackson RH, Rosenfeld RG, Purnell JQ, LaFranchi SH (2003) Effects of growth hormone on pulmonary function, sleep quality, behavior, cognition, growth velocity, body composition, and resting energy expenditure in Prader-Willi syndrome. J Clin Endocrinol Metab 88: 2206–2212

10.

Lacombe D, Moncla A, Malzac P, Mattei MG, Battin J (1997) Smith-Magenis syndrome. Arch Pediatr 4: 438–442

11.

Lichter P, Cremer T (1992) Chromosome analysis by non-isotopic in situ hybridization. In: Rooney DE, Czepulkowski BH (eds) Human cytogenetics. A practical approach. IRL Press, Oxford, pp 157-192

12.

Park SS, Stankiewicz P, Bi W, Shaw C, Lehoczky J, Dewar K, Birren B, Lupski JR (2002) Structure and evolution of the Smith-Magenis syndrome repeat gene clusters, SMS-REPs. Genome Res 12: 729–738

13.

Phillips JA 3rd, Hjelle BL, Seeburg PH, Zachmann M (1981) Molecular basis for familial isolated growth hormone deficiency. Proc Natl Acad Sci USA 78: 6372–6375

14.

Pivnick EK, Velagaleti GVN, Wilroy RS, Smith ME, Rose SR, Tipton RE, Tharapel AT (1996) Jacobson syndrome: report of a patient with severe eye anomalies, growth hormone deficiency, and hypothyroidism associated with deletion 11(q23q25) and review of 52 cases. J Med Genet 33: 772–778

15.

Potocki L, Chen KS, Park SS, Osterholm DE, Withers MA, Kimonis V, Summers AM, Meschino WS, Anyane-Yeboa K, Kashork CD, Shaffer LG, Lupski JR (2000) Molecular mechanism for duplication 17p11.2 the homologous recombination reciprocal of the Smith-Magenis microdeletion. Nat Genet 24: 84–87

16.

Shaw CJ, Bi W, Lupski JR (2002) Genetic proof of unequal meiotic crossovers in reciprocal deletion and duplication of 17p11.2. Am J Hum Genet 71: 1072–1081

17.

Slager RE, Newton TL, Vlangos CN, Finucane B, Elsea SH (2003) Mutations in RAI1 associated with Smith-Magenis syndrome. Nat Genet 33: 466–468

18.

Smith AC, McGavran L, Robinson J, Waldstein G, Macfarlane J, Zonona J, Reiss J, Lahr M, Allen L, Magenis E (1986) Interstitial deletion of (17)(p11.2p11.2) in nine patients. Am J Med Genet 24: 393–414

19.

Smith AC, Dykens E, Greenberg F (1998) Behavioral phenotype of Smith-Magenis syndrome (del 17p11.2). Am J Med Genet 81: 179–185

20.

Smith AC, Dykens E, Greenberg F (1998) Sleep disturbance in Smith-Magenis syndrome (del 17p11.2). Am J Med Genet 81: 186–191

21.

Smith AC, Gropman AL, Bailey-Wilson JE, Goker-Alpan O, Elsea SH, Blancato J, Lupski JR, Potocki L (2002) Hypercholesterolemia in children with Smith-Magenis syndrome: del (17) (p11.2p11.2). Genet Med 4: 118–125

22.

Spilsbury J, Mohanty K (2003) The orthopaedic manifestations of Smith-Magenis syndrome. J Pediatr Orthop B 12: 22–26

23.

Stankiewicz P, Shaw CJ, Dapper JD, Wakui K, Shaffer LG, Withers M, Elizondo L, Park SS, Lupski JR (2003) Genome architecture catalyzes nonrecurrent chromosomal rearrangements. Am J Hum Genet 72: 1101–1116

24.

Vahl N, Jorgensen JO, Hansen TB, Klausen IB, Jurik AG, Hagen C, Christiansen JS (1998) The favourable effects of growth hormone (GH) substitution on hypercholesterolaemia in GH-deficient adults are not associated with concomitant reductions in adiposity. A 12-month placebo-controlled study. Int J Obes Relat Metab Disord 22: 529–536

25.

Wajnrajch MP, Gertner JM, Harbison MD, Chua SC Jr, Leibel RL (1996) Nonsense mutation in the human growth hormone-releasing hormone receptor causes growth failure analogous to the little (lit) mouse. Nat Genet 12: 88–90

26.

Woods KA, Camacho-Hubner C, Savage MO, Clark AJL (1996) Intrauterine growth retardation and postnatal growth failure associated with deletion of the insulin-like growth factor 1 gene. N Engl J Med 335: 1363–1367
Acknowledgements
The technical assistance of Annamaria Lanfranchi and Mario Battini is acknowledged.
About this article
Cite this article
Spadoni, E., Colapietro, P., Bozzola, M. et al. Smith-Magenis syndrome and growth hormone deficiency. Eur J Pediatr 163, 353–358 (2004). https://doi.org/10.1007/s00431-004-1460-7
Received:

Revised:

Accepted:

Published:

Issue Date:
Keywords
Behavioural phenotype

Growth hormone deficiency

Short stature

Smith-Magenis syndrome

17p11.2 deletion