Abstract
Asymmetry in infancy is a diagnosis with a large spectrum of features, expressing an abnormal shape of parts of the body or unequal postures and movements. Symptoms may be structural and/or functional, with localised or generalised expression. Within the last decade, many professionals have focused on the adverse consequences on motor performance of infants, associated with the recommendations on the prevention of sudden infant death. The purpose of the present study was to highlight different aspects of asymmetry in infancy based on best available evidence in the current literature and to present a flow chart illustrating different diagnostic pathways of asymmetry in infancy. Conclusion:we conclude that asymmetry in infancy is a diagnosis with a large spectrum of features and a multifactorial aetiology without consensus in definition, nomenclature and classification. Systematic diagnostic management of asymmetry in infancy is indicated. The presented diagnostic flow chart might serve as a basis.
This is a preview of subscription content, log in to check access.
Access options
Buy single article
Instant access to the full article PDF.
US$ 39.95
Price includes VAT for USA
Subscribe to journal
Immediate online access to all issues from 2019. Subscription will auto renew annually.
US$ 199
This is the net price. Taxes to be calculated in checkout.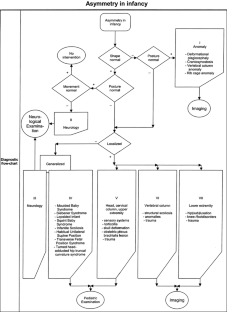 Abbreviations
CMT :

congenital muscular torticollis

DP :

deformational plagiocephaly

POI :

pseudotumour of infancy

PT :

positional torticollis

SCM :

sternocleidomastoid muscle
References
1.

American Academy of Pediatrics (1992) Task Force on Positioning and SIDS. Pediatrics 89: 1120–1126

2.

Argenta LC, Davis LR, Wilson JA, Bell WO (1996) An increase in infant cranial deformity with supine sleeping position. J Craniofacial Surg 7: 5–11

3.

Balan P, Kushnerenko E, Sahlin P, Huotilainen M, Naatanen R, Hukki J (2002) Auditory ERPs reveal brain dysfunction in infants with plagiocephaly. J Craniofac Surg 13: 520–525

4.

Behrman RE, Kliegman RM, Jenson HB (2000) Scoliosis, craniosynostosis, torticollis. In: Nelson textbook of pediatrics, 16th edn. Saunders, Philadelphia, pp 1812–1813; pp 2082–2086; pp 2089–2091

5.

Besson A, Pellerin P, Doual A (2002) Study of asymmetries of the cranial vault in plagiocephaly. J Craniofac Surg 13: 664–669

6.

Binder H, Eng GD, Gaiser JF, Koch B (1987) Congenital muscular torticollis: results of conservative management with long-term follow-up in 85 cases. Arch Phys Med Rehabil 68: 222–225

7.

Boere-Boonekamp MM, van der Linden-Kuiper AT (2001) Positional preference: prevalence in infants and follow-up after two years. Pediatrics 107: 339–343

8.

Boere-Boonekamp MM, van der Linden-Kuiper AT, Bunge-van Lent FCGM (1999) No asymmetry of head rotation and head shape in three-quarters of the children aged 2–3 years who in infancy had shown preferential posture. Ned T Geneeskd 143: 569–571

9.

Brackbill Y, Douthitt TC, West H (1973) Psychologic effects in the neonate of prone versus supine placement. J Pediatrics 82: 82–84

10.

Bredenkamp JK, Hoover LA, Berke GS, Shaw A (1990) Congenital muscular torticollis. Arch Otolaryngol Head Neck Surg 16: 212–216

11.

Bridges SJ, Chambers TL, Pople IK (2002) Plagiocephaly and head binding. Arch Dis Child 86: 144–145

12.

Bruneteau RJ, Mulliken JB (1992) Frontal plagiocephaly: synostotic, compensational or deformational. Plast Reconstr Surg 89: 21–33

13.

Canale ST, Griffin DW, Hubbard CN (1982) Congenital muscular torticollis. A long-term follow-up. J Bone Joint Surg 64: 810–816

14.

Chang PY, Chien YW, Huang FY, Chang NC, Perng DB (2001) Computer-aided measurement and grading of cranial asymmetry in children with and without torticollis. Clin Orthod Res 4: 200–205

15.

Cheng JCY, Tang SP (1999) Outcome of surgical treatment of congenital muscular torticollis. Clin Orthop 362: 190–200

16.

Cheng JCY, Tang SP, Chen TMK (1999) Sternocleidomastoid pseudotumor and congenital muscular torticollis in infants: a prospective study of 510 cases. J Pediatrics 134: 712–716

17.

Cheng JCY, Tang SP, Chen TMK, Wong MW, Wong EM (2000) The clinical presentation and outcome of treatment of congenital muscular torticollis in infants—a study of 1,086 cases. J Pediatr Surg 35: 1091–1096

18.

Cheng JCY, Wong MW, Tang SP, Chen TM, Shum SL, Wong EM (2001) Clinical determinants of the outcome of manual stretching in the treatment of congenital muscular torticollis in infants. A prospective study of eight hundred and twenty-one cases. J Bone Joint Surg Am 83-A: 679–687

19.

Clarren SK (1981) Plagiocephaly and torticollis: etiology, natural history and helmet treatment. J Pediatr 98: 92–95

20.

Clarren SK, Smith DW, Hanson JW (1979) Helmet treatment for plagiocephaly and congenital muscular torticollis. J Pediatrics 94: 43–46

21.

Cohen MM Jr (1986) Perspectives on craniosynostosis. In: Cohen MM Jr (ed) Craniosynostosis: diagnosis, evaluation and management. Raven Press, New York, pp 21–53

22.

Davis BE, Moon RY, Sachs HC, Ottolini MC (1998) Effects of sleep position on infant motor development. Pediatrics 102: 1135–1140

23.

Demirbilek S, Atayurt HF (1999) Congenital muscular torticollis and sternomastoid tumor: results of nonoperative treatment. J Pediatr Surg 34: 549–551

24.

Dewey C, Fleming P, Golding J and the ALSPAC Study Team (1998) Does the supine sleeping position have any adverse effects on the child? II. Development in the first 18 months. Pediatrics 101: 98

25.

Douret D (1993) Effects of early motor intervention in the prone position of full-term infants through the first year of life. Int J Rehab Res 16: 233–234

26.

Dwyer T, Ponsonby A-L, Newman NM, Gibbons LE (1991) Prospective cohort study of prone sleeping position and sudden infant death syndrome. Lancet 837: 1244–1247

27.

Erol B, Kusumi K, Lou J, Dormans JP (2002) Etiology of congenital scoliosis. UPOJ 15: 37–42

28.

Fenichel GM (1993) Disorders of cranial volume and shape. In: Fenichel GM (ed) Clinical pediatric neurology a signs and symptoms approach, 2nd edn. Saunders, Philadelphia, pp 375–378

29.

Fleming PJ, Gilbert R, Azaz Y (1990) Interaction between bedding and sleeping position in the sudden infant death syndrome; a population based case-control study. BMJ 301: 85–89

30.

Fulford GE, Brown JK (1976) Position as a cause of deformity in children with cerebral palsy. Dev Med Child Neurol 18: 305–314

31.

Golden KA, Beals SP, Littlefield TR, Pomatto JK (1999) Sternomastoid imbalance versus congenital muscular torticollis: their relationship to positional plagiocephaly. Cleft Palate-Craniofacial J 36: 256–261

32.

Hadders-Algra M (1997) Assessment of spontaneous movements of young infants: an effective method for the detection of disorders of brain function. Ned Tijdschr Geneeskd 141: 816–820

33.

Hadders-Algra M, Klip-Van den Nieuwendijk AWJ, Martijn A, Eykern LA van (1997) Assessment of general movements: towards a better understanding of a sensitive method to evaluate brain function in young infants. Dev Med Child Neurol 39: 89–99

34.

Hamanishi C, Tanaka S (1994) Turned head-adducted hip-truncal curvature syndrome. Arch Dis Child 70: 515–519

35.

Hein HA, Pettit SF (2001) Back to sleep: good advise for parents but not for hospitals? Pediatrics 107: 537–539

36.

Herkowitz HN, Rothman RH, Simeone FA (1999) Idiopathic scoliosis. In: Rothman RH, Simeone FA (eds) The spine, 4th edn. Saunders, Philadelphia, pp 339–340

37.

Hunt CE, Puczynski MS (1996) Does supine sleeping cause asymmetric heads? Pediatrics 97: 127–129

38.

Jantz JW, Blosser CD, Fruechting LA (1997) A motor milestone change noted with a change in sleep position. Arch Pediatr Adolesc Med 151: 565–568

39.

de Jonge GA, Engelberts AC, Koomen-Liefting AJM, Kostense PJ (1989) Cot death and prone sleeping position in the Netherlands. BMJ 298: 722

40.

Kane AA, Mitchell LE, Craven KP, Marsh JL (1996) Observations on a recent increase in plagiocephaly without synostosis. Pediatrics 97: 877–885

41.

Kattwinkel J, Brooks J, Keenan MJ, Malloy M (1996) American Academy of Pediatrics. Positioning and sudden infant death syndrome (SIDS): update. Pediatrics 98: 1216–1218

42.

Kattwinkel J, Brooks J, Keenan MJ, Malloy M, Willinger M, Scheers NJ (2000) Changing concepts of sudden infant death syndrome: implications for the sleeping environment and sleep position. Pediatrics 105: 650–656

43.

Kattwinkel J, Brooks JG, Keenan ME, Malloy M (2001) To the Editor: "back to sleep: good advise for parents but not for hospitals? Pediatrics 108: 522

44.

Kelly KM, Littlefield TR, Pomatto JK, Manwaring KH, Beals SP (1999) Cranial growth unrestricted during treatment of deformational plagiocephaly. Pediatr Neurosurg 30: 193–199

45.

L'Hoir MP, Engelberts AC, van Well GTJ (1998) Risk and preventive factors for cot death in the Netherlands, a low-incidence country. Eur J Pediatr 157: 681–688

46.

Littlefield TR, Beals SP, Manwaring KH, Pomatto JK, Joganic EF, Golden KA, Ripley CE (1998) Treatment of craniofacial asymmetry with dynamic orthotic cranioplasty. J Craniofac Surg 9: 11–17

47.

Littlefield TR, KM Kelly, JK Pomatto, Beals SP (1999) Multiple-birth infants at higher risk for development of deformational plagiocephaly. Pediatrics 103: 565–569

48.

Littlefield TR, Kelly KM, Pomatto JK, Beals SP (2002) Multiple-birth infants at higher risk for development of deformational plagiocephaly: II. Is one twin at greater risk? Pediatrics 109: 19–25

49.

Lloyds-Roberts GC, Pilcher MF (1965) Structural idiopathic scoliosis in infancy: a study of the natural history of 100 patients. J Bone Joint Surg 47B: 520–523

50.

Loveday BPT, de Chalain TB (2001) Active counterpositioning or orthotic device to treat positional plagiocephaly? J Craniofacial Surg 12: 308–313

51.

Mathijssen IMJ (2000) Craniosynostosis: clinical and fundamental aspects. Erasmus University Rotterdam. Wyt Document Services, Rotterdam

52.

Matzen PF, Rose U (1988) Zur Problematiek der Saüglingsskoliose. Z Orthop 126: 658–660

53.

Mau H, Gabe I (1988) Die sogenannte Saüglingsskoliose und ihre krankengymnastische Behandlung. Georg Thieme Verlag, Stuttgart New York

54.

Miller RI, Clarren SK (2000) Long-term developmental outcomes in patients with deformational plagiocephaly. Pediatrics 105: E26

55.

Moss SD (1997) Nonsurgical, nonorthotic treatment of occipital plagiocephaly: what is the natural history of the misshapen neonatal head? J Neurosurg 87: 667–670

56.

Mulliken JB, Vander Woude DL, Hansen M, LaBrie RA, Scott RM (1999) Analysis of posterior plagiocephaly: deformational versus synostotic. Plast Reconstr Surg 103: 371–380

57.

Najarian SP (1999) lnfant cranial molding deformation and sleep position: implications for primary care. J Pediatr Health Care 13: 173–177

58.

O'Broin ES, Allcutt D, Earley MJ (1999) Posterior plagiocephaly: proactive conservative management. Br J Plast Surg 52: 18–23

59.

Palmen K (1984) Prevention of congenital dislocation of the hip. The Swedish experience of neonatal treatment of hip joint instability. Acta Orthop Scand Suppl 55[Suppl 208]: 58–67

60.

Peitsch WK, Keefer CH, LaBrie RA, Mulliken JB (2002) Incidence of cranial asymmetry in healthy newborns. Pediatrics 10: e72

61.

Persing JA (2001) Discussion on: neurodevelopment in children with single-suture craniosynostosis and plagiocephaly without synostosis. Plast Reconstr Surg 108: 1499–1500

62.

Pollack IF, Losken HW, Fasick P (1997) Diagnosis and management of posterior plagiocephaly. Pediatrics 99: 180–185

63.

Rekate HL (1998) Occipital plagiocephaly: a critical review of the literature. J Neurosurg 89: 24–30

64.

Rosegger H, Steinwendner G (1992) Transverse fetal position syndrome—a combination of congenital skeletal deformities in the newborn infant. Padiatr Padol 27: 125–127

65.

St John D, Mulliken JB, Kaban LB, Padwa BL (2002) Anthropometric analysis of mandibular asymmetry in infants with deformational posterior plagiocephaly. J Oral Maxillofac Surg 60: 873–877

66.

Tang S, Zhengquan L, Quan Xuemu, Junchang Q, Zhang D (1998) Sternocleidomastoid pseudotumor of infants and congenital muscular torticollis: fine-structure research. J Pediatr Orthop 18: 214–218

67.

Tien YC, Su JY, Lin GT, Lin SY (2001) Ultrasonographic study of the coexistence of muscular torticollis and dysplasia of the hip. J Pediatr Orthop 21: 343–347

68.

Tunnessen W (1988) Asymmetry. In: Signs and symptoms in pediatrics, 2nd edn. Lippingcott, Philadelphia, pp 509

69.

Turk AE, McCarthy JG, Thorne CH, Wisoff JH (1996) The 'back to sleep campaign' and deformational plagiocephaly: is there cause for concern? J Craniofacial Surg 7:12–18

70.

Ververs IAP, de Vries JIP, van Geijn HP, Hopkins B (1994) Prenatal head position from 12–38 weeks. Developmental aspects. Early Hum Dev 39: 83–91

71.

Visscher F, van der Graaf T, Spaans M, van Lingen RA, Fetter WPF (1998) Prone position favorable for motor development of infants. Ned Tijdschr Geneeskd 142: 2201–2205

72.

Vles J, van Zutphen S, Hasaart T, Dassen W, Lodder J (1991) Supine and prone head orientation preference in term infants. Brain Dev 13: 87–90

73.

Wei JL, Swartz KM, Weaver AL, Orvidas LJ (2001) Pseudotumor of infancy and congenital muscular torticollis: 170 cases. Laryngoscope 111: 688–695

74.

Wynne-Davies R (1975) Infantile idiopathic scoliosis: causative factors, particularly in the first six months of life. J Bone Joint Surg 57: 138–141
Acknowledgements
The authors thank Marja AGC Schoenmakers and Sonja Raaff of the Department of Paediatric Physiotherapy, Wilhelmina Children's Hospital/University Medical Centre Utrecht, The Netherlands, for their contribution to the development of the diagnostic flow chart.
About this article
Cite this article
van Vlimmeren, L.A., Helders, P.J.M., van Adrichem, L.N.A. et al. Diagnostic strategies for the evaluation of asymmetry in infancy—a review. Eur J Pediatr 163, 185–191 (2004). https://doi.org/10.1007/s00431-004-1412-2
Received:

Revised:

Accepted:

Published:

Issue Date:
Keywords
Craniofacial abnormalities

Infant

Physical therapy

Psychomotor disorders

Torticollis