Abstract
A 6-week-old immunocompetent girl developed protein-losing gastroenteropathy (PLGE) and retinitis associated with cytomegalovirus (CMV) infection. At presentation, CMV antigenaemia (6 cells/46,000 white blood cells) and its DNA were detected in the patient's blood and in the mother's milk. Intravenous ganciclovir and γ-globulin rapidly ameliorated all symptoms and CMV antigenaemia disappeared. No immunological defects were identified in this patient. To the best of our knowledge, this case involves the youngest known immunocompetent patient demonstrating CMV-induced PLGE and retinitis. Conclusion:breast-feeding by a cytomegalovirus-positive mother can be a primary cause of early onset cytomegalovirus infection in infants.
This is a preview of subscription content, log in to check access.
Access options
Buy single article
Instant access to the full article PDF.
US$ 39.95
Price includes VAT for USA
Subscribe to journal
Immediate online access to all issues from 2019. Subscription will auto renew annually.
US$ 199
This is the net price. Taxes to be calculated in checkout.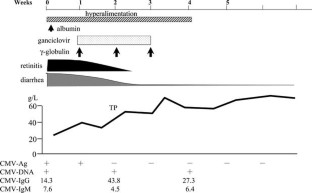 Abbreviations
CMV :

cytomegalovirus

PLGE :

protein-losing gastroenteropathy
References
1.

Barampouti F, Rajan M, Aclimandos W (2002) Should active CMV retinitis in non-immunocompromised newborn babies be treated? Br J Ophthalmol 86: 248–249

2.

Baumal CR, Levin AV, Read SE (1999) Cytomegalovirus retinitis in immunosuppressed children. Am J Ophthalmol 127: 550–558

3.

Brytting M, Xu W, Wahren B, Sundqvist VA (1992) Cytomegalovirus DNA detection in sera from patients with active cytomegalovirus infections. J Clin Microbiol 30: 1937–1941

4.

Buhles WC (1995) Clinical safety of intravenous ganciclovir. In: Spector SA (ed) Ganciclovir therapy for cytomegalovirus infection. Marcel Dekker, New York, pp 31–35

5.

Canpolat C, Culbert S, Gardner M, Whimbey E, Tarrand J, Chan KW (1996) Ganciclovir prophylaxis for cytomegalovirus infection in pediatric allogeneic bone marrow transplant recipients. Bone Marrow Transplant 17: 589–593

6.

Eddleston M, Peacock S, Juniper M, Warrell DA (1997) Severe cytomegalovirus infection in immunocompentent patients. Clin Infect Dis 24: 52–56

7.

Emanuel D, Cunningham I, Jules-Elysee K, Brochstein JA, Kernan NA, Laver J, Stover D, White DA, Fels A, Polsky B (1988) Cytomegalovirus pneumonia after bone marrow transplantation successfully treated with the combination of ganciclovir and high-dose intravenous immune globulin. Ann Intern Med 109: 777–782

8.

Fox LM, Gerber MA, Penix L, Ricci AJ, Hyams JS (1999) Intractable diarrhea from cytomegalovirus enterocolitis in an immunocompetent infant. Pediatrics 103: E10

9.

Gaytant MA, Rours GI, Steegers EA, Galama JM, Semmekrot BA (2003) Congenital cytomegalovirus infection after recurrent infection: case reports and review of the literature. Eur J Pediatr 162: 248–253

10.

Gondo H, Minematsu T, Harada M, Akashi K, Hayashi S, Taniguchi S, Yamasaki K, Shibuya T, Takamatsu Y, Teshima T (1994) Cytomegalovirus (CMV) antigenaemia for rapid diagnosis and monitoring of CMV-associated disease after bone marrow transplantation. Br J Haematol 86: 130–137

11.

Hamprecht K, Maschmann J, Vochem M, Dietz K, Speer CP, Jahn G (2001) Epidemiology of transmission of cytomegalovirus from mother to preterm infant by breast feeding. Lancet 357: 513–518

12.

Jacobson MA (1997) Ganciclovir therapy for severe cytomegalovirus infection in immunocompetent patients. Clin Infect Dis 25: 1487

13.

Jonkhoff-Slok TW, Veenhoven RH, de Graeff-Meeder ER, Buller HA (1997) An immunocompetent infant with cow's milk allergy and cytomegalovirus colitis Eur J Pediatr 156: 528–529

14.

Numazaki K, Chiba S (1997) Current aspects of diagnosis and treatment of cytomegalovirus infections in infants. Clin Diagnos Virol 8: 169–181

15.

Patrick MK, Gall DG (1988) Protein intolerance and immunocyte and enterocyte interaction. Pediatr Clin North Am 35: 17–34

16.

Quiros-Tejeira RE, Ament ME, Rivera-Penera T, Cortina G, Vargas JH (1999) Cytomegalovirus enterocolitis in an immunocompetent infant host: another cause of treatable intractable diarrhea in infancy. J Pediatr Gastroenterol Nutr 29: 86–90

17.

Reed EC, Bowden RA, Dandliker PS, Lelleby KE, Meyer JD (1988) Treatment of cytomegalovirus pneumonia with ganciclovir and intravenous cytomegalovirus immunoglobulin in patients with bone marrow transplants. Ann Intern Med 109: 783–788

18.

Sferra TJ, Pawel BR, Qualman SJ, Li BU (1996) Menetrier disease of childhood: role of cytomegalovirus and transforming growth factor alpha. J Pediatr 128: 213–219

19.

Stagno S (1995) Cytomegalovirus. In: Remington JS, Klein JO (eds) Infectious disease of the fetus and newborn infant. Saunders, Philadelphia, pp 312–353

20.

Whitley RJ, Jacobson MA, Friedberg DN, Holland GN, Jabs DA, Dieterich DT, Hardy WD, Polis MA, Deutsch TA, Feinberg J, Spector SA, Walmsley S, Drew WL, Powderly WG, Griffiths PD, Benson CA, Kessler HA (1998) Guidelines for the treatment of cytomegalovirus diseases in patients with AIDS in the era of potent antiretroviral therapy: recommendations of an international panel International AIDS Society-USA. Arch Intern Med 158: 957–969

21.

Wu CA, Puddington L, Whiteley HE, Yiamouyiannis CA, Schramm CM, Mohammadu F, Thrall RS (2001) Murine cytomegalovirus infection alters Th1/Th2 cytokine expression, decreases airway eosinophilia, and enhances mucus production in allergic airway disease. J Immunol 167: 2798–2807
About this article
Cite this article
Iwanaga, M., Zaitsu, M., Ishii, E. et al. Protein-losing gastroenteropathy and retinitis associated with cytomegalovirus infection in an immunocompetent infant: a case report. Eur J Pediatr 163, 81–84 (2004). https://doi.org/10.1007/s00431-003-1372-y
Received:

Accepted:

Published:

Issue Date:
Keywords
Breast-feeding

Cytomegalovirus

Immunocompetent infant

Protein-losing gastroenteropathy

Retinitis