Abstract
Our aim was to determine whether the chest radiograph appearance at 7 days predicted chronic lung disease development (oxygen dependency at 36 weeks post-menstrual age) or death before discharge and if it was a better predictor than readily available clinical data. Two consecutive studies were performed. In both, chest radiographs taken at 7 days for clinical purposes were assessed using a scoring system for the presence of fibrosis/interstitial shadows, cystic elements and hyperinflation and data were collected regarding gestational age, birth weight, use of antenatal steroids and post-natal surfactant and requirement for ventilation at 7 days. Oxygenation indices were calculated in the first study (study A) at 120 h and in the second (study B) at 168 h. In study A, there were 59 infants with a median gestational age of 26 weeks (range 24 to 28 weeks) and in study B, 40 infants with a median gestational age of 27 weeks (range 25–31 weeks). In both studies, infants who developed chronic lung disease had a significantly higher total chest radiograph score, with a higher score for fibrosis/interstitial shadowing than the rest of the cohort. Infants who died before discharge differed significantly from the rest with regard to significantly higher scores for cysts. In both studies, the areas under the receiver operator characteristic curves with regard to prediction of chronic lung disease were higher for the total chest radiograph score compared to those for readily available clinical data. Conclusion:in infants who require a chest radiograph for clinical purposes at 7 days, the chest radiograph appearance can facilitate prediction of outcome of infants born very prematurely.
This is a preview of subscription content, log in to check access.
Access options
Buy single article
Instant access to the full article PDF.
US$ 39.95
Price includes VAT for USA
Subscribe to journal
Immediate online access to all issues from 2019. Subscription will auto renew annually.
US$ 199
This is the net price. Taxes to be calculated in checkout.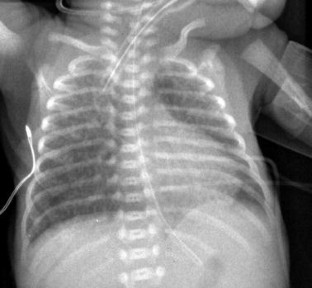 Abbreviations
CLD :

chronic lung disease

CXR :

chest radiograph

CMV :

conventional mechanical ventilation

HFO :

high frequency oscillation

KCH :

King's College Hospital

OI :

oxygenation index

PIE :

pulmonary intestinal emphysema

PMA :

post-menstrual age

ROC :

receiver operator characteristic curves

UKOS :

United Kingdom Oscillation Study
References
1.

Altman DG, Bland JM (1994) Diagnostic tests 3: receiver operator characteristic plots. BMJ 309: 188

2.

Bhuta T, Ohlsson A (1998) Systematic review and meta-analysis of early postnatal dexamethasone for prevention of chronic lung disease. Arch Dis Child Fetal Neonat Ed 79: F26–F33

3.

Edwards D, Colby T, Northway W (1979) Radiographic-pathologic correlation in bronchopulmonary dysplasia. J Pediatr 95: 834–836

4.

Greenough A, Giffin FJ, Yüksel B (1996) Respiratory morbidity in preschool children born prematurely and its relationship to adverse neonatal events. Acta Paediatr 85: 772–777

5.

Greenough A, Kavvadia K, Johnson AH, Calvert S, Peacock J, Karani J (1999) A simple chest radiograph score to predict chronic lung disease in prematurely born infants. Br J Radiol 199972: 530–533

6.

Greenough A, Boorman J, Alexander J, Burgess S, Chetcuti PAJ, Coles S et al (2001) Health care utilisation of CLD infants related to hospitalisation for RSV infection. Arch Dis Child 85: 463–468

7.

Hanley JA, McNeil BJ (1982) The meaning and use of the area under a receiver operating characteristic (ROC) curve. Radiology 143: 29–36

8.

Johnson AH, Peacock JL, Greenough A, Marlow N, Limb ES, Marston L, Calvert SA (2002) High frequency oscillatory ventilation for the prevention of chronic lung disease of prematurity. N Engl J Med 347: 633–642

9.

Kavvadia V, Greenough A, Dimitriou G, Hooper R (2000) Randomised trial of fluid restriction in ventilated very low birthweight infants. Arch Dis Child 83: F91–F96

10.

Morisot C, Kacet N, Bouchez MC, Rouland V, Dubos JP, Gremillet C (1990) Risk factors for fatal pulmonary interstitial emphysema in neonates. Eur J Pediatr 149: 493–495

11.

Mortensson W, Andreasson B, Lindroth M, Svenningsen N, Jonson B (1989) Potential of early chest roentgenographic examination in ventilator treated newborn infants to predict future lung function and disease. Pediatr Radiol 20: 41–44

12.

Yeh TF, Lin YJ, Huang CC, Chen YJ, Lin CH, Lin HC, Hsieh, WS, Lien YJ (1998) Early dexamethasone therapy in preterm infants: a follow-up study. Pediatrics 101: e7
Acknowledgements
Drs Thomas and Johnson and Mrs E Limb were supported by the Medical Research Council. The UKOS trial is funded by the Medical Research Council. Drs Dimitriou and Williams were supported by Children Nationwide.
About this article
Cite this article
Greenough, A., Thomas, M., Dimitriou, G. et al. Prediction of outcome from the chest radiograph appearance on day 7 of very prematurely born infants. Eur J Pediatr 163, 14–18 (2004). https://doi.org/10.1007/s00431-003-1332-6
Received:

Accepted:

Published:

Issue Date:
Keywords
Chest radiograph

Chronic lung disease