Abstract
Adrenocortical tumours (ACT) are a rare but important cause of virilisation in infancy and childhood. Four cases of virilising ACT are presented. Two girls (age 0.9 years and 3.9 years) and two boys (age 6.2 years and 6.4 years) had symptoms and signs of virilisation before the age of 6 years. Diagnosis of a virilising adrenal tumour was confirmed by laboratory tests, diagnostic imaging and histology. However, one female patient was misdiagnosed and treated for 3 months as atypical congenital adrenal hyperplasia. Ultrasonography of the adrenal region could not visualise the tumour in three out of four cases. The most sensitive method of diagnostic imaging was MRI. In all cases, treatment consisted of complete surgical resection of the adrenal tumour by open abdominal surgery. Immunohistochemistry was performed in all patients and in two patients there was an overexpression of p53, indicating p53 mutation and in three cases the ki67 proliferation index was greater than 5%. The classification of ACT in childhood is extremely difficult. Histology scores adapted from adrenal tumours in adults and molecular markers are under investigation, but there is still not enough clinical experience since ACT are so rare. Conclusion:long-term follow-up is mandatory not only because of the uncertainty in classification of adrenocortical tumours, but also for observation of growth and pubertal development.
This is a preview of subscription content, log in to check access.
Access options
Buy single article
Instant access to the full article PDF.
US$ 39.95
Price includes VAT for USA
Subscribe to journal
Immediate online access to all issues from 2019. Subscription will auto renew annually.
US$ 199
This is the net price. Taxes to be calculated in checkout.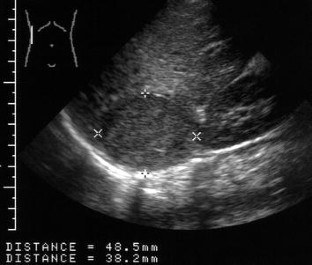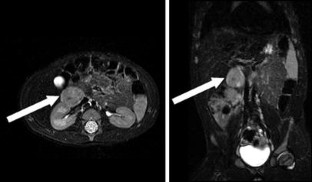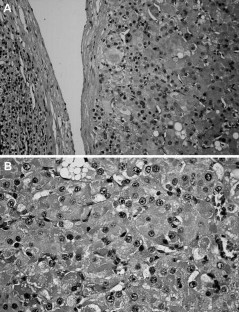 Abbreviations
ACT :

adrenocortical tumour

ACTH :

adrenocorticotrophic hormone

DHEAS :

dihydroepiandrosterone sulphate

17-OHP :

17-hydroxyprogesterone
References
1.

Anonymous (1865) General melasma and short hair over the entire body of a child of three years, with conversion of the left supra-renal capsule into a large malignant tumor; the external organs of generation resembling that of adult life. Lancet 1: 175

2.

Arola J, Liu J, Heikkilä P, Ilvesmäki V, Salmenkivi K, Voutilainen R, Kahri AI (2000) Expression of inhibin alpha in adrenocortical tumors reflects the hormonal status of the hormonal status of the neoplasm. J Endocrinol 165: 223–229

3.

Arola J, Salmenkivi, Liu J, Kahri Al, Heikkilä P (2000) p53 and Ki 67 in adrenocortical tumors. Endocr Res 26: 861–865

4.

Bornstein SR (1999) Adrenocortical tumors: recent advances in basic concepts and clinical management. Ann Intern Med 130: 759–771

5.

Cagle PT, Hough AJ, Pysher TJ, Johnson EH, Kirkland RT, Holcombe JH, Hawkins EP (1986) Comparison of adrenal cortical tumors in children and adults. Cancer 57: 2235–2237

6.

Figueiredo BC, Ribeiro RC, Zambetti G, Haddad B, Pianovsky MD, Pereira RM, DeLacerda L, Sndrini R (2000) Amplification of 9q34 in childhood adrenocortical tumors: a specific feature unrelated to ethnic origin or living conditions. Braz J Med Biol Res 33: 1217–1224

7.

Glazer GM, Francis IR, Quint LE (1988) Imaging of the adreal glands. Invest Radiol 23: 3–11

8.

Greulich WW, Pyle SI (1959) Radiographic atlas of skeletal development of the hand and wrist, 2nd edn. Stanford University Press, Palo Alto

9.

Heppner C, Reincke M, Agrawal SK, Mora P, Allolio B, Burns AL, Spiegel AM, Marx SJ (1999) MEN1 gene analysis in sporadic adrenocortical neoplasms. J Clin Endocrinol Metab 84: 216–219

10.

Honour JW, Price DA, Taylor NF, Marsden HB, Grant DB (1984) Steroid biochemistry of virilizing adrenal tumors in childhood. Eur J Pediatr 142: 165–169

11.

Hough AJ, Hollifield JW, Page DL, Hartmann WH (1979) Prognostic factors in adrenal cortical tumors: a mathematical analysis of clinical and morphologic data. Am J Clin Pathol 72: 390–399

12.

Knorr D, Bidlingmaier F, Kuhnle U (1982) Diagnosis and monitoring of therapy of the various enzymatic defects causing congenital adrenal hyperplasia by semiautomatic capillary gas-liquid chromatography. Horm Res 16: 201–208

13.

Latronico AC, Chrousos GP (1997) Extensive personal experience: adrenocortical tumors. J Clin Endocrinol Metab 82: 1317–1324

14.

Lee PDK, Winter RJ, Green OC (1985) Virilizing adrenocortical tumors in childhood: eight cases and a review of the literature. Pediatrics 76: 437–443

15.

de Léon DD, Lange BJ, Walterhouse D, Moshang T (2002) Long-term (15 years) outcome in an infant with metastatic adrenocortical carcinoma. J Clin Endocrinol Metab 87: 4452–4456

16.

Luton JP, Cerdas S, Billaud L, Thomas G, Guilhaume B, Bertagna X, Laudat MH, Louvel A, Chapuis Y, Blondeau P (1990) Clinical features of adrenocortical carcinoma, prognostic factors and the effect of mitotane therapy. N Engl J Med 322: 1195–1201

17.

Moore L, Barker AP, Byard RW, Bourne AJ, Ford WDA (1991) Adrenal cortical tumors in childhood – clinicopathological features of six cases. Pathology 23: 94–97

18.

Medeiros LJ, Weiss LM (1992) New developments in the pathologic diagnosis of adrenal cortical neoplasms. J Clin Pathol 97: 73–83

19.

Pelkey TJ, Frierson HF, Mills SE, Stoler MH (1998) The alpha subunit of inhibin in adrenal cortical neoplasia. Mod Pathol 11: 516–524

20.

Prader A, Largo RH, Molinari L, Issler C (1989) Physical growth of Swiss children from birth to 20 years of age. First Zurich longitudinal study of growth and development. Helv Paediatr Acta Suppl 52: 1-125

21.

Reincke M (1998) Mutations in adrenocortical tumors. Horm Metab Res 30: 447–455

22.

Ribeiro RC, Michalkiewicz EL, Figueiredo BC, DeLacerda L, Sandrini F, Pianovsky MD, Sampaio G, Sandrini R (2000) Adrenocortical tumors in children. Braz J Med Biol Res 33: 1225–1234

23.

Saeger W (2000) Histopathololgical classification of adrenal tumors. Eur J Clin Invest 30: 58–62

24.

Sandrini R, Ribeiro RC, DeLacerda L (1997) Childhood adrenocortical tumors. J Clin Endocrinol Metab 82: 2027–2031

25.

Stiller CA (1994) International variations in the incidence of childhood carcinomas. Cancer Epidemiol Biom Prev 3: 305–310

26.

Wachenfeld C, Beuschlein F, Zwermann O, Mora P, Fassnacht M, Allolio B, Reincke M (2001) Discerning malignancy in adrenocortical tumors: are molecular markers useful? Eur J Endocrinol 145: 335–341

27.

Weber MM, Fottner C, Wolf E (2000) The role of insulin-like growth factor system in adrenocortical tumorigenesis. Eur J Clin Invest[Suppl 3]: 69–75

28.

Weiss LM (1984) Comparative histologic study of 43 metastasizing and nonmetastasizing adrenocortical tumors. Am J Surg Pathol 8: 163–169

29.

Weiss LM, Medeiros LJ, Vickery AL (1989) Pathologic features of prognostic significance in adrenocortical carcinoma. Am J Surg Pathol 13: 202–206

30.

Wolthers OD, Cameron FJ, Scheimberg I, Honour JW, Hindmarsh PC, Savage MO, Stanhope RG, Brook CGD (1990) Androgen secreting adrenocortical tumors. Arch Dis Child 80: 46–50

31.

Zwermann O, Beuschlein F, Mora P, Weber G, Allolio B, Reincke M (2000) Multiple endocrine neoplasia type 1 gene expression is normal in sporadic adrenocortical tumors. Eur J Endocrinol 142: 689–695
About this article
Cite this article
Bonfig, W., Bittmann, I., Bechtold, S. et al. Virilising adrenocortical tumours in children. Eur J Pediatr 162, 623–628 (2003). https://doi.org/10.1007/s00431-003-1230-y
Received:

Revised:

Accepted:

Published:

Issue Date:
Keywords
Adrenocortical tumour

Children

Virilisation