Abstract
Invasive aspergillosis is a devastating invasive fungal disease associated with a high mortality rate in the immunocompromised, such as leukaemia patients, transplant patients and those with HIV/AIDS. The rodent serum orthologue of human L-ficolin, ficolin-A, can bind to and opsonize Aspergillus fumigatus, the pathogen that causes invasive aspergillosis, and may participate in fungal defence. Using human monocyte-derived macrophages and neutrophils isolated from healthy donors, we investigated conidial association and fungal viability by flow cytometry and microscopy. Additionally, cytokine production was measured via cytometric bead arrays. Ficolin-A opsonization was observed to significantly enhance association of conidia, while also inhibiting hyphal growth and contributing to increased fungal killing following incubation with monocyte-derived macrophages and neutrophils. Additionally, ficolin-A opsonization was capable of manifesting a decrease in IL-8, IL-1β, IL-6, IL-10 and TNF-α production from MDM and IL-1β, IL-6 and TNF-α from neutrophils 24 h post-infection. In conclusion, rodent ficolin-A is functionally comparable to human L-ficolin and is capable of modulating the innate immune response to A. fumigatus, down-regulating cytokine production and could play an important role in airway immunity.
This is a preview of subscription content, log in to check access.
Access options
Buy single article
Instant access to the full article PDF.
US$ 39.95
Price includes VAT for USA
Subscribe to journal
Immediate online access to all issues from 2019. Subscription will auto renew annually.
US$ 199
This is the net price. Taxes to be calculated in checkout.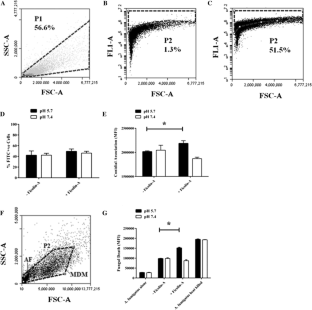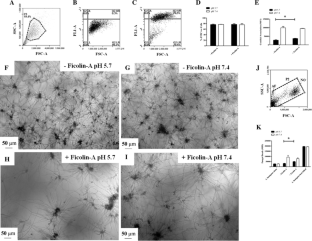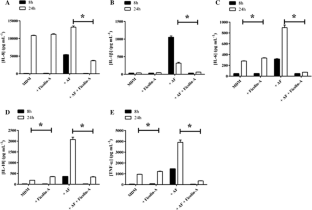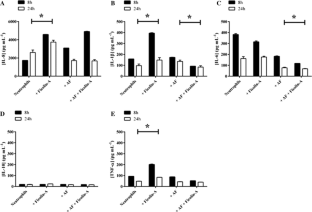 References
1.

Segal BH (2009) Aspergillosis. N Engl J Med 360(18):1870–1884. doi:10.1056/NEJMra0808853

2.

Denning DW, Pleuvry A, Cole DC (2013) Global burden of allergic bronchopulmonary aspergillosis with asthma and its complication chronic pulmonary aspergillosis in adults. Med Mycol 51(4):361–370. doi:10.3109/13693786.2012.738312

3.

Steinbach WJ, Marr KA, Anaissie EJ, Azie N, Quan SP, Meier-Kriesche HU, Apewokin S, Horn DL (2012) Clinical epidemiology of 960 patients with invasive aspergillosis from the PATH Alliance registry. J Infect 65(5):453–464. doi:10.1016/j.jinf.2012.08.003

4.

Taccone FS, Van den Abeele AM, Bulpa P, Misset B, Meersseman W, Cardoso T, Paiva JA, Blasco-Navalpotro M, De Laere E, Dimopoulos G, Rello J, Vogelaers D, Blot SI, Asp ICUSI (2015) Epidemiology of invasive aspergillosis in critically ill patients: clinical presentation, underlying conditions, and outcomes. Crit Care (London, England) 19(1):7. doi:10.1186/s13054-014-0722-7

5.

Martin TR, Frevert CW (2005) Innate immunity in the lungs. Proc Am Thorac Soc 2:403–411

6.

Schelenz S, Goldsmith DJ (2003) Aspergillus endophthalmitis: an unusual complication of disseminated infection in renal transplant patients. J Infect 47(4):336–343

7.

Luther K, Torosantucci A, Brakhage AA, Heesemann J, Ebel F (2007) Phagocytosis of Aspergillus fumigatus conidia by murine macrophages involves recognition by the dectin-1 beta-glucan receptor and Toll-like receptor 2. Cell Microbiol 9(2):368–381. doi:10.1111/j.1462-5822.2006.00796.x

8.

Aratani Y, Kura F, Watanabe H, Akagawa H, Takano Y, Suzuki K, Dinauer MC, Maeda N, Koyama H (2002) Relative contributions of myeloperoxidase and NADPH-oxidase to the early host defense against pulmonary infections with Candida albicans and Aspergillus fumigatus. Med Mycol 40(6):557–563

9.

Segal BH, Han W, Bushey JJ, Joo M, Bhatti Z, Feminella J, Dennis CG, Vethanayagam RR, Yull FE, Capitano M, Wallace PK, Minderman H, Christman JW, Sporn MB, Chan J, Vinh DC, Holland SM, Romani LR, Gaffen SL, Freeman ML, Blackwell TS (2010) NADPH oxidase limits innate immune responses in the lungs in mice. PLoS One 5(3):e9631. doi:10.1371/journal.pone.0009631

10.

Bruns S, Kniemeyer O, Hasenberg M, Aimanianda V, Nietzsche S, Thywissen A, Jeron A, Latge JP, Brakhage AA, Gunzer M (2010) Production of extracellular traps against Aspergillus fumigatus in vitro and in infected lung tissue is dependent on invading neutrophils and influenced by hydrophobin RodA. PLoS Pathog 6(4):e1000873. doi:10.1371/journal.ppat.1000873

11.

Matsushita M (2013) Ficolins in complement activation. Mol Immunol 55(1):22–26. doi:10.1016/j.molimm.2012.08.017

12.

Bidula S, Kenawy H, Ali Y, Sexton D, Schwaeble W, Schelenz S (2013) Role of ficolin-A and lectin complement pathway in the innate defense against pathogenic Aspergillus species. Infect Immun 81:1730–1740

13.

Hummelshøj T, Ma YJ, Munthe-Fog L, Bjarnsholt T, Moser C, Skjødt K, Romani L, Fujita T, Endo Y, Garred P (2012) The interaction pattern of murine serum ficolin-A with microorganisms. PLoS One. doi:10.1371/journal.pone.0038196

14.

Bidula S, Sexton D, Schelenz S (2013) Serum ficolins enhance phagocytosis and killing of Aspergillus fumigatus leading to modulation of the pro-inflammatory cytokine response. Immunology 140(Suppl. 1):121

15.

Walsh GM, Sexton DW, Blaylock MG, Convery CM (1999) Resting and cytokine-stimulated human small airway epithelial cells recognize and engulf apoptotic eosinophils. Blood 94(8):2827–2835

16.

Girija UV, Dodds AW, Roscher S, Reid KBM, Wallis R (2007) Localization and characterisation of the mannose-binding lectin (MBL)-associated-serine-protease-2 binding site in rat ficolin-A; equivalent binding sites within the collagenous domains of MBLs and ficolins. J Immunol 179:455–462

17.

Romani L (2004) Immunity to fungal infections. Nat Rev Immunol 4(1):1–23. doi:10.1038/nri1255

18.

Ibrahim-Granet O, Philippe B, Boleti H, Boisvieux-Ulrich E, Grenet D, Stern M, Latge JP (2003) Phagocytosis and intracellular fate of Aspergillus fumigatus conidia in alveolar macrophages. Infect Immun 71(2):891–903

19.

Bianchi M, Hakkim A, Brinkmann V, Siler U, Seger RA, Zychlinsky A, Reichenbach J (2009) Restoration of NET formation by gene therapy in CGD controls aspergillosis. Blood 114(13):2619–2622. doi:10.1182/blood-2009-05-221606

20.

Schelenz S, Smith DA, Bancroft GJ (1999) Cytokine and chemokine responses following pulmonary challenge with Aspergillus fumigatus: obligatory role of TNF-alpha and GM-CSF in neutrophil recruitment. Med Mycol 37(3):183–194

21.

Mircescu MM, Lipuma L, van Rooijen N, Pamer EG, Hohl TM (2009) Essential role for neutrophils but not alveolar macrophages at early time points following Aspergillus fumigatus infection. J Infect Dis 200(4):647–656. doi:10.1086/600380

22.

Matsushita M, Endo Y, Taira S, Sato Y, Fujita T, Ichikawa N, Nakata M, Mizuochi T (1996) A novel human serum lectin with collagen- and fibrinogen-like domains that functions as an opsonin. J Biol Chem 271:2448–2454

23.

Fujieda M, Aoyagi Y, Matsubara K, Takeuchi Y, Fujimaki W, Matsushita M, Bohnsack JF, Takahashi S (2012) L-ficolin and capsular polysaccharide-specific IgG in cord serum contribute synergistically to opsonophagocytic killing of serotype III and V group B streptococci. Infect Immun 80(6):2053–2060

24.

Allen MJ, Harbeck R, Smith B, Voelker DR, Mason RJ (1999) Binding of rat and human surfactant proteins A and D to Aspergillus fumigatus conidia. Infect Immun 67(9):4563–4569

25.

Madan T, Kishore U, Singh M, Strong P, Hussain EM, Reid KB, Sarma PU (2001) Protective role of lung surfactant protein D in a murine model of invasive pulmonary aspergillosis. Infect Immun 69(4):2728–2731. doi:10.1128/iai.69.4.2728-2731.2001

26.

Madan T, Eggleton P, Kishore U, Strong P, Aggrawal SS, Sarma PU, Reid KB (1997) Binding of pulmonary surfactant proteins A and D to Aspergillus fumigatus conidia enhances phagocytosis and killing by human neutrophils and alveolar macrophages. Infect Immun 65(8):3171–3179

27.

Kaur S, Gupta VK, Thiel S, Sarma PU, Madan T (2007) Protective role of mannan-binding lectin in a murine model of invasive pulmonary aspergillosis. Clin Exp Immunol 148(2):382–389. doi:10.1111/j.1365-2249.2007.03351.x

28.

Bidula S, Sexton DW, Abdolrasouli A, Shah A, Reed A, Armstrong-James D, Schelenz S (2015) Serum opsonin, L-ficolin, is detected in human lungs of transplant patients following fungal infections and modulates inflammation and killing of A. fumigatus. J Infect. doi:10.1093/infdis/jiv027

29.

Ma YJ, Doni A, Hummelshøj T, Honore C, Bastone A, Mantovani A, Thielens NM, Garred P (2009) Synergy between ficolin-2 and pentraxin 3 boosts innate immune recognition and complement deposition. J Biol Chem 284(41):28263–28275

30.

Lambourne J, Agranoff D, Herbrecht R, Troke PF, Buchbinder A, Willis F, Letscher-Bru V, Agrawal S, Doffman S, Johnson E, White PL, Barnes RA, Griffin G, Lindsay JA, Harrison TS (2009) Association of mannose-binding lectin deficiency with acute invasive aspergillosis in immunocompromised patients. Clin Infect Dis 49(10):1486–1491. doi:10.1086/644619

31.

Cedzynski M, Atkinson A, Swierzko A, MacDonald S, Szala A, Zeman K, Buczylko K, Bak-Romaniszyn L, Wiszniewska M, Matsushita M, Szemraj J, Banasik M, Turner M, Kilpatrick D (2009) L-ficolin (ficolin-2) insufficiency is associated with combined allergic and infectious respiratory diseases in children. Mol Immunol 47:415–419

32.

Zhang Z, Liu R, Noordhoek J, Kauffman H (2005) Interaction of airway epithelial cells (A549) with spores and mycelium of Aspergillus fumigatus. J Infect 51:375–382

33.

Balloy V, Sallenave J, Wu Y, Touqui L, Latgé J, Si-Tahar M, Chignard M (2008) Aspergillus fumigatus-induced Interleukin-8 synthesis by respiratory epithelial cells is controlled by the phosphatidylinositol 3-kinase, p38 MAPK, and ERK 1/2 pathways and not by the toll-like receptor-MyD88 pathway. JBiol Chem 283:30513–30521

34.

Koth L, Rodriguez M, Bernstein X, Chan S, Huang X, Charo I, Rollins B, Erle D (2004) Aspergillus antigen induces robust Th2 cytokine production, inflammation, airway hyperreactivity and fibrosis in the absence of MCP-1 or CCR2. Resp Res 5:12

35.

Grazziutti ML, Rex JH, Cowart RE, Anaissie EJ, Ford A, Savary CA (1997) Aspergillus fumigatus conidia induce a Th1-type cytokine response. J Infect Dis 176(6):1579–1583

36.

Werner JL, Gessner MA, Lilly LM, Nelson MP, Metz AE, Horn D, Dunaway CW, Deshane J, Chaplin DD, Weaver CT, Brown GD, Steele C (2011) Neutrophils produce interleukin 17A (IL-17A) in a dectin-1- and IL-23-dependent manner during invasive fungal infection. Infect Immun 79(10):3966–3977. doi:10.1128/iai.05493-11

37.

Gessner MA, Werner JL, Lilly LM, Nelson MP, Metz AE, Dunaway CW, Chan YR, Ouyang W, Brown GD, Weaver CT, Steele C (2012) Dectin-1-dependent interleukin-22 contributes to early innate lung defense against Aspergillus fumigatus. Infect Immun 80(1):410–417. doi:10.1128/iai.05939-11

38.

Ma YJ, Doni A, Romani L, Jurgensen HJ, Behrendt N, Mantovani A, Garred P (2013) Ficolin-1-PTX3 complex formation promotes clearance of altered self-cells and modulates IL-8 production. J Immunol 191(3):1324–1333. doi:10.4049/jimmunol.1300382

39.

Ma YJ, Kang HJ, Kim JY, Garred P, Lee MS, Lee BL (2013) Mouse mannose-binding lectin-A and ficolin-A inhibit lipopolysaccharide-mediated pro-inflammatory responses on mast cells. BMB Rep 46(7):376–381

40.

Luo F, Sun X, Wang Y, Wang Q, Wu Y, Pan Q, Fang C, Zhang XL (2013) Ficolin-2 defends against virulent mycobacteria tuberculosis infection in vivo, and its insufficiency is associated with infection in humans. PLoS One 8(9):e73859. doi:10.1371/journal.pone.0073859
Acknowledgments
We are grateful to Dr. Orla Jupp (University of East Anglia), for processing blood and providing us with monocytes and neutrophils. We would also like to thank Prof. Russell Wallis and Dr. Umakhanth Venkatraman Girija for supplying us with recombinant rat ficolin-A. This work was supported by a Faculty of Health, University of East Anglia, UK Ph.D. studentship (FMH 04.4.66 C4).
Ethics declarations
Conflict of interest
The authors have no conflicts of interest.
About this article
Cite this article
Bidula, S., Sexton, D.W. & Schelenz, S. Serum opsonin ficolin-A enhances host–fungal interactions and modulates cytokine expression from human monocyte-derived macrophages and neutrophils following Aspergillus fumigatus challenge. Med Microbiol Immunol 205, 133–142 (2016). https://doi.org/10.1007/s00430-015-0435-9
Received:

Accepted:

Published:

Issue Date:
Keywords
Aspergillosis

Macrophage

Neutrophil

Cytokines

Innate immunity