Abstract
Porphyromonas gingivalis, a periodontal pathogen, is epidemiologically associated with oral squamous cell carcinoma (OSCC). Matrix metalloproteinase 9 (MMP9) which degrades the extracellular matrix and basement membrane components has been implicated in invasion and metastasis of tumor cells. We previously reported that P. gingivalis promoted cellular invasion of carcinoma SAS cells, an established cell line from patients with squamous cell carcinoma of the tongue, by induction of MMP9 production via proteinase-activated receptor 2. In this study, we further examined alternative signaling pathways mediating inactive precursor of MMP9 (proMMP9) production induced by P. gingivalis in SAS cells. Following P. gingivalis infection, PAR4 mRNA expression was increased and proMMP9 production was enhanced, leading to acceleration of SAS cell invasion. Small interfering RNA knockdown of PAR4 gene abrogated both proMMP9 expression and cellular invasion induced by P. gingivalis in SAS cells. Moreover, the phosphorylation of p38 and ERK1/2 was reduced in PAR4 gene knockdown cells infected with P. gingivalis, whereas nuclear translocation of NF-kB was not inhibited. These results suggest that P. gingivalis activates PAR4 signaling pathways, leading proMMP9 over-expression and cellular invasion in OSCC cells.
This is a preview of subscription content, log in to check access.
Access options
Buy single article
Instant access to the full article PDF.
US$ 39.95
Price includes VAT for USA
Subscribe to journal
Immediate online access to all issues from 2019. Subscription will auto renew annually.
US$ 199
This is the net price. Taxes to be calculated in checkout.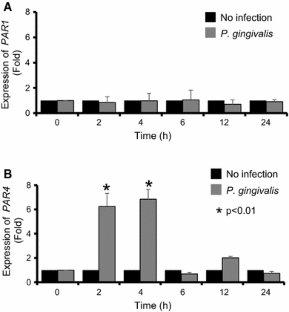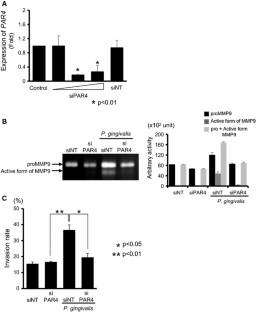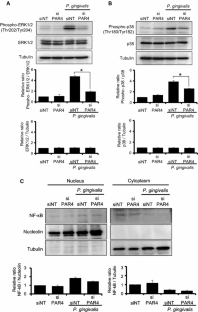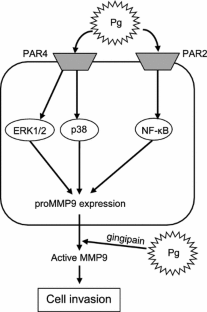 References
1.

O'Brien CJ, Smith JW, Soong SJ, Urist MM, Maddox WA (1986) Neck dissection with and without radiotherapy: prognostic factors, patterns of recurrence, and survival. Am J Surg 152(4):456–463. doi:10.1016/0002-9610(86)90324-7

2.

Crawford HC, Scoggins CR, Washington MK, Matrisian LM, Leach SD (2002) Matrix metalloproteinase-7 is expressed by pancreatic cancer precursors and regulates acinar-to-ductal metaplasia in exocrine pancreas. J Clin Invest 109(11):1437–1444. doi:10.1172/JCI15051

3.

Rafailidis PI, Kapaskelis A, Christodoulou C, Galani E, Falagas ME (2008) Concurrent M. tuberculosis, Klebsiella pneumoniae, and Candida albicans infection in liver metastasis of bowel carcinoma. Eur J Clin Microbiol Infect Dis 27(8):753–755. doi:10.1007/s10096-008-0488-4

4.

Bakri MM, Hussaini HM, Holmes AR, Cannon RD, Rich AM (2010) Revisiting the association between candidal infection and carcinoma, particularly oral squamous cell carcinoma. J Oral Microbiol 2:5780. doi:10.3402/jom.v2i0.5780

5.

Xie W, Huang Y, Xie W, Guo A, Wu W (2010) Bacteria peptidoglycan promoted breast cancer cell invasiveness and adhesiveness by targeting toll-like receptor 2 in the cancer cells. PLoS One 5(5):e10850. doi:10.1371/journal.pone.0010850

6.

Zhang D, Li YH, Mi M et al (2013) Modified apple polysaccharides suppress the migration and invasion of colorectal cancer cells induced by lipopolysaccharide. Nutr Res 33(10):839–848. doi:10.1016/j.nutres.2013.06.004

7.

Yang H, Qu L, Ma H, Chen L, Liu W, Liu C, Meng L, Wu J, Shou C (2010) Mycoplasma hyorhinis infection in gastric carcinoma and its effects on the malignant phenotypes of gastric cancer cells. BMC Gastroenterol 10:132. doi:10.1186/1471-230X-10-132

8.

Himaya SW, Dewapriya P, Kim SK (2013) EGFR tyrosine kinase inhibitory peptide attenuates Helicobacter pylori-mediated hyper-proliferation in AGS enteric epithelial cells. Toxicol Appl Pharmacol 269(3):205–214. doi:10.1016/j.taap.2013.03.020

9.

Mackie EJ, Pagel CN, Smith R, de Niese MR, Song SJ, Pike RN (2002) Protease-activated receptors: a means of converting extracellular proteolysis into intracellular signals. IUBMB Life 53:277–281. doi:10.1080/15216540213469

10.

Inaba H, Sugita H, Kuboniwa M, Iwai S, Hamada M, Noda T, Morisaki I, Lamont RJ, Amano A (2014) Porphyromonas gingivalis promotes invasion of oral squamous cell carcinoma through induction of proMMP9 and its activation. Cell Microbiol 16(1):131–145. doi:10.1111/cmi.12211

11.

Zhang Y, Yu G, Wang Y, Xiang Y, Gao Q, Jiang P, Zhang J, Lee W, Zhang Y (2011) Activation of protease-activated receptor (PAR) 1 by frog trefoil factor (TFF) 2 and PAR4 by human TFF2. Cell Mol Life Sci 68(22):3771–3780. doi:10.1007/s00018-011-0678-6

12.

Ghio P, Cappia S, Selvaggi G, Novello S, Lausi P, Zecchina G, Papotti M, Borasio P, Scagliotti GV (2006) Prognostic role of protease-activated receptors 1 and 4 in resected stage IB non-small-cell lung cancer. Clin Lung Cancer 7(6):395–400. doi:10.3816/CLC.2006.n.023

13.

Wilson SR, Gallagher S, Warpeha K, Hawthorne SJ (2004) Amplification of MMP-2 and MMP-9 production by prostate cancer cell lines via activation of protease activated receptors. Prostate 60(2):168–174. doi:10.1002/pros.20047

14.

Kaufmann R, Henklein P, Henklein P, Settmacher U (2009) Green tea polyphenol epigallocatechin-3-gallate inhibits thrombin-induced hepatocellular carcinoma cell invasion and p42/p44-MAPKinase activation. Oncol Rep 21(5):1261–1267. doi:10.3892/or_00000349

15.

Megyeri M, Makó V, Beinrohr L, Doleschall Z, Prohászka Z, Cervenak L, Závodszky P, Gál P (2009) Complement protease MASP-1 activates human endothelial cells: PAR4 activation is a link between complement and endothelial function. J Immunol 183(5):3409–3416. doi:10.4049/jimmunol.0900879

16.

Hampton DW, Seitz A, Chen P, Heber-Katz E, Fawcett JW (2004) Altered CNS response to injury in the MRL/MpJ mouse. Neuroscience 127(4):821–832. doi:10.1016/j.neuroscience.2004.05.057

17.

Ahn J, Segers S, Hayes RB (2012) Periodontal disease, Porphyromonas gingivalis serum antibody levels and orodigestive cancer mortality. Carcinogenesis 33(5):1055–1058. doi:10.1093/carcin/bgs112

18.

Mao S, Park Y, Hasegawa Y, Tribble GD, James CE, Handfield M, Stavropoulos MF, Yilmaz O, Lamont RJ (2007) Intrinsic apoptotic pathways of gingival epithelial cells modulated by Porphyromonas gingivalis. Cell Microbiol 9(8):1997–2007. doi:10.1111/j.1462-5822.2007.00931.x

19.

Kuboniwa M, Hasegawa Y, Mao S, Shizukuishi S, Amano A, Lamont RJ, Yilmaz O (2008) P. gingivalis accelerates gingival epithelial cell progression through the cell cycle. Microbes Infect 10(2):122–128. doi:10.1016/j.micinf.2007.10.011

20.

Nagy KN, Sonkodi I, Szoke I, Nagy E, Newman HN (1998) The microflora associated with human oral carcinomas. Oral Oncol 34(4):304–308. doi:10.1016/S1368-8375(98)80012-2

21.

Lanzós I, Herrera D, Santos S, O'Connor A, Peña C, Lanzós E, Sanz M (2011) Microbiological effects of an antiseptic mouthrinse in irradiated cancer patients. Med Oral Patol Oral Cir Bucal 16(7):e1036–e1042. doi:10.4317/medoral.17234

22.

Katz J, Onate MD, Pauley K, Bhattacharyya I, Cha S (2011) Presence of Porphyromonas gingivalis in gingival squamous cell carcinoma. Int J Oral Sci 3(4):209–215. doi:10.4248/IJOS11075

23.

Groeger S, Domann E, Gonzales JR, Chakraborty T, Meyle J (2011) B7-H1 and B7-DC receptors of oral squamous carcinoma cells are upregulated by Porphyromonas gingivalis. Immunobiology 216:1302–1310. doi:10.1016/j.imbio.2011.05.005

24.

Inaba H, Kuboniwa M, Bainbridge B, Yilmaz O, Katz J, Shiverick KT, Amano A, Lamont RJ (2009) Porphyromonas gingivalis invades human trophoblasts and inhibits proliferation by inducing G1 arrest and apoptosis. Cell Microbiol 11(10):1517–1532. doi:10.1111/j.1462-5822.2009.01344.x

25.

St-Onge M, Lagarde S, Laflamme C, Rollet-Labelle E, Marois L, Naccache PH, Pouliot M (2010) Proteinase-activated receptor-2 up-regulation by Fcgamma-receptor activation in human neutrophils. FASEB J 24(6):2116–2125. doi:10.1096/fj.09-146167

26.

Kato T, Okahashi N, Kawai S, Kato T, Inaba H, Morisaki I, Amano A (2005) Impaired degradation of matrix collagen in human gingival fibroblasts by the antiepileptic drug phenytoin. J Periodontol 76(6):941–950. doi:10.1902/jop.2005.76.6.941

27.

Lourbakos A, Yuan YP, Jenkins AL, Travis J, Andrade-Gordon P, Santulli R, Potempa J, Pike RN (2001) Activation of protease-activated receptors by gingipains from Porphyromonas gingivalis leads to platelet aggregation: a new trait in microbial pathogenicity. Blood 97(12):3790–3797. doi:10.1182/blood.V97.12.3790

28.

Yun LW, Decarlo AA, Hunter N (2007) Blockade of protease-activated receptors on T cells correlates with altered proteolysis of CD27 by gingipains of Porphyromonas gingivalis. Clin Exp Immunol 150(2):217–229. doi:10.1111/j.1365-2249.2007.03488.x

29.

Huggett J, Dheda K, Bustin S, Zumla A (2005) Real-time RT-PCR normalisation; strategies and considerations. Genes Immun 6(4):279–284. doi:10.1038/sj.gene.6364190

30.

Whitmore SE, Lamont RJ (2014) Oral bacteria and cancer. PLoS Pathog 10(3):e1003933. doi:10.1371/journal.ppat.1003933

31.

Castellarin M, Warren RL, Freeman JD et al (2012) Fusobacterium nucleatum infection is prevalent in human colorectal carcinoma. Genome Res 22(2):299–306. doi:10.1101/gr.126516.111

32.

Rubinstein MR, Wang X, Liu W, Hao Y, Cai G, Han YW (2013) Fusobacterium nucleatum promotes colorectal carcinogenesis by modulating E-cadherin/β-catenin signaling via its FadA adhesin. Cell Host Microbe 14(2):195–206. doi:10.1016/j.chom.2013.07.012

33.

Ossovskaya VS, Bunnett NW (2004) Protease-activated receptors: contribution to physiology and disease. Physiol Rev 84(2):579–621. doi:10.1152/physrev.00028.2003

34.

Popović M, Paskas S, Zivković M, Burysek L, Laumonnier Y (2010) Human cytomegalovirus increases HUVEC sensitivity to thrombin and modulates expression of thrombin receptors. J Thromb Thrombolysis 30(2):164–171. doi:10.1007/s11239-010-0447-7

35.

Dommisch H, Chung WO, Rohani MG, Williams D, Rangarajan M, Curtis MA, Dale BA (2007) Protease-activated receptor 2 mediates human beta-defensin 2 and CC chemokine ligand 20 mRNA expression in response to proteases secreted by Porphyromonas gingivalis. Infect Immun 75(9):4326–4333. doi:10.1128/IAI.00455-07

36.

Lamont RJ, Jenkinson HF (1998) Life below the gum line: pathogenic mechanisms of Porphyromonas gingivalis. Microbiol Mol Biol Rev 62(4):1244–1263

37.

Pihlstrom BL, Michalowicz BS, Johnson NW (2005) Periodontal diseases. Lancet 366(9499):1809–1820. doi:10.1016/S0140-6736(05)67728-8

38.

Wan C, Yuan G, Yang J, Sun Q, Zhang L, Zhang J, Zhang L, Chen Z (2014) MMP9 deficiency increased the size of experimentally induced apical periodontitis. J Endod 40(5):658–664. doi:10.1016/j.joen.2014.01.003

39.

McDougall JJ, Zhang C, Cellars L, Joubert E, Dixon CM, Vergnolle N (2009) Triggering of proteinase-activated receptor 4 leads to joint pain and inflammation in mice. Arthritis Rheum 60(3):728–737. doi:10.1002/art.24300

40.

Garcia-Cao I, Lafuente MJ, Criado LM, Diaz-Meco MT, Serrano M, Moscat J (2003) Genetic inactivation of Par4 results in hyperactivation of NF-kappaB and impairment of JNK and p38. EMBO Rep 4(3):307–312. doi:10.1038/sj.embor.embor769

41.

Chen WF, Lee JJ, Chang CC, Lin KH, Wang SH, Sheu JR (2013) Platelet protease-activated receptor (PAR) 4, but not PAR1, associated with neutral sphingomyelinase responsible for thrombin-stimulated ceramide-NF-κB signaling in human platelets. Haematologica 98(5):793–801. doi:10.3324/haematol.2012.072553

42.

Watanabe K, Yilmaz O, Nakhjiri SF, Belton CM, Lamont RJ (2001) Association of mitogen-activated protein kinase pathways with gingival epithelial cell responses to Porphyromonas gingivalis infection. Infect Immun 69(11):6731–6737. doi:10.1128/IAI.69.11.6731-6737.2001

43.

Takeuchi H, Hirano T, Whitmore SE, Morisaki I, Amano A, Lamont RJ (2013) The serine phosphatase SerB of Porphyromonas gingivalis suppresses IL-8 production by dephosphorylation of NF-κB RelA/p65. PLoS Pathog 9(4):e1003326. doi:10.1371/journal.ppat.1003326
Acknowledgments
This research was supported by grants-in-aid for Scientific Research (25462850 to H.I. and 26253094 to A.A.) from the Ministry of Education, Culture, Sports, Science and Technology of Japan; and DE011111 and DE017921 to R.J.L. from the NIH.
About this article
Cite this article
Inaba, H., Amano, A., Lamont, R.J. et al. Involvement of protease-activated receptor 4 in over-expression of matrix metalloproteinase 9 induced by Porphyromonas gingivalis . Med Microbiol Immunol 204, 605–612 (2015). https://doi.org/10.1007/s00430-015-0389-y
Received:

Accepted:

Published:

Issue Date:
Keywords
P. gingivalis

Squamous cell carcinoma

Invasion

PAR