Abstract
Alzheimer's disease (AD) is the most common cause of dementia in the elderly, whereby it is customary to distinguish between early familial FAD and late-onset AD (LOAD). The development of LOAD, the most prevalent form of AD, is believed to be a multifactorial process that may also involve infections with bacterial or viral pathogens. After the first report on the presence of Chlamydia pneumoniae (Cpn) in brains of patients with AD appeared in 1998, this bacterium has most often been implicated in AD pathogenesis. However, while some studies demonstrate a clear association between Cpn infection and AD, others have failed to confirm these findings. This might be due to heterogeneity of the specimens analyzed and lack of standardized detection methods. Additionally, non-availability of suitable chlamydial infection models severely hampers research in the field. In this review, we will critically discuss the possible role of Cpn in the pathogenesis of LOAD in light of the available data. We will also present three mutually non-exclusive hypotheses how Cpn might contribute to the pathogenesis of AD.
This is a preview of subscription content, log in to check access.
Access options
Buy single article
Instant access to the full article PDF.
US$ 39.95
Price includes VAT for USA
Subscribe to journal
Immediate online access to all issues from 2019. Subscription will auto renew annually.
US$ 199
This is the net price. Taxes to be calculated in checkout.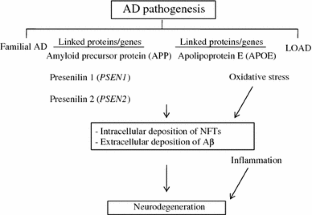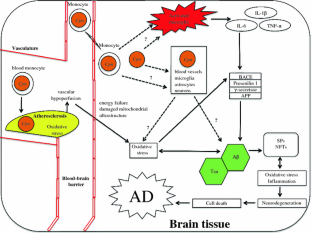 References
1.

Fratiglioni L, von Strauss E, Qiu C (2008) Epidemiology of the dementias of old age. In: Jacoby R, Oppenheimer C, Dening T, Thomas A (eds) The Oxford textbook of old age psychiatry. Oxford University press, New York, pp 391–406

2.

Ferri CP, Prince M, Brayne C, Brodaty H, Fratiglioni L, Ganguli M, Hall K, Hasegawa K, Hendrie H, Huang Y, Jorm A, Mathers C, Menezes PR, Rimmer E, Scazufca M (2005) Global prevalence of dementia: a Delphi consensus study. Lancet 366:2112–2117

3.

Brookmeyer R, Johnson E, Ziegler-Graham K, Arrighi HM (2007) Forecasting the global burden of Alzheimer's disease. Alzheimers Dement 3:186–191

4.

Bertram L, Tanzi RE (2008) Thirty years of Alzheimer's disease genetics: the implications of systematic meta-analyses. Nat Rev Neurosci 9:768–778

5.

Corder EH, Saunders AM, Strittmatter WJ, Schmechel DE, Gaskell PC, Small GW, Roses AD, Haines JL, Pericak-Vance MA (1993) Gene dose of apolipoprotein E type 4 allele and the risk of Alzheimer's disease in late onset families. Science 261:921–923

6.

Strittmatter WJ, Saunders AM, Schmechel D, Pericak-Vance M, Enghild J, Salvesen GS, Roses AD (1993) Apolipoprotein E: high-avidity binding to beta-amyloid and increased frequency of type 4 allele in late-onset familial Alzheimer disease. Proc Natl Acad Sci U S A 90:1977–1981

7.

Parihar MS, Hemnani T (2004) Alzheimer's disease pathogenesis and therapeutic interventions. J Clin Neurosci 11:456–467

8.

Honjo K, van Reekum R, Verhoeff NP (2009) Alzheimer's disease and infection: do infectious agents contribute to progression of Alzheimer's disease? Alzheimers Dement 5:348–360

9.

Koh WP, Taylor MB, Hughes K, Chew SK, Fong CW, Phoon MC, Kang KL, Chow VT (2002) Seroprevalence of IgG antibodies against Chlamydia pneumoniae in Chinese, Malays and Asian Indians in Singapore. Int J Epidemiol 31:1001–1007

10.

Blasi F, Tarsia P, Aliberti S (2009) Chlamydophila pneumoniae. Clin Microbiol Infect 15:29–35

11.

Miyashita N, Matsumoto A, Kubota Y, Nakajima M, Niki Y, Matsushima T (1996) Continuous isolation and characterization of Chlamydia pneumoniae from a patient with diffuse panbronchiolitis. Microbiol Immunol 40:547–552

12.

Hammerschlag MR, Chirgwin K, Roblin PM, Gelling M, Dumornay W, Mandel L, Smith P, Schachter J (1992) Persistent infection with Chlamydia pneumoniae following acute respiratory illness. Clin Infect Dis 14:178–182

13.

Beatty WL, Byrne GI, Morrison RP (1993) Morphologic and antigenic characterization of interferon gamma-mediated persistent Chlamydia trachomatis infection in vitro. Proc Natl Acad Sci U S A 90:3998–4002

14.

Beatty WL, Morrison RP, Byrne GI (1995) Reactivation of persistent Chlamydia trachomatis infection in cell culture. Infect Immun 63:199–205

15.

Mehta SJ, Miller RD, Ramirez JA, Summersgill JT (1998) Inhibition of Chlamydia pneumoniae replication in HEp-2 cells by interferon-gamma: role of tryptophan catabolism. J Infect Dis 177:1326–1331

16.

Summersgill JT, Sahney NN, Gaydos CA, Quinn TC, Ramirez JA (1995) Inhibition of Chlamydia pneumoniae growth in HEp-2 cells pretreated with gamma interferon and tumor necrosis factor alpha. Infect Immun 63:2801–2803

17.

Dreses-Werringloer U, Padubrin I, Jurgens-Saathoff B, Hudson AP, Zeidler H, Kohler L (2000) Persistence of Chlamydia trachomatis is induced by ciprofloxacin and ofloxacin in vitro. Antimicrob Agents Chemother 44:3288–3297

18.

Matsumoto A, Manire GP (1970) Electron Microscopic Observations on the Fine Structure of Cell Walls of Chlamydia psittaci. J Bacteriol 104:1332–1337

19.

Harper A, Pogson CI, Jones ML, Pearce JH (2000) Chlamydial development is adversely affected by minor changes in amino acid supply, blood plasma amino acid levels, and glucose deprivation. Infect Immun 68:1457–1464

20.

Balin BJ, Gerard HC, Arking EJ, Appelt DM, Branigan PJ, Abrams JT, Whittum-Hudson JA, Hudson AP (1998) Identification and localization of Chlamydia pneumoniae in the Alzheimer's brain. Med Microbiol Immunol 187:23–42

21.

Gerard HC, Wildt KL, Whittum-Hudson JA, Lai Z, Ager J, Hudson AP (2005) The load of Chlamydia pneumoniae in the Alzheimer's brain varies with APOE genotype. Microb Pathog 39:19–26

22.

Gerard HC, Dreses-Werringloer U, Wildt KS, Deka S, Oszust C, Balin BJ, Frey WH, Bordayo EZ, Whittum-Hudson JA, Hudson AP (2006) Chlamydophila (Chlamydia) pneumoniae in the Alzheimer's brain. FEMS Immunol Med Microbiol 48:355–366

23.

Dreses-Werringloer U, Bhuiyan M, Zhao Y, Gerard HC, Whittum-Hudson JA, Hudson AP (2009) Initial characterization of Chlamydophila (Chlamydia) pneumoniae cultured from the late-onset Alzheimer brain. Int J Med Microbiol 299:187–201

24.

Dowell SF, Peeling RW, Boman J, Carlone GM, Fields BS, Guarner J, Hammerschlag MR, Jackson LA, Kuo CC, Maass M, Messmer TO, Talkington DF, Tondella ML, Zaki SR (2001) Standardizing Chlamydia pneumoniae assays: recommendations from the Centers for Disease Control and Prevention (USA) and the Laboratory Centre for Disease Control (Canada). Clin Infect Dis 33:492–503

25.

Kaufman M, Gaydos CA, Sriram S, Boman J, Tondella ML, Norton HJ (2002) Is Chlamydia pneumoniae found in spinal fluid samples from multiple sclerosis patients? Conflicting results. Mult Scler 8:289–294

26.

Ochiai Y, Fukushi H, Yan C, Yamaguchi T, Hirai K (2000) Comparative analysis of the putative amino acid sequences of chlamydial heat shock protein 60 and Escherichia coli GroEL. J Vet Med Sci 62:941–945

27.

Tondella ML, Galagoda G, Gaydos CA, Boman J (2003) Is Chlamydia pneumoniae present in cerebrospinal fluid of multiple sclerosis patients? Clin Diagn Lab Immunol 10:977–978

28.

Ieven MM, Hoymans VY (2005) Involvement of Chlamydia pneumoniae in atherosclerosis: more evidence for lack of evidence. J Clin Microbiol 43:19–24

29.

Nochlin D, Shaw CM, Campbell LA, Kuo CC (1999) Failure to detect Chlamydia pneumoniae in brain tissues of Alzheimer's disease. Neurology 53:1888

30.

Gieffers J, Reusche E, Solbach W, Maass M (2000) Failure to detect Chlamydia pneumoniae in brain sections of Alzheimer's disease patients. J Clin Microbiol 38:881–882

31.

Ring RH, Lyons JM (2000) Failure to detect Chlamydia pneumoniae in the late-onset Alzheimer's brain. J Clin Microbiol 38:2591–2594

32.

Taylor GS, Vipond IB, Paul ID, Matthews S, Wilcock GK, Caul EO (2002) Failure to correlate C. pneumoniae with late onset Alzheimer's disease. Neurology 59:142–143

33.

Wozniak MA, Cookson A, Wilcock GK, Itzhaki RF (2003) Absence of Chlamydia pneumoniae in brain of vascular dementia patients. Neurobiol Aging 24:761–765

34.

Loeb MB, Molloy DW, Smieja M, Standish T, Goldsmith CH, Mahony J, Smith S, Borrie M, Decoteau E, Davidson W, McDougall A, Gnarpe J, O'DONNell M, Chernesky M (2004) A randomized, controlled trial of doxycycline and rifampin for patients with Alzheimer's disease. J Am Geriatr Soc 52:381–387

35.

Paradowski B, Jaremko M, Dobosz T, Leszek J, Noga L (2007) Evaluation of CSF-Chlamydia pneumoniae, CSF-tau, and CSF-Abeta42 in Alzheimer's disease and vascular dementia. J Neurol 254:154–159

36.

Gilbert MT, Haselkorn T, Bunce M, Sanchez JJ, Lucas SB, Jewell LD, Van ME, Worobey M (2007) The isolation of nucleic acids from fixed, paraffin-embedded tissues-which methods are useful when? PLoS One 2:e537

37.

Ferrer I, Armstrong J, Capellari S, Parchi P, Arzberger T, Bell J, Budka H, Strobel T, Giaccone G, Rossi G, Bogdanovic N, Fakai P, Schmitt A, Riederers P, Al-Sarraj S, Ravid R, Kretzschmar H (2007) Effects of formalin fixation, paraffin embedding, and time of storage on DNA preservation in brain tissue: a BrainNet Europe study. Brain Pathol 17:297–303

38.

Ribeiro-Silva A, Zhang H, Jeffrey SS (2007) RNA extraction from ten year old formalin-fixed paraffin-embedded breast cancer samples: a comparison of column purification and magnetic bead-based technologies. BMC Mol Biol 8:118

39.

Kumar S, Hammerschlag MR (2007) Acute respiratory infection due to Chlamydia pneumoniae: current status of diagnostic methods. Clin Infect Dis 44:568–576

40.

Sriram S, Mitchell W, Stratton C (1998) Multiple sclerosis associated with Chlamydia pneumoniae infection of the CNS. Neurology 50:571–572

41.

Sriram S, Stratton CW, Yao S, Tharp A, Ding L, Bannan JD, Mitchell WM (1999) Chlamydia pneumoniae infection of the central nervous system in multiple sclerosis. Ann Neurol 46:6–14

42.

Swanborg RH, Whittum-Hudson JA, Hudson AP (2003) Infectious agents and multiple sclerosis—are Chlamydia pneumoniae and human herpes virus 6 involved? J Neuroimmunol 136:1–8

43.

Boman J, Hammerschlag MR (2002) Chlamydia pneumoniae and atherosclerosis: critical assessment of diagnostic methods and relevance to treatment studies. Clin Microbiol Rev 15:1–20

44.

Apfalter P, Assadian O, Blasi F, Boman J, Gaydos CA, Kundi M, Makristathis A, Nehr M, Rotter ML, Hirschl AM (2002) Reliability of nested PCR for detection of Chlamydia pneumoniae DNA in atheromas: results from a multicenter study applying standardized protocols. J Clin Microbiol 40:4428–4434

45.

Hammerschlag MR (1994) Antimicrobial susceptibility and therapy of infections caused by Chlamydia pneumoniae. Antimicrob Agents Chemother 38:1873–1878

46.

Siewert K, Rupp J, Klinger M, Solbach W, Gieffers J (2005) Growth cycle-dependent pharmacodynamics of antichlamydial drugs. Antimicrob Agents Chemother 49:1852–1856

47.

Kutlin A, Roblin PM, Hammerschlag MR (1999) In vitro activities of azithromycin and ofloxacin against Chlamydia pneumoniae in a continuous-infection model. Antimicrob Agents Chemother 43:2268–2272

48.

Gieffers J, Fullgraf H, Jahn J, Klinger M, Dalhoff K, Katus HA, Solbach W, Maass M (2001) Chlamydia pneumoniae infection in circulating human monocytes is refractory to antibiotic treatment. Circulation 103:351–356

49.

Gieffers J, Rupp J, Gebert A, Solbach W, Klinger M (2004) First-choice antibiotics at subinhibitory concentrations induce persistence of Chlamydia pneumoniae. Antimicrob Agents Chemother 48:1402–1405

50.

Fong IW, Chiu B, Viira E, Jang D, Fong MW, Peeling R, Mahony JB (1999) Can an antibiotic (macrolide) prevent Chlamydia pneumoniae-induced atherosclerosis in a rabbit model? Clin Diagn Lab Immunol 6:891–894

51.

Rothstein NM, Quinn TC, Madico G, Gaydos CA, Lowenstein CJ (2001) Effect of azithromycin on murine arteriosclerosis exacerbated by Chlamydia pneumoniae. J Infect Dis 183:232–238

52.

Gieffers J, van Zandbergen G, Rupp J, Sayk F, Kruger S, Ehlers S, Solbach W, Maass M (2004) Phagocytes transmit Chlamydia pneumoniae from the lungs to the vasculature. Eur Respir J 23:506–510

53.

Macintyre A, Abramov R, Hammond CJ, Hudson AP, Arking EJ, Little CS, Appelt DM, Balin BJ (2003) Chlamydia pneumoniae infection promotes the transmigration of monocytes through human brain endothelial cells. J Neurosci Res 71:740–750

54.

Little CS, Hammond CJ, Macintyre A, Balin BJ, Appelt DM (2004) Chlamydia pneumoniae induces Alzheimer-like amyloid plaques in brains of BALB/c mice. Neurobiol Aging 25:419–429

55.

Little CS, Bowe A, Lin R, Litsky J, Fogel RM, Balin BJ, Fresa-Dillon KL (2005) Age alterations in extent and severity of experimental intranasal infection with Chlamydophila pneumoniae in BALB/c mice. Infect Immun 73:1723–1734

56.

Zuliani G, Cavalieri M, Galvani M, Passaro A, Munari MR, Bosi C, Zurlo A, Fellin R (2008) Markers of endothelial dysfunction in older subjects with late onset Alzheimer's disease or vascular dementia. J Neurol Sci 272:164–170

57.

Wyss-Coray T (2006) Inflammation in Alzheimer disease: driving force, bystander or beneficial response? Nat Med 12:1005–1015

58.

Appelt DM, Roupas MR, Way DS, Bell MG, Albert EV, Hammond CJ, Balin BJ (2008) Inhibition of apoptosis in neuronal cells infected with Chlamydophila (Chlamydia) pneumoniae. BMC Neurosci 9:13

59.

Rattei T, Ott S, Gutacker M, Rupp J, Maass M, Schreiber S, Solbach W, Wirth T, Gieffers J (2007) Genetic diversity of the obligate intracellular bacterium Chlamydophila pneumoniae by genome-wide analysis of single nucleotide polymorphisms: evidence for highly clonal population structure. BMC Genomics 8:355
Acknowledgments
This work was supported by the DFG Excellence Cluster "Inflammation at Interfaces" (RA I-f and RA I-b).
About this article
Cite this article
Shima, K., Kuhlenbäumer, G. & Rupp, J. Chlamydia pneumoniae infection and Alzheimer's disease: a connection to remember?. Med Microbiol Immunol 199, 283–289 (2010). https://doi.org/10.1007/s00430-010-0162-1
Received:

Published:

Issue Date:
Keywords
Chlamydia pneumoniae

Alzheimer's disease

Pathogenesis