Abstract
We have isolated a Chikungunya (Chik) virus from a patient who returned to Germany after a three-month visit to Mauritius in spring 2006. Upon return she developed a transient fever up to 40°C. This was followed by myalgia and joint pain. IgG antibodies in serum to Chik virus were undetectable. Virus (Chik-Wü1) was isolated on Vero cells. We molecularly cloned the whole genome of Chik-Wü1 from viral RNA by RT-PCR. The complete sequence was determined and functional domains of the genome were assigned. Chik-Wü1 clearly belongs to the group of viruses analysed from the recent Indian Ocean outbreak. In order to develop tools useful for further characterization of Chik-Wü1, we bacterially expressed and purified the capsid (C) and envelope (E) proteins and established an immunoblot assay. Twenty-two of 30 serum samples from Chik virus-infected patients that scored positive in indirect immunofluorescence previously were also reactive in immunoblot analysis with recombinant C and E2 antigens.
This is a preview of subscription content, log in to check access.
Access options
Buy single article
Instant access to the full article PDF.
US$ 39.95
Price includes VAT for USA
Subscribe to journal
Immediate online access to all issues from 2019. Subscription will auto renew annually.
US$ 199
This is the net price. Taxes to be calculated in checkout.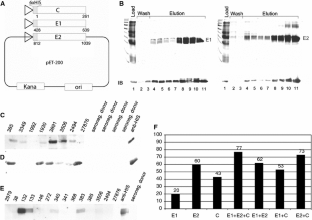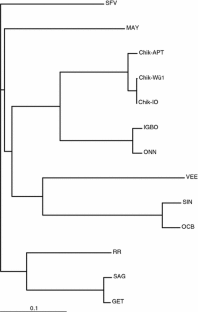 References
1.

Griffin DE (2007) Alphaviruses. In: Knipe DM, Howley PM (eds) Fields virology, 5th edn. Lippincott Williams & Wilkins, Philadelphia

2.

Kuhn RJ (2007) Togaviridae: the viruses and their replication. In: Knipe DM, Howley PM (eds) Fields virology, 5th edn. Lippincott Williams & Wilkins, Philadelphia

3.

Pialoux G, Gauzere BA, Jaureguiberry S, Strobel M (2007) Chikungunya, an epidemic arbovirosis. Lancet Infect Dis 7:319–327

4.

Ross RW (1956) The Newala epidemic. III. The virus: isolation, pathogenic properties and relationship to the epidemic. J Hyg 54:177–191

5.

Charrel RN, de Lamballerie X, Raoult D (2007) Chikungunya outbreaks: the globalization of vectorborne diseases. N Engl J Med 356:769–771

6.

Enserink M (2006) Massive outbreak draws fresh attention to little-known virus. Science 311:1085

7.

Lines J (2007) Chikungunya in Italy. BMJ 335:576

8.

Beltrame A, Angheben A, Bisoffi Z, Monteiro G, Marocco S et al (2007) Imported chikungunya infection, Italy. Emerg Infect Dis 13:1264–1266

9.

Centers for Disease Control and Prevention (CDC) (2006) Chikungunya fever diagnosed among international travellers—United States, 2005–2006. MMWR Morb Mortal Wkly Rep 55:1040–1042

10.

Bodenmann P, Genton B (2006) Chikungunya: an epidemic in real time. Lancet 368:258

11.

Hochedez P, Hausfater P, Jaureguiberry S, Gay F, Datry A et al (2007) Cases of chikungunya fever imported from the islands of the South West Indian Ocean to Paris, France. Euro Surveill 12(1). http://www.eurosurveillance.org/ew/v12u01/1201-227.asp

12.

Krastinova E, Quatresous I, Tarantola A (2006) Imported cases of chikungunya in metropolitan France: update to June 2006. Euro Surveill 11(8):E0608241. http://www.eurosurveillance.org/ew/2006/060824.asp#1

13.

Panning M, Grywna K, van Esbroeck M, Emmerich P, Drosten C (2008) Chikungunya fever in travelers returning to Europe from the Indian Ocean, 2006. Emerg Infect Dis (Epub ahead of print)

14.

Pfeffer M, Loscher T (2006) Cases of chikungunya imported into Europe. Euro Surveill 11(3):E0603162. http://www.eurosurveillance.org/ew/2006/06031.asp#2

15.

Coligan JE, Kruisbeek AM, Marguelies DH, Shevach EM, Strober W (1991) Current protocols in immunology. Wiley, Ithaca

16.

Pfeffer M, Linssen B, Parke MD, Kinney RM (2002) Specific detection of chikungunya virus using a RT-PCR/nested PCR combination. J Vet Med B Infect Dis Vet Public Health 49:49–54

17.

Pfeffer M, Kinney RM, Kaaden OR (1998) The alphavirus 3′-nontranslated region: size heterogeneity and arrangement of repeated sequence elements. Virology 240:100–108

18.

Powers AM, Brault AC, Tesh RB, Weaver SC (2000) Re-emergence of chikungunya and o'nyong-nyong viruses: evidence for distinct geographical lineages and distant evolutionary relationships. J Gen Virol 81:471–479

19.

Schuffenecker I, Iteman I, Michault A, Murri S, Frangeul L et al (2006) Genome microevolution of chikungunya viruses causing the Indian Ocean outbreak. PLoS Med 3:1058–1070

20.

Tsetsarkin K, Higgs S, McGee CE, De Lamballerie X, Charrel RN et al (2006) Infectious clones of Chikungunya virus (La Reunion isolate) for vector competence studies. Vector Borne Zoonotic Dis 6:325–337

21.

Vazeille M, Moutailler S, Coudrier D, Rousseaux C, Khun H et al (2007) Two Chikungunya Isolates from the outbreak of La Reunion (Indian Ocean) exhibit different patterns of infection in the mosquito, Aedes albopictus. PLoS ONE. doi:10.1371/journal.pone.0001168
Acknowledgments
We thank Kristin Kaufmann for helping in preparing the manuscript and Dr. Andreas Opitz, Department of Transfusion Medicine of the Würzburg University Hospital for providing the control serum samples.
Additional information
S. Kowalzik and N. V. Xuan contributed equally.
About this article
Cite this article
Kowalzik, S., Xuan, N.V., Weissbrich, B. et al. Characterisation of a chikungunya virus from a German patient returning from Mauritius and development of a serological test. Med Microbiol Immunol 197, 381–386 (2008). https://doi.org/10.1007/s00430-008-0090-5
Received:

Published:

Issue Date:
Keywords
Chikungunya virus

Alphavirus

Togavirus

Nucleotide sequence

Recombinant proteins

Immunoblot