Abstract
We previously reported that two IgG Abs to the hepatitis C virus (HCV), anti-core 35–44 (C35) and anti-NS5A 2132–2140 (NS5A2132), existed in the sera of the majority of patients with HCV infection. This study investigated if measuring the two Abs would facilitate the prediction of a patient's prognosis. The serum levels of anti-C35 were found to correlate with persistent infection, while those of anti-NS5A2132 correlated with a better prognosis in HCV-infected patients. These results suggest that sequential measurement of the two Abs together may provide new information for the prediction of prognosis.
This is a preview of subscription content, log in to check access.
Access options
Buy single article
Instant access to the full article PDF.
US$ 39.95
Price includes VAT for USA
Subscribe to journal
Immediate online access to all issues from 2019. Subscription will auto renew annually.
US$ 199
This is the net price. Taxes to be calculated in checkout.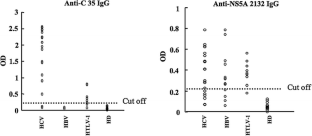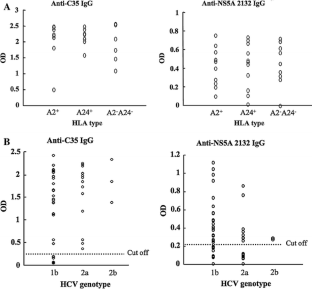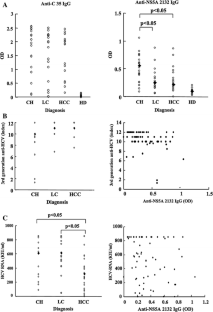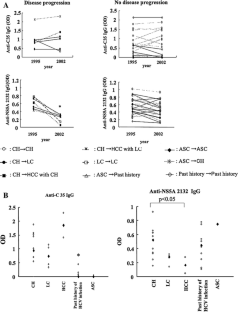 References
1.

Battegay M, Fikes J, Di Bisceglie AM, Wentworth PA, Sette A, Celis E, Ching WM, Grakoui A, Rice CM, Kurokohchi K, Berzofski JA, Hoofnagle JH, Feinstone SM, Akatsuka T (1995) Patients with chronic hepatitis C have circulating cytotoxic T cells which recognize hepatitis C virus-encoded peptides binding to HLA-A2.1 molecules. J Virol 69(4):2462–2470

2.

Blatt LM, Mutchnick MG, Tong MJ, Klion FM, Lebovics E, Freilich B, Bach N, Smith C, Herrera J, Tobias H, Conrad A, Schmid P, McHutchison JG (2000) Assessment of hepatitis C virus RNA and genotype from 6807 patients with chronic hepatitis C in the United States. J Viral Hepat 7(3):196–202

3.

Bronstein JM, Popper P, Micevych PE, Farber DB (1996) Isolation and characterization of a novel oligodendrocyte-specific protein. Neurology 47(3):772–778

4.

Cassani F, Cataleta M, Valentini P, Muratori P, Giostra F, Francesconi R, Muratori L, Lenzi M, Bianchi G, Zauli D, Bianchi FB (1997) Serum autoantibodies in chronic hepatitis C: comparison with autoimmune hepatitis and impact on the disease profile. Hepatology 26(3):561–566

5.

Chander G, Sulkowski MS, Jenckes MW, Torbenson MS, Herlong HF, Bass EB, Gebo KA (2002) Treatment of chronic hepatitis C: a systematic review. Hepatology 36(5 Suppl 1):S135–S144

6.

Hoofnagle JH (2002) Course and outcome of hepatitis C. Hepatology 36(5 Suppl 1):S21–S29

7.

Hunziker IP, Zurbriggen R, Glueck R, Engler OB, Reichen J, Dai WJ, Pichler WJ, Cerny A (2001) Perspectives: towards a peptide-based vaccine against hepatitis C virus. Mol Immunol 38(6):475–484

8.

Kato N, Hijikata M, Ootsuyama Y, Nakagawa M, Ohkoshi S, Sugimura T, Shimotohno K (1990) Molecular cloning of the human hepatitis C virus genome from Japanese patients with non-A, non-B hepatitis. Proc Natl Acad Sci USA 87(24):9524–9528

9.

Mine T, Sato Y, Noguchi M, Sasatomi T, Gouhara R, Tsuda N, Tanaka S, Shomura H, Katagiri K, Rikimaru T, Shichijo S, Kamura T, Hashimoto T, Shirouzu K, Yamada A, Todo S, Itoh K, Yamana H (2004) Humoral responses to peptides correlate with overall survival in advanced cancer patients vaccinated with peptides based on pre-existing, peptide-specific cellular responses. Clin Cancer Res 10(3):929–937

10.

Nagao Y, Tanaka K, Kobayashi K, Kumashiro R, Sata M (2004) A cohort study of chronic liver disease in an HCV hyperendemic area of Japan: a prospective analysis for 12 years. Int J Mol Med 13(2):257–265

11.

Nagao Y, Tanaka K, Kobayashi K, Kumashiro R, Sata M (2004) Analysis of approach to therapy for chronic liver disease in an HCV hyperendemic area of Japan. Hepatol Res 28(1):30–35

12.

Noguchi M, Kobayashi K, Suetsugu N, Tomiyasu K, Suekane S, Yamada A, Itoh K, Noda S (2003) Induction of cellular and humoral immune responses to tumor cells and peptides in HLA-A24 positive hormone-refractory prostate cancer patients by peptide vaccination. Prostate 57(1):80–92

13.

Pawlotsky JM (2002) Use and interpretation of virological tests for hepatitis C. Hepatology 36(5 Suppl 1):S65–S73

14.

Rodriguez-Lopez M, Rieze-Boj JI, Ruiz M, Berasain C, Civeira MP, Prieto J, Borras-Cuesta F (1999) Immunogenicity of variable regions of hepatitis C virus proteins: selection and modification of peptide epitopes to assess hepatitisa C virus genotypes by ELISA. J Gen Virol 80(Pt3):727–738

15.

Shomura H, Shichijo S, Matsueda S, Kawakami T, Sato Y, Todo S, Itoh K (2004) Identification of epidermal growth factor receptor-derived peptides immunogenic for HLA-A2 (+) cancer patients. Br J Cancer 90(8):1563–1571

16.

Takaki A, Wiese M, Maertens G, Depla E, Seifert U, Liebetrau A, Miller JL, Manns MP, Rehermann B (2000) Cellular immune responses persist and humoral responses decrease two decades after recovery from a single-source outbreak of hepatitis C. Nat Med 6(5):578–582

17.

Takao Y, Yamada A, Yutani S, Sata M, Itoh K (2004) Antibody reactive to a hepatitis C virus (HCV)-derived peptide capable of including HLA-A2 restricted cytotoxic T lymphocytes is detectable in the majority of HCV-infected individuals without HLA-A2 restriction. Microbiol Immunol 48(7):507–517

18.

Vertuani S, Bazzaro M, Gualandi G, Micheletti F, Marastoni M, Fortini C, Canella A, Marino M, Tomatis R, Traniello S, Gavioli R (2002) Effect of interferon-alpha therapy on epitope-specific cytotoxic T lymphocyte responses in hepatitis C virus-infected individuals. Eur J Immunol 32(1):144–154

19.

Ward S, Lauer G, Isba R, Walker B, Klenerman P (2002) Cellular immune responses against hepatitis C virus: the evidence base 2002. Clin Exp Immunol 128(2):195–203
Acknowledgments
This study was supported in part by Grants-in-Aid from the Ministry of Education, Science, Sports, and Culture of Japan (no. 12213134 to K.I. and the 21st Century COE Program for Medical Science to K.I. and A.Y.) and from the Ministry of Health, Labor and Welfare, Japan (no. H14-trans-002 11–16 to K.I.).
About this article
Cite this article
Takao, Y., Yamada, A., Yutani, S. et al. Serum levels of IgG to the peptide of HCV1b core at positions 35–44 correlated with persistent infection, while levels of IgG to the peptide of NS5A at positions 2132–2140 correlated with better prognosis in HCV-infected patients. Med Microbiol Immunol 196, 157–164 (2007). https://doi.org/10.1007/s00430-007-0038-1
Received:

Published:

Issue Date:
Keywords
HCV

Peptide

Antibody

Prognosis

CTL-epitope