Abstract
CAMP factor is an extracellular cytolytic protein produced by Streptococcus agalactiae. CAMP factor has been reported to bind the Fc fragments of immunoglobulin G (IgG) and has therefore also been called protein B, in analogy to protein A of Staphylococcus aureus. We attempted to characterize the interaction of protein B with IgG in more detail. In contrast to protein A, CAMP factor does not inhibit the activation of complement by hemolysin antibodies bound to sheep red cell surfaces. IgG also failed to inhibit the co-hemolytic activity of CAMP factor, which is in disagreement with previous findings. After co-incubation, CAMP factor and IgG were cleanly separated by gel filtration, indicating that no binding had occurred.
This is a preview of subscription content, log in to check access.
Access options
Buy single article
Instant access to the full article PDF.
US$ 39.95
Price includes VAT for USA
Subscribe to journal
Immediate online access to all issues from 2019. Subscription will auto renew annually.
US$ 199
This is the net price. Taxes to be calculated in checkout.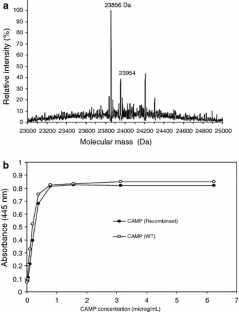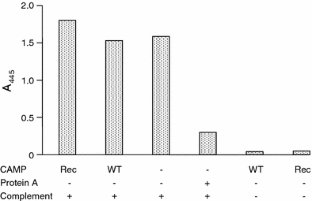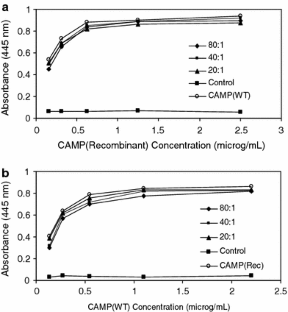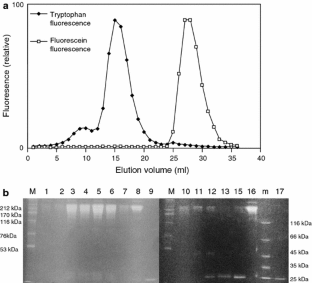 References
1.

Christie R, Atkins M, Munch-Peterson E (1944) A note on lytic phenomenon shown by group B streptococci. Aust J Exp Biol Med Sci 22:197–200

2.

Cleat PH, Timmis KN (1987) cloning and exprssion in Eschericia coli of the Ibc protein genes of group B streptococci: binding of human immunoglobulin A to the beta antigen. Infect Immun 55:1151–1155

3.

Faulmann EL, Duvall JL, Boyle MD (1991) Protein B: A versatile bacterial Fc-binding protein selective for human IgG. Biotechniques 10:748–755

4.

Fluegge K, Schweier O, Schiltz E, Batsford S, Berner R (2004) Identification and immunoreactivity of proteins released from Streptococcus agalactiae. Eur J Clin Microbiol Infect Dis 23:818–824

5.

Grundy MA, Blake MS, Murray K (1996) Protein B: An Important Human IgA-binding reagent. Ann N Y Acad Sci 13(778):384–387

6.

Jurgens D, Sterzik B, Fehrenbach FJ (1987) Unspecefic binding of group B streptococcal cocytolysin (CAMP factor) to immunoglobulins and its possible role in pathogenicity. J Exp Med 165:720–732

7.

Laemmli U (1970) Cleavage of structural proteins during the assembly of the head of bacteriophage T4. Nature 227:680–685

8.

Laky M, Sjoquist J, Moraru I, Ghetie V. (1985). Mutual inhibition of the binding of Clq and protein A to rabbit IgG immune complexes. Mol Immunol 22(11):1297–1302

9.

Lang S, Palmer M (2003) Characterization of Streptococcus agalactiae CAMP factor as a pore-forming toxin. J Biol Chem 278:38167–38173

10.

Lang S, Xue J, Guo Z, Palmer M (2006) Streptococcus agalactiae CAMP factor binds to GPI-anchored proteins. Med Microbiol Immunol (Epub ahead of print)

11.

Schalen C, Truedsson L, Christensen KK, Christensen P (1985) Blocking of antibody complement-dependent effector functions by streptococcalIgG Fc-receptor and staphylococcal protein A. Acta Pathol Microbiol Immunol Scand [B] 93(6):395–400
Additional information
Waseem El-Huneidi and Ryan Mui contributed equally to this work.
About this article
Cite this article
El-Huneidi, W., Mui, R., Zhang, T.H. et al. Streptococcus agalactiae CAMP factor/protein B does not bind to human IgG. Med Microbiol Immunol 196, 73–77 (2007). https://doi.org/10.1007/s00430-006-0028-8
Received:

Published:

Issue Date:
Keywords
CAMP factor

Protein B

Streptococcus agalactiae

Immunoglobulin G

Antibody-binding proteins