Abstract
Our recent investigations demonstrated adjuvant properties of lactoferrin (LF). Other studies proved efficacy and safety of monophosphoryl lipid A (MPL) as an adjuvant in humans. In an attempt to construct more efficient and safer adjuvants, we evaluated the activity of LF-MPL complex, formed by incubation of LF and MPL from Hafnia alvei at 20:1 w/w ratio, and verified its characteristics by SDS-PAGE analysis. Binding kinetics was determined by surface plasmon resonance analysis using a BIAcoreTM 1000 biosensor system. The efficiency of the complex in enhancing the humoral and cellular immune responses was analyzed in BALB/c mice. The complex stimulated the humoral immune response to ovalbumin (OVA) and sheep red blood cells significantly stronger than both components separately, used at respective doses. In addition, the complex increased the serum levels of IgG, IgG2a and IgG1 OVA-specific antibodies as compared to the actions of LF or MPL alone. In the model of delayed type hypersensitivity (DTH) the strongest immune response was demonstrated with OVA administered subcutaneously, admixed with the complex. Administration of the complex in incomplete Freund's adjuvant, together with a sensitizing dose of antigen, was similarly effective as immunization with complete Freund's adjuvant. The complex also significantly enhanced the DTH response to orally administered Calmette-Guérin bacilli. In summary, the new type of adjuvant, the LF-MPL complex, was described. Its activity surpassed the adjuvant action of both constituents tested separately in the humoral and cellular immune responses in mice. The plausible mode of action of the new adjuvant is discussed.
This is a preview of subscription content, log in to check access.
Access options
Buy single article
Instant access to the full article PDF.
US$ 39.95
Price includes VAT for USA
Subscribe to journal
Immediate online access to all issues from 2019. Subscription will auto renew annually.
US$ 199
This is the net price. Taxes to be calculated in checkout.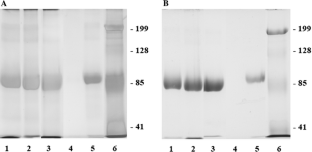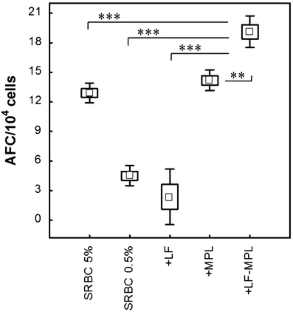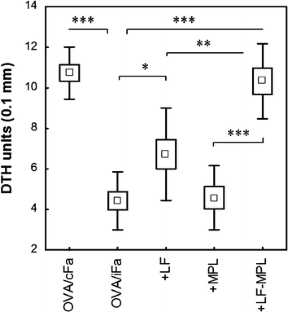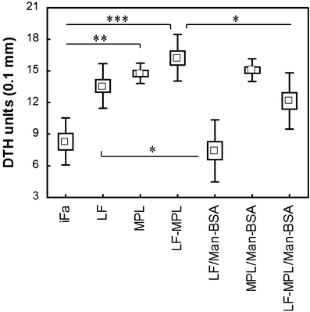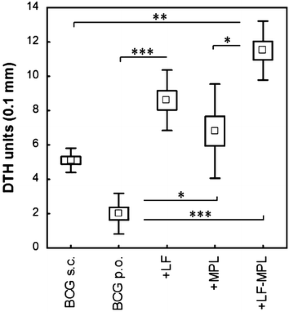 References
1.

Actor JK, Hwang SA, Olsen M, Zimecki M, Hunter RL Jr, Kruzel ML (2002) Lactoferrin immunomodulation of DTH response in mice. Int Immunopharmacol 2:475–486

2.

Appelmelk BJ, An YQ, Geerts M, Thijs BG, de Boer HA, MacLaren DM, de Graaff J, Nuijens JH (1994) Lactoferrin is a lipid A-binding protein. Infect Immun 62:2628–2632

3.

Artym J, Zimecki M, Kruzel ML (2003) Reconstitution of the cellular immune response by lactoferrin in cyclophosphamide-treated mice is correlated with renewal of T cell compartment. Immunobiology 207:197–205

4.

Artym J, Zimecki M, Paprocka M, Kruzel ML (2003) Orally administered lactoferrin restores humoral immune response in immunocompromised mice. Immunol Lett 89:9–15

5.

Avrameas A, McIlroy D, Hosmalin A, Autran B, Debre P, Monsigny M, Roche AC, Midoux P (1996) Expression of a mannose/fucose membrane lectin on human dendritic cells. Eur J Immunol 26:394–400

6.

Barondes SH, Cooper DN, Gitt MA, Leffler H (1994) Galectins. Structure and function of a large family of animal lectins. J Biol Chem 269:20807–20810

7.

Baveye S, Elass E, Mazurier J, Spik G, Legrand D (1999) Lactoferrin: a multifunctional glycoprotein involved in the modulation of the inflammatory process. Clin Chem Lab Med 37:281–286

8.

Baveye S, Elass E, Fernig DG, Blanquart C, Mazurier J, Legrand D (2000) Human lactoferrin interacts with soluble CD14 and inhibits expression of endothelial adhesion molecules, E-selectin and ICAM-1, induced by the CD14-lipopolysaccharide complex. Infect Immun 68(12):6519–6525

9.

Belanger M, Begin C, Jacques M (1995) Lipopolysaccharides of Actinobacillus pleuropneumoniae bind pig hemoglobin. Infect Immun 63:656–662

10.

Bhimani RS, Vendrow Y, Furmanski P (1999) Influence of lactoferrin feeding and injection against systemic staphylococcal infections in mice. J Appl Microbiol 86:135–144

11.

Brandenburg K, Jurgens G, Muller M, Fukuoka S, Koch MH (2001) Biophysical characterization of lipopolysaccharide and lipid A inactivation by lactoferrin. Biol Chem 382:1215–1225

12.

Condaminet B, Peguet-Navarro J, Stahl PD, Dalbiez-Gauthier C, Schmitt D, Berthier-Vergnes O (1998) Human epidermal Langerhans cells express the mannose–fucose binding receptor. Eur J Immunol 28:3541–3551

13.

De Becker G, Moulin V, Pajak B, Bruck C, Francotte M, Thiriart C, Urbain J, Moser M (2000) The adjuvant monophosphoryl lipid A increases the function of antigen-presenting cells. Int Immunol 12:807–815

14.

Dhennin-Duthille I, Masson M, Damiens E, Fillebeen C, Spik G, Mazurier J (2000) Lactoferrin upregulates the expression of CD4 antigen through the stimulation of the mitogen-activated protein kinase in the human lymphoblastic T Jurkat cell line. J Cell Biochem 79:583–593

15.

Elass-Rochard E, Roseanu A, Legrand D, Trif M, Salmon V, Motas C, Montreuil J, Spik G (1995) Lactoferrin-lipopolysaccharide interaction: involvement of the 28–34 loop region of human lactoferrin in the high-affinity binding to Escherichia coli O55B5 lipopolysaccharide. Biochem J 312:839–845

16.

Faria AM, Weiner HL (2005) Oral tolerance. Immunol Rev 206:232–259

17.

Fine PEM (1995) Variation in protection by BCG: implications of and for heterologous immunity. Lancet 346:1339–1345

18.

Gewirtz AT (2003) Intestinal epithelial toll-like receptors: to protect and serve? Curr Pharm Des 9:1–5

19.

Gupta RK, Relyveld EH, Lindblad EB, Bizzini B, Ben-Efraim S, Gupta CK (1993) Adjuvants—a balance between toxicity and adjuvanticity. Vaccine 11:293–306

20.

Iigo M, Kuhara T, Ushida Y, Sekine K, Moore MA, Tsuda H (1999) Inhibitory effects of bovine lactoferrin on colon carcinoma 26 lung metastasis in mice. Clin Exp Metastasis 17:35–40

21.

Ismaili J, Rennesson J, Aksoy E, Vekemans J, Vincart B, Amraoui Z, van Laethem F, Goldman M, Dubois PM (2002) Monophosphoryl lipid A activates both human dendritic cells and T cells. J Immunol 168:926–932

22.

Jensen FC, Savary JR, Diveley JP, Chang JC (1998) Adjuvant activity of incomplete Freund's adjuvant. Adv Drug Deliv Rev 32:173–186

23.

Kocieba M, Zimecki M, Kruzel ML, Actor J (2002) The adjuvant activity of lactoferrin in the generation of DTH to ovalbumin can be inhibited by bovine serum albumin bearing alpha-D-mannopyranosyl residues. Cell Mol Biol Lett 7:1131–1136

24.

Laemmli UK (1970) Cleavage of structural proteins during the assembly of the head of bacteriophage T4. Nature 227:680–685

25.

Lowry OH, Rosebrough NJ, Farr AL, Randall RJ (1951) Protein measurement with the folin phenol reagent. J Biol Chem 193:265–275

26.

Martin M, Michalek SM, Katz J (2003) Role of innate immune factors in the adjuvant activity of monophosphoryl lipid A. Infect Immun 71:2498–24507

27.

McCluskie MJ, Weeratna RD (2001) Novel adjuvant systems. Curr Drug Targets Infect Disord 1:263–271

28.

Mishell RI, Dutton RW (1967) Immunization of dissociated spleen cell cultures from normal mice. J Exp Med 126:423–442

29.

Na YJ, Han SB, Kang JS, Yoon YD, Park SK, Kim HM, Yang KH, Joe CO (2004) Lactoferrin works as a new LPS-binding protein in inflammatory activation of macrophages. Int Immunopharmacol 4(9):1187–1199

30.

O'Hagan DT, MacKichan ML, Singh M (2001) Recent developments in adjuvants for vaccines against infectious diseases. Biomol Eng 18:69–85

31.

Persing DH, Coler RN, Lacy MJ, Johnson DA, Baldridge JR, Hershberg RM, Reed SG (2002) Taking toll: lipid A mimetics as adjuvants and immunomodulators. Trends Microbiol 10(10 Suppl):S32–S37

32.

Petersson C, Niedziela T, Jachymek W, Kenne L, Zarzecki P, Lugowski C (1997) Structural studies of the O-specific polysaccharide of Hafnia alvei strain PCM 1206 lipopolysaccharide containing D-allothreonine. Eur J Biochem 244:580–586

33.

Salkowski CA, Detore GR, Vogel SN (1997) Lipopolysaccharide and monophosphoryl lipid A differentially regulate interleukin-12, gamma interferon, and interleukin-10 mRNA production in murine macrophages. Infect Immun 65:3239–3247

34.

Sato R, Inanami O, Tanaka Y, Takese M, Naito Y (1996) Oral administration of bovine lactoferrin for treatment of intractable stomatitis in feline immunodeficiency virus (FIV)-positive and FIV-negative cats. Am J Vet Res 57:1443–1446

35.

Schijns VE (2000) Immunological concepts of vaccine adjuvant activity. Curr Opin Immunol 12:456–463

36.

Seydel U, Oikawa M, Fukase K, Kusumoto S, Brandenburg K (2000) Intrinsic conformation of lipid A is responsible for agonistic and antagonistic activity. Eur J Biochem 267(10):3032–3039

37.

Suzuki YA, Lonnerdal B (2002) Characterization of mammalian receptors for lactoferrin. Biochem Cell Biol 80(1):75–80

38.

Takahashi K, Donovan MJ, Rogers RA, Ezekowitz RA (1998) Distribution of murine mannose receptor expression from early embryogenesis through to adulthood. Cell Tissue Res 292:311–323

39.

Tsai CM, Frasch CE (1982) A sensitive silver stain for detecting lipopolysaccharides in polyacrylamide gels. Anal Biochem 119:115–119

40.

Uemura K, Saka M, Nakagawa T, Kawasaki N, Thiel S, Jensenius JC, Kawasaki T (2002) L-MBP is expressed in epithelial cells of mouse small intestine. J Immunol 169:6945–6950

41.

van Berkel PH, Geerts ME, van Veen HA, Mericskay M, de Boer HA, Nuijens JH (1997) N-terminal stretch Arg2, Arg3, Arg4 and Arg5 of human lactoferrin is essential for binding to heparin, bacterial lipopolysaccharide, human lysozyme and DNA. Biochem J 328:145–151

42.

Wakabayashi H, Abe S, Okutomi T, Tansho S, Kawase K, Yamaguchi H (1996) Cooperative anti-Candida effects of lactoferrin or its peptides in combination with azole antifungal agents. Microbiol Immunol 40:821–825

43.

Westphal O, Jann K (1965) Bacterial lipopolysaccharides: Extraction with Phenol-Water and further applications of the procedure. Methods Carbohydr Chem 5:83–89

44.

Zhang GH, Mann DM, Tsai CM (1999) Neutralization of endotoxin in vitro and in vivo by a human lactoferrin-derived peptide. Infect Immun 67:1353–1358

45.

Zimecki M, Kruzel ML (2000) Systemic or local co-administration of lactoferrin with sensitizing dose of antigen enhances delayed type hypersensitivity in mice. Immunol Lett 74:183–188

46.

Zimecki M, Mazurier J, Machnicki M, Wieczorek Z, Montreuil J, Spik G (1991) Immunostimulatory activity of lactotransferrin and maturation of CD4- CD8- murine thymocytes. Immunol Lett 30:119–123

47.

Zimecki M, Mazurier J, Spik G, Kapp JA (1995) Human lactoferrin induces phenotypic and functional changes in murine splenic B cells. Immunology 86:122–127
About this article
Cite this article
Chodaczek, G., Zimecki, M., Lukasiewicz, J. et al. A complex of lactoferrin with monophosphoryl lipid A is an efficient adjuvant of the humoral and cellular immune response in mice. Med Microbiol Immunol 195, 207–216 (2006). https://doi.org/10.1007/s00430-006-0020-3
Received:

Published:

Issue Date:
Keywords
Adjuvant

Lactoferrin

Monophosphoryl lipid A

DTH