Abstract
The Staphylococcus aureus-specific cell wall endopeptidase lysostaphin was used as a model for an intracellular acting bactericidal antibiotic. HeLa cells were transfected with an expression vector directing the heterologous expression of lysostaphin in the cytoplasm. Expression, subcellular localization and enzymatic activity of lysostaphin were investigated by immunoblotting, fluorescent microscopy and agar diffusion assays. Both transiently and stably transfected HeLa cells showed a strong expression of active lysostaphin. After infection with S. aureus, the intracellular number of S. aureus and the host cell viability were determined. This staphylolytic activity resulted in a strong reduction of intracellular S. aureus in a time- and dose-dependent manner. Furthermore, host cells expressing lysostaphin became protected from S. aureus-induced cell death. Our data demonstrate the potential of intracellularly acting cell-wall active drugs or antibiotics that kill S. aureus without causing harm to the infected host cells.
This is a preview of subscription content, log in to check access.
Access options
Buy single article
Instant access to the full article PDF.
US$ 39.95
Price includes VAT for USA
Subscribe to journal
Immediate online access to all issues from 2019. Subscription will auto renew annually.
US$ 199
This is the net price. Taxes to be calculated in checkout.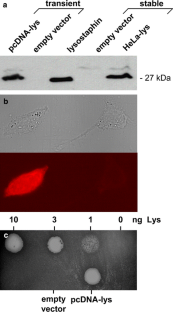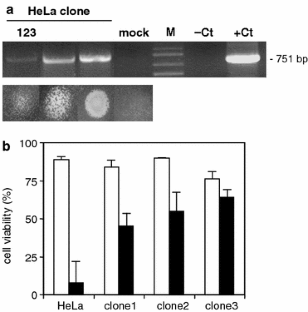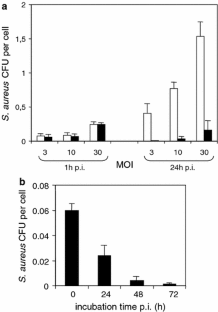 References
1.

Almeida RA, Matthews KR, Cifrian E, Guidry AJ, Oliver SP (1996) Staphylococcus aureus invasion of bovine mammary epithelial cells. J Dairy Sci 79:1021–1026

2.

Ausubel FM, Brent R, Kingston RE, Moore DD, Seidman JG, Smith JA, Struhl K (1997) Current protocols in molecular biology. Wiley, New York

3.

Baba T, Schneewind O (1996) Target cell specificity of a bacteriocin molecule: a C-terminal signal directs lysostaphin to the cell wall of Staphylococcus aureus. EMBO J 15:4789–4797

4.

Bayles KW, Wesson CA, Liou LE, Fox LK, Bohach GA, Trumble WR (1998) Intracellular Staphylococcus aureus escapes the endosome and induces apoptosis in epithelial cells. Infect Immun 66:336–342

5.

Emori TG, Gaynes RP (1993) An overview of nosocomial infections, including the role of the microbiology laboratory. Clin Microbiol Rev 6:428–442

6.

Fan W, Plaut K, Bramley AJ, Barlow JW, Kerr DE (2002) Adenoviral-mediated transfer of a lysostaphin gene into the goat mammary gland. J Dairy Sci 85:1709–1716

7.

Heinrich P, Rosenstein R, Böhmer M, Sonner P, Götz F (1987) The molecular organization of the lysostaphin gene and its sequences repeated in tandem. Mol Gen Genet 209:563–569

8.

Kahl BC, Goulian M, van Wamel W, Herrmann M, Simon SM, Kaplan G, Peters G, Cheung AL (2000) Staphylococcus aureus RN6390 replicates and induces apoptosis in a pulmonary epithelial cell line. Infect Immun 68:5385–5392

9.

Kerr DE, Plaut K, Bramley AJ, Williamson CM, Lax AJ, Moore K, Wells KD, Wall RJ (2001) Lysostaphin expression in mammary glands confers protection against staphylococcal infection in transgenic mice. Nat Biotechnol 19:66–70

10.

Krut O, Utermöhlen O, Schlossherr X, Krönke M (2003) Strain-specific association of cytotoxic activity and virulence of clinical Staphylococcus aureus isolates. Infect Immun 71:2716–2723

11.

Krut O, Sommer H, Krönke M (2004) Antibiotic-induced persistence of cytotoxic Staphylococcus aureus in non-phagocytic cells. J Antimicrob Chemother 53:167–173

12.

Lowy FD (1998) Staphylococcus aureus infections. N Engl J Med 339:520–532

13.

Menzies BE, Kourteva I (1998) Internalization of Staphylococcus aureus by endothelial cells induces apoptosis. Infect Immun 66:5994–5998

14.

Nuzzo I, Sanges MR, Folgore A, Carratelli CR (2000) Apoptosis of human keratinocytes after bacterial invasion. FEMS Immunol Med Microbiol 27:235–240

15.

Pechere JC (1991) Phagocytes, antibiotics and intracellular parasites: are the experimental data clinically relevant? Eur J Clin Microbiol Infect Dis 10:97–99

16.

Schindler CA, Schuhardt VT (1964) Lysostaphin: a new bacteriolytic agent for the Staphylococcus. Proc Natl Acad Sci USA 51:414–421

17.

Thumm G, Gotz F (1997) Studies on prolysostaphin processing and characterization of the lysostaphin immunity factor (Lif) of Staphylococcus simulans biovar staphylolyticus. Mol Microbiol 23:1251–1265

18.

Tucker KA, Reilly SS, Leslie CS, Hudson MC (2000) Intracellular Staphylococcus aureus induces apoptosis in mouse osteoblasts. FEMS Microbiol Lett 186:151–156

19.

van den Broek PJ (1991) Activity of antibiotics against microorganisms ingested by mononuclear phagocytes. Eur J Clin Microbiol Infect Dis 10:114–118

20.

Vann JM, Proctor RA (1987) Ingestion of Staphylococcus aureus by bovine endothelial cells results in time- and inoculum-dependent damage to endothelial cell monolayers. Infect Immun 55:2155–2163

21.

Wall RJ, Powell AM, Paape MJ, Kerr DE, Bannerman DD, Pursel VG, Wells KD, Talbot N, Hawk HW (2005) Genetically enhanced cows resist intramammary Staphylococcus aureus infection. Nat Biotechnol 23:445–451

22.

Williamson CM, Bramley AJ, Lax AJ (1994) Expression of the lysostaphin gene of Staphylococcus simulans in a eukaryotic system. Appl Environ Microbiol 60:771–776
Acknowledgements
We are grateful to Xenia Schlossherr and Daniela Grumme for excellent technical assistance. We thank Dr. Paul Higgins for critical reading of the manuscript. This work was supported by the EU project AMIS (LSHM-LT-2004-512093) and by the Deutsche Forschungsgemeinschaft (SFB 589).
About this article
Cite this article
Klein, M., Krönke, M. & Krut, O. Expression of lysostaphin in HeLa cells protects from host cell killing by intracellular Staphylococcus aureus . Med Microbiol Immunol 195, 159–163 (2006). https://doi.org/10.1007/s00430-006-0014-1
Received:

Published:

Issue Date:
Keywords
Staphylococcal killing

Cell protection

Intracellular acting drugs