Abstract
Navigated transcranial magnetic stimulation (nTMS) gains increasing importance in presurgical language mapping. Although bipolar direct cortical stimulation (DCS) is regarded as the gold standard for intraoperative mapping of language-related areas, it cannot be used to map the healthy human brain due to its invasive character. Therefore, the present study employed a non-invasive virtual-lesion modality to provide a causality-confirmed cortical language map of the healthy human brain by repetitive nTMS (rTMS) with functional specifications beyond language-positive/language-negative distinction. Fifty right-handed healthy volunteers underwent rTMS language mapping of the left hemisphere combined with an object-naming task. The induced errors were categorized and frequency maps were calculated. Moreover, a principal component analysis (PCA) was performed on the basis of language-positive cortical regions for each error category. The left hemisphere was stimulated at 258–789 sites (median: 361.5 sites), and 12–241 naming errors (median: 72.5 errors) were observed. In male subjects, a total number of 2091 language errors were elicited by 9579 stimulation trains, which is equal to an error rate of 21.8 %. Within females, 10,238 stimulation trains elicited 2032 language errors (19.8 %). PCA revealed that the inferior parietal lobe (IPL) and middle frontal gyrus (MFG) were causally involved in object naming as a semantic center and an executive control center. For the first time, this study provides causality-based data and a model that approximates the distribution of language-related cortical areas grouped for different functional aspects of single-word production processes by PCA.
This is a preview of subscription content, log in to check access.
Access options
Buy single article
Instant access to the full article PDF.
US$ 39.95
Price includes VAT for USA
Subscribe to journal
Immediate online access to all issues from 2019. Subscription will auto renew annually.
US$ 199
This is the net price. Taxes to be calculated in checkout.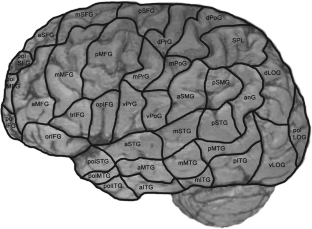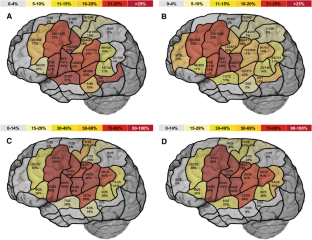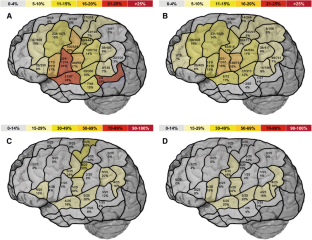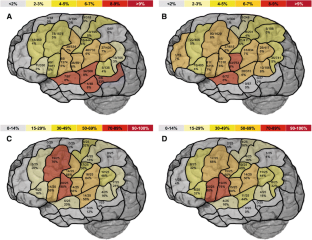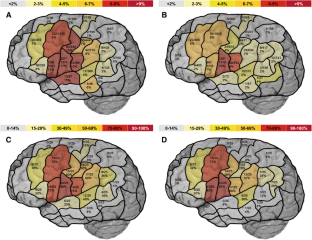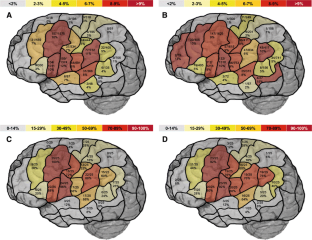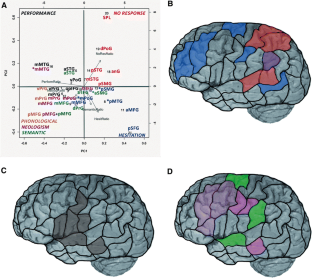 Abbreviations
APB:

Abductor pollicis brevis muscle

CPS:

Cortical parcellation system

DCS:

Bipolar direct cortical stimulation

ECoG:

Electrocorticography

fMRI:

Functional magnetic resonance imaging

IPI:

Inter-picture interval

IPL:

Inferior parietal lobe

ITG:

Inferior temporal gyrus

IPNP:

International Picture Naming Project

MEG:

Magnetoencephalography

MEP:

Motor evoked potential

MFG:

Middle frontal gyrus

MRI:

Magnetic resonance imaging

MTG:

Middle temporal gyrus

NPV:

Negative predictive value

nTMS:

Navigated transcranial magnetic stimulation

PC:

Principal component

PCA:

Principal component analysis

PPV:

Positive predictive value

RMT:

Resting motor threshold

rTMS:

Repetitive navigated transcranial magnetic stimulation

SD:

Standard deviation

SMG:

Supramarginal gyrus

STG:

Superior temporal gyrus

TMS:

Transcranial magnetic stimulation

VAS:

Visual analog scale
References
Baayen RH (2008) Analyzing linguistic data: a practical introduction to statistics using R. Cambridge University Press, Cambridge

Baum SH, Martin RC, Hamilton AC, Beauchamp MS (2012) Multisensory speech perception without the left superior temporal sulcus. NeuroImage 62:1825–1832. doi:10.1016/j.neuroimage.2012.05.034

Bookheimer SY, Zeffiro TA, Blaxton TA, Gaillard PW, Theodore WH (2000) Activation of language cortex with automatic speech tasks. Neurology 55:1151–1157

Buckner RL, Raichle ME, Petersen SE (1995) Dissociation of human prefrontal cortical areas across different speech production tasks and gender groups. J Neurophysiol 74:2163–2173

Candidi M, Urgesi C, Ionta S, Aglioti SM (2008) Virtual lesion of ventral premotor cortex impairs visual perception of biomechanically possible but not impossible actions. Soc Neurosci 3:388–400. doi:10.1080/17470910701676269

Catani M, Jones DK, Ffytche DH (2005) Perisylvian language networks of the human brain. Ann Neurol 57:8–16. doi:10.1002/ana.20319

Chang EF, Wang DD, Perry DW, Barbaro NM, Berger MS (2011) Homotopic organization of essential language sites in right and bilateral cerebral hemispheric dominance. J Neurosurg 114:893–902. doi:10.3171/2010.11.JNS10888

Corina DP, Gibson EK, Martin R, Poliakov A, Brinkley J, Ojemann GA (2005) Dissociation of action and object naming: evidence from cortical stimulation mapping. Hum Brain Mapp 24:1–10. doi:10.1002/hbm.20063

Corina DP, Loudermilk BC, Detwiler L, Martin RF, Brinkley JF, Ojemann G (2010) Analysis of naming errors during cortical stimulation mapping: implications for models of language representation. Brain Lang 115:101–112. doi:10.1016/j.bandl.2010.04.001

DeLeon J et al (2007) Neural regions essential for distinct cognitive processes underlying picture naming. Brain J Neurol 130:1408–1422. doi:10.1093/brain/awm011

Duffau H (2006) New concepts in surgery of WHO grade II gliomas: functional brain mapping, connectionism and plasticity—a review. J Neurooncol 79:77–115. doi:10.1007/s11060-005-9109-6

Epstein CM (1998) Transcranial magnetic stimulation: language function. J Clin Neurophysiol Off Publ Am Electroencephalograph Soc 15:325–332

Epstein CM, Lah JJ, Meador K, Weissman JD, Gaitan LE, Dihenia B (1996) Optimum stimulus parameters for lateralized suppression of speech with magnetic brain stimulation. Neurology 47:1590–1593

Fauth C, Meyer BU, Prosiegel M, Zihl J, Conrad B (1992) Seizure induction and magnetic brain stimulation after stroke. Lancet 339:362

FitzGerald DB et al (1997) Location of language in the cortex: a comparison between functional MR imaging and electrocortical stimulation. AJNR Am J Neuroradiol 18:1529–1539

Forster MT, Hattingen E, Senft C, Gasser T, Seifert V, Szelenyi A (2011) Navigated transcranial magnetic stimulation and functional magnetic resonance imaging: advanced adjuncts in preoperative planning for central region tumors. Neurosurgery 68:1317–1324. doi:10.1227/NEU.0b013e31820b528c discussion 1324–1315

Frost JA, Binder JR, Springer JA, Hammeke TA, Bellgowan PS, Rao SM, Cox RW (1999) Language processing is strongly left lateralized in both sexes. Evid Funct MRI Brain J Neurol 122(Pt 2):199–208

Giussani C, Roux FE, Ojemann J, Sganzerla EP, Pirillo D, Papagno C (2010) Is preoperative functional magnetic resonance imaging reliable for language areas mapping in brain tumor surgery? Review of language functional magnetic resonance imaging and direct cortical stimulation correlation studies. Neurosurgery 66:113–120. doi:10.1227/01.NEU.0000360392.15450.C9

Griffiths JD, Marslen-Wilson WD, Stamatakis EA, Tyler LK (2013) Functional organization of the neural language system: dorsal and ventral pathways are critical for syntax. Cereb Cortex 23:139–147. doi:10.1093/cercor/bhr386

Haglund MM, Berger MS, Shamseldin M, Lettich E, Ojemann GA (1994) Cortical localization of temporal lobe language sites in patients with gliomas. Neurosurgery 34:567–576 discussion 576

Hernandez-Pavon JC, Makela N, Lehtinen H, Lioumis P, Makela JP (2014) Effects of navigated TMS on object and action naming. Front Human Neurosci 8:660. doi:10.3389/fnhum.2014.00660

Hirnstein M, Westerhausen R, Korsnes MS, Hugdahl K (2013) Sex differences in language asymmetry are age-dependent and small: a large-scale, consonant-vowel dichotic listening study with behavioral and fMRI data. Cortex J Devot Study Nerv Syst Behav 49:1910–1921. doi:10.1016/j.cortex.2012.08.002

Houde JF, Nagarajan SS (2011) Speech production as state feedback control Frontiers in human. Neuroscience 5:82. doi:10.3389/fnhum.2011.00082

Hund-Georgiadis M, Lex U, von Cramon DY (2001) Language dominance assessment by means of fMRI: contributions from task design, performance, and stimulus modality. J Magn Reson Imaging JMRI 13:668–675

Indefrey P (2011) The spatial and temporal signatures of word production components: a critical update. Front Psychol 2:255. doi:10.3389/fpsyg.2011.00255

Indefrey P, Levelt WJ (2004) The spatial and temporal signatures of word production components. Cognition 92:101–144. doi:10.1016/j.cognition.2002.06.001

Ius T, Angelini E, Thiebaut de Schotten M, Mandonnet E, Duffau H (2011) Evidence for potentials and limitations of brain plasticity using an atlas of functional resectability of WHO grade II gliomas: towards a "minimal common brain". NeuroImage 56:992–1000. doi:10.1016/j.neuroimage.2011.03.022

Jaeger JJ, Lockwood AH, Van Valin RD Jr, Kemmerer DL, Murphy BW, Wack DS (1998) Sex differences in brain regions activated by grammatical and reading tasks. Neuroreport 9:2803–2807

Kandler R (1990) Safety of transcranial magnetic stimulation. Lancet 335:469–470

Kansaku K, Kitazawa S (2001) Imaging studies on sex differences in the lateralization of language. Neurosci Res 41:333–337

Kansaku K, Yamaura A, Kitazawa S (2000) Sex differences in lateralization revealed in the posterior language areas. Cereb Cortex 10:866–872

Knops A, Nuerk HC, Sparing R, Foltys H, Willmes K (2006) On the functional role of human parietal cortex in number processing: how gender mediates the impact of a 'virtual lesion' induced by rTMS. Neuropsychologia 44:2270–2283. doi:10.1016/j.neuropsychologia.2006.05.011

Kohn SE, Goodglass H (1985) Picture-naming in aphasia. Brain Lang 24:266–283

Krieg SM, Shiban E, Buchmann N, Gempt J, Foerschler A, Meyer B, Ringel F (2012) Utility of presurgical navigated transcranial magnetic brain stimulation for the resection of tumors in eloquent motor areas. J Neurosurg 116:994–1001. doi:10.3171/2011.12.JNS111524

Krieg SM, Shiban E, Buchmann N, Meyer B, Ringel F (2013a) Presurgical navigated transcranial magnetic brain stimulation for recurrent gliomas in motor eloquent areas. Clin Neurophysiol Off J Int Fed Clin Neurophysiol 124:522–527. doi:10.1016/j.clinph.2012.08.011

Krieg SM, Sollmann N, Hauck T, Ille S, Foerschler A, Meyer B, Ringel F et al (2013b) Functional language shift to the right hemisphere in patients with language-eloquent brain tumors. PLoS One. Neurosurgery 8:e75403. doi:10.1371/journal.pone.0075403

Krieg SM, Sollmann N, Hauck T, Ille S, Meyer B, Ringel F (2014a) Repeated mapping of cortical language sites by preoperative navigated transcranial magnetic stimulation compared to repeated intraoperative DCS mapping in awake craniotomy. BMC Neuroscience 15:20. doi:10.1186/1471-2202-15-20

Krieg SM et al (2014b) Optimal timing of pulse onset for language mapping with navigated repetitive transcranial magnetic stimulation. NeuroImage 100:219–236. doi:10.1016/j.neuroimage.2014.06.016

Lioumis P et al (2012) A novel approach for documenting naming errors induced by navigated transcranial magnetic stimulation. J Neurosci Methods 204:349–354. doi:10.1016/j.jneumeth.2011.11.003

Matsumoto R, Nair DR, LaPresto E, Najm I, Bingaman W, Shibasaki H, Luders HO (2004) Functional connectivity in the human language system: a cortico-cortical evoked potential study. Brain J Neurol 127:2316–2330. doi:10.1093/brain/awh246

McGraw P, Mathews VP, Wang Y, Phillips MD (2001) Approach to functional magnetic resonance imaging of language based on models of language organization. Neuroimag Clin N. Am 11:343–353

Nickels L (2001) Words fail me: Symptoms and causes of naming breakdown in aphasia. Handbook of neuropsychology. Elsevier Science, New York

Ojemann GA, Whitaker HA (1978) Language localization and variability. Brain Lang 6:239–260

Ojemann G, Ojemann J, Lettich E, Berger M (1989) Cortical language localization in left, dominant hemisphere. An electrical stimulation mapping investigation in 117 patients. J Neurosurg 71:316–326. doi:10.3171/jns.1989.71.3.0316

Orosz A, Jann K, Wirth M, Wiest R, Dierks T, Federspiel A (2012) Theta burst TMS increases cerebral blood flow in the primary motor cortex during motor performance as assessed by arterial spin labeling (ASL). NeuroImage 61:599–605. doi:10.1016/j.neuroimage.2012.03.084

Pascual-Leone A, Gates JR, Dhuna A (1991) Induction of speech arrest and counting errors with rapid-rate transcranial magnetic stimulation. Neurology 41:697–702

Pascual-Leone A et al (1993) Safety of rapid-rate transcranial magnetic stimulation in normal volunteers. Electroencephalogr Clin Neurophysiol 89:120–130

Picht T, Mularski S, Kuehn B, Vajkoczy P, Kombos T, Suess O (2009) Navigated transcranial magnetic stimulation for preoperative functional diagnostics in brain tumor surgery. Neurosurgery 65:93–98. doi:10.1227/01.NEU.0000348009.22750.59 discussion 98–99

Picht T et al (2011) Preoperative functional mapping for rolandic brain tumor surgery: comparison of navigated transcranial magnetic stimulation to direct cortical stimulation. Neurosurgery 69:581–588. doi:10.1227/NEU.0b013e3182181b89 discussion 588

Pouratian N, Bookheimer SY (2010) The reliability of neuroanatomy as a predictor of eloquence: a review. Neurosurg Focus 28:E3. doi:10.3171/2009.11.FOCUS09239

Price CJ (2000) The anatomy of language: contributions from functional neuroimaging. J Anat 197(Pt 3):335–359

Price CJ (2012) A review and synthesis of the first 20 years of PET and fMRI studies of heard speech, spoken language and reading. NeuroImage 62:816–847. doi:10.1016/j.neuroimage.2012.04.062

Pugh KR et al (1996) Cerebral organization of component processes in reading. Brain J Neurol 119(Pt 4):1221–1238

Raymer AM, Foundas AL, Maher LM, Greenwald ML, Morris M, Rothi LJ, Heilman KM (1997) Cognitive neuropsychological analysis and neuroanatomic correlates in a case of acute anomia. Brain Lang 58:137–156. doi:10.1006/brln.1997.1786

Robles SG, Gatignol P, Lehericy S, Duffau H (2008) Long-term brain plasticity allowing a multistage surgical approach to World Health Organization Grade II gliomas in eloquent areas. J Neurosurg 109:615–624. doi:10.3171/JNS/2008/109/10/0615

Rosler J et al (2014) Language mapping in healthy volunteers and brain tumor patients with a novel navigated TMS system: evidence of tumor-induced plasticity. Clinical Neurophysiol Off J Int Fed Clin Neurophysiol 125:526–536. doi:10.1016/j.clinph.2013.08.015

Rossi S, Hallett M, Rossini PM, Pascual-Leone A, Safety of TMSCG (2009) Safety, ethical considerations, and application guidelines for the use of transcranial magnetic stimulation in clinical practice and research. Clin Neurophysiol Off J Int Fed Clin Neurophysiol 120:2008–2039. doi:10.1016/j.clinph.2009.08.016

Roux FE, Boulanouar K, Lotterie JA, Mejdoubi M, LeSage JP, Berry I (2003) Language functional magnetic resonance imaging in preoperative assessment of language areas: correlation with direct cortical stimulation. Neurosurgery 52:1335–1345 discussion 1345–1337

Ruohonen J, Karhu J (2010) Navigated transcranial magnetic stimulation. Neurophysiol Clin 40:7–17

Salmelin R, Hari R, Lounasmaa OV, Sams M (1994) Dynamics of brain activation during picture naming. Nature 368:463–465. doi:10.1038/368463a0

Salmelin R, Helenius P, Service E (2000) Neurophysiology of fluent and impaired reading: a magnetoencephalographic approach. J Clin Neurophysiol Off Publ Am Electroencephalograph Soc 17:163–174

Sanai N, Mirzadeh Z, Berger MS (2008) Functional outcome after language mapping for glioma resection. N. Engl J Med 358:18–27. doi:10.1056/NEJMoa067819

Shaywitz BA et al (1995) Sex differences in the functional organization of the brain for language. Nature 373:607–609. doi:10.1038/373607a0

Snodgrass JG, Vanderwart M (1980) A standardized set of 260 pictures: norms for name agreement, image agreement, familiarity, and visual complexity. J Exp Psychol Human Learning Mem 6:174–215

Sollmann N, Hauck T, Hapfelmeier A, Meyer B, Ringel F, Krieg SM (2013a) Intra- and interobserver variability of language mapping by navigated transcranial magnetic brain stimulation. BMC Neurosci 14:150. doi:10.1186/1471-2202-14-150

Sollmann N, Hauck T, Obermuller T, Hapfelmeier A, Meyer B, Ringel F, Krieg SM (2013b) Inter- and intraobserver variability in motor mapping of the hotspot for the abductor pollicis brevis muscle. BMC Neurosci 14:94. doi:10.1186/1471-2202-14-94

Sollmann N, Picht T, Makela JP, Meyer B, Ringel F, Krieg SM (2013c) Navigated transcranial magnetic stimulation for preoperative language mapping in a patient with a left frontoopercular glioblastoma. J Neurosurg 118:175–179. doi:10.3171/2012.9.JNS121053

Sollmann N, Tanigawa N, Ringel F, Zimmer C, Meyer B, Krieg SM (2014) Language and its right-hemispheric distribution in healthy brains: An investigation by repetitive transcranial magnetic stimulation. NeuroImage 102(Pt 2):776–788. doi:10.1016/j.neuroimage.2014.09.002

Sollmann N et al (2015) Cortical regions involved in semantic processing investigated by repetitive navigated transcranial magnetic stimulation and object naming. Neuropsychologia 70:185–195. doi:10.1016/j.neuropsychologia.2015.02.035

Sparing R, Mottaghy FM, Hungs M, Brugmann M, Foltys H, Huber W, Topper R (2001) Repetitive transcranial magnetic stimulation effects on language function depend on the stimulation parameters. J Clin Neurophysiol Off Publ Am Electroencephalograp Soc 18:326–330

Szekely A et al (2004) A new on-line resource for psycholinguistic studies. J Mem Lang 51:247–250

Tarapore PE, Tate MC, Findlay AM, Honma SM, Mizuiri D, Berger MS, Nagarajan SS (2012) Preoperative multimodal motor mapping: a comparison of magnetoencephalography imaging, navigated transcranial magnetic stimulation, and direct cortical stimulation. J Neurosurg 117:354–362. doi:10.3171/2012.5.JNS112124

Tarapore PE, Findlay AM, Honma SM, Mizuiri D, Houde JF, Berger MS, Nagarajan SS (2013) Language mapping with navigated repetitive TMS: proof of technique and validation. NeuroImage 82:260–272. doi:10.1016/j.neuroimage.2013.05.018

Tate MC, Herbet G, Moritz-Gasser S, Tate JE, Duffau H (2014) Probabilistic map of critical functional regions of the human cerebral cortex: broca's area revisited. Brain 137:2773–2782. doi:10.1093/brain/awu168

van de Meerendonk N, Indefrey P, Chwilla DJ, Kolk HH (2011) Monitoring in language perception: electrophysiological and hemodynamic responses to spelling violations. Neuroimage 54:2350–2363. doi:10.1016/j.neuroimage.2010.10.022

Vigneau M et al (2006) Meta-analyzing left hemisphere language areas: phonology, semantics, and sentence processing. NeuroImage 30:1414–1432. doi:10.1016/j.neuroimage.2005.11.002

Vihla M, Laine M, Salmelin R (2006) Cortical dynamics of visual/semantic vs. phonological analysis in picture confrontation. NeuroImage 33:732–738. doi:10.1016/j.neuroimage.2006.06.040

Wang L, Chen D, Yang X, Olson JJ, Gopinath K, Fan T, Mao H (2013) Group independent component analysis and functional MRI examination of changes in language areas associated with brain tumors at different locations. PLoS One 8:e59657. doi:10.1371/journal.pone.0059657

Wassermann EM (1998) Risk and safety of repetitive transcranial magnetic stimulation: report and suggested guidelines from the International Workshop on the Safety of Repetitive Transcranial Magnetic Stimulation, June 5–7, 1996. Electroencephalogr Clin Neurophysiol 108:1–16

Wassermann EM, Blaxton TA, Hoffman EA, Berry CD, Oletsky H, Pascual-Leone A, Theodore WH (1999) Repetitive transcranial magnetic stimulation of the dominant hemisphere can disrupt visual naming in temporal lobe epilepsy patients. Neuropsychologia 37:537–544

Wheat KL, Cornelissen PL, Sack AT, Schuhmann T, Goebel R, Blomert L (2013) Charting the functional relevance of Broca's area for visual word recognition and picture naming in Dutch using fMRI-guided TMS. Brain Lang 125:223–230. doi:10.1016/j.bandl.2012.04.016

Xiang HD, Fonteijn HM, Norris DG, Hagoort P (2010) Topographical functional connectivity pattern in the perisylvian language networks. Cereb Cortex 20:549–560. doi:10.1093/cercor/bhp119

Yousry TA, Schmid UD, Alkadhi H, Schmidt D, Peraud A, Buettner A, Winkler P (1997) Localization of the motor hand area to a knob on the precentral gyrus. A new landmark. Brain 120(Pt 1):141–157
Acknowledgments
We want to thank Maria Becker for performing this high amount of required MRI studies perfectly in addition to her daily routine. The study was primarily financed by institutional grants from the Department of Neurosurgery and the Section of Neuroradiology, TU Munich. Moreover, SK received a grant of the "Stiftung Neurochirurgische Forschung" of the German Neurosurgical Society (DGNC).
Conflict of interest
The authors declare that they have no conflict of interest.
Ethical standard
All procedures performed in studies involving human participants were in accordance with the ethical standards of the institutional and/or national research committee and with the 1964 Helsinki declaration and its later amendments or comparable ethical standards.
Informed consent
Informed consent was obtained from all individual participants included in the study.
About this article
Cite this article
Krieg, S.M., Sollmann, N., Tanigawa, N. et al. Cortical distribution of speech and language errors investigated by visual object naming and navigated transcranial magnetic stimulation. Brain Struct Funct 221, 2259–2286 (2016). https://doi.org/10.1007/s00429-015-1042-7
Received:

Accepted:

Published:

Issue Date:
Keywords
Cortical mapping

Language

Navigated brain stimulation

Object naming

Transcranial magnetic stimulation