Abstract
In previous work, we found that the protein messenger Jacob is involved in N-methyl-d-aspartate receptor (NMDAR) signaling to the nucleus and cAMP response element-binding protein (CREB) mediated gene expression in hippocampal primary neurons. Particularly, extrasynaptic NMDAR activation drives Jacob efficiently into the nucleus where it then induces gene expression that promotes neurodegeneration. However, the protein also translocates to the nucleus in CA1 neurons after Schaffer collateral long-term potentiation (LTP) but not long-term depression (LTD), suggesting that Jacob might be involved in hippocampal and LTP-dependent learning and memory processes. Not much is known about the cellular and subcellular distribution of the protein in brain. In this paper, we provide an overview of the expression of Jacob in rat brain with special emphasis on the hippocampus. We show that Jacob is abundant in hippocampal pyramidal neurons and interneurons but absent from astrocytes and microglia. Interestingly, we found that Jacob is also present in mossy fiber axons. Double immunofluorescence confocal laser scans with presynaptic markers demonstrate that Jacob is indeed found at excitatory but not inhibitory presynaptic sites. Accordingly, we found no substantial co-localization of Jacob with a postsynaptic marker of inhibitory synapses, gephyrin. In contrast, almost all postsynaptic density protein 95 (PSD-95) positive excitatory postsynaptic sites also exhibited strong Jacob-immunofluorescence. Taken together, these data support a synaptic and nuclear role of Jacob that implicates long-distance NMDAR signaling to the nucleus in excitatory neurons.
This is a preview of subscription content, log in to check access.
Access options
Buy single article
Instant access to the full article PDF.
US$ 39.95
Price includes VAT for USA
Subscribe to journal
Immediate online access to all issues from 2019. Subscription will auto renew annually.
US$ 199
This is the net price. Taxes to be calculated in checkout.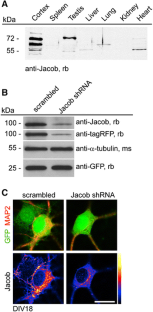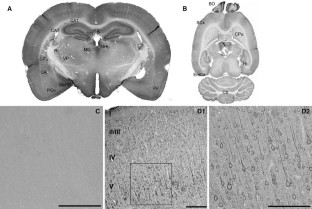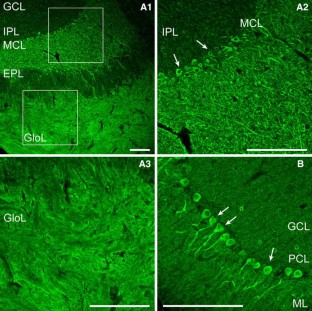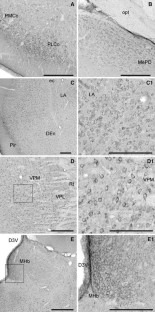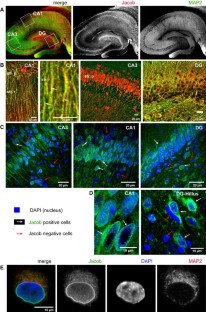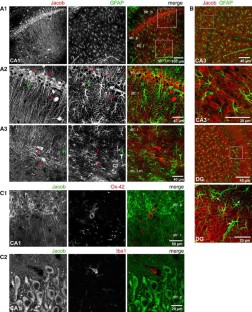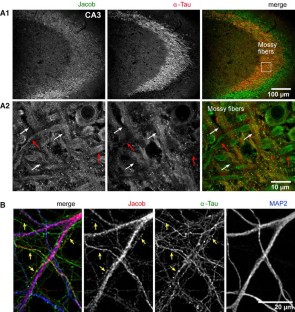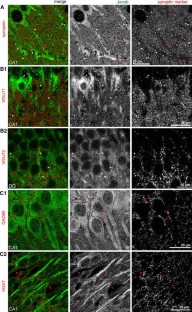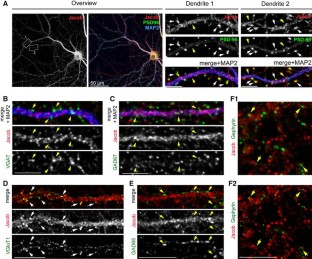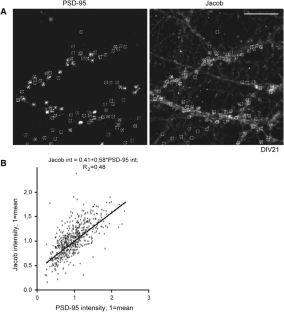 References
Behnisch T, Yuanxiang P, Bethge P, Parvez S, Chen Y, Yu J, Karpova A, Frey JU, Mikhaylova M, Kreutz MR (2011) Nuclear translocation of Jacob in hippocampal neurons after stimuli inducing long-term potentiation but not long-term depression. PLoS One 6:e17276

Ch'ng TH, Martin KC (2011) Synapse-to-nucleus signaling. Curr Opin Neurobiol 21:345–352

Ch'ng TH, Uzgil B, Lin P, Avliyakulov NK, O'Dell TJ, Martin KC (2012) Activity-dependent transport of the transcriptional coactivator CRTC1 from synapse to nucleus. Cell 150:207–221

Cohen S, Greenberg ME (2008) Communication between the synapse and the nucleus in neuronal development, plasticity, and disease. Annu Rev Cell Dev Biol 24:183–209

Deisseroth K, Mermelstein PG, Xia H, Tsien RW (2003) Signaling from synapse to nucleus: the logic behind the mechanisms. Curr Opin Neurobiol 13:354–365

Dieterich DC, Karpova A, Mikhaylova M, Zdobnova I, König I, Landwehr M, Kreutz M, Smalla KH, Richter K, Landgraf P, Reissner C, Böckers TM, Zuschratter W, Spilker C, Seidenbecher CI, Garner CC, Gundelfinger ED, Kreutz MR (2008) Caldendrin–Jacob: a protein liaison that couples NMDA receptor signalling to the nucleus. PLoS Biol 6(2):e34

Fainzilber M, Budnik V, Segal R, Kreutz MR (2011) From synapse to nucleus and back again—communication over distance within neurons. J Neurosci 31:16045–16048

Fritschy JM, Harvey RJ, Schwarz G (2008) Gephyrin: where do we stand, where do we go? Trends Neurosci 31:257–264

Greer PL, Greenberg ME (2008) From synapse to nucleus: calcium-dependent gene transcription in the control of synapse development and function. Neuron 59:846–860

Hanz S, Perlson E, Willis D, Zheng JQ, Massarwa R, Huerta JJ, Koltzenburg M, Kohler M, van-Minnen J, Twiss JL, Fainzilber M (2003) Axoplasmic importins enable retrograde injury signaling in lesioned nerve. Neuron 40:1095–1104

Hardingham GE, Bading H (2010) Synaptic versus extrasynaptic NMDA receptor signalling: implications for neurodegenerative disorders. Nat Rev Neurosci 11:682–696

Ivanov A, Pellegrino C, Rama S, Dumalska I, Salyha Y, Ben-Ari Y, Medina I (2006) Opposing role of synaptic and extrasynaptic NMDA receptors in regulation of the extracellular signal-regulated kinases (ERK) activity in cultured rat hippocampal neurons. J Physiol 572:789–798

Jordan BA, Kreutz MR (2009) Nucleocytoplasmic protein shuttling: the direct route in synapse-to-nucleus signaling. Trends Neurosci 32:392–401

Karpova A, Mikhaylova M, Bera S, Bär J, Reddy PP, Behnisch T, Rankovic V, Spilker C, Bethge P, Sahin J, Kaushik R, Zuschratter W, Kähne T, Naumann M, Gundelfinger ED, Kreutz MR (2013) Encoding and transducing the synaptic or extrasynaptic origin of NMDA receptor signals to the nucleus. Cell 152(5):1119–1133

Karpova A, Mikhaylova M, Thomas U, Knöpfel T, Behnisch T (2006) Involvement of protein synthesis and degradation in long-term potentiation of Schaffer collateral CA1 synapses. J Neurosci 26:4949–4955

Karpova A, Bär J, Kreutz MR (2012) Long-distance signaling from synapse to nucleus via protein messengers. Adv Exp Med Biol 970:355–376

Kim MJ, Dunah AW, Wang YT, Sheng M (2005) Differential roles of NR2A- and NR2B-containing NMDA receptors in Ras-ERK signalling and AMPA receptor trafficking. Neuron 46:745–760

Kindler S, Dieterich DC, Schütt J, Sahin J, Karpova A, Mikhaylova M, Schob C, Gundelfinger ED, Kreienkamp HJ, Kreutz MR (2009) Dendritic mRNA targeting of Jacob and NMDA-induced nuclear translocation after Calpain-mediated proteolysis. J Biol Chem 284:25431–25440

Kramer PR, Wray S (2000) Novel gene expressed in nasal region influences outgrowth of olfactory axons and migration of luteinizing hormone-releasing hormone (LHRH) neurons. Genes Dev 14:1824–1834

Laube G, Seidenbecher CI, Richter K, Dieterich DC, Hoffmann B, Landwehr M, Smalla KH, Winter C, Böckers TM, Wolf G, Gundelfinger ED, Kreutz MR (2002) The neuron-specific Ca2+-binding protein caldendrin: gene structure, splice isoforms and expression in the rat central nervous system. Mol Cell Neurosci 19:459–475

Malenka RC, Bear MF (2004) LTP and LTD: an embarrassment of riches. Neuron 44:5–21

Martin SJ, Grimwood PD, Morris RGM (2003) Synaptic plasticity and memory: an evaluation of the hypothesis. Ann Rev Neurosci 23:649–711

Miura K, Acierno JS Jr, Seminara SB (2004) Characterization of the human nasal embryonic LHRH factor gene, NELF, and a mutation screening among 65 patients with idiopathic hypogonadotropic hypogonadism (IHH). J Hum Genet 49:265–268

Nicoll RA, Schmitz D (2005) Synaptic plasticity at hippocampal mossy fibre synapses. Nat Rev Neurosci 6:863–876

Okabe S (2007) Molecular anatomy of the postsynaptic density. Mol Cell Neurosci 34:503–518

Perlson E, Hanz S, Ben-Yaakov K, Segal-Ruder Y, Seger R, Fainzilber M (2005) Vimentin-dependent spatial translocation of an activated MAP kinase in injured nerve. Neuron 45:715–726

Reymann KG, Frey J (2007) The late maintenance of hippocampal LTP: requirements, phases, "synaptic tagging" "late associativity" and implications. Neuropharmacology 52:24–40

Rönicke R, Mikhaylova M, Rönicke S, Meinhardt J, Schröder UH, Fändrich M, Reiser G, Kreutz MR, Reymann KG (2011) Early neuronal dysfunction by amyloid β oligomers depends on activation of NR2B-containing NMDA receptors. Neurobiol Aging 32:2219–2228

Seidenbecher CI, Langnaese K, Sanmartí-Vila L, Boeckers TM, Smalla KH, Sabel BA, Garner CC, Gundelfinger ED, Kreutz MR (1998) Caldendrin, a novel neuronal calcium-binding protein confined to the somato-dendritic compartment. J Biol Chem 273:21324–21331

Sheng M, Hoogenraad CC (2007) The postsynaptic architecture of excitatory synapses: a more quantitative view. Annu Rev Biochem 76:823–847

Thomas GM, Huganir RL (2004) MAPK cascade signalling and synaptic plasticity. Nat Rev Neurosci 5:173–183

Thompson KR, Otis KO, Chen DY, Zhao Y, O'Dell TJ, Martin KC (2004) Synapse to nucleus signaling during long-term synaptic plasticity; a role for the classical active nuclear import pathway. Neuron 44:997–1009

Tsuriel S, Geva R, Zamorano P, Dresbach T, Boeckers T, Gundelfinger ED, Garner CC, Ziv NE (2006) Local sharing as a predominant determinant of synaptic matrix molecular dynamics. PLoS Biol 4:e271
Acknowledgments
The authors gratefully acknowledge the professional technical assistance of C. Borutzki, S. Hochmuth and M. Marunde; S. Bera for assistance with ICC experiments. This work was supported by grants of the Deutsche Forschungsgemeinschaft; Grant number SFB779 TPB8; SFB854 TP7, Kr1879 3-1 (to M.R.K.), a DIP grant (to M.R.K), EU FP7 MC-ITN NPlast, CBBS (to A.K.) National Science Foundation China; Grant number 30870795, 30970920 (to T.B.), and the Schram Foundation (to M.R.K). M.M. is recipient of a European Molecular Biology Organization (EMBO) Long-Term Fellowship (EMBO ALTF 884-2011) co-funded by the European Commission (EMBOCOFUND2010, GA-2010-267146) and Marie Curie Actions.
Conflict of interest
The authors declare that they have no conflict of interest.
About this article
Cite this article
Mikhaylova, M., Karpova, A., Bär, J. et al. Cellular distribution of the NMDA-receptor activated synapto-nuclear messenger Jacob in the rat brain. Brain Struct Funct 219, 843–860 (2014). https://doi.org/10.1007/s00429-013-0539-1
Received:

Accepted:

Published:

Issue Date:
Keywords
Jacob

Synapse-to-nucleus signaling

NELF

NMDA receptor

Postsynaptic density

Synaptic plasticity

Excitatory and inhibitory synapses

STED microscopy