Abstract
This paper reviews the role of the insula in drug craving. Evidence is presented that drug craving may be a particular instance of the anterior insula's broader role in interoception and subjective feeling states similar, for example, to thirst and hunger. An important role for the insula in craving is supported by evidence of insular activity changing with satiety and with the top–down cognitive modulation of cravings. Cognitive processes involving the insula's role in awareness of one's own behaviour may also contribute to craving insofar as the avoidance of craving might require subjective awareness of the endogenous and exogenous cues that initiate it. Finally, some consideration is given to sex differences and developmental processes in craving.
This is a preview of subscription content, log in to check access.
Access options
Buy single article
Instant access to the full article PDF.
US$ 39.95
Price includes VAT for USA
Subscribe to journal
Immediate online access to all issues from 2019. Subscription will auto renew annually.
US$ 199
This is the net price. Taxes to be calculated in checkout.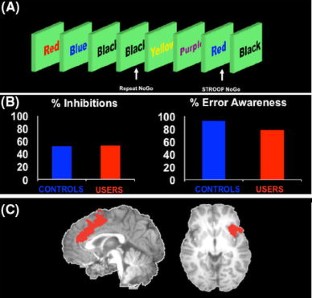 References
Baumgartner U (2006) High opiate receptor binding potential in the human lateral pain system. Neuroimage 30:692–699

Berthier M, Starkstein S, Leiguarda R (1988) Asymbolia for pain: a sensory-limbic disconnection syndrome. Ann Neurol 24:41–49

Bonson K, Grant S, Contoreggi C, Links J, Metcalfe JW, Weyl HL, Kurian V et al (2002) Neural systems and cue-induced cocaine craving. Neuropsychopharmacology 26:376–386

Brewer JA, Worhunsky PD, Carroll KM, Rounsaville BJ, Potenza MN (2008) Pretreatment brain activation during stroop task is associated with outcomes in cocaine-dependent patients. Biol Psychiatry 64:998–1004

Brody AL, Mandelkern MA, London ED, Childress AR, Lee GS, Bota RG et al (2002) Brain metabolic changes during cigarette craving. Arch Gen Psychiatry 59:1162–1172

Brody AL, Mandelkern MA, Olmstead RE, Jou J, Tiongson E, Allen V, Scheibal D, London ED, Monterosso JR, Tiffany ST, Korb A, Gan JJ, Cohen MS (2007) Neural substrates of resisting craving during cigarette cue exposure. Biol Psychiatry 62:642–651

Childress AR, Ehrman RN, Wang Z, Li Y, Sciortino N, Hakun J et al (2008) Prelude to passion: limbic activation by 'unseen' drug and sexual cues. PLoS ONE 3:e1506

Compton RJ, Robinson MD, Ode S, Quandt LC, Fineman SL, Carp J (2008) Error-monitoring ability predicts daily stress regulation. Psychol Sci 19:702–708

Cox WM, Hogan LM, Kristian MR, Race JH (2002) Alcohol attentional bias as a predictor of alcohol abusers' treatment outcome. Drug Alcohol Depend 68:237–243

Craig AD (2009) How do you feel—now? The anterior insula and human awareness. Nat Rev Neurosci 10:59–70

Critchley H, Wiens S, Rotshtein P, Ohman A, Dolan R (2004) Neural systems supporting interoceptive awareness. Nat Neurosci 7:189–195

Crockford DN, Goodyear B, Edwards J, Quickfall J, el-Guebaly N (2005) Cue-induced brain activity in pathological gamblers. Biol Psychiatry 58:787–795

Del Parigi A, Gautier JF, Chen K, Salbe AD, Ravussin E, Reiman E, Tataranni PA (2002) Neuroimaging and obesity: mapping the brain responses to hunger and satiation in humans using positron emission tomography. Ann N Y Acad Sci 967:389–397

Di Martino A, Shehzad Z, Kelly C, Roy AK, Gee DG, Uddin LQ, Gotimer K, Klein DF, Castellanos FX, Milham MP (2009) Relationship between cingulo-insular functional connectivity and autistic traits in neurotypical adults. Am J Psychiatry 166:891–899

Egan G, Silk T, Zamarripa F, Williams J, Federico P, Cunnington R, Carabott L, Blair-West J, Shade R, McKinley M, Farrell M, Lancaster J, Jackson G, Fox P, Denton D (2003) Neural correlates of the emergence of consciousness of thirst. Proc Natl Acad Sci USA 100:15241–15246

Everitt BJ, Robbins TW (2005) Neural systems of reinforcement for drug addiction: from actions to habits to compulsion. Nat Neurosci 8(11):1481–1489 (erratum in Nat Neurosci 2006 9(7):979)

Filbey FM, Schacht JP, Myers US, Chavez RS, Hutchison KE (2009) Marijuana craving in the brain. Proc Natl Acad Sci USA 106:13016–13021

Forman SD et al (2004) Opiate addicts lack error-dependent activation of rostral anterior cingulate. Biol Psychiatry 55:531–537

Franklin TR, Acton PD, Maldjian JA, Gray JD, Croft JR, Dackis CA, O'Brien CP, Childress AR (2002) Decreased gray matter concentration in the insular, orbitofrontal, cingulate, and temporal cortices of cocaine patients. Biol Psychiatry 51:134–142

Franklin TR, Wang Z, Wang J, Sciortino N, Harper D, Li Y, Ehrman R, Kampman K, O'Brien CP, Detre JA, Childress AR (2007) Limbic activation to cigarette smoking cues independent of nicotine withdrawal: a perfusion fMRI study. Neuropsychopharmacology 32:2301–2309

Franklin TR, Lohoff FW, Wang Z, Sciortino N, Harper D, Li Y, Jens W, Cruz J, Kampman K, Ehrman R, Berrettini W, Detre JA, O'Brien CP, Childress AR (2009) DAT genotype modulates brain and behavioral responses elicited by cigarette cues. Neuropsychopharmacology 34:717–728

Fudge J, Breitbart M, Danish M, Pannoni V (2005) Insular and gustatory inputs to the caudal ventral striatum in primates. J Comp Neurol 490(2):101–118

Garavan H, Hester R (2007) The role of cognitive control in cocaine dependence. Neuropsychol Rev 17:337–345

Garavan H, Stout JC (2005) Neurocognitive insights into substance abuse. Trends Cogn Sci 9:195–201

Garavan H, Pankiewicz J, Bloom A, Cho J-K, Sperry L, Ross TJ, Salmeron BJ, Risinger R, Kelley D, Stein EA (2000) Cue-induced cocaine craving: neuroanatomical specificity for drug users and drug stimuli. Am J Psychiatry 157:1789–1798

Garavan H, Kaufman JN, Hester R (2008) Acute effects of cocaine on the neurobiology of cognitive control. Philos Trans R Soc Lond B Biol Sci 363:3267–3276

Gaspar P (1989) Catecholamine innervation of the human cerebralcortex as revealed by comparative immunohistochemistry of tyrosinehydroxylase and dopamine-b-hydroxylase. J Comp Neurol 279:249–271

Gizewski ER, Krause E, Karama S, Baars A, Senf W, Forsting M (2006) There are differences in cerebral activation between females in distinct menstrual phases during viewing of erotic stimuli: a fMRI study. Exp Brain Res 174:101–108

Gloria R, Angelos L, Schaefer HS, Davis JM, Majeskie M, Richmond BS, Curtin JJ, Davidson RJ, Baker TB (2009) An fMRI investigation of the impact of withdrawal on regional brain activity during nicotine anticipation. Psychophysiology 46:681–693

Goudriaan AE, Oosterlaan J, De Beurs E et al (2008) The role of self-reported impulsivity and reward sensitivity versus neurocognitive measures of disinhibition and decision-making in the prediction of relapse in pathological gamblers. Psychol Med 38:41–50

Grüsser SM, Wrase J, Klein S, Hermann D, Smolka MN, Ruf M, Weber-Fahr W, Flor H, Mann K, Braus DF, Heinz A (2004) Cue-induced activation of the striatum and medial prefrontal cortex is associated with subsequent relapse in abstinent alcoholics. Psychopharmacology (Berl) 175:30–296

Heinz A, Beck A, Grusser SM et al (2009) Identifying the neural circuitry of alcohol craving and relapse vulnerability. Addict Biol 14:108–118

Hester R, Fassbender C, Garavan H (2004) Individual differences in error processing: a review and meta-analysis of three event-related fMRI studies using the GO/NOGO task. Cereb Cortex 14:966–973

Hester R, Shpaner M, Molholm S, Foxe JJ, Garavan H (2005) Neural correlates of error detection with and without awareness. Neuroimage 27:602–608

Hester R, Simões-Franklin C, Garavan H (2007) Post-error behaviour in active cocaine users: poor awareness of errors in the presence of intact performance adjustments. Neuropsychopharmacology 32:1974–1984

Hester R, Nestor L, Garavan H (2009) Impaired error awareness and anterior cingulate cortex hypoactivity in chronic cannabis users. Neuropsychopharmacology 34:2450–2458

Hurd YL (2001) D1 and D2 dopamine receptor mRNA expression in whole hemisphere sections of the human brain. J Chem Neuroanat 22:127–137

Kaufman J, Ross TJ, Stein EA, Garavan H (2003) Cingulate hypoactivity in cocaine users during a GO/NOGO task as revealed by event-related fMRI. J Neurosci 23:7839–7843

Klein TA, Endrass T, Kathmann N, Neumann J, von Cramon DY, Ullsperger M (2007) Neural correlates of error awareness. Neuroimage 34:1774–1781

Ko CH, Liu GC, Hsiao S, Yen JY, Yang MJ, Lin WC, Yen CF, Chen CS (2009) Brain activities associated with gaming urge of online gaming addiction. J Psychiatr Res 43:739–747

Kosten TR, Scanley BE, Tucker KA, Oliveto A, Prince C, Sinha R, Potenza MN, Skudlarski P, Wexler BE (2006) Cue-induced brain activity changes and relapse in cocaine dependent patients. Neuropsychopharmacology 31:644–650

Li CS, Huang C, Yan P, Paliwal P, Constable RT, Sinha R (2008) Neural correlates of post-error slowing during a stop signal task: a functional magnetic resonance imaging study. J Cogn Neurosci 20:1021–1029

Lynch WJ, Roth ME, Carroll ME (2002) Biological basis of sex differences in drug abuse: preclinical and clinical studies. Psychopharmacology 164:121–137

Ma N, Liu Y, Li N, Wang C-X, Zhang H, Jiang X-F, Xu H-S, Fu X-M, Hu X, Zhang D-R (2010) Addiction related alteration in resting-state brain connectivity. Neuroimage 49:738–744

Magno E, Foxe JJ, Molholm S, Robertson I, Garavan H (2006) The anterior cingulate and error avoidance. J Neurosci 26:4769–4773

Magno E, Simoes-Franklin C, Robertson IH, Garavan H (2009) The role of the dorsal anterior cingulate in evaluating behavior for achieving gains and avoiding losses. J Cogn Neurosci 21:2328–2342

Makris N, Gasic GP, Kennedy DN, Hodge SM, Kaiser JR, Lee MJ, Kim BW, Blood AJ, Evins AE, Seidman LJ, Iosifescu DV, Lee S, Baxter C, Perlis RH, Smoller JW, Fava M, Breiter HC (2008a) Cortical thickness abnormalities in cocaine addiction—a reflection of both drug use and a pre-existing disposition to drug abuse? Neuron 60:174–188

Makris N, Oscar-Berman M, Jaffin SK, Hodge SM, Kennedy DN, Caviness VS, Marinkovic K, Breiter HC, Gasic GP, Harris GJ (2008b) Decreased volume of the brain reward system in alcoholism. Biol Psychiatry 64:192–202

McBride D, Barrett SP, Kelly JT, Aw A, Dagher A (2006) Effects of expectancy and abstinence on the neural response to smoking cues in cigarette smokers: an fMRI study. Neuropsychopharmacology 31:2728–2738

Medina KL, McQueeny T, Nagel BJ, Hanson KL, Schweinsburg AD, Tapert SF (2008) Prefrontal cortex volumes in adolescents with alcohol use disorders: unique gender effects. Alcohol Clin Exp Res 32:386–394

Modirrousta M, Fellows LK (2008) Dorsal medial prefrontal cortex plays a necessary role in rapid error prediction in humans. J Neurosci 28:14000–14005

Naqvi NH, Bechara A (2009) The hidden island of addiction: the insula. Trends Neurosci 32:56–67

Naqvi NH, Rudrauf D, Damasio H, Bechara A (2007) Damage to the insula disrupts addiction to cigarette smoking. Science 315:531–534

Niaura RS, Rohsenow DJ, Binkoff JA, Monti PM, Pedraza M, Abrams DB (1988) Relevance of cue reactivity to understanding alcohol and smoking relapse. J Abnorm Psychol 97:133–152

Passetti F, Clark L, Mehta MA, Joyce E, King M (2008) Neuropsychological predictors of clinical outcome in opiate addiction. Drug Alcohol Depend 94:82–91

Paulus MP (2007) Decision-making dysfunctions in psychiatry-altered homeostatic processing? Science 318:602–606

Paulus MP, Stein MB (2006) An insular view of anxiety. Biol Psychiatry 60:383–387

Paulus MP, Tapert SF, Schuckit MA (2005) Neural activation patterns of methamphetamine-dependent subjects during decision making predict relapse. Arch Gen Psychiatry 62:761–768

Paulus MP, Lovero KL, Wittmann M, Leland DS (2008) Reduced behavioral and neural activation in stimulant users to different error rates during decision making. Biol Psychiatry 63:1054–1060

Pelchat ML (1997) Food cravings in young and elderly adults. Appetite 28:103–113

Pelchat ML, Johnson A, Chan R, Valdez J, Ragland JD (2004) Images of desire: food-craving activation during fMRI. Neuroimage 23:1486–1493

Penberthy JK, Ait-Daoud N, Vaughan M, Fanning T (2010) Review of treatments for cocaine dependence. Curr Drug Abuse Rev 3:49–62

Porubska K, Veit R, Preissl H et al (2006) Subjective feeling of appetite modulates brain activity: an fMRI study. Neuroimage 32:1273–1280

Potenza MN (2008) The neurobiology of pathological gambling and drug. Philos Trans R Soc Lond B Biol Sci 363:3181–3189

Potenza MN, Steinberg MA, Skudlarski P, Fulbright RK, Lacadie CM, Wilber MK et al (2003) Gambling urges in pathological gambling: a functional magnetic resonance imaging study. Arch Gen Psychiatry 60:828–836

Ramautara JR, Slagter HA, Kok K, Ridderinkhof R (2006) Probability effects in the stop-signal paradigm: the insula and the significance of failed inhibition. Brain Res 1105:143–154

Risinger RC, Salmeron BJ, Ross TJ, Amen SL, Sanfilipo M, Hoffmann RG, Bloom AS, Garavan H, Stein EA (2005) Neural correlates of high and craving during cocaine self-administration using BOLD fMRI. Neuroimage 26:1097–1108

Roger C, Bénar CG, Vidal F, Hasbroucq T, Burle B (2010) Rostral Cingulate Zone and correct response monitoring: ICA and source localization evidences for the unicity of correct- and error-negativities. Neuroimage 51:391–403

Rothemund Y, Preuschhof C, Bohner G, Bauknecht HC, Klingebiel R, Flor H, Klapp BF (2007) Differential activation of the dorsal striatum by high-calorie visual food stimuli in obese individuals. Neuroimage 37:410–421

Safron A, Barch B, Bailey JM, Gitelman DR, Parrish TB, Reber PJ (2007) Neural correlates of sexual arousal in homosexual and heterosexual men. Behav Neurosci 121:237–248

Singer T, Critchley HD, Preuschoff K (2009) A common role of insula in feelings, empathy and uncertainty. Trends Cogn Sci 13:334–340

Small DM, Zatorre RJ, Dagher A, Evans AC, Jones-Gotman M (2001) Changes in brain activity related to eating chocolate: from pleasure to aversion. Brain 124:1720–1733

Smeets PAM, de Graaf C, Stafleu A et al (2006) Effect of satiety on brain activation during chocolate tasting in men and women. Am J Clin Nutr 83:1297–1305

Tapert SF, Cheung EH, Brown GG, Frank LR, Paulus MP, Schweinsburg AD, Meloy MJ, Brown SA (2003) Neural response to alcohol stimuli in adolescents with alcohol use disorder. Arch Gen Psychiatry 60:727–735

Tapert SF, Brown GG, Baratta MV, Brown SA (2004) fMRI BOLD response to alcohol stimuli in alcohol dependent young women. Addict Behav 29:33–50

Tataranni PA, Gautier JF, Chen K, Uecker A, Bandy D, Salbe AD, Pratley RE, Lawson M, Reiman EM, Ravussin E (1999) Neuroanatomical correlates of hunger and satiation in humans using positron emission tomography. Proc Natl Acad Sci USA 96:4569–4574

Tiffany ST (1990) A cognitive model of drug urges and drug-use behavior—role of automatic and nonautomatic processes. Psychol Rev 97:147–168

Verdejo-García A, Lawrence AJ, Clark L (2008) Impulsivity as a vulnerability marker for substance-use disorders: review of findings from high-risk research, problem gamblers and genetic association studies. Neurosci Biobehav Rev 32:777–810

Vierow V, Fukuoka M, Ikoma A, Do¨rfler\ A, Handwerker HO, Forster C (2009) Cerebral representation of the relief of itch by scratching. J Neurophysiol 102:3216–3224

Volkow ND, Fowler JS, Wang GJ, Telang F, Logan J, Jayne M, Ma Y, Pradhan K, Wong C, Swanson JM (2010) Cognitive control of drug craving inhibits brain reward regions in cocaine abusers. Neuroimage 49:2536–2543

Wang GJ, Volkow ND, Telang F, Jayne M, Ma Y, Pradhan K, Zhu W, Wong CT, Thanos PK, Geliebter A, Biegon A, Fowler JS (2009) Evidence of gender differences in the ability to inhibit brain activation elicited by food stimulation. Proc Natl Acad Sci USA 106:1249–1254

Waters AJ, Shiffman S, Sayette MA, Paty JA, Gwaltney CJ, Balabanis MH (2003) Attentional bias predicts outcome in smoking cessation. Health Psychol 22:378–387

Weingarten HP, Elston D (1991) Food cravings in a college population. Appetite 17:167–175

Whitwell JL, Sampson EL, Loy CT, Warren JE, Rossor MN, Fox NC, Warren JD (2007) VBM signatures of abnormal eating behaviours in frontotemporal lobar degeneration. Neuroimage 35:207–213

Wilson SJ, Sayette MA, Fiez JA (2004) Prefrontal responses to drug cues: a neurocognitive analysis. Nat Neurosci 7:211–214
About this article
Cite this article
Garavan, H. Insula and drug cravings. Brain Struct Funct 214, 593–601 (2010). https://doi.org/10.1007/s00429-010-0259-8
Received:

Accepted:

Published:

Issue Date:
Keywords
Insula

Craving

fMRI

Cognition