Abstract
An 84-year-old woman with a history of haemodialysis for renal failure from approximately 1 year before death. Autopsy revealed numerous spheroid-type amyloid deposits in the kidney that were observed mainly in the interstitium but not the glomeruli and vessels. In addition, intracytoplasmic small globular amyloid deposits in the proximal tubules in addition to amyloid casts were identified. Immunohistochemistry and proteomic analyses indicated these deposits were composed of λ light chains. Amyloid deposition was also found in the lung and heart. λ-type monoclonal protein was detected in her serum and increased numbers of CD138-positive cells with λ-restriction was observed in the bone marrow. The case was diagnosed as amyloid tubulopathy (AT) associated with systemic ALλ amyloidosis related to plasma cell neoplasm. This case indicates that AT is associated with ALλ amyloidosis, which developed systemically with characteristic amyloid deposition forms. These pathological features may be associated with her rapid progressive renal failure.
This is a preview of subscription content, log in to check access.
Access options
Buy single article
Instant unlimited access to the full article PDF.
US$ 39.95
Price includes VAT for USA
Subscribe to journal
Immediate online access to all issues from 2019. Subscription will auto renew annually.
US$ 199
This is the net price. Taxes to be calculated in checkout.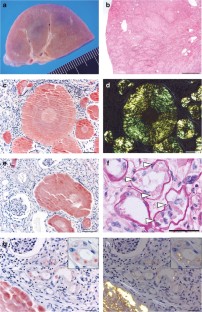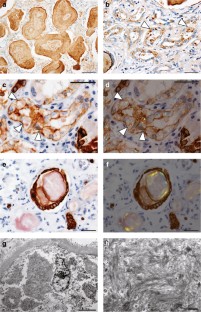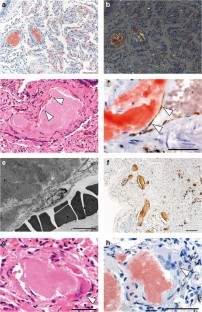 References
1.

Benson MD, Buxbaum JN, Eisenberg DS, Merlini G, Saraiva MJM, Sekijima Y, Sipe JD, Westermark P (2018) Amyloid nomenclature 2018: recommendations by the International Society of Amyloidosis (ISA) nomenclature committee. Amyloid 25(4):215–219. https://doi.org/10.1080/13506129.2018.1549825

2.

Wechalekar AD, Gillmore JD, Hawkins PN (2016) Systemic amyloidosis. Lancet 387(10038):2641–2654. https://doi.org/10.1016/s0140-6736(15)01274-x

3.

von Hutten H, Mihatsch M, Lobeck H, Rudolph B, Eriksson M, Rocken C (2009) Prevalence and origin of amyloid in kidney biopsies. Am J Surg Pathol 33(8):1198–1205. https://doi.org/10.1097/PAS.0b013e3181abdfa7

4.

El-Zoghby Z, Lager D, Gregoire J, Lewin M, Sethi S (2007) Intra-tubular amyloidosis. Kidney Int 72(10):1282–1288. https://doi.org/10.1038/sj.ki.5002411

5.

Larsen CP, Borrelli GS, Walker PD (2012) Amyloid proximal tubulopathy: a novel form of light chain proximal tubulopathy. Clin Kidney J 5(2):130–132. https://doi.org/10.1093/ckj/sfs004

6.

Hemminger J, Satoskar A, Brodsky SV, Calomeni E, Nadasdy GM, Kovach P, Hofmeister CC, Nadasdy T (2012) Unique pattern of renal kappa light chain amyloid deposition with histiocytic transdifferentiation of tubular epithelial cells. Am J Surg Pathol 36(8):1253–1257. https://doi.org/10.1097/PAS.0b013e31825b845e

7.

Iliuta IA, Garneau AP, Latulippe E, Isenring P (2016) Amyloid cast tubulopathy: a unique form of immunoglobulin-induced renal disease. Blood Cancer J 6(9):e474. https://doi.org/10.1038/bcj.2016.74

8.

Kurien AA, Fernando ME (2018) Amyloid proximal tubulopathy and amyloid casts: an unusual finding in multiple myeloma. Indian J Nephrol 28(2):160–163. https://doi.org/10.4103/ijn.IJN_297_16

9.

Gibier JB, Gnemmi V, Glowacki F, Boyle EM, Lopez B, MacNamara E, Hoffmann M, Azar R, Guincestre T, Bourdon F, Copin MC, Buob D (2018) Intratubular amyloid in light chain cast nephropathy is a risk factor for systemic light chain amyloidosis. Mod Pathol 31(3):452–462. https://doi.org/10.1038/modpathol.2017.124

10.

Hoshii Y, Setoguchi M, Iwata T, Ueda J, Cui D, Kawano H, Gondo T, Takahashi M, Ishihara T (2001) Useful polyclonal antibodies against synthetic peptides corresponding to immunoglobulin light chain constant region for immunohistochemical detection of immunoglobulin light chain amyloidosis. Pathol Int 51(4):264–270

11.

Gustavsson A, Engstrom U, Westermark P (1994) Mechanisms of transthyretin amyloidogenesis. Antigenic mapping of transthyretin purified from plasma and amyloid fibrils and within in situ tissue localizations. Am J Pathol 144(6):1301–1311

12.

Larsen CP, Bell JM, Harris AA, Messias NC, Wang YH, Walker PD (2011) The morphologic spectrum and clinical significance of light chain proximal tubulopathy with and without crystal formation. Mod Pathol 24(11):1462–1469. https://doi.org/10.1038/modpathol.2011.104

13.

Herrera GA (2014) Proximal tubulopathies associated with monoclonal light chains: the spectrum of clinicopathologic manifestations and molecular pathogenesis. Arch Pathol Lab Med 138(10):1365–1380. https://doi.org/10.5858/arpa.2013-0493-OA

14.

Hassan T, Ikeda H, Yoshimoto T (2003) Salmon roe-like amyloid deposition in a prolactinoma: a case report. Brain Tumor Pathol 20(2):89–92

15.

Makhlouf HR, Goodman ZD (2007) Globular hepatic amyloid: an early stage in the pathway of amyloid formation: a study of 20 new cases. Am J Surg Pathol 31(10):1615–1621. https://doi.org/10.1097/PAS.0b013e318054e6b6

16.

Kim MJ, McCroskey Z, Piao Y, Belcheva A, Truong L, Kurtin PJ, Ro JY (2018) Spheroid-type of AL amyloid deposition associated with colonic adenocarcinoma: a case report with literature review. Pathol Int 68(2):123–127. https://doi.org/10.1111/pin.12618

17.

Khoor A, Colby TV (2017) Amyloidosis of the lung. Arch Pathol Lab Med 141(2):247–254. https://doi.org/10.5858/arpa.2016-0102-RA

18.

Westermark P (2012) Localized AL amyloidosis: a suicidal neoplasm? Ups J Med Sci 117(2):244–250. https://doi.org/10.3109/03009734.2012.654861
Acknowledgements
The authors thank Ms. Tamae Sasakura, Mr. Noboru Onozuka, Ms. Syuko Matsumori and Mr. Osamu Yamamoto for their technical assistance. We thank Edanz Group (www.edanzediting.com/ac) for editing a draft of this manuscript.
Funding information
This work was supported in part by JSPS KAKENHI Grant Numbers JP18k10119 to Y.H. and JP17k09263 to N.N.
Ethics declarations
This study was performed in accordance with the ethical standards established in the 1964 Declaration of Helsinki and approved by the Ethics Committee of Toyama University.
Conflict of interest
The authors declare that they have no conflict of interest.
Additional information
Publisher's note
Springer Nature remains neutral with regard to jurisdictional claims in published maps and institutional affiliations.
About this article
Cite this article
Ichimata, S., Hata, Y., Abe, R. et al. An autopsy case of amyloid tubulopathy exhibiting characteristic spheroid-type deposition. Virchows Arch (2020) doi:10.1007/s00428-019-02740-4
Received:

Revised:

Accepted:

Published:
Keywords
Amyloidosis

Amyloid tubulopathy

Kidney

Light chain proximal tubulopathy

Spheroid structure