Abstract
Secretory carcinoma of the salivary gland is a newly recognized entity that morphologically resembles breast secretory carcinoma and has a characteristic t(12;15)(p13;q25) ETV6-NTRK3 translocation. Fluorescence in situ hybridization (FISH) or reverse transcription polymerase chain reaction (RT-PCR) analyses can detect the ETV6-NTRK3 fusion; however, both tests are expensive and not widely available. In this study, we aimed to determine whether pan-Trk immunohistochemistry (IHC) could detect ETV6-NTRK3 fusions as reliably as RT-PCR and FISH. We performed pan-Trk IHC in 70 salivary gland cancer samples, including secretory carcinomas, acinic cell carcinomas, and hybrid carcinomas. Nineteen tumors exhibited positive pan-Trk staining, including 16 secretory carcinomas, 2 hybrid carcinomas with a secretory carcinoma component, and 1 acinic cell carcinoma. Pan-Trk IHC staining was localized in the nucleus in 16 (84.2%) cases and in the cytoplasm and/or membrane in 3 (15.8%) cases. RT-PCR analysis for the ETV6-NTRK3 transcript was conducted in 45 samples; the fusion transcript was present in 11 of 12 secretory carcinomas and absent in 32 acinic cell carcinomas and 1 mucoepidermoid carcinoma. Pan-Trk IHC was positive in 10 of 11 salivary tumors that were positive for ETV6-NTRK3 by RT-PCR and negative in all 34 tumors that were negative for the fusion by RT-PCR. Therefore, in comparison with RT-PCR, pan-Trk IHC had a sensitivity of 90.9% and specificity of 100%. In conclusion, our data showed that pan-Trk IHC is a reasonable screening test for diagnosing secretory carcinoma of the salivary gland.
This is a preview of subscription content, log in to check access.
Access options
Buy single article
Instant access to the full article PDF.
US$ 39.95
Price includes VAT for USA
Subscribe to journal
Immediate online access to all issues from 2019. Subscription will auto renew annually.
US$ 199
This is the net price. Taxes to be calculated in checkout.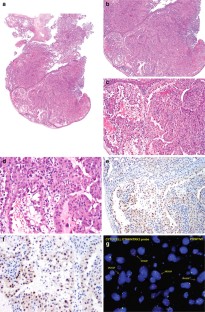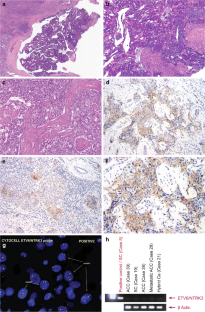 References
1.

Skalova A, Vanecek T, Sima R et al (2010) Mammary analogue secretory carcinoma of salivary glands, containing the ETV6-NTRK3 fusion gene: a hitherto undescribed salivary gland tumor entity. Am J Surg Pathol 34:599–608

2.

Parekh V, Stevens TM (2016) Mammary analogue secretory carcinoma. Arch Pathol Lab Med 140:997–1001

3.

Khotskaya YB, Holla VR, Farago AF, Mills Shaw KR, Meric-Bernstam F, Hong DS (2017) Targeting TRK family proteins in cancer. Pharmacol Ther 173:58–66

4.

Alassiri AH, Ali RH, Shen Y et al (2016) ETV6-NTRK3 is expressed in a subset of ALK-negative inflammatory myofibroblastic tumors. Am J Surg Pathol 40:1051–1061

5.

Brenca M, Rossi S, Polano M et al (2016) Transcriptome sequencing identifies ETV6-NTRK3 as a gene fusion involved in GIST. J Pathol 238:543–549

6.

Hechtman JF, Benayed R, Hyman DM et al (2017) Pan-Trk immunohistochemistry is an efficient and reliable screen for the detection of NTRK fusions. Am J Surg Pathol 41:1547–1551

7.

Hung YP, Fletcher CDM, Hornick JL (2018) Evaluation of pan-TRK immunohistochemistry in infantile fibrosarcoma, lipofibromatosis-like neural tumour and histological mimics. Histopathology 73:634–644

8.

Rudzinski ER, Lockwood CM, Stohr BA et al (2018) Pan-Trk immunohistochemistry identifies NTRK rearrangements in pediatric mesenchymal tumors. Am J Surg Pathol 42:927–935

9.

Seethala RR, Chiosea SI, Liu CZ, Nikiforova M, Nikiforov YE (2017) Clinical and morphologic features of ETV6-NTRK3 translocated papillary thyroid carcinoma in an adult population without radiation exposure. Am J Surg Pathol 41:446–457

10.

Skalova A, Vanecek T, Martinek P et al (2018) Molecular profiling of mammary analog secretory carcinoma revealed a subset of tumors harboring a novel ETV6-RET translocation: report of 10 cases. Am J Surg Pathol 42:234–246

11.

Skalova A, Vanecek T, Simpson RH et al (2016) Mammary analogue secretory carcinoma of salivary glands: molecular analysis of 25 ETV6 gene rearranged tumors with lack of detection of classical ETV6-NTRK3 fusion transcript by standard RT-PCR: report of 4 cases harboring ETV6-X gene fusion. Am J Surg Pathol 40:3–13

12.

Hung YP, Jo VY, Hornick JL (2019) Immunohistochemistry with a pan-TRK antibody distinguishes secretory carcinoma of the salivary gland from acinic cell carcinoma. Histopathology 75:54–62

13.

Solomon JP, Hechtman JF (2019) Detection of NTRK fusions: merits and limitations of current diagnostic platforms. Cancer Res 79:3163–3168

14.

Schwartz LE, Begum S, Westra WH, Bishop JA (2013) GATA3 immunohistochemical expression in salivary gland neoplasms. Head Neck Pathol 7:311–315

15.

Chenevert J, Duvvuri U, Chiosea S et al (2012) DOG1: a novel marker of salivary acinar and intercalated duct differentiation. Modern Pathol 25:919–929

16.

Drilon A, Siena S, Ou SI et al (2017) Safety and antitumor activity of the multitargeted pan-TRK, ROS1, and ALK inhibitor entrectinib: combined results from two phase I trials (ALKA-372-001 and STARTRK-1). Cancer Discov 7:400–409

17.

Iyer R, Wehrmann L, Golden RL et al (2016) Entrectinib is a potent inhibitor of Trk-driven neuroblastomas in a xenograft mouse model. Cancer Lett 372:179–186

18.

Ito Y, Ishibashi K, Masaki A et al (2015) Mammary analogue secretory carcinoma of salivary glands: a clinicopathologic and molecular study including 2 cases harboring ETV6-X fusion. Am J Surg Pathol 39:602–610
Acknowledgments
We thank Amy L. Ninetto from the Department of Scientific Publications at The University of Texas MD Anderson Cancer Center for editing the manuscript.
Funding
The study is supported in part by the Head and Neck SPORE Program Grant P50CA097007, The Kenneth D. Muller Professorship (Adel El-Naggar, MD, PhD).
Ethics declarations
Conflict of interest
The authors declare that they have no conflict of interest.
Ethical approval
All procedures performed in studies involving human participants were in accordance with ethical standards of the institutional committee and with the 1964 Helsinki declaration and its later amendments or comparable ethical standards. Informed consent was obtained from all individual participants included in the study.
Additional information
Publisher's note
Springer Nature remains neutral with regard to jurisdictional claims in published maps and institutional affiliations.
About this article
Cite this article
Bell, D., Ferrarotto, R., Liang, L. et al. Pan-Trk immunohistochemistry reliably identifies ETV6-NTRK3 fusion in secretory carcinoma of the salivary gland. Virchows Arch (2019). https://doi.org/10.1007/s00428-019-02640-7
Received:

Revised:

Accepted:

Published:
Keywords
Secretory carcinoma

Salivary gland

Immunohistochemistry

ETV6-NTRK3

Fluorescence in situ hybridization