Abstract
Biphenotypic sinonasal sarcoma (BSNS) is a recently recognized type of sarcoma arising exclusively in the sinonasal tract displaying unique clinical course, histopathology, and genetics. Due to its rarity, only case series and case reports are available. In order to provide an overview of the current understanding of this disease, we present a comprehensive review of the literature and present three previously unreported cases of BSNS. A total of 55 genetically characterized and 41 cases without molecular data were identified in the literature. Two-thirds of patients were female and the peak incidence was in the fifth decade. Fatal outcome was rare (two cases with intracranial extension) and local recurrence occurred in 31.6%, all occurring within 5 years after initial treatment. Histologically, BSNS is highly cellular in the majority of cases and composed of fascicles of spindle cells, with entrapped hyperplastic surface epithelium being a frequent finding. The immunohistochemical profile is characteristic due to the biphasic nature of this lesion, with shared features of both myogenic and neural origin. Rhabdomyoblastic differentiation is apparent in a subset of cases. The most common genetic event is the PAX3-MAML3 fusion (58.6%) but isolated PAX3 rearrangement (19.2%), absence of rearrangements (9.1%), PAX3-FOXO1 (8.1%), PAX3-NCOA1 (4%), and isolated MAML3 rearrangement (2%) have also been reported. In conclusion, the recognition of BSNS is crucial due to its relatively indolent clinical course. A selected immunohistochemical panel and/or molecular confirmation can be used to aid in appropriate diagnosis and consequently in prognostication and to avoid overtreatment with chemotherapy regimens used in its mimics.
This is a preview of subscription content, log in to check access.
Access options
Buy single article
Instant access to the full article PDF.
US$ 39.95
Price includes VAT for USA
Subscribe to journal
Immediate online access to all issues from 2019. Subscription will auto renew annually.
US$ 199
This is the net price. Taxes to be calculated in checkout.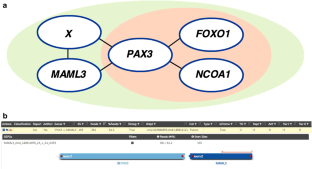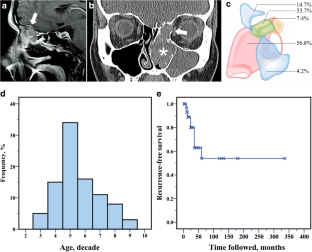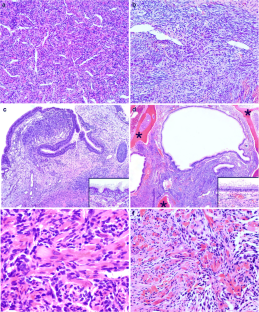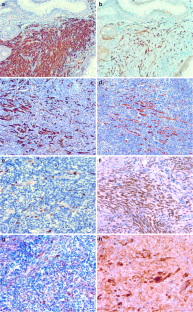 References
1.

Kraus DH, Dubner S, Harrison LB, Strong EW, Hajdu SI, Kher U, Begg C, Brennan MF (1994) Prognostic factors for recurrence and survival in head and neck soft tissue sarcomas. Cancer 74:697–702

2.

Fletcher C, Bridge J, Hogendoorn P, Mertens F (eds) (2013) World health classification of tumours. Pathology and genetics of tumours of soft tissue and bone, 4th edn. IARC Press, Lyon

3.

Szablewski V, Neuville A, Terrier P, Laé M, Schaub R, Garrel R, Coindre JM, Costes V (2015) Adult sinonasal soft tissue sarcoma: analysis of 48 cases from the French sarcoma group database. Laryngoscope 125:615–623

4.

Casali PG, Blay JY, Bertuzzi A, Bielack S, Bjerkehagen B, Bonvalot S et al (2014) Soft tissue and visceral sarcomas: ESMO clinical practice guidelines for diagnosis, treatment and follow-up. Ann Oncol 25:iii102–iii112

5.

Sturgis EM, Potter BO (2003) Sarcomas of the head and neck region. Curr Opin Oncol 15:239–252

6.

Neel HB 3rd, Whicker JH, Devine KD, Weiland LH (1973) Juvenile angiofibroma. Review of 120 cases. Am J Surg 126:547–556

7.

Thompson LD, Miettinen M, Wenig BM (2003) Sinonasal-type hemangiopericytoma a clinicopathologic and immunophenotypic analysis of 104 cases showing perivascular myoid differentiation. Am J Surg Pathol 27:737–749

8.

Wang X, Bledsoe KL, Graham RP, Asmann YW, Viswanatha DS, Lewis JE, Lewis JT, Chou MM, Yaszemski MJ, Jen J, Westendorff JJ, Oliveira AM (2014) Recurrent PAX3-MAML3 fusion in biphenotypic sinonasal sarcoma. Nat Genet 46:666–668

9.

Lewis JT, Oliveira AM, Nascimento AG, Schembri-Wismayer D, Moore EA, Olsen KD, Gardia JG, Lonzo ML, Lewis JE (2012) Low-grade sinonasal sarcoma with neural and myogenic features: a clinicopathologic analysis of 28 cases. Am J Surg Pathol 36:517–525

10.

Bishop JA (2016) Newly described tumor entities in sinonasal tract pathology. Head Neck Pathol 10:23–31

11.

Huang SC, Ghossein RA, Bishop JA, Zhang L, Chen TC, Huang HY, Antonescu CR (2016) Novel PAX3-NCOA1 fusions in biphenotypic sinonasal sarcoma with focal rhabdomyoblastic differentiation. Am J Surg Pathol 40:51–59

12.

Fritchie KJ, Jin L, Wang X, Graham RP, Torbenson MS, Lewis JE, Rivera M, Garcia JJ, Schembri-Wismayer DJ, Westendorff JJ, Chou MM, Dong J, Oliveira AM (2016) Fusion gene profile of biphenotypic sinonasal sarcoma: an analysis of 44 cases. Histopathology 69:930–936

13.

Wachtel M, Dettling M, Koscielniak E, Stegmaier S, Treuner J, Simon-Klingenstein K, Bühlmann P, Niggli FK, Schäfer BW (2004) Gene expression signatures identify rhabdomyosarcoma subtypes and detect a novel t(2;2)(q35;p23) translocation fusing PAX3 to NCOA1. Cancer Res 64:5539–5545

14.

Sumegi J, Streblow R, Frayer RW, Dal Cin P, Rosenberg A, Meloni-Ehrig A, Bridge JA (2010) Recurrent t(2;2) and t(2;8) translocations in rhabdomyosarcoma without the canonical PAX-FOXO1 fuse PAX3 to members of the nuclear receptor transcriptional coactivator family. Genes Chromosomes Cancer 49:224–236

15.

Andreasen S, Therkildsen MH, Grauslund M, Friis-Hansen L, Wessel I, Homøe P (2015) Activation of the interleukin-6/Janus kinase/STAT3 pathway in pleomorphic adenoma of the parotid gland. APMIS 123:709–715

16.

Andreasen S, Kiss K, Melchior LC, Laco J (2018) The ETV6-RET gene fusion is found in ETV6- rearranged low-grade sinonasal adenocarcinoma without NTRK3 involvement. Am J Surg Pathol 42:985–988

17.

Rooper LM, Huang SC, Antonescu CR, Westra WH, Bishop JA (2016) Biphenotypic sinonasal sarcoma: an expanded immunoprofile including consistent nuclear β-catenin positivity and absence of SOX10 expression. Hum Pathol 55:44–50

18.

Zhao M, Laol QY, Zhao DH, Ma J, Ru GQ, He XL, Wang Z, Wang J (2017) Clinicopathologic and molecular genetic characterization of biphenotypic sinonasal sarcoma. Chin J Pathol 46:841–846

19.

Williamson D, Missiaglia E, de Reyniès A, Pierron G, Thuille B, Palenzuela G, Thway K, Orbach D, Laé M, Fréneaux P, Pritchard-Jones K, Oberlin O, Shipley J, Delattre O (2010) Fusion gene-negative alveolar rhabdomyosarcoma is clinically and molecularly indistinguishable from embryonal rhabdomyosarcoma. J Clin Oncol 28:2151–2158

20.

Wong WJ, Lauria A, Hornick JL, Xiao S, Fletcher JA, Marino-Enriques A (2016) Alternate PAX3-FOXO1 oncogenic fusion in biphenotypic sinonasal sarcoma. Genes Chromosom Cancer 55:25–29

21.

Lin Y, Liao B, Han A (2017) Biphenotypic sinonasal sarcoma with diffuse infiltration and intracranial extension : a case report. Int J Clin Exp Pathol 10:11743–11746

22.

Agaimy A, Haller F, Hartmann A (2018) Sinunasale Tumoren Neues aus der WHO mit besonderem Fokus auf neue mesenchymale Entitäten. Pathologe 39:18–26

23.

Powers KA, Han LM, Chiu AG, Aly FZ (2015) Low-grade sinonasal sarcoma with neural and myogenic features—diagnostic challenge and pathogenic insight. Oral Surg Oral Med Oral Pathol Oral Radiol 119:e265–e269

24.

Kakkar A, Rajeshwari M, Sakthivel P, Sharma MC, Sharma SC (2018) Biphenotypic sinonasal sarcoma: a series of six cases with evaluation of role of β-catenin immunohistochemistry in differential diagnosis. Ann Diagn Pathol 33:6–10

25.

Triki M, Ayadi L (2017) Low-grade sinonasal sarcoma with neural and myogenic features: a recently discovered entity with unique features and diagnostic challenge. Arch Pathol Lab Med 141:718–721

26.

Jo VY, Marino-Enriquez A, Fletcher C, Hornick J (2018) Expression of PAX3 distinguishes biphenotypic sinonasal sarcoma from histologic mimics. Am J Surg Pathol:1. https://doi.org/10.1097/PAS.0000000000001092

27.

Heffner DK, Gnepp DR (1992) Sinonasal fibrosarcomas, malignant schwannomas, and "Triton" tumors. A clinicopathologic study of 67 cases. Cancer 70:1089–1101

28.

Miettinen M, McCue PA, Sarlomo-Rikala M, Biernat W, Czapiewski P, Kopczynski J, Thompson LD, Lasota J, Wang Z, Fetsch JF (2015) Sox10—a marker for not only schwannian and melanocytic neoplasms but also myoepithelial cell tumors of soft tissue: a systematic analysis of 5134 tumors. Am J Surg Pathol 39:826–835

29.

Kang Y, Pekmezci M, Folpe AL, Ersen A, Horvai AE (2014) Diagnostic utility of SOX10 to distinguish malignant peripheral nerve sheath tumor from synovial sarcoma, including intraneural synovial sarcoma. Mod Pathol 27:55–61

30.

Terzic A, Bode B, Gratz K, Stoeckli SJ (2009) Prognostic factors for the malignant triton tumor of the head and neck. Head Neck 31:679–688

31.

Victoria L, McCullogh TM, Callaghan EJ, Bauman NM (1999) Malignant triton tumor of the head and neck: a case report and review of the literature. Head Neck 21:663–670

32.

Senger J, Kanthan SC, Kanthan R (2016) Sinonasal malignant triton tumor : a case report with historical and surgical review. Head Neck Cancer Res 1:1–6

33.

Chen G, Courey AJ (2000) Groucho/TLE family proteins and transcriptional repression. Gene 249:1–16

34.

Lasota J, Felisiak-Golabek A, Aly FZ, Wang ZF, Thompson LD, Miettinen M (2015) Nuclear expression and gain-of-function β-catenin mutation in glomangiopericytoma (sinonasal-type hemangiopericytoma): insight into pathogenesis and a diagnostic marker. Mod Pathol 28:715–720

35.

Haller F, Bieg M, Moskalev EA, Barthelmeß S, Geddert H, Boltze C, Diessl N, Braumandl K, Brors B, Iro H, Hartmann A, Wiemann S, Agaimy A (2015) Recurrent mutations within the amino-terminal region of β-catenin are probable key molecular driver events in sinonasal hemangiopericytoma. Am J Pathol 185:563–571

36.

Snyder ML, Paulino AFG (2002) Melan-A as a useful diagnostic immunohistochemical stain for the diagnosis of primary sinonasal melanomas. Head Neck 24:52–55

37.

Mikkelsen LH, Larsen AC, von Buchwald C, Drzewiecki KT, Prause JU, Heegaard S (2016) Mucosal malignant melanoma—a clinical, oncological, pathological and genetic survey. APMIS 124:475–486

38.

Smith SC, Gooding WE, Elkins M, Patel RM, Harms PW, Mcdaniel AS, Palanisamy N, Uram-Tuculescu C, Balzer BB, Lucas DR, Seethala RR, McHugh JB (2017) Solitary fibrous tumors of the head and neck. Am J Surg Pathol 41:1642–1656

39.

Buckingham M, Relaix F (2007) The role of Pax genes in the development of tissues and organs: Pax3 and Pax7 regulate muscle progenitor cell functions. Annu Rev Cell Dev Biol 23:645–673

40.

Wang Q, Fang WH, Krupinski J, Kumar S, Slevin M, Kumar P (2008) Pax genes in embryogenesis and oncogenesis. J Cell Mol Med 12:2281–2294

41.

Davis RJ, D'Cruz CM, Lovell A, Biegel JA, Barr FG (1994) Fusion of PAX7 to FKHR by the variant t(1;13)(p36;q14) translocation in alveolar rhabdomyosarcoma. Cancer Res 54:2869–2872

42.

Siegfried A, Romary C, Escudié F, Nicaise Y, Grand D, Rochaix P, Barres B, Vergez S, Chevreau C, Coindre JM, Uro-Coste E, Le Guellec S (2018) RREB1-MKL2 fusion in biphenotypic " oropharyngeal " sarcoma: new entity or part of the spectrum of biphenotypic sinonasal sarcomas? Genes Chromosom Cancer 57:203–210

43.

Selvaraj A, Prywes R (2004) Expression profiling of serum inducible genes identifies subset of SRF target genes that are MKL dependent. BMC Mol Biol 5:13

44.

Lu PP, Ramanan N (2011) Serum response factor is required for cortical axon growth but is dispensable for neurogenesis and neocortical lamination. J Neurosci 31:16651–16664

45.

Zhao M, Laol QY, Zhao DH, Ma J, Ru GQ, He XL, Wang Z, Wang J (2017) Clinicopathologic and molecular genetic characterization of biphenotypic sinonasal sarcoma. Chin J Pathol 46:841–846
Ethics declarations
Conflict of interest
The authors declare that they have no conflict of interest.
Informed consent
Informed content was provided from the included patients.
Additional information
This article was written by members and invitees of the International Head and Neck Scientific Group (www.IHNSG.com).
All individuals listed as co-authors are qualified according to the ICMJE.
Electronic supplementary material
About this article
Cite this article
Andreasen, S., Bishop, J.A., Hellquist, H. et al. Biphenotypic sinonasal sarcoma: demographics, clinicopathological characteristics, molecular features, and prognosis of a recently described entity. Virchows Arch 473, 615–626 (2018). https://doi.org/10.1007/s00428-018-2426-x
Received:

Revised:

Accepted:

Published:

Issue Date:
Keywords
Biphenotypic sinonasal sarcoma

Prognosis

Recurrence

Sinonasal sarcoma

PAX3-MAML3

PAX3-NCOA1