Abstract
Pancreatic neuroendocrine microadenomas (NEMAs) are non-functioning neuroendocrine tumors < 0.5 cm with a low proliferation rate and are considered benign. We report on a pancreatic NEMA with lymph node metastasis. A male in his 70s had pylorus-preserving pancreaticoduodenectomy for a distal bile duct carcinoma, which was a 2.1 cm well-differentiated-infiltrating adenocarcinoma with invasion limited to the bile duct wall. An incidental separate 0.4 cm well-differentiated NEMA was found in the pancreatic head with metastatic well-differentiated neuroendocrine tumor in one peripancreatic lymph node. Both neuroendocrine tumors in the pancreatic head and in the lymph node were composed of nests of uniform neoplastic cells with a fine chromatin pattern. The Ki-67 labeling index of NEMA was 0.85%. The neoplastic neuroendocrine cells in both the pancreas and node were diffusely positive for synaptophysin, chromogranin, and insulin. Therefore, this unusual case provides an exception to the current classification system which regards NEMAs as benign lesions.
This is a preview of subscription content, log in to check access.
Access options
Buy single article
Instant access to the full article PDF.
US$ 39.95
Price includes VAT for USA
Subscribe to journal
Immediate online access to all issues from 2019. Subscription will auto renew annually.
US$ 199
This is the net price. Taxes to be calculated in checkout.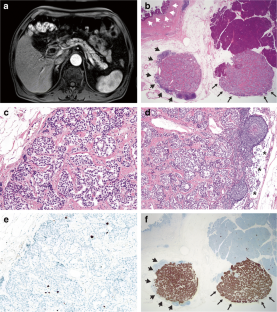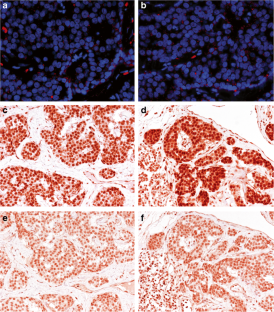 References
1.

Bosman FT et al. (2010) WHO classification of tumours of the digestive system 4th edn. International Agency for Research on Cancer, Lyon

2.

Lloyd RV et al (2017) WHO classification of tumours of endocrine organs. International Agency for Research on Cancer, Lyon

3.

Kimura W, Kuroda A, Morioka Y (1991) Clinical pathology of endocrine tumors of the pancreas. Analysis of autopsy cases. Dig Dis Sci 36(7):933–942

4.

Heaphy CM, Subhawong AP, Hong SM, Goggins MG, Montgomery EA, Gabrielson E, Netto GJ, Epstein JI, Lotan TL, Westra WH, Shih IM, Iacobuzio-Donahue CA, Maitra A, Li QK, Eberhart CG, Taube JM, Rakheja D, Kurman RJ, Wu TC, Roden RB, Argani P, de Marzo AM, Terracciano L, Torbenson M, Meeker AK (2011) Prevalence of the alternative lengthening of telomeres telomere maintenance mechanism in human cancer subtypes. Am J Pathol 179(4):1608–1615

5.

Kim JY, Kim MS, Kim KS, Song KB, Lee SH, Hwang DW, Kim KP, Kim HJ, Yu E, Kim SC, Jang HJ, Hong SM (2015) Clinicopathologic and prognostic significance of multiple hormone expression in pancreatic neuroendocrine tumors. Am J Surg Pathol 39(5):592–601

6.

Anlauf M, Enosawa T, Henopp T, Schmitt A, Gimm O, Brauckhoff M, Dralle H, Musil A, Hauptmann S, Perren A, Klöppel G (2008) Primary lymph node gastrinoma or occult duodenal microgastrinoma with lymph node metastases in a MEN1 patient: the need for a systematic search for the primary tumor. Am J Surg Pathol 32(7):1101–1105

7.

Falconi M, Eriksson B, Kaltsas G, Bartsch DK, Capdevila J, Caplin M, Kos-Kudla B, Kwekkeboom D, Rindi G, Klöppel G, Reed N, Kianmanesh R, Jensen RT, all other Vienna Consensus Conference participants (2016) ENETS consensus guidelines update for the management of patients with functional pancreatic neuroendocrine tumors and non-functional pancreatic neuroendocrine tumors. Neuroendocrinology 103(2):153–171

8.

Kim JY, Brosnan-Cashman JA, An S, Kim SJ, Song KB, Kim MS, Kim MJ, Hwang DW, Meeker AK, Yu E, Kim SC, Hruban RH, Heaphy CM, Hong SM (2017) Alternative lengthening of telomeres in primary pancreatic neuroendocrine tumors is associated with aggressive clinical behavior and poor survival. Clin Cancer Res 23(6):1598–1606

9.

Hackeng WM, Brosens LAA, Poruk KE, Noë M, Hosoda W, Poling JS, Rizzo A, Campbell-Thompson M, Atkinson MA, Konukiewitz B, Klöppel G, Heaphy CM, Meeker AK, Wood LD (2016) Aberrant Menin expression is an early event in pancreatic neuroendocrine tumorigenesis. Hum Pathol 56:93–100

10.

de Wilde RF, Heaphy CM, Maitra A, Meeker AK, Edil BH, Wolfgang CL, Ellison TA, Schulick RD, Molenaar IQ, Valk GD, Vriens MR, Borel Rinkes IHM, Offerhaus GJA, Hruban RH, Matsukuma KE (2012) Loss of ATRX or DAXX expression and concomitant acquisition of the alternative lengthening of telomeres phenotype are late events in a small subset of MEN-1 syndrome pancreatic neuroendocrine tumors. Mod Pathol 25(7):1033–1039

11.

Marinoni I, Kurrer AS, Vassella E, Dettmer M, Rudolph T, Banz V, Hunger F, Pasquinelli S, Speel E–J, Perren A (2014) Loss of DAXX and ATRX are associated with chromosome instability and reduced survival of patients with pancreatic neuroendocrine tumors. Gastroenterology 146(2):453–460 e455

12.

Singhi AD, Liu TC, Roncaioli JL, Cao D, Zeh HJ, Zureikat AH, Tsung A, Marsh JW, Lee KK, Hogg ME, Bahary N, Brand RE, McGrath KM, Slivka A, Cressman KL, Fuhrer K, O'Sullivan RJ (2017) Alternative lengthening of telomeres and loss of DAXX/ATRX expression predicts metastatic disease and poor survival in patients with pancreatic neuroendocrine tumors. Clin Cancer Res 23(2):600–609

13.

Dogeas E, Karagkounis G, Heaphy CM, Hirose K, Pawlik TM, Wolfgang CL, Meeker A, Hruban RH, Cameron JL, Choti MA (2014) Alternative lengthening of telomeres predicts site of origin in neuroendocrine tumor liver metastases. J Am Coll Surg 218(4):628–635

14.

Jiao Y, Shi C, Edil BH, de Wilde RF, Klimstra DS, Maitra A, Schulick RD, Tang LH, Wolfgang CL, Choti MA, Velculescu VE, Diaz LA, Vogelstein B, Kinzler KW, Hruban RH, Papadopoulos N (2011) DAXX/ATRX, MEN1, and mTOR pathway genes are frequently altered in pancreatic neuroendocrine tumors. Science 331(6021):1199–1203
Funding
The study was supported by the Basic Science Research Program through the National Research Foundation of Korea (NRF) funded by the Ministry of Education, Science and Technology (2016R1A2B4009381), a grant (2013–554) from the Asan Institute for Life Sciences, Seoul, Republic of Korea (SMH), the 2016 Basic/Translational Science Investigator Award from the North American Neuroendocrine Tumor Society supported by the Neuroendocrine Tumor Research Foundation (CMH), and NIH grant CA62924 (RHH).
Ethics declarations
Institutional Review Board approval (Approval No.: 2018-0821)
Conflict of interest
The authors declare that they have no conflict of interest.
Additional information
This study has been presented, in part, at the 14th Annual ENETS Conference, Barcelona, Spain, March 8–10, 2017.
About this article
Cite this article
Kwon, J., Kim, H.J., Park, D.H. et al. Incidentally detected pancreatic neuroendocrine microadenoma with lymph node metastasis. Virchows Arch 473, 649–653 (2018). https://doi.org/10.1007/s00428-018-2407-0
Received:

Revised:

Accepted:

Published:

Issue Date:
Keywords
Pancreas

Neuroendocrine

Microadenoma

Lymph node

Metastasis

Malignant