Abstract
Lymph node metastasis is a decisive factor for performing postoperative radiotherapy for oral squamous cell carcinoma (OSCC). However, whether OSCC patients with only micrometastasis need postoperative radiotherapy is unclear. In this study, OSCC patients (n = 311) with negative (n = 247), only micrometastasis (n = 44) and macrometastasis (n = 20) were detected and selected by HE staining. Micrometastasis was re-assessed using immunohistochemical staining of cytokeratin (CK) in HE-negative patients to find out the false negative cases. The results indicated that, among the negative lymph node cases (n = 247), the positive rate of CK was 4.94% (n = 12). Besides, the clinical features of the primary tumor in relation to the only micrometastatic status and the value of the postoperative radiotherapy on the only micrometastasis patients were evaluated. Patients with only micrometastasis had higher T stage and inferior worst pattern of invasion (WPOI) than patients without micrometastasis, but they had longer overall survival (OS), metastasis-free survival (MFS), and disease-free survival (DFS) than macrometastasis patients. However, the survival time of only micrometastasis patients with or without postoperative radiotherapy was comparable, even in patients with inferior WPOI. Radiotherapy, however, may only benefit patients with IV/V levels of micrometastasis. These data indicated that postoperative radiotherapy is dispensable for only micrometastasis OSCC patients.
This is a preview of subscription content, log in to check access.
Access options
Buy single article
Instant access to the full article PDF.
US$ 39.95
Price includes VAT for USA
Subscribe to journal
Immediate online access to all issues from 2019. Subscription will auto renew annually.
US$ 199
This is the net price. Taxes to be calculated in checkout.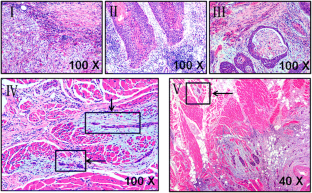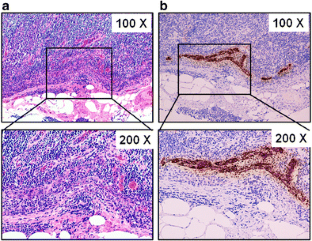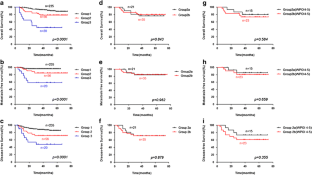 References
1.

Cunningham MJ, Johnson JT, Myers EN, Schramm VL Jr, Thearle PB (1986) Cervical lymph node metastasis after local excision of early squamous cell carcinoma of the oral cavity. Am J Surg 152(4):361–366

2.

Woolgar JA (1997) Detailed topography of cervical lymph-note metastases from oral squamous cell carcinoma. Int J Oral Maxillofac Surg 26(1):3–9

3.

den Brekel MW, Stel HV, van der Valk P, van der Waal I, Meyer CJ, Snow GB (1992) Micrometastases from squamous cell carcinoma in neck dissection specimens. Eur Arch Otorhinolaryngol 249(6):349–353

4.

Izbicki JR, Hosch SB, Pichlmeier U, Rehders A, Busch C, Niendorf A, Passlick B, Broelsch CE, Pantel K (1997) Prognostic value of immunohistochemically identifiable tumor cells in lymph nodes of patients with completely resected esophageal cancer. N Engl J Med 337(17):1188–1194. https://doi.org/10.1056/nejm199710233371702

5.

Hamakawa H, Takemura K, Sumida T, Kayahara H, Tanioka H, Sogawa K (2000) Histological study on pN upgrading of oral cancer. Virchows Arch 437(2):116–121

6.

Negm H, Mosleh M, Fathy H, Hareedy A, Elbattawy A (2013) Cytokeratin immunohistochemically detected nodal micrometastases in N0 laryngeal cancer: impact on the overall occult metastases. Eur Arch Otorhinolaryngol 270(3):1085–1092. https://doi.org/10.1007/s00405-012-2094-4

7.

Woolgar JA (1999) Micrometastasis in oral/oropharyngeal squamous cell carcinoma: incidence, histopathological features and clinical implications. Br J Oral Maxillofac Surg 37(3):181–186. https://doi.org/10.1054/bjom.1999.0037

8.

Broglie MA, Haerle SK, Huber GF, Haile SR, Stoeckli SJ (2013) Occult metastases detected by sentinel node biopsy in patients with early oral and oropharyngeal squamous cell carcinomas: impact on survival. Head Neck 35(5):660–666. https://doi.org/10.1002/hed.23017

9.

Yamazaki Y, Chiba I, Hirai A, Satoh C, Sakakibara N, Notani K, Iizuka T, Totsuka Y (2005) Clinical value of genetically diagnosed lymph node micrometastasis for patients with oral squamous cell carcinoma. Head Neck 27(8):676–681. https://doi.org/10.1002/hed.20200

10.

Cho JH, Lee YS, Sun DI, Kim MS, Cho KJ, Nam IC, Kim CS, Kim SY, Park YH, Joo YH (2016) Prognostic impact of lymph node micrometastasis in oral and oropharyngeal squamous cell carcinomas. Head Neck 38(Suppl 1):E1777–E1782. https://doi.org/10.1002/hed.24314

11.

Brandwein-Gensler M, Teixeira MS, Lewis CM, Lee B, Rolnitzky L, Hille JJ, Genden E, Urken ML, Wang BY (2005) Oral squamous cell carcinoma: histologic risk assessment, but not margin status, is strongly predictive of local disease-free and overall survival. Am J Surg Pathol 29(2):167–178

12.

Almangush A, Bello IO, Keski-Santti H, Makinen LK, Kauppila JH, Pukkila M et al (2014) Depth of invasion, tumor budding, and worst pattern of invasion: prognostic indicators in early-stage oral tongue cancer. Head Neck 36(6):811–818. https://doi.org/10.1002/hed.23380

13.

Velosa C, Shi Q, Stevens TM, Chiosea SI, Purgina B, Carroll W, Rosenthal E, Morlandt A, Loree T, Brandwein-Weber MS (2017) Worst pattern of invasion and occult cervical metastases for oral squamous carcinoma. Head Neck. https://doi.org/10.1002/hed.24754

14.

Yang TL, Wang CP, Ko JY, Lin CF, Lou PJ (2008) Association of tumor satellite distance with prognosis and contralateral neck recurrence of tongue squamous cell carcinoma. Head Neck 30(5):631–638. https://doi.org/10.1002/hed.20758

15.

Hermanek P, Hutter RV, Sobin LH, Wittekind C (1999) International Union Against Cancer. Classification of isolated tumor cells and micrometastasis. Cancer 86(12):2668–2673

16.

Genden EM, Ferlito A, Bradley PJ, Rinaldo A, Scully C (2003) Neck disease and distant metastases. Oral Oncol 39(3):207–212

17.

Rhee D, Wenig BM, Smith RV (2002) The significance of immunohistochemically demonstrated nodal micrometastases in patients with squamous cell carcinoma of the head and neck. Laryngoscope 112(11):1970–1974. https://doi.org/10.1097/00005537-200211000-00011

18.

Ferlito A, Partridge M, Brennan J, Hamakawa H (2001) Lymph node micrometastases in head and neck cancer: a review. Acta Otolaryngol 121(6):660–665

19.

Ferlito A, Shaha AR, Rinaldo A (2002) The incidence of lymph node micrometastases in patients pathologically staged N0 in cancer of oral cavity and oropharynx. Oral Oncol 38(1):3–5

20.

Xu Y, Lefevre M, Perie S, Tao L, Callard P, Bernaudin JF et al (2008) Clinical significance of micrometastases detection in lymph nodes from head and neck squamous cell carcinoma. Otolaryngol Head Neck Surg 139(3):436–441. https://doi.org/10.1016/j.otohns.2008.04.023

21.

Ambrosch P, Kron M, Fischer G, Brinck U (1995) Micrometastases in carcinoma of the upper aerodigestive tract: detection, risk of metastasizing, and prognostic value of depth of invasion. Head Neck 17(6):473–479

22.

Xu Y, Fei M, Wang J, Zheng L, Chen Y, Liu Q (2012) Clinical significance of micrometastases in lymph nodes from laryngeal squamous cell carcinoma. Am J Otolaryngol 33(4):402–407. https://doi.org/10.1016/j.amjoto.2011.10.012

23.

Patel V, Martin D, Malhotra R, Marsh CA, Doci CL, Veenstra TD et al (2013) DSG3 as a biomarker for the ultrasensitive detection of occult lymph node metastasis in oral cancer using nanostructured immunoarrays. Oral Oncol 49(2):93–101. https://doi.org/10.1016/j.oraloncology.2012.08.001

24.

Glickman JN, Torres C, Wang HH, Turner JR, Shahsafaei A, Richards WG, Sugarbaker DJ, Odze RD (1999) The prognostic significance of lymph node micrometastasis in patients with esophageal carcinoma. Cancer 85(4):769–778

25.

Nieuwenhuis EJ, Leemans CR, Kummer JA, Denkers F, Snow GB, Brakenhoff RH (2003) Assessment and clinical significance of micrometastases in lymph nodes of head and neck cancer patients detected by E48 (Ly-6D) quantitative reverse transcription-polymerase chain reaction. Lab Invest 83(8):1233–1240

26.

Bryne M, Koppang HS, Lilleng R, Stene T, Bang G, Dabelsteen E (1989) New malignancy grading is a better prognostic indicator than Broders' grading in oral squamous cell carcinomas. J Oral Pathol Med 18(8):432–437

27.

Min KW, Houck JR Jr (1998) Protocol for the examination of specimens removed from patients with carcinomas of the upper aerodigestive tract: carcinomas of the oral cavity including lip and tongue, nasal and paranasal sinuses, pharynx, larynx, salivary glands, hypopharynx, oropharynx, and nasopharynx. Cancer Committee, College of American Pathologists. Arch Pathol Lab Med 122(3):222–230

28.

Carrau RL, Barnes EL, Snyderman CH, Petruzzelli G, Kachman K, Rueger R, D'Amico F, Johnson JT (1995) Tumor angiogenesis as a predictor of tumor aggressiveness and metastatic potential in squamous cell carcinoma of the head and neck. Invasion Metastasis 15(5–6):197–202

29.

Robbins KT, Medina JE, Wolfe GT, Levine PA, Sessions RB, Pruet CW (1991) Standardizing neck dissection terminology. Official report of the Academy's Committee for Head and Neck Surgery and Oncology. Arch Otolaryngol Head Neck Surg 117(6):601–605

30.

Liao CT, Lee LY, Huang SF, Chen IH, Kang CJ, Lin CY, Fan KH, Wang HM, Ng SH, Yen TC (2011) Outcome analysis of patients with oral cavity cancer and extracapsular spread in neck lymph nodes. Int J Radiat Oncol Biol Phys 81(4):930–937. https://doi.org/10.1016/j.ijrobp.2010.07.1988
Funding
This work was supported by a grant from the National Natural Science Foundation of China (Nos. 81402238, 81072213, and 81271698), the Nanjing Medical Science & Research Project (No. YKK13145), National Key Disciplines Constructional Project Funding (since 2011), Nanjing Municipal Key Medical Laboratory Constructional Project Funding (since 2012), Center of Nanjing Clinical Medicine of tumor project (since 2014), Jiangsu Provincial Commission of Health and Family Planning Project, China (Z201516) and Nanjing Medical Science and Technique Development Foundation.
Ethics declarations
This retrospective study included patients diagnosed with primary OSCC in the Department of Pathology, Nanjing Stomatology Hospital, from 2010 to 2013. The use of samples and retrieval of data were approved by the Research Ethics Committee of Nanjing Stomatology Hospital.
Conflict of interest
None.
Additional information
Ethical Responsibilities
• Substantial contributions to the conception or design of the work; or the acquisition, analysis, or interpretation of data for the work; AND
• Drafting the work or revising it critically for important intellectual content; AND
• Final approval of the version to be published; AND
• Agreement to be accountable for all aspects of the work in ensuring that questions related to the accuracy or integrity of any part of the work are appropriately investigated and resolved.
About this article
Cite this article
Pu, Y.M., Yang, Y., Wang, Y.J. et al. Postoperative radiotherapy is dispensable for OSCC patients with micrometastases in lymph nodes. Virchows Arch 472, 797–805 (2018). https://doi.org/10.1007/s00428-018-2351-z
Received:

Revised:

Accepted:

Published:

Issue Date:
Keywords
Oral squamous cell carcinoma

Micrometastasis

Radiotherapy

Prognosis

Worst pattern of invasion