Abstract
Cirrhosis has been traditionally viewed as an irreversible, end-stage condition. Eighteen years ago, Wanless, Nakashima, and Sherman published a study that was based on the concept that hepatic architecture is under constant remodeling in the course of chronic liver diseases, even during their most advanced stages; depending on the balance between injury and repair, the histologic changes might be progressing or regressing. These authors described in detail the morphologic features of regressing cirrhosis, identified a set of histologic features of regression that they called the "hepatic repair complex," and provided convincing morphologic evidence that incomplete septal cirrhosis represents regressed cirrhosis. In the years that followed publication of this pioneering article, a number of clinical studies with performance of pre- and post-treatment liver biopsies provided abundant evidence that cirrhosis can regress after successful therapy of chronic hepatitis B, chronic hepatitis C, autoimmune hepatitis, and genetic hemochromatosis. Evidence for other chronic liver diseases may also be provided in the future, pending ongoing studies. Successful therapy allows resorption of fibrous septa, which can be followed by loss of nodularity and architectural improvement; however, many vascular lesions of cirrhotic livers are not thought to regress. Cases of cirrhosis that are considered more likely to improve than others include those of recent onset, with relatively thin fibrous septa and mild vascular changes. Histologic examination of liver biopsy specimens from patients with chronic liver diseases provides the opportunity to appreciate the features of the hepatic repair complex on a routine diagnostic basis; however, interpretation is often difficult, and can be aided by immunohistochemical stains. Clinicopathologic correlation is essential for a meaningful assessment of such cases. For many patients, cirrhosis is not an end-stage condition anymore; therefore, use of the term "cirrhosis" has been challenged, almost 200 years after its invention. However, regression of cirrhosis does not imply regression of molecular changes involved in hepatocarcinogenesis; therefore, surveillance for hepatocellular carcinoma should be continued in these patients.
This is a preview of subscription content, log in to check access.
Access options
Buy single article
Instant access to the full article PDF.
US$ 39.95
Price includes VAT for USA
Subscribe to journal
Immediate online access to all issues from 2019. Subscription will auto renew annually.
US$ 199
This is the net price. Taxes to be calculated in checkout.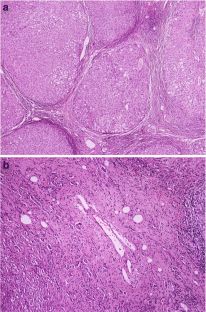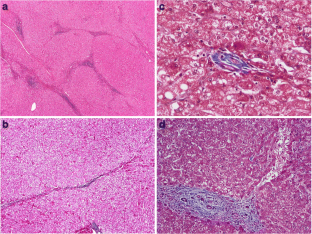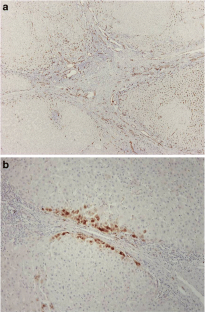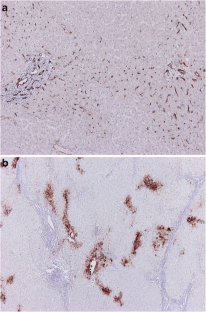 References
1.

Anthony PP, Ishak KG, Nayak NC, Poulsen HE, Scheuer PJ, Sobin LH (1977) The morphology of cirrhosis: definition, nomenclature, and classification. Bull World Health Organ 55:521–540

2.

Garcia-Tsao G, Friedman S, Iredale J, Pinzani M (2010) Now there are many (stages) where before there was one: in search of a pathophysiological classification of cirrhosis. Hepatology 51:1445–1449

3.

Laennec RTH (1819) De l'auscultation mediate. Vol. 1. Brosson et Claude, Paris, pp 368–369

4.

Wanless IR, Nakashima E, Sherman M (2000) Regression of human cirrhosis. Morphologic features and the genesis of incomplete septal cirrhosis. Arch Pathol Lab Med 124:1599–1607

5.

Pérez-Tamayo R (1979) Cirrhosis of the liver: a reversible disease? Pathol Annu 14(Pt 2):183–213

6.

Desmet VJ, Gerber M, Hoofnagle JH, Manns M, Scheuer PJ (1994) Classification of chronic hepatitis: diagnosis, grading and staging. Hepatology 19:1513–1520

7.

Friedman SL (1999) Hepatic fibrosis. In: Schiff ER, Sorrell MF, Maddrey WC (eds) Schiff's diseases of the liver, 8th edn. Lippincott-Raven, Philadelphia, p 371

8.

Sciot R, Staessen D, Van Damme B, Van Steenbergen W, Fevery J, De Groote J, Desmet VJ (1988) Incomplete septal cirrhosis: histopathological aspects. Histopathology 13:593–603

9.

Chejfec G (2000) Controversies in pathology: is cirrhosis of the liver a reversible disease? Arch Pathol Lab Med 124:1585–1586

10.

Geller SA (2000) Coming or going? What is cirrhosis? Arch Pathol Lab Med 124:1587–1588

11.

Ray MB (2000) Regression of cirrhosis: a timely topic. Arch Pathol Lab Med 124:1589–1590

12.

Chedid A (2000) Regression of human cirrhosis. Arch Pathol Lab Med 124:1591–1592

13.

Wanless IR (2000) In reply. Arch Pathol Lab Med 124:1592–1593

14.

Kutami R, Girgrah N, Wanless IR, Sniderman K, Wong F, Sherman M (2000) The Laennec grading system for assessment of hepatic fibrosis: validation by correlation with wedged hepatic vein pressure and clinical features. Hepatology 32:407A

15.

Kim MY, Cho MY, Baik SK, Park HJ, Jeon HK, Im CK, Won CS, Kim JW, Kim HS, Kwon SO, Eom MS, Cha SH, Kim YJ, Chang SJ, Lee SS (2011) Histological subclassification of cirrhosis using the Laennec fibrosis scoring system correlates with clinical stage and grade of portal hypertension. J Hepatol 55:1004–1009

16.

Kim SU, Oh HJ, Wanless IR, Lee S, Han KH, Park YN (2012) The Laennec staging system for histological sub-classification of cirrhosis is useful for stratification of prognosis in patients with liver cirrhosis. J Hepatol 57:556–563

17.

Dienstag JL, Goldin RD, Heathcote EJ, Hann HWL, Woessner M, Stephenson SL, Gardner S, Gray DF, Schiff ER (2003) Histological outcome during long-term lamivudine therapy. Gastroenterology 124:105–117

18.

Hadziyannis SJ, Tassopoulos NC, Heathcote EJ, Chang TT, Kitis G, Rizzetto M, Marcellin P, Lim SG, Goodman Z, Ma J, Brosgart CL, Borroto-Esoda K, Arterburn S, Chuck SL, Adefovir Dipivoxil 438 Study Group (2006) Long-term therapy with adefovir dipivoxil for HBeAg-negative chronic hepatitis B for up to 5 years. Gastroenterology 131:1743–1751

19.

Chang TT, Liaw YF, Wu SS, Schiff E, Han KH, Lai CL, Safadi R, Lee SS, Halota W, Goodman Z, Chi YC, Zhang H, Hindes R, Iloeje U, Beebe S, Kreter B (2010) Long-term entecavir therapy results in the reversal of fibrosis/cirrhosis and continued histological improvement in patients with chronic hepatitis B. Hepatology 52:886–893

20.

Marcellin P, Gane E, Buti M, Afdhal N, Sievert W, Jacobson IM, Washington MK, Germanidis G, Flaherty JF, Schall RA, Bornstein JD, Kitrinos KM, Subramanian GM, McHutchison JG, Heathcote EJ (2013) Regression of cirrhosis during treatment with tenofovir disoproxil fumarate for chronic hepatitis B: a 5-year open-label follow-up study. Lancet 381(9865):468–475

21.

Papachrysos N, Hytiroglou P, Papalavrentios L, Sinakos E, Kouvelis I, Akriviadis E (2015) Antiviral therapy leads to histological improvement of HBeAg-negative chronic hepatitis B patients. Ann Gastroenterol 28:374–378

22.

Poynard T, McHutchison J, Manns M, Trepo C, Lindsay K, Goodman Z, Ling M–H, Albrecht J (2002) Impact of pegylated interferon alfa-2b and ribavirin on liver fibrosis in patients with chronic hepatitis C. Gastroenterology 122:1303–1313

23.

Everson GT, Balart L, Lee SS et al (2008) Histological benefits of virological response to peginterferon alfa-2a monotherapy in patients with hepatitis C and advanced fibrosis or compensated cirrhosis. Aliment Pharmacol Ther 27:542–551

24.

D'Ambrosio R, Aghemo A, Rumi MG, Ronchi G, Donato MF, Paradis V, Colombo M, Bedossa P (2012) A morphometric and immunohistochemical study to assess the benefit of a sustained virological response in hepatitis C virus patients with cirrhosis. Hepatology 56:532–543

25.

Dufour JF, DeLellis R, Kaplan MM (1997) Reversibility of hepatic fibrosis in autoimmune hepatitis. Ann Intern Med 127:981–985

26.

Czaja AJ, Carpenter HA (2004) Decreased fibrosis during corticosteroid therapy of autoimmune hepatitis. J Hepatol 40:646–652

27.

Serpaggi J, Carnot F, Nalpas B, Canioni D, Guéchot J, Lebray P (2006) Direct and indirect evidence for the reversibility of cirrhosis. Hum Pathol 37:1519–1526

28.

Falize L, Guillygomarc'h A, Perrin M, Lainé F, Guyader D, Brissot P, Turlin B, Deugnier Y (2006) Reversibility of hepatic fibrosis in treated genetic hemochromatosis: a study of 36 cases. Hepatology 44:472–477

29.

Vilar-Gomez E, Martinez-Perez Y, Calzadilla-Bertot L, Torres-Gonzalez A, Gra-Oramas B, Gonzalez-Fabian L, Friedman SL, Diago M, Romero-Gomez M (2015) Weight loss through lifestyle modification significantly reduces features of nonalcoholic steatohepatitis. Gastroenterology 149:367–378

30.

Friedman SL, Ratziu V, Harrison SA et al (2017) A randomized, placebo-controlled trial of cenicriviroc for treatment of nonalcoholic steatohepatitis with fibrosis. Hepatology

31.

Fauerholdt L, Schlichting P, Christensen E, Poulsen H, Tygstrup N, Juhl E (1983) Conversion of micronodular cirrhosis into macronodular cirrhosis. Hepatology 3:928–931

32.

Quaglia A, Alves VA, Balabaud C, Bhathal PS, Bioulac-Sage P, Crawford JM, et al, International Liver Pathology Study Group (2016) Role of aetiology in the progression, regression, and parenchymal remodelling of liver disease: implications for liver biopsy interpretation. Histopathology 68:953–967

33.

Kaplan MM, DeLellis RA, Wolfe HJ (1997) Sustained biochemical and histologic remission of primary biliary cirrhosis in response to medical treatment. Ann Intern Med 126:682–688

34.

Grand RJ, Vawter GF (1975) Juvenile Wilson disease: histologic and functional studies during penicillamine therapy. J Pediatr 87:1161–1170

35.

Lee YA, Wallace MC, Friedman SL (2015) Pathobiology of liver fibrosis: a translational success story. Gut 64:830–841

36.

Falkowski O, An HJ, Ianus IA, Chiriboga L, Yee H, West AB, Theise ND (2003) Regeneration of hepatocyte "buds" in cirrhosis from intrabiliary stem cells. J Hepatol 39:357–364

37.

Crawford JM, Bioulac-Sage P, Hytiroglou P (2018) Structure, function, and responses to injury. In: Burt AD, Ferrell LD, Huebscher SG (eds) MacSween's pathology of the liver, 7th edn. Elsevier, Philadelphia, pp 1–87

38.

Bedossa P, Hytiroglou P, Yeh MM (2018) Vascular disorders. In: Burt AD, Ferrell LD, Huebscher SG (eds) MacSween's pathology of the liver, 7th edn. Elsevier, Philadelphia, pp 636–672

39.

Wanless IR, Liu JJ, Butany J (1995) Role of thrombosis in the pathogenesis of congestive hepatic fibrosis (cardiac cirrhosis). Hepatology 21:1232–1237

40.

Wanless IR, Wong F, Blendis LM, Greig P, Heathcote EJ, Levy G (1995) Hepatic and portal vein thrombosis in cirrhosis: possible role in development of parenchymal extinction and portal hypertension. Hepatology 21:1238–1247

41.

Caldwell S, Intagliata N (2012) Dismantling the myth of "autocoagulation" in cirrhosis: an old dogma dies hard. Hepatology 55:1634–1637

42.

Intagliata NM, Northup PG (2015) Anticoagulant therapy in patients with cirrhosis. Semin Thromb Hemost 41:514–519

43.

van der Meer AJ, Berenguer M (2016) Reversion of disease manifestations after HCV eradication. J Hepatol 65(1 Suppl):S95–S108

44.

Papatheodoridis GV, Chan HL, Hansen BE, Janssen HL, Lampertico P (2015) Risk of hepatocellular carcinoma in chronic hepatitis B: assessment and modification with current antiviral therapy. J Hepatol 62:956–967

45.

Theise ND (1996) Cirrhosis and hepatocellular neoplasia: more like cousins than like parent and child. Gastroenterology 1996(111):526–528

46.

Theise ND, Park YN, Kojiro M (2002) Dysplastic nodules and hepatocarcinogenesis. Clin Liver Dis 6:497–512

47.

Hytiroglou P, Park YN, Krinsky G, Theise ND (2007) Hepatic precancerous lesions and small hepatocellular carcinoma. Gastroenterol Clin N Am 36:867–887 vii

48.

Sun Y, Zhou J, Wang L, Wu X, Chen Y, Piao H, Lu L, Jiang W, Xu Y, Feng B, Nan Y, Xie W, Chen G, Zheng H, Li H, Ding H, Liu H, Lv F, Shao C, Wang T, Ou X, Wang B, Chen S, Wee A, Theise ND, You H, Jia J (2017) New classification of liver biopsy assessment for fibrosis in chronic hepatitis B patients before and after treatment. Hepatology 65:1438–1450

49.

Hytiroglou P, Snover DC, Alves V, Balabaud C, Bhathal PS, Bioulac-Sage P, Crawford JM, Dhillon AP, Ferrell L, Guido M, Nakanuma Y, Paradis V, Quaglia A, Theise ND, Thung SN, Tsui WMS, van Leeuwen DJ (2012) Beyond "cirrhosis": a proposal from the international liver pathology study group. Am J Clin Pathol 137:5–9

50.

Beuers U, Gershwin ME, Gish RG, Invernizzi P, Jones DE, Lindor K (2015) Changing nomenclature for PBC: from 'cirrhosis' to 'cholangitis'. Hepatology 62:1620–1622
Ethics declarations
Conflict of interest
The authors declare that they have no conflict of interest.
Additional information
This is part of a topical collection entitled "Vascular liver lesions: contemporary views on long-recognized entities"
About this article
Cite this article
Hytiroglou, P., Theise, N.D. Regression of human cirrhosis: an update, 18 years after the pioneering article by Wanless et al.. Virchows Arch 473, 15–22 (2018). https://doi.org/10.1007/s00428-018-2340-2
Received:

Revised:

Accepted:

Published:

Issue Date:
Keywords
Regression

Cirrhosis

Incomplete septal cirrhosis

Vascular lesions